The Cairngorms
Key information: The Cairngorms
Britain's highest landmass is a huge, roadless, protected area teeming with precious wildlife. The scenery is beautiful (and forbidding on a dark day): grand crags and purple hillsides above glens and the odd lake. Pockets of the ancient – and beautiful – Caledonian forest.
Some of Britain's best walking. Is a walker's life complete without having surveyed from one of its great peaks, trudged one of its delicious old hill tracks and explored a magical, remote glen?
Walkopedia rating
(Top 100)
Walkopedia rating89
Beauty

33

Natural interest

16

Human interest

6

Charisma

34

Negative points

0

Total rating

89
Vital Statistics
Length:

Variable

Maximum Altitude:

1,309m

Level of Difficulty:

Variable
Top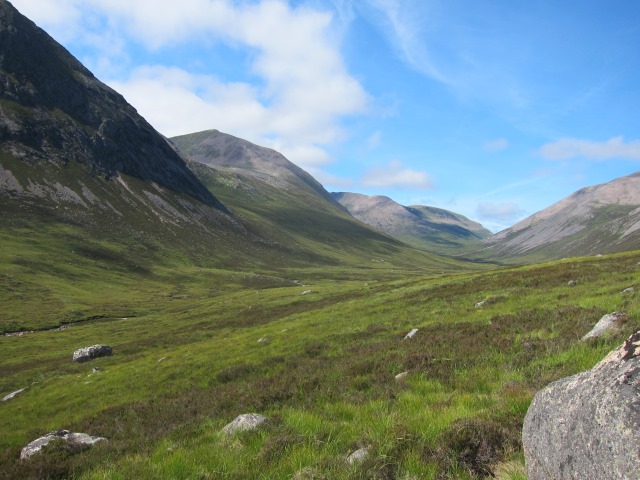 WALK SUMMARY
The Cairngorms, the heart of Scotland's Highlands, contain some of Britain's – and the world's – best walking, and five of Scotland's six highest peaks (four of the UK's five). We really believe that no walker's life is complete without having surveyed the Cairngorms from one of its great peaks, trudged one of its delicious old hill tracks and explored one of its magical glens.
Scotland's epicentral mountains are a huge, roadless, protected area teeming with precious wildlife. The main plateau, to the west of the area, separates Speyside from the Dee and Don valleys (themselves separated by the Ben a Bhuird and Ben Avon massif) which wind gloriously to the sea at Aberdeen, and the Avon, which turns north. The high country often consists of arctic moorland and even tundra, unique in Britain, which is known on the western massif as the Great Moss. South of the Dee at Balmoral is the Lochnagar massif, which, while out on its own a bit, is very much Cairngorms in character.
The lower river valleys are often forested, the glens dotted with the remains of the beautiful, open ancient Caledonian forest, Scots pines interspersed with birch and rowan and carpeted with heather. The hillsides are (of course) clothed in trademark heather, the high ground is sub-arctic tundra. Wildlife includes eagles, ptarmigan, deer, otters and mountain hares.
The scenery is almost painfully beautiful: grand crags and purple hillsides above glens and lakes. That said, it is moody, changeable landscape, and it can be forbidding on a dark day. This applies especially to the Lairig Ghru and Upper Dee Valley and the huge masses around them. It is arguably at its loveliest on a changeable, showery day. It is magnificent on a bright snowy day, but can be deadly at this time of year.
These are ancient granite mountains, the geological siblings of America's Appalachians and the mountains of Norway. They look from a distance like what they are, a great eroded plateau, and you can imagine them ground under a vast icecap rather than gouged by Alpine or Himalayan rivers. While so eroded that they are small by world standards (few over 4,000 ft), you can reach all(?) significant summits, in a way that is unavailable in younger, higher, sheerer ranges. So you get huge views you won't have to die for, and the satisfaction of having bagged a Munro, the mountains over 3,000 ft which people can spend a lifetime collecting (there are at least 25 of them in the Cairngorms, including the Lochnagar massif). And the scenery somehow combines wild with unexpectedly mellow – well, on a good day, anyway.
The Cairngorm ski area is a bit of a spoiler of parts of the central massif around Cairn Gorm itself, but you can escape it reasonably easily. There is a railway to near Cairngorm summit, but you can't walk from it, which is probably a good idea.
Walks vary between:
multi-days
peak bagging
hill tracks
shorter walks in special places.
As an indication of the variety to be had, the excellent Cicerone contains more than 100 walks. Just look at any map and you will be able to create your own menu: there are fantastic works to be had everywhere.
Multi-days/bothies/camping
There aren't any formalized long-distance tracks crossing the Cairngorms, but there are plenty to be created, including a trudge through the looming Lairig Ghru and a bag of a neighbouring peak or two. Or walk north-south via the Lairig Ghu and Upper Dee valleys; or via the Garbh Allt or Glen Avon to grand, lonely Loch Avon, and on south via Glen Derry. Or, for the really experienced, make a high-level traverse.
While not strictly a multi-dayer, the Cairngorms 4000, a circuit of all four peaks over… er… 4,000ft is the ultimate challenge.
You can now roam and wild camp almost anywhere, although this must be done responsibly. Beware stalking (mid-August to 20 October). Bothies (basic huts) are free and unlocked, but you cannot assume there will be space in them, although getting there early helps! The most relevant are the Corrour in the upper Dee/Lairig Ghru, the Bob Scott Memorial Hut near Derry Lodge and Faindouran in Glen Avon. If you use them, consider joining or donating to the excellent www.mountainbothies.org.uk.
The remotest, and some would argue the finest, area of the whole Cairngorms is around Loch Avon (and Loch Etchachan), from which you can tackle both Cairn Gorm and Ben Macdui. The famous Shelter Stone (actually a huge rock) has space for five walkers under it. A walk in and night in this special area, followed by a peak assault, is arguably the Cairngorms ultimate.
Peak bagging
There is only one roadhead near the central massif, so, for most walkers, many of the highest peaks are most realistically accessible as day walks (but long ones) from Speyside, often from the ski centre above Loch Morlich [W check], although some high peaks can be climbed from Deeside in a long day – e.g. Ben Macdui, a 27km, 13hr round trip up the Sron Fiach ridge [link] from the Linn of Dee. I.e., some are only day walks for the very fit and committed. Or you can tramp in with a tent from Dee or Don side, or indeed mountain bike in to Derry Lodge or further, cutting out long approach and exit walks.
Once again, you have a huge selection to choose from:
Ben Macdui, Britain's second highest peak at 1,309m, directly above the dramatic glacial gouge where the upper Dee meets the Lairig Ghru. It is part of the great central Cairngorm plateau, with huge views across the high ridges of the range. Day walk from Speyside or (just) from Deeside – the 'easiest' approach from the south, the beautiful Sron Riach ridge, is 27km/10.5hrs+. Amazing overnighters to be had.
Cairn Gorm, which is often written off as a skiing-scarred landscape, although there are fine walks to be had, especially westward above the cliffs of Cairn Lochan. You can walk Cairn Gorm and Ben Macdui along the high plateau running between them.
Cairn Toul and Braeriach: These peaks are on the same plateau which curves around the huge Garbh Choire cirque. The former is more accessible from Deeside and the latter from Speyside. You can do both (the greatest of all Cairngorm walks?), but for most mortals this will involve a night in the upper Dee valley.
Ben Avon and Ben a Bhuird. North of Braemar and approachable in long day-walks from several directions.
Morven, north-east of Ballater, the first outpost of the highlands, just under Munro height so less populated, and, unusually, grassy as it is a limestone hill.
Carn a'Mhaim: a long and magnificent narrow ridge walk (said to be the only one in the Cairngorms) above the upper Dee valley, gazing across to the Cairn Toul massif. Climb from the south and head along the ridge to clamber on up rough boulders to Ben Macdui and down the steep Tailor Burn to the floor of the upper Dee/Lairig Ghru.
Derry Cairngorm – a very rough, bouldery mountain (aka the Rocky Horror Show), as a result not widely loved.
South of the Dee
Lochnagar: a grand, cliff-girt, dark mass, out on its own south of the Dee between Braemar and Ballater. A superb circuit from the foot of Loch Muick returns down a fine hanging valley, then down a cleft in the steep hillsides above glacially gouged Loch Muick, beside a fine waterfall. 7 hours or so. One of our personal favourites. A huge selection of walks in the area.
Mount Keen [more one day]
Morrone (or Morven), just south of Braemar, for superb views into the heart of the massif.
Great longer hill tracks
Scotland's ancient hill tracks – many of them drovers' roads, along which cattle would be driven to the markets of the lowlands – provide outstanding walking, often over long distances. This can require to-ing and fro-ing, although you can create marvellous circuits – for a day or longer – with combinations of tracks. Some of these are old military roads, built in the mid 1700s to enable the rapid deployment of troops to keep the unruly highlanders in their place.
Some of the best, in the heart of the high range, are:
Lairig Ghru: a track through a dramatic, sheer-sided cleft in the high Cairngorm plateau, linking the Spey and the Dee valleys. A very special, very long day's walk (20 miles or so) – or stay in the Carrow Bothy (or bring a tent) and overnight in the superb upper Dee valley, perhaps tackling a high peak before heading out to the east the next day.
The Lairig an Laoigh, which cuts straight north-south through the high range, via Glen Derry and Glen Lui on Deeside and the highlands by Bynack More.
Glen Feshie, which links the Spey and upper Dee, south of the main massif.
Wonderful tracks from Deeside south across the Grampians to the southern glens and then the lowlands include:
The Monega Road, south from below Braemar to Glen Isla.
Jock's Road from Braemar to Glen Clova (or vice versa): 14miles/7hrs, up superb Glen Callater [link], with its lake and textbook glacial corries, clibing onto high ground including the summit of (just a Munro) Crow Craigler, and down into deep and splendid Glen Clova [link later]
The Capel Mounth track crosses the high hills between Loch Muick and Glen Clova (3 ½ hrs, which can be walked as a 7 ½ hr there and back). A fine walk in gorgeous scenery.
The Mounth track from Ballater to Glen Clova via Glen Tanar and Mt Keen. This and the Capel Mounth could be combined for a superb circuit.
The Fungle Road south over the hills to Glen Esk from Aboyne (not strictly in the Cairngorms but a lovely walk nonetheless).
One of several tracks linking the upper Dee and Don valleys via wild Glen Gairn, downstream of the highest hills.
Scottish Hill Tracks, published by The Scottish Rights of Way and Access Society (ScotWays) gives excellent information on these trails, and is a must-buy, and can be got from ScotWays as well as bookshops. There is a brilliant leaflet "Hill Tracks in the Cairngorms National Park", also published by Scotways and findable in Information Centres.
Other great walks
Almost every glen is a gem, every hill top a highlight: you need do no more than have a good study of the map to find a fabulous walk (as we did with, for instance, the Gellaig Ridge), often improbably empty of humankind. There are numerous lakes and oddities to check out, too.
The glens north and south of the upper Dee are all marvellous:
Glens Quoich, Lui (a Walkopedia favourite) and Ey in particular (you can make a circuit by crossing between Glens Quoich and Lui via a narrow ridge-top fissure loch, or cross from upper Glen Lui into the upper Dee valley and circuit back).
Glen Callater, a textbook glacial gouge and one of the Cairngorms' finest glens, which runs south-east from the A93 below Braemar. A superb circuit, but a long day walks the ridges to the south to bag the Munroes Carn an Tuirc and Cairn of Claise; then turn east to cross moorland towards the flattish peak of Tolmount, then descend steeply on the ancient Jock's Road path into beautiful upper Glen Callater.
The upper Dee valley, above the Linn of Dee waterfall, is beautiful in a broad-bottomed way, but relatively popular. A little above the junction with the Geldie Burn, where you turn off for Glen Feshie (see above), is the lovely low Chest of Dee waterfall. Further on is a longish and at times boggy stretch, then Glen Dee becomes a truly wild, romantic place, below the high peaks and sheer cliffs of the high Cairngorms. Stay in or camp near the Corrour Bothy, or wild camp, and tackle a Cairngorm peak or tramp north through the Lairig Ghru the next day.
The north
Glen Avon, which runs south of Tomintoul then turns west to run up into the heart of the Cairngorms into wonderfully wild landscape: You can explore the glen south of Tomintoul, or walk for hours up the superb upper glen. With a tent, you can camp high up the valley – including by Loch Avon right in under the highest summits – and bag some peaks or indeed walk south to the Dee valley.
the upper Don valley. From lonely Corgarff castle, built as part of the Highland suppression after the '45 rebellion, the beautiful upper Don valley winds westward into the rounded heathery hills of the eastern Cairngorms to reach its watershed with the beautiful Glen Avon, at the point where it turns westward to run into the high grand Cairngorms.
The Donside glens are also fabulous – the hills a bit lower, granted, but almost every glen is a beauty – and emptier than better known Deeside.
Between Dee and Don
Wild, remote Glen Gairn cuts its way between the Dee and the Don/Glen Avon, eastward from its source to the south of Ben Avon. You can walk up this glen for miles through fine landscape without seeing a soul. You can head on into the grander high Cairngorms, and eventually cross into upper Glen Quoich, or attack Ben Avon or Ben a'Bhuird (neither a normal day walk this way).
Muir of Dinnet and Burn O'Vat: a nature reserve in the far east featuring Loch Kinord, a lovely lake with the sites of ancient crannogs (artificial islands) and an island tower and wonderful naturally reforesting moor and bogland; and Burn O'Vat – at about a mile, too short to be a real walk, but a magical little glenlet between glacial moraine "esker" banks leading to an extraordinary sheer-walled "vat" into which a waterfall… er… falls.
Not in any book, but we think a fabulous walk is the Gellaig Ridge north of the Dee, west of Ballater.
South of the Dee:
Lock Muick: circuit in 3 ½ hours, or climb high above, this beautiful glacier-carved lake below the Lochnagar massif. Fabulous.
South of Braemar, the pass at the Glen Shee ski area is a great base for walking, although the immediate vicinity is painfully ski-scarred. It even has a chairlift to the west that works in summer, so you can quickly get high and head off away from the pistes.
To the east: The high, rough ridges which include the Munroes Carn an Tuirc and Cairn of Claise make for delightful tramping once you have made the long climb up to get the high ground, with a fine corrie gouged to the west of Cairn of Claise, although the ski area is always in sight. You can make a superb circuit from the foot of Glen Callater (see above) to walk these ridges and swing north to return through beautiful upper Glen Callater.
To the west of Glen Shee, once you are up high (gondola worth every penny), you can walk off away from the ski scarring, along the beautiful flattish ridges to bag minor peaks and high moorland.
Others:
Not actually in the Cairngorms, but beautiful and fascinating Bennachie to the north-east is hugely worthwhile.
Warning: This can be demanding walking in remote mountains with uncertain weather. It can be very dangerous on the sub-Arctic higher ground in bad weather, as the bigger mountains have great cliffs and crags on their flanks and it is easy to get lost (and freeze or fall) on the featureless high plateau if cloud/mist descend. Come fully prepared, including to descend quickly if the weather deteriorates.
We have to add a word for the visitors' centres at some of the more popular places such as Loch Muick and Burn O'Vat. These are masterclasses in well-presented and fascinating information, interesting for grown-ups and children alike, with very helpful leaflets and books available. And, while care for the environment is at the heart of everything, they aren't tediously right-on either.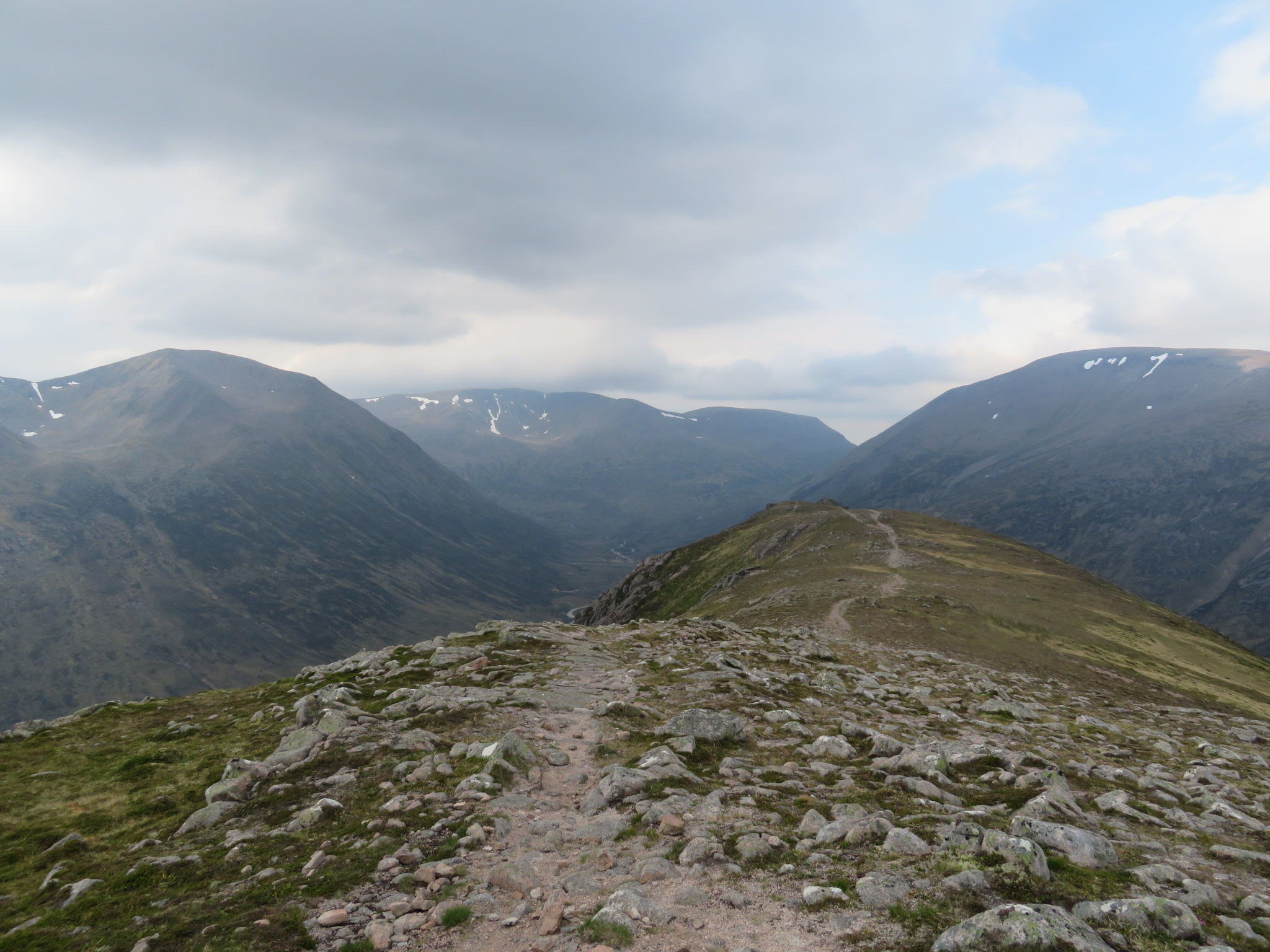 We have a lot of helpful practical information and tips about this walk, covering everything from the best books and maps, to timing and weather, geting there, possible problems, whether you need a guide and where to find them, and useful websites. This section is only open to members.
Membership is FREE AND JOINING TAKES 30 SECONDS. To login or sign up click here
Safety and problems: All walks have inherent risks and potential problems, and many of the walks featured on this website involve significant risks, dangers and problems. Problems of any sort can arise on any walk. This website does not purport to identify any (or all) actual or potential risks, dangers and problems that may relate to any particular walk.

Any person who is considering undertaking this walk should do careful research and make their own assessment of the risks, dangers and possible problems involved. They should also go to "Important information" for further important information.
Anyone planning an expedition to this place should see further important information about this walk.
Safety and problems: All walks have inherent risks and potential problems, and many of the walks featured on this website involve significant risks, dangers and problems. Problems of any sort can arise on any walk. This website does not purport to identify any (or all) actual or potential risks, dangers and problems that may relate to any particular walk.

Any person who is considering undertaking this walk should do careful research and make their own assessment of the risks, dangers and possible problems involved. They should also go to "Important information" for further important information.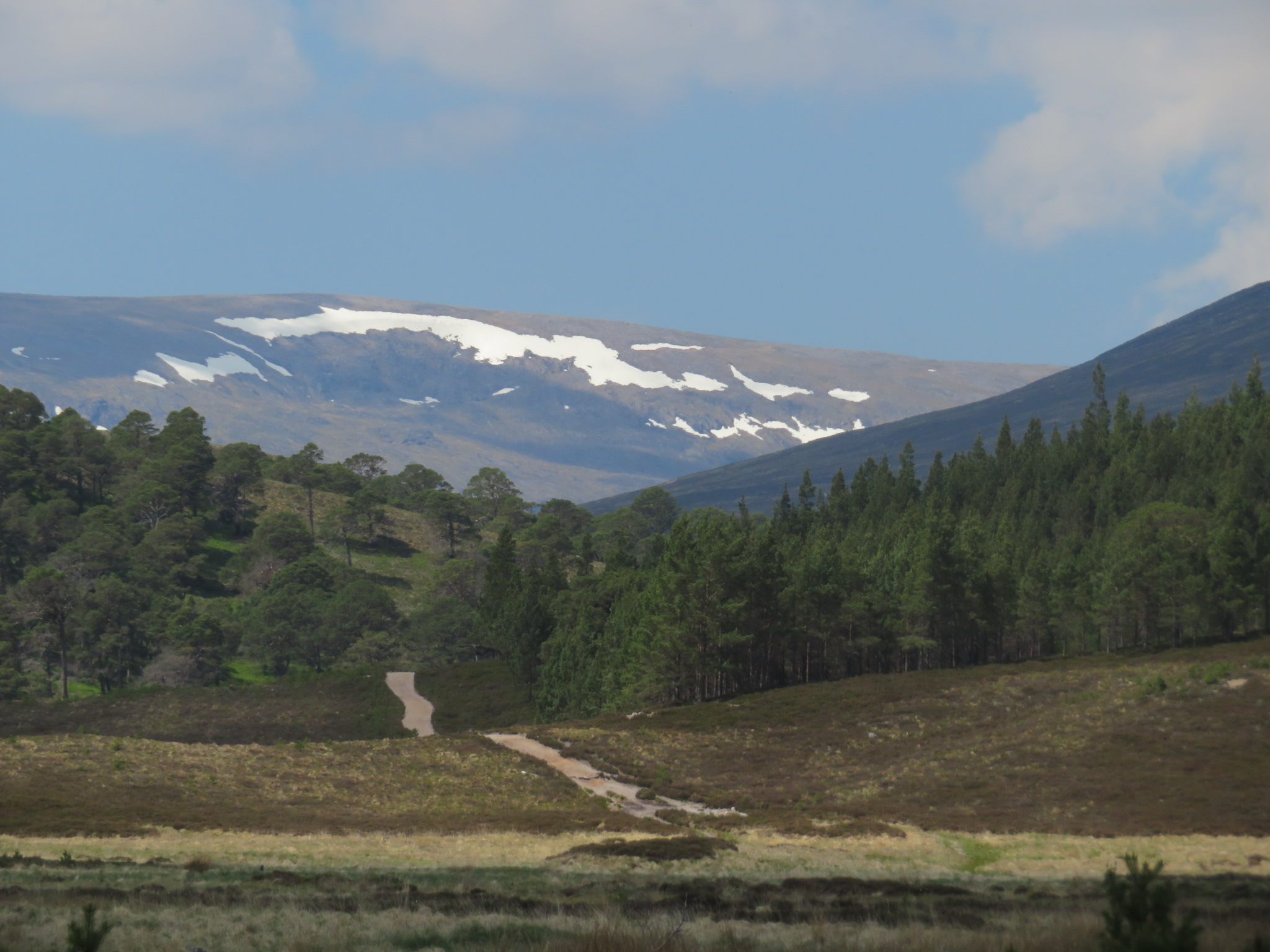 OTHER ACCOUNTS
share your experiences
Top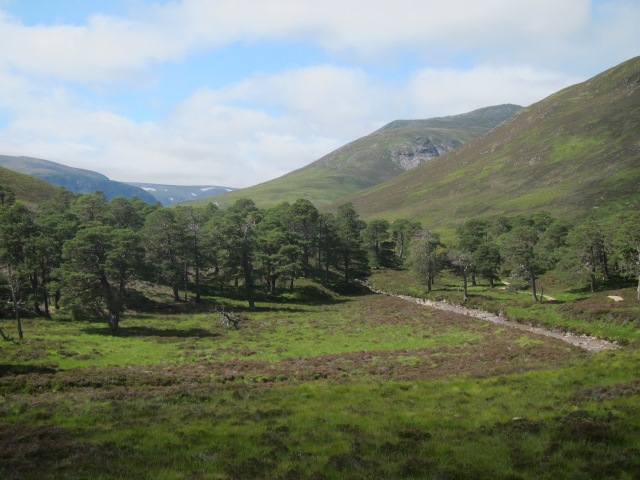 Top
Responsible travel matters, a lot. How you travel will make a real difference - for better or worse. PLEASE consider this when making plans. Read more