Isle of Skye
Key information: Isle of Skye
An extraordinary selection of thrilling walks in some of Britain's very best landscape.
Every serious walker should get here at some point.
Walkopedia rating
(Top 100)
Walkopedia rating94
Beauty

37

Natural interest

16

Human interest

6

Charisma

36

Negative points

1

Total rating

94

Note: Neg: Regular bad weather
Vital Statistics
Length:

Your choice

Maximum Altitude:

3,257 ft

Level of Difficulty:

Variable
Top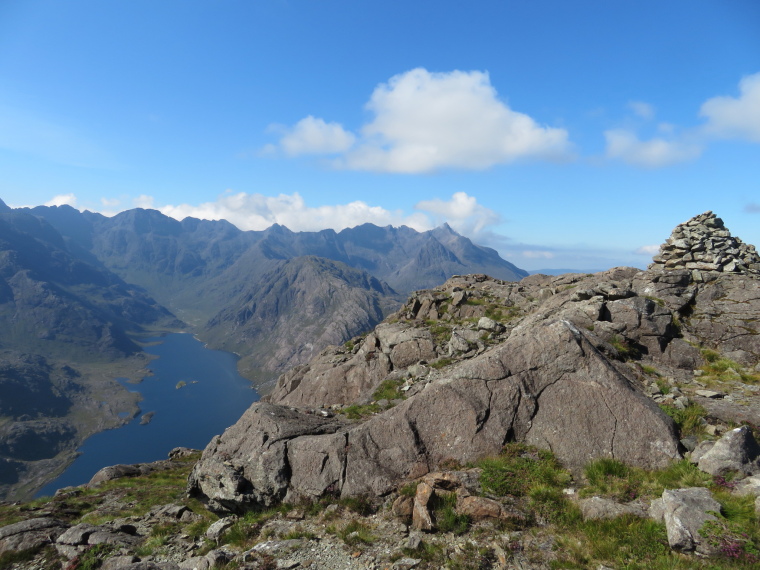 WALK SUMMARY
Skye is a place of legendary beauty – and legend. This wild landscape of rough rocky mountains, with the sea visible from most elevated ground and huge skies when not cloud-girt, is famously beautiful and dramatic – if rough: Dr Johnson wrote "a walk upon ploughed ground is a dance upon carpets, compared to the toilsome drudgery of wandering in Skye". Its vaporous light will entrance artists and lay people alike.
Easily the biggest island in the Inner Hebrides, Skye is some 80 km long. Now linked to the mainland by a bridge at Kyle of Lochalsh, as well as a ferry from Mallaig, it is less other-worldly than it once was.
Skye is composed of various rocks, including hard granite sandstone and the gabbro of the Black Cuillins, a hard volcanic rock which makes for good climbing and erosion-resistant cliffs and ridges. Subsequent glaciation has produced the cliffs, corries and airy knife-edges that are the Cuillin's trademark.
Wildlife is a joy, with golden and sea eagles and host of sea birds, red deer, seals and otters, occasional whales and much else to admire.
Skye's history goes back to…er… prehistory, with remains of ancient forts being followed with the remains of more recent castles. Yes, Skye's history is bloody if romantic, with no incident more so than the flight across the Island of Bonny Prince Charlie, assisted and sheltered by Flora Macdonald.
The walking options are endless here. We would say just take any path from the map – but the maps aren't always great at showing paths! We have tried to offer you the very best. Walkopedia has possibly got a bit carried away, which itself says a lot. If we went back, we'd hire a guide for a day and walk a combination of Black Cuillins, taking in a stetch of the famous high ridge.
The Black Cuillins
The compact Black Cuillins rise almost straight from the sea, and have a thrilling skyline of sheer cliffs and jagged crags, so have as a result been scrambling and climbing heaven for ever.
The exceptional, 12 mile long Black Cuillin Ridge is the internationally famous walk (actually, demanding scramble) here, an extraordinary jagged ridge which swings in a great curve containing no less than 11 Munroes. The views from the ridge are as good as can be found anywhere – on a good day. It has been described as both unlike any other walk in the UK, at the point where scrambling becomes mountaineering, and ropes are needed in places. You will need to tackle the ridge in good weather.
Once on the ridge (it takes 6 hrs or so to get up and down), the traverse takes anything from 9 to 15 hrs, and requires careful concentration all the way. Ie, it is an exceptionally tough and demanding route, involving more than 4,000m of ascent and descent, so you need to be very fit. The full traverse involves a night on the ridge for all but the exceptionally fit. But you can make wonderful long day walks to parts of the ridge.
The best day summits in the Black Cuillins:
Sgurr nan Gillean: this superb landmark pyramid marks the northern end of the Black Cuillin ridge. It is beyond a normal walk, its easiest (south-eastern) approach still requiring some scrambling and a crossing of a foot-wide knife-edge – and crossing a lot of difficult ground. 14km/more than 8hr in total - or more, depending on your approach route. The south-east ridge is the easiest – although everything is relative here.
Inaccessible Pinnacle on the high ridge.
Bruach na Frìthe: this 3,143ft mountain in the north of the Black Cuillin is not difficult (by Cuillin standards), but commands stellar views of the heart of the range. Walkopedia loved it. 14km/5hrs.
Sgurr Alasdair, at the very heart of the southern Black Cuillin. The highest in Skye at 3,257ft. A difficult climb up the Great Stone Chute from Choire Lagan.
Bla Bheinn: This magnificent mountain is just a Monroe (at 3,000ft exactly), but looks and feels much more. It sits at the south of the series of mountains to the east of the Glen Sligachan at the heart of the Cuillin, just inland from Camasunary beach. Bla Bheinn is widely admired for its looks and all commands some of the best views in Skye, and that is of course saying a lot. This is not an easy climb, both steep and complex, on a rough and sheer mountain, so should be undertaken in good weather only
Sgurr na Stri: magnificent Glen Sligachan divides the Black and Red Cuillins. At its southern end, the relatively low (1,620ft) Sgurr na Stri sits, alone, commanding vast and gorgeous views,. which some claim to be Britain's best. The glen is a 12.5km walk, more if with Sgurr na Stri. A shorter approach is to climb from Camasunary Beach. You can also climb it from Loch Coruisk.
The Red Cuillins – up high
The Red Cuillins to the east are less dramatic and famous, but still high and superb landscape with outstanding and justly popular walking. They are mainly formed from pinky granite, so have eroded very differently from the Black Cuillin, with several stand-alone cones and long, steep slopes of scree: shapely but not always easy walking.
Northern Red Cuillin Horseshoe: a stunning swing around some of the highest points of the Red Cullin, including Glamaig (just under 2,400ft) Beinn Dearg Mheadhonach and Beinn Dearg Mhor. Amazing views. 10km/6hrs.
Eastern Red Cuillin Circuit, The easternmost Red Cuillin form a magnificent horseshoe, with a wonderful selection of visual delights. This is a demanding but exciting walk, including a superb, narrow and airy ridge above two huge corries.
Marsco is a particularly fine freestanding pyramid in the north of the Red Cuillin. It looks fantastic from various directions (take a bow) and also itself commands stellar views of the Black and Red Cuillin mountains, with glimpses of the sea to the north-east. This is a demanding 13km, 5hr trek from Sligachan. It begins easily enough, with a steady climb up gorgeous Glen Sligachan and then leftwards into the Coire Dubh Measarroch. From the low pass at its head, you turn right to make the long, steep climb and descent around the flanks of the corrie which cuts its way into the heart of north-east Marsco, swinging round above its head to reach the summit with its ecstatic views.
Other Skye walks
A circuit on beautiful Raasay, the long island due east of Skye, taking in a circuit to its high point, Dun Caan, for vast visual glories, gorgeous coastline and wild empty hills. Various options.
Trotternish Peninsula, north-east; the dominant feature here is the perhaps 10 mile long Trotternish escarpment, which was formed by Britain's biggest landship (sedimentary rocks collapsing under the weight of hundreds of feet of successive lava flows above), which created the Old Man of Storr and the Quiraing (see below).
A circuit just north of Portree leads round the Torvaig formation. Huge eastward views to Raasay.
The Old Man of Storr a bit further up the east coast is not to be missed (although Walkopedia managed to, heading for the Quiraing instead). A stunning rocky column in an area of superb formations. 3.5km return.
The Quiraing in the north is a spectacular long cliff (indeed escarpment) in Skye's north-east, replete with various remarkable features. And the views… You can make a splendid circuit along its base then back along its top, in 7+km, around 3 hrs. A must-do if on Skye.
Rubha Hunish is a low, rocky, almost-inaccessible peninsula in the far north. Approach it across rough grazing ground, until you reach the defile which takes you to the steep descent of the stunning basalt-fluted cliffs which separate the peninsula from the rest of the mainland. Amazing, huge views from the clifftops. 7+km, 3hrs or so.
North-west: Duirinish and Waternish capes, cliffs and beachs: Skye's far north-west coast is long on peninsulas, points and cliffs to enjoy, with the inevitable gorgeous views, with exciting and varied walking options.
Duirinish Area
Neist Point is a beautiful low promontory for a gentle stroll, but easily accessed so often thronged.
Down the road south, you can head out across country (some rough paths) to the local high point of Waterstein Head; and further on is grassy Ramasaig Cliff, a 20-minute walk from the road and sitting above huge.. er..cliffs. The views from both are better than from Neist Point.
Further south again is the line of huge sea cliffs known as The Hoe below the Hoe hill), which again have vast and truly spectacular views out across to the sea towards the Outer Hebrides and south to Rum. You can walk a 9km (3hr) circuit around the Hoe hill from the hamlet of Ramasaig at the roadhead.
The row of three hills on the peninsula out to Dungevan Head look exciting and view-laden.
The long Waternish Peninsula in the middle of the north has a superb path out across the western slopes to the houses at Unish near from Waternish Point.
In between these is the relatively stubby projection due north of Dunvegan. The flattish Beinn Bhreac ridge looks thoroughly attractive and view-rich. A short walk up the coast is a superb and fascinating coral beach, composed of tiny fragments of somehow surprising coral and colourful shell. Easy walking, so you won't be alone.
Central (around the Cuillins)
Glen Sligachan marches directly between the dramatic, grimly superb Black and Red Cuillin, down to beautiful Camasunary beach. It is a superb walk in its own right, but a long haul and in places boggy work (much harder after rainy conditions than dry), so makes for a very long and tiring day. 12.5km one way more if with Sgurr na Stri. You can walk out to the Elgol peninsula road from Camasunary, but you will need to sort transport.
Around Glen Brittle to the west of the Black Cuillin:
You can walk a circuit around the Beinn a Bhraghad mass (and Glen Brittle Forest) starting at Eynort (17km/4.5hrs) [more – views?].
Climb to the stunning Fairy Pools in the rivers below the Coire na Creiche right in under the north-western grand Black Cuillin cliffs (8.7km, 3.5hrs).
The superb Coire Lagan corrie, which sits right in under the south-western cliffs of the high Black Cuillin ridge, with a lochan in the high bowl, all surrounded by spectacular crags. Outrageously beautiful on a sunny day, bleakly grand at other times. A 550m climb in 9km/4.5hrs, including a circuit to take in the lovely Eas Mor waterfall. Accessed from the foot of Glen Brittle.
Rhub' an Dunain, south of the Black Cuillins: a stunning walk above sea-cliffs to the 'headland of the fort', where 8,000 years of history (Neolithic to Viking and beyond) underlie hugely atmospheric ruins in a glorious headland position. 13.5km/ 4.5hrs.
Loch Coruisk is a truly remote, stunningly sited lake in under the southern Black Cuillin. Only directly accessible by boat from Elgol. A 6km/3hrs walk around the lake. Also, climb the first hills of the Black Cuillin Ridge circuit or Sgurr Na Stri for amazing views both of the Cuillins and out to sea.
The delightful walk out from the Elgol road to the absurdly beautiful beach of Camasunary. 8km, 2.5hrs. Or extend it to circuit the rough but stunning Strathaird/Elgol peninsula. Staggering sea views, beautiful empty hillsides. 18km, 6+hrs.
Strath Mor and Strath Beag: towards the east of Skye, two magnificent glens link the north and south coasts, both running through the heart of the Red Cuillin from the head of the southerly Loch Slapin. These glens can be combined into a circuit, and have to be some of Skye's most beautiful landscapes, absolutely classic wild Scottish glens, although they are interestingly different.
East and South-east: Sleat Peninsula
Walk across rugged moorland to the Acairseid an Rubha, a little fishing hamlet in a perfect rocky cove with a headland beyond with staggering views. Then on to the Point of Sleat in the far south for huge views across the sea to Eigg and Rum. 8km, 4hrs or so. A really beautiful walk in remote landscape.
The long one: Skye Trail
This is a relatively recently created informal 7 day route which covers a great deal of Skye's finest landscape (and links several walks which merit inclusion on Walkopedia in their own right), albeit not much of it on the highest peaks. The trail begins with 3 days on the Trotternish Peninsula in the far north, with stunning views all the way. From Portree, you walk down to Sligachan via the coastal Braes, then down the length of Glen Sligachan, which crosses the island between the Black and Red Cuillin ranges with extraordinary views the whole way, to beautiful Camasunary beach, and on down the wild coast of the Elgol peninsula to the fishing village of Elgol. Thence it is a day walking up the eastern Elgol peninsula, above Loch Slapin, which has meltingly beautiful views of Red Cuillin peaks on a good day; and then a final wind around the coast to view the remains of the cleared villages before heading inland to cross Broadford on the north coast. This is often quite demanding walking, much of it not on major paths, so a walk for experienced hillwalkers. There is basic accommodation available on most of the route, but not all of it.
_______________________________________
Just look at any map and you will be able to create your own menu: there are fantastic walks to be had everywhere.
https://www.walkhighlands.co.uk/skye/ is very good on Skye walking.
Skye has notoriously fickle and often bad weather, and conditions on top can be appalling. People die up there, and it is easy to lose your way in cloud/mist. Always come fully prepared. Be prepared to abandon an attempt on a peak if circumstances change.
Find relevant books on Amazon.
WE WANT TO TAKE THIS PAGE EVEN FURTHER: ALL IDEAS AND PHOTOS WELCOME!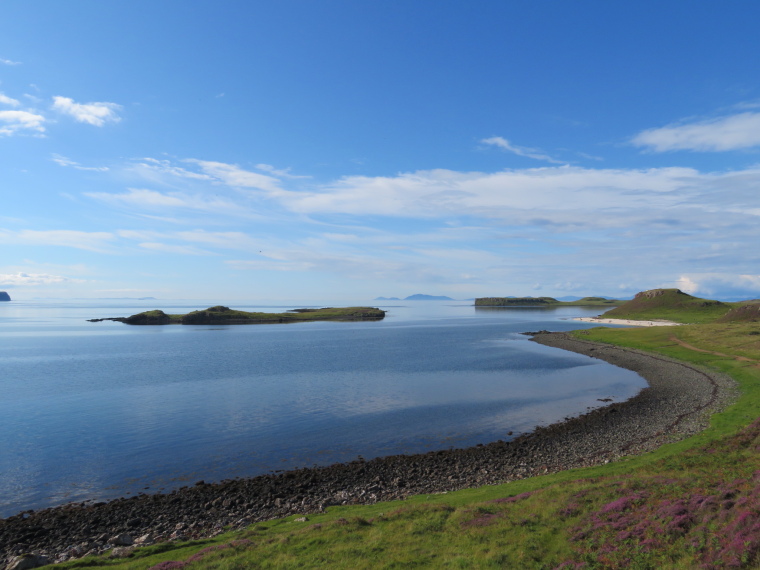 We have a lot of helpful practical information and tips about this walk, covering everything from the best books and maps, to timing and weather, geting there, possible problems, whether you need a guide and where to find them, and useful websites. This section is only open to members.
Membership is FREE AND JOINING TAKES 30 SECONDS. To login or sign up click here
Safety and problems: All walks have inherent risks and potential problems, and many of the walks featured on this website involve significant risks, dangers and problems. Problems of any sort can arise on any walk. This website does not purport to identify any (or all) actual or potential risks, dangers and problems that may relate to any particular walk.

Any person who is considering undertaking this walk should do careful research and make their own assessment of the risks, dangers and possible problems involved. They should also go to "Important information" for further important information.
Anyone planning an expedition to this place should see further important information about this walk.
Safety and problems: All walks have inherent risks and potential problems, and many of the walks featured on this website involve significant risks, dangers and problems. Problems of any sort can arise on any walk. This website does not purport to identify any (or all) actual or potential risks, dangers and problems that may relate to any particular walk.

Any person who is considering undertaking this walk should do careful research and make their own assessment of the risks, dangers and possible problems involved. They should also go to "Important information" for further important information.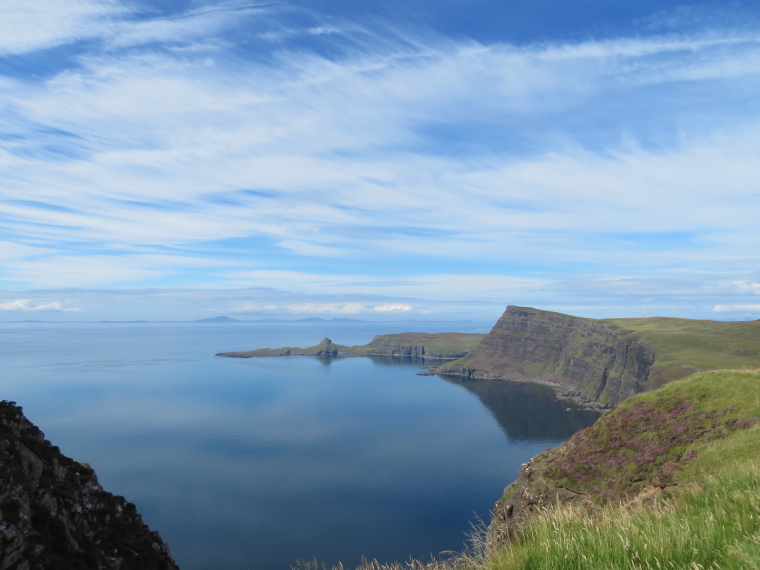 OTHER ACCOUNTS
share your experiences
Top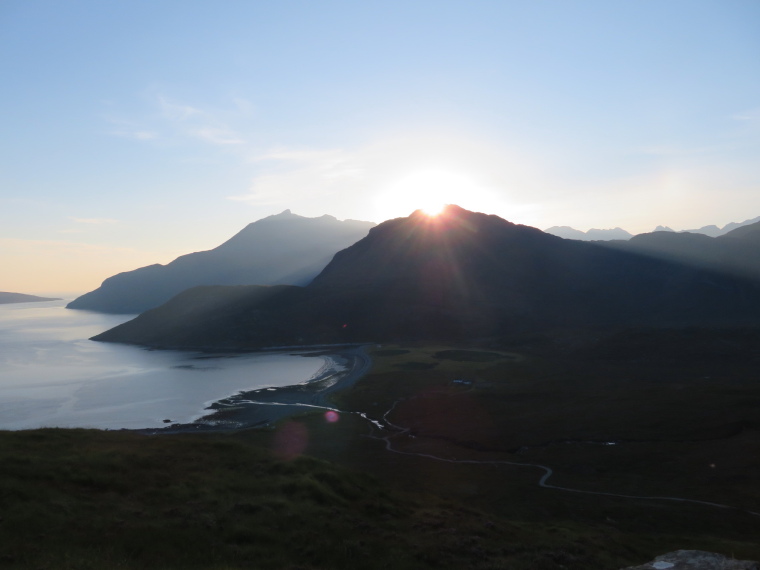 Top
Responsible travel matters, a lot. How you travel will make a real difference - for better or worse. PLEASE consider this when making plans. Read more