Brittany
Key information: Brittany
Beautiful coastal landscape; forests, rough hills and canals inland; a long, proud and fascinating history – and a big section of top-class walks.
Walkopedia rating
Walkopedia rating87.5
Beauty

31

Natural interest

14.5

Human interest

15

Charisma

31

Negative points

4

Total rating

87.5

Note: Negs: lots of people in good months
Vital Statistics
Length:

Your choice

Maximum Altitude:

330m

Level of Difficulty:

Variable
Top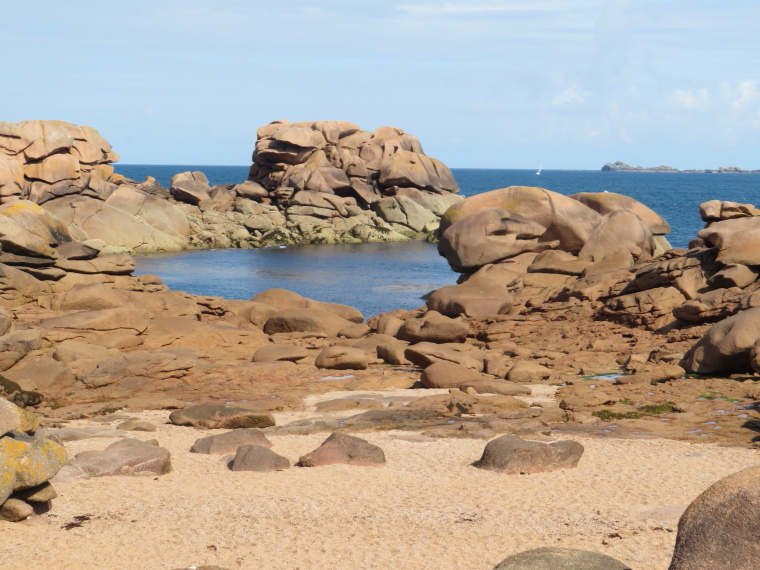 WALK SUMMARY
With a long history going far back into the mists of time to an era of huge cairns and endless stone alignments claimed to be the most important in Europe (fight back, Stonehenge!), a proud era as a separate dukedom, geographic seclusion out on the edge of Europe and its own Celtic language, Brittany is different – like Cornwall is from the rest of England, but more so.
Brittany is famed for its beautiful rocky coastline, cliffs and boulders with wide pale sand beaches between them, with some truly magical stretches.We have to say, though, that, to eyes used to the standards of wilder/better protected places, much of the coastline is compromised by development and tourism. That said, even in quite developed areas, there can be sections of coast (often above cliffs) which make for good if interrupted walking.
While the strip behind the northern coast is relatively dull farmland, although enlivened in places by estuaries and the deep abers (watery inlets) of the west, much of the interior is an ancient, mysterious place of rugged hills (monts is a misdescription), tangled forests, deep mossy gorges and high heathlands littered with testaments to long-vanished cultures. Lovely traditional farmland and quiet old villages wait to be explored.
Brittany is littered with beautiful and historic towns and charming ports, from St Malo to Dinan, ... , Quimper and artistic little Pont-Aven, which are a joy to explore when recuperating from the rigours of the trail.
Walking: while it is easy to think of Brittany as mainly coastal walking, there is much to enjoy in the interior. Much of this is "if in the area" walking, but there are some walks here that you would structure a holiday around. They are shown in red.
The great long-distance path here is the 1,700km (70-90 day) coastal GR34. While you could encounter the law of diminishing returns if you take on too much of it, you can find a lovely stretch of it near most places around the coast. If you are constructing a holiday with the GR34 at its heart, choose your stretches carefully. There is a good Cicerone book on it. See our GR34 page for more.
The other major path follows the Nantes-Brest canal (see below).
There are 5 Compostella routes, trails which fed into the great pilgrimage route to Santiago in north-west Spain. These are maintained by the Breton Association of the Friends of St Jacques, who have produced guidebooks.
There are various easyish Vioes Vertes (Green Ways) along former railway lines
North Coast
Pointe de Grouhin (east): the coast around this headland north of the oyster centre of Canacale is gorgeous and, once you get some distance from the roadhead and beaches at its base, reasonably empty by Brittany's standards. Make a 6km/2hr circuit, to enjoy the cliffs, scrub and moorland on both sides, with big views along the Brittany coast, including across the Mont St-Michel bay to the famous abbey on its rocky plug in the bay. Really worthwhile.
The 17km stretch of the GR34 between Cancale and St-Malo is said to be an excellent day walk.
Rance valley downstream of Dinan (east): just north of the superb medieval inland port city of Dinan, south St-Malo, the Rance estuary is a deep gouge between wooded hills. Make a thoroughly enjoyable circuit up (ie, down) to the barrage that blocks the sea tides, in 14km/4hrs or so. The east bank is steep, cliffy indeed, and quite hard work. The west is a level walk along the towpath of the canal created by the barrage. Do this if in Dinan!
Emerald Coast (east): this curve of coast west of St Malo alternates between pleasant enough traditional family resorts and some stretches of rugged, beautiful, genuinely remote (by Brittany's standards) coastal landscape.
Cap d'Erquy: North of the resort town of Erquy lies a protected plateau of mixed vegetation – pine to heather to gorse. To its west are proper cliffs. Round on the north coast, a path winds above a long, superb sandy beach before dropping to a carpark by another beach. Gorgeous views and very blue seas on a good day.
Cap Fréhel/Fort de la Latte: Between the stunning point-end restored castle of Fort de la Latte and the high, heathery, cliff-girt Cap Fréhel is a 3km or so coastal path, which makes for a superb leg-stretcher.
Côte de Granit Rose (central): this is a protuberance between Paimpol and Lannion where the land meets the sea in the form of fantastical formations of (yes) pink-ish granite – nearer pale orange in reality – which are refusing to give in to the waves' ceaseless batterings but clinging obstinately on as islets and rock piles, way out to sea in places, creating a wonderful world of low, craggy promontories and broken rocks against a shimmering sea. But it's a popular area, so you are seldom out of sight of houses or, indeed, truly alone. There is endless wonderful walking you can do. Specials include:
The Sentier des Douaniers, the area's famous walk – and indeed the rocks are most dramatic here, great heaps holding out against the sea, with unthinkably huge boulders piled on top of each other. But its proximity to pretty but full-on resorts means it is thronged at popular times. The walk follows the path that customs officers used to patrol against smugglers. Enjoy lovely if fragile vegetation.
Pointe de Chateau: This headland in the middle of the coastline is wilder and relatively emptier. Fine white beaches among rocky ridgelets poking out into the island-littered sea.
Sillon de Talbert: a strange 3.5km narrow finger of shingle and sand protrudes from the next "peninsula". A windy walk, with seabirds galore at most times of year. Good walking on the peninsula's western side.
Île de Bréhat: A pair of conjoined holiday islands just off the north-east of the Côte. It is charming, and its coves gorgeous, but it is just too built-up for Walko's taste. That said, the northern island is home to varied and interesting birdlife and rare plants, and is still a lovely place.
See more at our Côte de Granit Rose page.
Carantec, Île de Callot (west): this pretty peninsula of low hills, coves and beached south-east of Roscoff makes for a good couple of hours on the coastal path. More exciting will be to cross the causeway to the beautiful, slender, low Île de Callot to the north. This stunning island has its own pilgrimage chapel and nature reserve.
Île de Batz: this long, thin charming island off Roscoff makes for a lovely day's relaxed exploration. Its north coast is wild and rugged, its southern side more inhabited and possessing some fine beaches.
Wild(ish) west (Finistere)
This remotest of Breton coastal areas remains quiet, (relatively) less touristed, low, windswept - it really does feel like the end of the world. It has a wilder coastline – well, relatively, as it is still a holiday area – with some excellent stretches of cliff-and/or-sandy estuary to enjoy. It is riven by deep, often forested inlets called abers (Celtic connection alert), which make for some drama and indeed different walking.
Quiet villages and small towns (many former fishing ports).
You will face a selection of superb walks through heather and heath behind low cliffs above pounding surf, meltingly pretty sandy coves and long, often sandy, estuaries which the tides march up and down. With such concentrated beauty and sprinkled comfort, making multi-dayers with a light backpack along the GR34 is easy. Finding great shorter walks is so easy, it is hard to recommend particular choices, but here goes.
Ouessant out in the full Atlantic off the far north-west is a marvellous wild and wind-blown island which makes for some stunning walking.[W more one day]
South-west coast
Crozon Peninsula: this peninsula south of the vast Brest rade (sheltered, almost inland, expanse of water) tapers to three sub-prongs at its end, of which two are thrilling places to walk.
The western (Camaret) one, just beyond the delightful harbour town of Camaret, offers so much: from stunning megalithic alignments, to coastal defences covering created by the Nazis and, much earlier, by the great Vauban; from high, colourful gorse and heather heathlands above steely, proper cliffs overlooking a restless sea, to huge, beautiful, underpopulated beaches. It is, though, over-busy in higher seasons.
The southern prong, out to the Cap de la Chevre, is generally a bit emptier, a wonderful coastline of heather and gorse above fierce cliffs interspersed with gorgeous beaches. With various roads coming out to (or near to) the coast, you can make yourself all sorts of walks and circuits incorporating the coastal path. This is the better walking if you like solitude.
At the base of the peninsula is the long, two-peaked, low-gorse-and-heather-covered hill of Ménez-Hom, the highest point in Brittany at a lordly 330m, which many would say has the best views in Brittany. There is a road to just below the summit, so you will be far from alone during the clement months. For a great walk, you need to make a longer route,
See more at our Crozon Peninsula page.
Cap Sizun/Pointe du Raz: the whole coast of this peninsula west of Quimper is lined with rocky drama, surging seas, occasional perfect sandy coves/bays and green/heathery – and it is less compromised than much of the Breton coast. Not to be missed if in the area. The main draw here is the Pointe du Raz, Brittany's equivalent of Land's End – so expect hordes at the actual point itself. The rest of the peninsula has marvellous walking above proper sea cliffs on both coasts.
South Coast
There are some nice stretches of coastal walking between the endless little resorts south of Quimper, but don't come here seeking great walks. The countryside around Pont-Aven, the inland port made famous by artists including that difficult Gauguin, has lovely wooded inlets on the Aven estuary, and charming countryside around (the 2 day, 33km stretch between Bénodet and Pont-Aven is said to be excellent.) The Bois d' Amour upstream from the town is a disappointment.
In the Gulf of Morbihan there are good stretches of the coastal path including Locmariequer and the huge prehistoric cairn at Petit Mont and the Séné peninsular south of Vannes. As well as the île de Arz, good walking islands include île aux Moines.
Belle-Île: this lovely island some 15km south of Quiberon boasts a marvellous selection of walking, on its coastal footpath, whether on the heathery moorland along its wild south-west coast (Côte Sauvage) or inspecting the gentler, inletted and beautiful-beached leeward side. While most people go there for a day, a couple of days on Belle-Île would be walking bliss, and would repay the effort to get there. [31.5, 15, 12, 31?]
Penéstin: this pleasant holiday town in the far south has a good mix of landscape around it – sea cliffs, estuary and gentle, traditional farmland. Do walk here if in the area.
Île de Arz: this pleasant, fertile island in the Gulf of Morbihon sports beaches and coves between low promontories. Not too crowded even in high summer, it is lovely place to potter, and it has a coastal walk of some 16km which you can do in 4 hrs or so.
Renvins to Arzon: this 18km stretch of GR34 coastal path is particularly lovely.
Interior
St Just area (east): An area of heathland known as the Grée de Cojoux had the finest selection of Neolithic remains in Brittany after Carnac – ie, it is of international importance. Inspect everything from dolmens to menhirs, to barrows to whole alignments, to a stunning semi-circle as you walk over open moorland, with lovely longer circuits to be made while you are at it. A charmer as well as fascinating.
Forest of Paimpont: Val sans Retour (east): the ancient forest of Paimpont is lovely and fascinating, and its connections with the Arthurian legends give it an added allure – it is said to be Brocéliande, home of Arthur and his court. The Val sans Retour is a particularly beautiful valley. Not to be missed if in the area.
Gorges de Daolas
The Gorges du Corong is another exciting rocky forested gorge near Carnoet in the north-centre.
Huelgoat Forest: this ancient forest on the flanks of the Monts d'Arrée in central Brittany south of Morlaix is marvellous and fascinating – and somewhat other-worldly, a rough, steep land around the deep gorge of the river Argent, cloaked in timeless and ethereally beautiful mixed forest. The bottom of the valley is a crazed jumble of enormous boulders, all covered in moss and ferns. Meet deep grottoes below unthinkably large pinioned boulders, waterfalls and meltingly pretty pools.
Menez-Mikel: This scrubby hill in the Armorique NP makes for a good hour plus yomp for excellent views.
Ellé Valley near Le Faouët: here is another mossy-rocked stream running, in a deep, steep valley on the southern edge of the Montagnes Noires, through gorgeous old (mainly beech) forest. Walk its beautiful banks, climb the valley sides to take in the extraordinary (lavishly constructed, eccentric-shaped) C15 chapel of Ste-Barbe, high up just under the gorge rim. Well written up in Walking in Brittany by Judy Smith. Shocking sight of death]
Brest-Nantes Canal: this extraordinary feat of Napoleonic construction connects rivers and lakes to form a delightful winding exploration of the quiet, green Breton countryside, linking a number of interesting towns. A 323 km path follows the canal, with plenty of fine stretches to enjoy.
We want to tell more - please send us your ideas, suggestions, experiences and photos.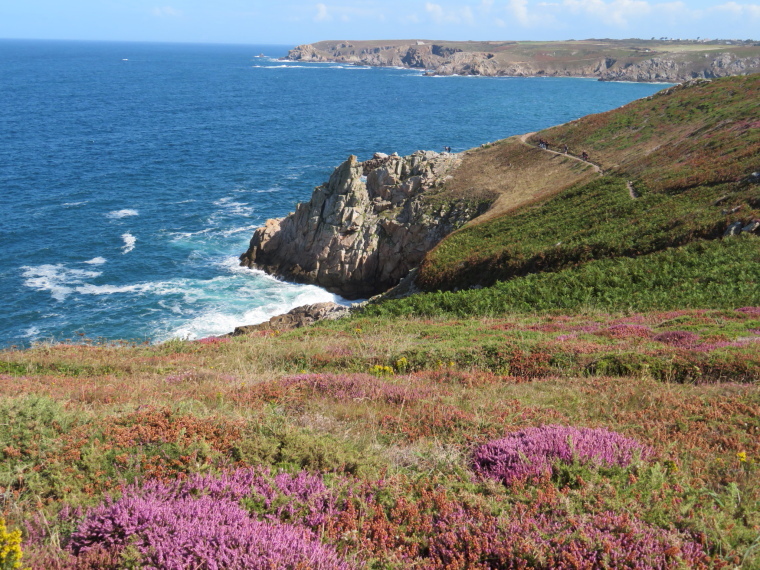 We have a lot of helpful practical information and tips about this walk, covering everything from the best books and maps, to timing and weather, geting there, possible problems, whether you need a guide and where to find them, and useful websites. This section is only open to members.
Membership is FREE AND JOINING TAKES 30 SECONDS. To login or sign up click here
Safety and problems: All walks have inherent risks and potential problems, and many of the walks featured on this website involve significant risks, dangers and problems. Problems of any sort can arise on any walk. This website does not purport to identify any (or all) actual or potential risks, dangers and problems that may relate to any particular walk.

Any person who is considering undertaking this walk should do careful research and make their own assessment of the risks, dangers and possible problems involved. They should also go to "Important information" for further important information.
Anyone planning an expedition to this place should see further important information about this walk.
Safety and problems: All walks have inherent risks and potential problems, and many of the walks featured on this website involve significant risks, dangers and problems. Problems of any sort can arise on any walk. This website does not purport to identify any (or all) actual or potential risks, dangers and problems that may relate to any particular walk.

Any person who is considering undertaking this walk should do careful research and make their own assessment of the risks, dangers and possible problems involved. They should also go to "Important information" for further important information.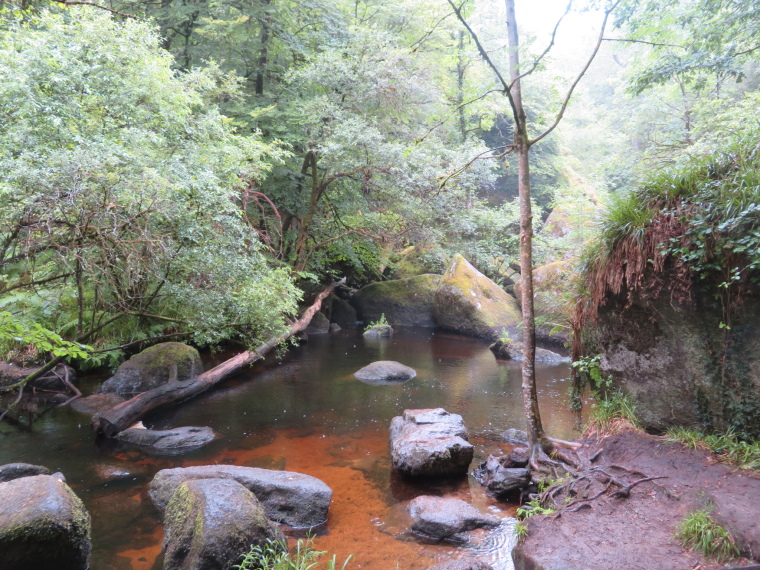 OTHER ACCOUNTS
share your experiences
Top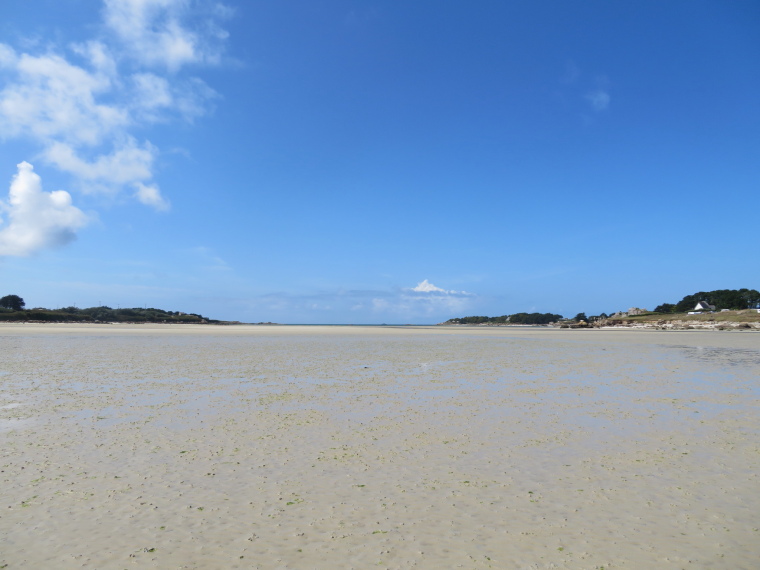 Top
Responsible travel matters, a lot. How you travel will make a real difference - for better or worse. PLEASE consider this when making plans. Read more