About China
A long and wondrous civilization interrupted by cataclysms of unimaginable horror, the most recent being Maoist Communism and the Cultural Revolution. Since the Deng Xiaoping reforms, China has been developing frantically, achieving the "biggest event of mass poverty relief in human history", but with many environmental and human casualties along the way.
The Cultural Revolution did desperate damage to the country's cultural fabric, and much that you will see has an ersatz, Disneyfied feel, but there are still unforgettable things to find and do.
So a China expedition needs to include some of the great cultural gems, but, as well as the obvious places - Beijing, Shanghai, Xian, Guilin – there are many less-known places (well, outside of China anyway: you will struggle to escape internal tourists nowadays) which are too good to miss, the main limitation being time. Think Silk Road, Tibet, the mountains of Sichuan and Yunnan, the time-honoured sacred mountains, the vast rivers, outlandish geological features like the Guilin countryside or the Stone Forest near Kunming, historic cities like Hangzhou. And of course the one-and-only Hong Kong.
The vast mountains of the west, the deserts of Tibet and the Xinjiang-Inner Mongolia strip, the extraordinary topography of the Huangshan mountains, marsh, lake and river: China still retains, despite all its despoilation, wonderful scenery and wildlife.
So, China has things to fascinate everyone, children included. The variety of travel and tours is as a result huge.
Walking, hiking and trekking in China
China has some of the world's best walks, hikes and treks, ranging from famous mountain trails such as the Mount Kailash Kora, our top walk in the world (see our Top 100 list), to geological and natural absurdities like Guilin, to ancient sites such as the Great Wall and the unmissably atmospheric if crowded lakeside at Hangzhou, Song dynasty capital and origin of willow pattern china.
Famous walking regions include:
Tibet – Everest north face, Shishipangma base camp; Mount Kailash amd great monastery and lakeside sacred kora walks
The mountains of the western fringe: Tiger Leaping Gorge, Jiuzhaigou, Gonggashan
The Tian Shan in the far northwest
the historic sacred mountains (Huangshan, Tai Shan, Emei Shan etc)
We intend that our walk pages contain detail and photos on walking, hiking or trekking routes, including books, best times and weather, how to get there, possible problems, walking, trekking and hiking firms, organisers and guides in China, accommodation in China and useful links. But this takes a lot of research, so if they are not "there" yet, please give us any suggestions you may have.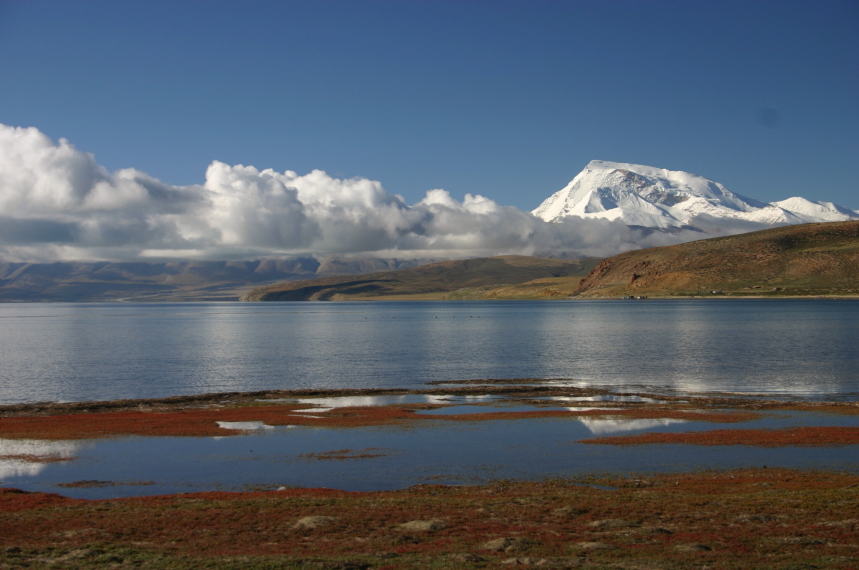 Best walks, hikes and treks in China
You can sort the walks by category by clicking on the category titles.
(The rating of walks marked * is currently provisional.)
Region
Walk Name
Walkopedia Rating
Difficulty
Day Walk
Possible?

---

Beijing
Straightforward
Yes
Great Wall
Variable
Yes
East, Zhejiang
West Lake, Hangzhou
Straightforward
Yes
Eastern, Anhui
Huangshan
Strenuous
Yes
Eastern, Anhui
Jiuhuashan
Variable
Yes
Eastern, Shandong
Kong Lin (Confucian Forest)
Straightforward
Yes
Eastern, Shandong
Tai Shan
Strenuous
Yes
Hong Kong
Buffalo Hill/Ma On Shan, Sai Kung
Moderate
Yes
Hong Kong
Central Ridge
Strenuous
Yes
Hong Kong
Double Haven
Strenuous
Yes
Hong Kong
Dragon's Back
Yes
Hong Kong
Hong Kong Trail
Strenuous
Yes
Hong Kong
Maclehose Trail
Yes
Hong Kong
Over and Around Mt Violet
Strenuous
Yes
Hong Kong
Pat Sin Leng
Strenuous
Yes
Hong Kong
Po Toi
Moderate
Yes
Hong Kong
The Peak
Straightforward
Yes
North-Central
High Circuit, Wutai Shan
Strenuous
Yes
North-Central
Wutai Shan
Strenuous
Yes
North-Central, Shaanxi
Hua Shan
Strenuous
Yes
North-Central, Shanxi
Lushan
Yes
North-west, Gansu
Labrang Kora (Xiahe)
Variable
Yes
North-west, Gansu
Mingsha Dunes, Dunhuang
Moderate
Yes
North-west, Xinjiang
Lake of Heaven
Variable
Yes
Sichuan
Emei Shan
Strenuous
Yes
Sichuan
Gonggashan
Yes
Sichuan
Jiuzhaigou and Huanglongsi
Moderate
Yes
Sichuan
Leshan Grand Buddha
Straightforward
Yes
Sichuan
Qingchen Shan
Strenuous
Yes
South
Around Yangshuo, Guilin
Moderate
Yes
South-Central, Hunan
Wulingyuan
Moderate
Yes
South-west, Yunnan
Stone Forest
Moderate
Yes
South-west, Yunnan
Tiger Leaping Gorge
Strenuous
Yes
Tibet
Barkhor Kora, Lhasa
Straightforward
Yes
Tibet
Ganden Kora
Moderate
Yes
Tibet
Ganden to Samye
Difficult
No
Tibet
Lake Manasarovar
Strenuous
Yes
Tibet
Mount Everest Region
Very Difficult
No
Tibet
Mount Kailash Kora
Very Difficult
No
Tibet
Ruins of Guge Capital, Tsaparang
Yes
Tibet
Samye Kora
Moderate
Yes
Tibet
Shishapangma Base Camp
Difficult
No
Tibet
Tashilhunpo Kora
Moderate
Yes
Tibet
Tibet's Monastery Koras
Variable
Yes
Tibet
Tsurphu Kora
Variable
Yes
Tibet
Tsurphu to Yangpachen
Difficult
No