Northern and Southern Circuits
Key information: Northern and Southern Circuits
Two routes around the mass of the central Kibo volcano. Beautiful and fascinating in their own right, they are mostly used by climbers as part of longer approaches to the summit for acclimatization.
Walkopedia rating
Walkopedia rating88
Beauty

33

Natural interest

18

Human interest

2

Charisma

36

Negative points

1

Total rating

88

Note: Negs: altitude.
Vital Statistics
Length:

4 days upward

Maximum Altitude:

4,600m

Level of Difficulty:

Strenuous
Top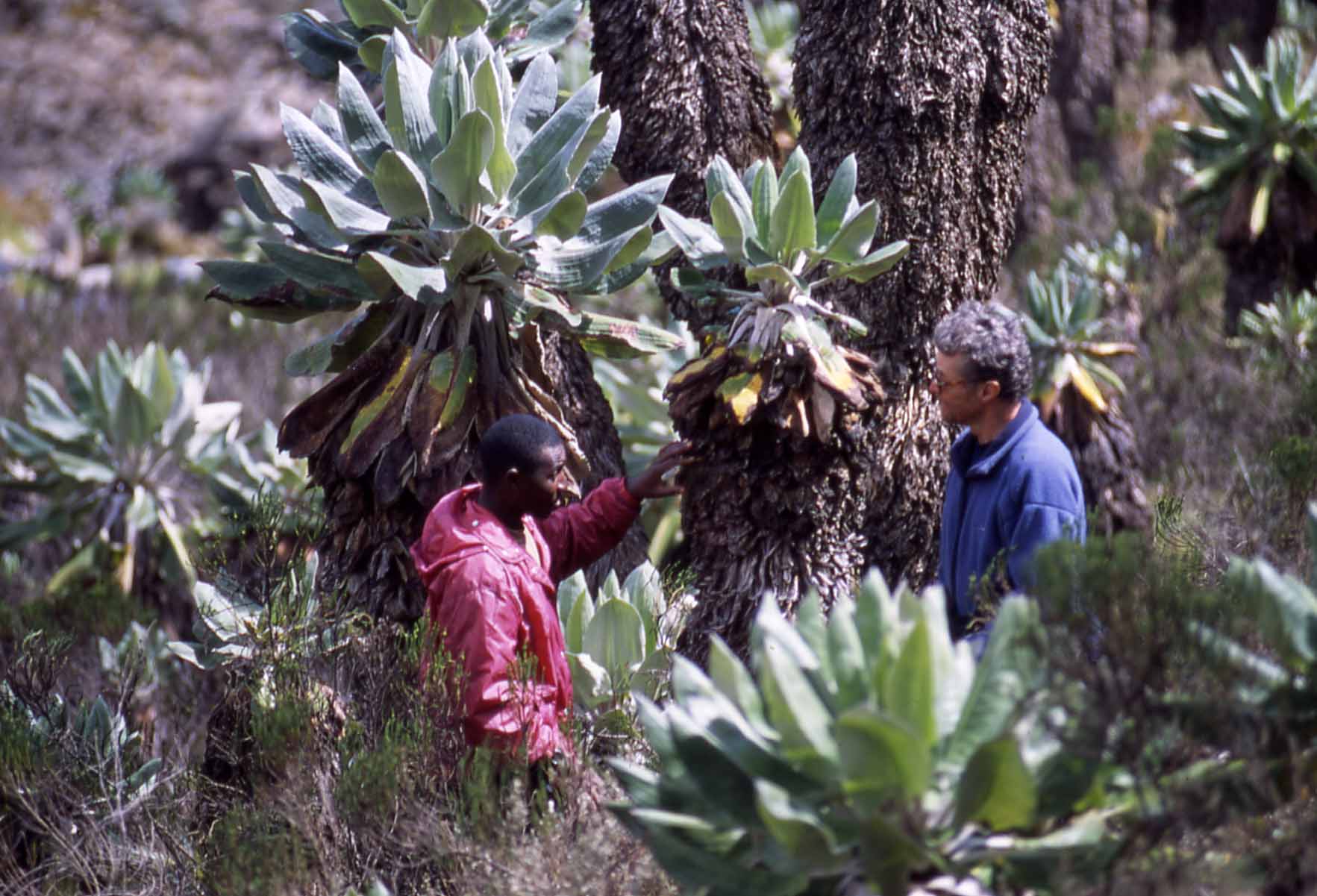 WALK SUMMARY
Traditionally, most climbers of Kilimanjaro approached from the east or south, and fought their way up in a 5 or 6 day round trip, with a lot of misery and attrition from altitude sickness. Over the years, increasing numbers of people are making a longer trek of it, approaching from the west to the Shira Plateau, as Walkopedia did, then swinging round Kilimanjaro's main summit, huge and glaciated Kibo, before climbing it on the main routes up from the east/south, in a 7-9 day trip which generally reduces the effects of altitude.
There are two routes round Kibo: the Northern and Southern Circuits. They are almost always walked west to east as a longer acclimatization walk before tackling the summit. Their western junction is above Shira and Shira 2 camps.
The Northern Circuit used to be little-used, indeed it is not shown at all on some maps from 2000 or earlier. It has developed a lot over recent years, with good campsites, but it is still emptier than the Southern Circuit, and that bit longer, with 4 nights before the summit as compared with the Southern Circuit's 2 or (more usually) 3. And easier walking, with no Great Barrancos to traverse.
Both routes are consistently way above the tree-line, in really beautiful heathland and moorland, and tundra and rocky desert. They have many delights to enjoy en route, including the Lava Tower near the junction of the routes, and Lent Hill formation above Moir Hut on the Northern Circuit.
The Northern Circuit, from Shira or Shira 2 campsites, is as follows:
To Muir Hut camp (4,200m): a long climb from the Shira camps to the junction of the circuits, usually taking in an interesting upward traverse to Lava Tower as a useful acclimatization and time-filler on an otherwise short day, then a bit over an hour's traverse to the deep, harshly beautiful, once-glacial valley containing the Muir Hut camp.
To Buffalo Camp (4,050m): you start with a climb up the steep hillside towards the dramatic ridgetop tower you will have seen, the first Lent Hill formation, then scramble to the top for thrilling views across the plateau to Mount Meru looming grandly in the distance. The rest of the day is a long traverse round the north-western flanks, initially through harsh high Alpine desert behind the Lent ridge. The trail climbs steadily to a couple of ridges, all easy walking but for the altitude. You then drop to pretty Alpine moorland for happy walking. The campsite sits on a platform behind what looks like a volcanic sill, and has superb views in all directions. A lovely place.
To Third Cave Camp (3,900m or so): this is a short day and the easiest walking we met, a beautiful undulating meander through highland scrub, with views of Kibo to your right and the clouds and plains below to your left. The camp is on a long gravel slope by a wide, dry river bed, a desolate spot as soon as the sun goes in.
To Outward Bound Hut Camp. A somewhat tedious slog up long steep gravel slope gets you to a junction, where you either head off towards the saddle between Kili's two great peaks or flog onward towards the Outward Bound Hut Camp. The best bit is the view of Mawenzi which opens up behind the ridge to your left not far above the campsite, often with mystical shred of rising cloud trying to obscure it. Or head on to the Saddle, towards Mawenzi or a descent route.
See William Mackesy's account (below) of walking the Northern Circuit.
The Southern Circuit is still the more-used route. It is more demanding walking than the Northern Circuit, with some tough ascents.
To Barranco Camp (3,950m): a long climb from the Shira camps to the junction of the circuits, turning right to head eastwards for an interesting high traverse. You can divert for a steady climbto Lava Tower at 4,600m as a 2-3hr side jaunt, but it is quite a long day anyway, so this won't be for everyone. (An alternative could be to camp there, a fine position if high and cold, then make a 6-8hr walk through Barranco Camp and on to Karanga Camp the next day.) Onward on the circuit, you join the Machame Route, to climb to the day's high point at 4,500m; thence down into a deep valley, back up the easier eastern side, then traverse to make a long and in places slippery descent into the deep, harshly beautiful ravine called the Great Barranco, with the eponymous camp deep within and a huge, long, brown cliff called the Barranco Wall on the far side. The valley sports the peculiar giant lobelias and senecio tree which are such an adornment on Mount Kenya but are more confined to the southern slopes on Kili. Apx 15km/7+hrs including Lava Tower.
To Karanga Camp (3,960m): a shorter day (appx 7km/4hrs), but quite demanding, starting with a climb to get above the famous Barranco Wall, on a diagonal path across the steeply sloping band of rock some 300m high which involves a bit of exposure, but is not that bad for the average walker. Further ups and downs follow, with a steep descent into the Karanga valley (last water supply for some way!), and steep climb back out to the ridgetop campsite to end with. The fit and keen could combine this with next day's Barafu Hut walk.
To Barafu Hut (4,600m): a short day (3 hrs or so, in preparation for the summit, no doubt). A traverse, then a long climb (now off the circuit itself) to this usually teeming campsite in a rather joyless position above the romantically-named South Western Valley. Thence to the summit, or on to the Saddle and various walking options. Or, indeed, don't take the uphill turn the Barafu, but traverse onward to join the Marangu route to the east.
The altitude will be tough, so physical fitness and mental preparation, as well as ample time for proper acclimatisation, will make for a more enjoyable trek and increase your chances of getting to the top if that is your aim.
www.tourdust.com organise an expedition here: we have travelled with Tourdust, and were delighted.
See our Kilimanjaro Massif page for more on walking here, photos and further general information on Kili, including the altitude and how to deal with it!
WILLIAM MACKESY'S ACCOUNT
of this walk
Northern Circuit, March 2020, having climbed the Lemosho Route
Day 1: ShIra 2 camp to Moir Hut via Lava Tower
We're in a good routine now. Tea in our tents at 6.45, pack, the usual huge and bracing breakfast.
It is a beautiful morning, a clear sky allowing us to gaze across the plateau and the caldera rim to the grand silhouette of Meru in the distance.
We head straight back up the hill we climbed, past yesterday's vantage point, plodding on up into Alpine shrublands: lovely, vivid vegetation softening the harsh.....
READ MORE
Safety and problems: All walks have inherent risks and potential problems, and many of the walks featured on this website involve significant risks, dangers and problems. Problems of any sort can arise on any walk. This website does not purport to identify any (or all) actual or potential risks, dangers and problems that may relate to any particular walk.

Any person who is considering undertaking this walk should do careful research and make their own assessment of the risks, dangers and possible problems involved. They should also go to "Important information" for further important information.
Top
Responsible travel matters, a lot. How you travel will make a real difference - for better or worse. PLEASE consider this when making plans. Read more