Machame Route
Key information: Machame Route
One of the most direct ways to the summit, and a (relative) budget route: as a result, very popular, with crowded campsites and trails at busy times.
Pass through varied and beautiful ecosystems, admire this amazing landscape. Catch the vast summit dawn views.
This is a very tough walk, turning into an altitudinous slog at the end.
Walkopedia rating
Walkopedia rating87
Beauty

38

Natural interest

19

Human interest

3

Charisma

37

Negative points

10

Total rating

87

Note: Negs: extreme altitude, crowded campsites and trails
Vital Statistics
Length:

6-7 days

Maximum Altitude:

5,896m

Level of Difficulty:

Very Difficult
Top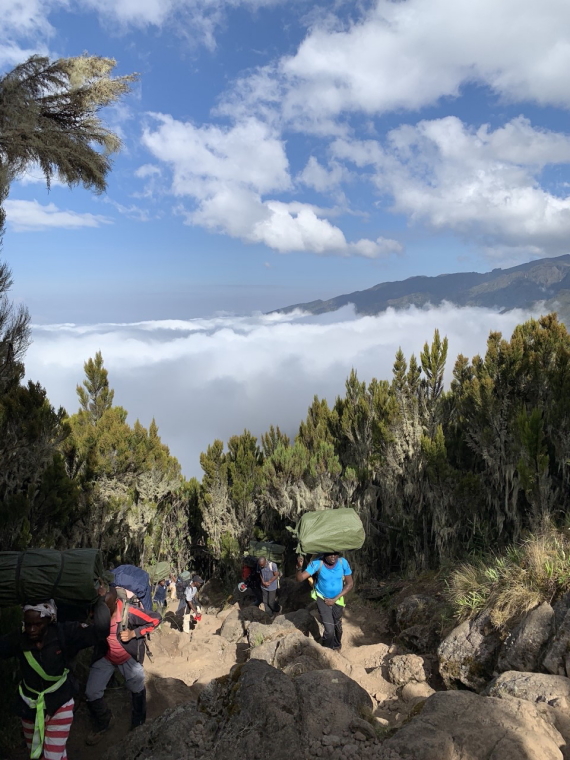 WALK SUMMARY
The roof of Africa, and the highest free-standing mountain in the world: Kilimanjaro is spectacular, romantic and a famous "bag"; but huge numbers of climbers make for crowding on the popular routes at busy times. You will feel triumph and exhilaration if you are one of those who reach the peak, which your altitude misery will not wholly ruin.
The Machame route from the south-west is currently the most popular trail of all, largely because it is one of the more direct routes to the summit, so a (relative) budget option: at busy times, this detracts from the spirit of this amazing place, with too little chance for quiet contemplation.
Walking on Kili costs a lot, so many people choose short, direct routes. Unlike the hutted Marangu Route, another (relatively) cheap option, you will be camping on the Machame, which makes for a more "real" experience but requires more support and thus cost. You will need to pre-book at popular times. See more on cost and walking options at our Kilimanjaro Massif page. But you are most likely to suffer from altitude sickness if you take the more direct routes, with often dire consequences for acclimatization and thus enjoyment – and, indeed, safety – and a greater risk of not making it to the peak. This is one tough mother. Ie, our advice is to take a longer route if your time and finances allow.
The Machame reaches altitude fairly quickly, on a pretty brutal first couple of days (hence it is called the "Whisky" route, in contrast to Marangu's "Cola-Cola") , but then takes more time at middle altitudes, winding round the spectacular Southern Circuit, taking longer to reach the final ascent than, say, the Marangu Route, which aids acclimatization. It is more demanding walking than the Marangu, but has a higher summit success rate, especially if you make it 7 rather than 6 days. If you extend it to 7 days, you will spend the extra night at the Lava Tower or the Karanga camp.
You will climb through dense rain- then cloud- forest, damp giant heather, beautiful heath then sparse scrub moorland and alpine desert, and then to the rock and ice, cliffs and glaciers of the summit complex. As the trail climbs, you should catch spectacular views across a region of natural wonders and you should spot animals of interest - eagles and buzzards will soar above but bigger game is scarce, unlike on neighbouring Mt Meru.
The final night-time ascent to the summit, to catch the views at sunrise, will be tough and not much fun (a long arduous slog on steep scree), but should be fabulously rewarding if you make it, as you gaze across the sea of clouds covering the slumbering Tanzanian plains, toward the dim outline of Meru on the pre-dawn horizon. See our Kili Summit page for more on the summit area.
Day 1 – Machame Gate to Machame Huts (1,830m to 3,030m) – 5.5km, 5-7hrs. A pretty demanding 1,200mclimb through beautiful and fascinating dense rain- then cloud- forest, which opens out a bit as you get higher: superb vegetation throughout.
Day 2 – to Shira Hut or Shira 2 camp (3,850m) – 5km, 3-4hrs. Short in distance, but pretty brutal, climbing 1,000m to reach the high Shira 2 camp It takes the Lemosho Route 2 days to get here), this is nonetheless a really beautiful walk, soon getting out into the giant heather zone, then on into open heath and moorland, with stunning, varied vegetation, with views up to KIbo and back down to the plains on a fair day. You will meet the peculiar giant lobelias and senecio trees which are such an adornment on Mount Kenya but are more confined to the southern slopes on Kili. You reach the eastern edge of the Shira Plateau, the filled-in remains of the caldera caused by the collapse of the earliest volcano here and itself a beautiful and hugely atmospheric place. From here it less than an hour to the campsite, with its tremendous views back over the plateau and the plains, with the outline of conical Mt Meru behind it.
From here on is an eastward traverse on the Southern Circuit, before turning north for Barafu Camp, the base for the summit assault.
Day 3 – to Barranco Camp (3,950m) – apx 15km/7+hrs including Lava Tower. A long climb from the Shira camps to the junction of the Northern and Southern Circuits, turning right to head eastwards for an interesting high traverse. You can divert for a steady climb to Lava Tower at 4,600m as a 2-3hr side jaunt, but it is quite a long day anyway, so this won't be for everyone. (An alternative could be to camp there, a fine position if high and cold, then make a 6-8hr walk through Barranco Camp and on to Karanga Camp the next day.) If sticking to on the circuit, climb to the day's high point at 4,500m; thence down into a deep valley, back up the easier eastern side, then traverse to make a long and in places slippery descent into the deep, harshly beautiful ravine called the Great Barranco, with the eponymous camp deep within and a huge, long, brown cliff called the Barranco Wall on the far side. The valley sports more giant lobelias and senecio trees.
Day 4 – to Barafu Hut ( 4,600m) – estimates vary, apx 10km/8-10hrs. A demanding day, starting with a climb to get above the famous Barranco Wall, on a diagonal path across the steeply sloping band of rock some 300m high which involves a bit of exposure, but is not that bad for the average walker. Further ups and downs follow, with a steep descent into the Karanga valley (last water supply for some way!), and steep climb back out to the ridgetop Karanga campsite, another place to overnight if you mare making 7 days of it. Next is a traverse, then a long climb to this usually teeming Barafu Hut campsite in a rather joyless position above the romantically-named South Western Valley.
Day 5 – to summit (5,896m) and start descent – distance/times vary, apx 12km/10-14 hrs to Millennium. Our Kilimanjaro Summit page gives more information on the ascent to the summit. Most will descent either due south the Millennium (or Mweka) Camp on the Mweka Route or to the Horombo Huts on the Machame Route.
Day 6 – finish descent, to the Mweka Gate or the Marangu Park Gate. (12 miles)
The altitude will be very tough, so physical fitness and mental preparation, as well as ample time for proper acclimatisation, will make for a more enjoyable trek and increase your chances of getting to the top. Ideally, you will climb Mt Meru or Mt Kenya (albeit demanding in their own right) as a warm-up. Remember: the slower you ascend, the less miserable it will be at the end: and walk high, sleep low if you can.
It is a requirement of the Kilimanjaro National Park to have a Tanzanian guide to ensure safety and to organise suitable lodgings/camping, food and porters (you really won't want to carry everything yourself to these heights).
Kili patriots will be shocked that the ascent of this famous mountain does not make our Top 100. In the end, however, drama and boasting rights do not compensate for the miseries of life at 19,000ft. (Our rating of this route assumes you will take it to the summit: if coming for the total experience of the massif, you would take a different route.)
Some good detailed information here: https://www.mountkilimanjaroguide.com/kilimanjaro-machame.html
See our Kilimanjaro Massif page for more on walking here, including attacking the Summit, and photos and further general information on Kili, including the altitude and how to deal with it!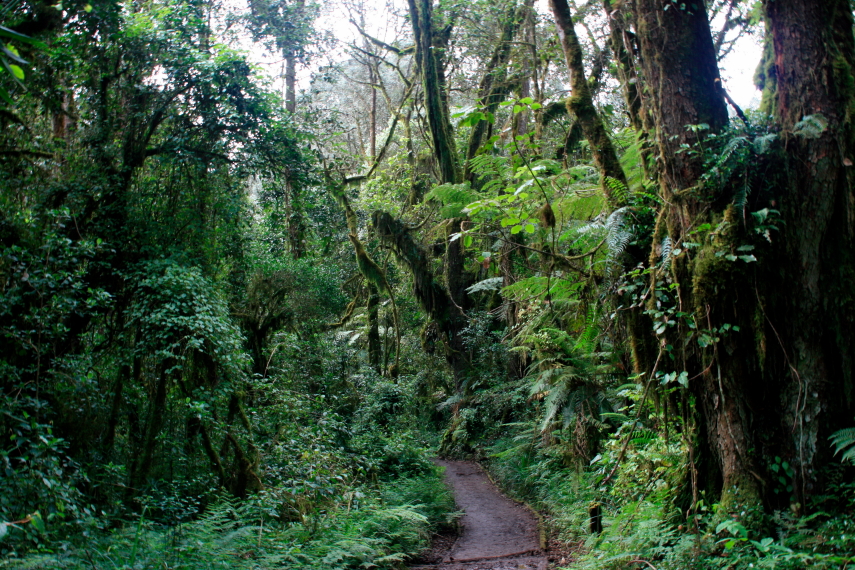 Safety and problems: All walks have inherent risks and potential problems, and many of the walks featured on this website involve significant risks, dangers and problems. Problems of any sort can arise on any walk. This website does not purport to identify any (or all) actual or potential risks, dangers and problems that may relate to any particular walk.

Any person who is considering undertaking this walk should do careful research and make their own assessment of the risks, dangers and possible problems involved. They should also go to "Important information" for further important information.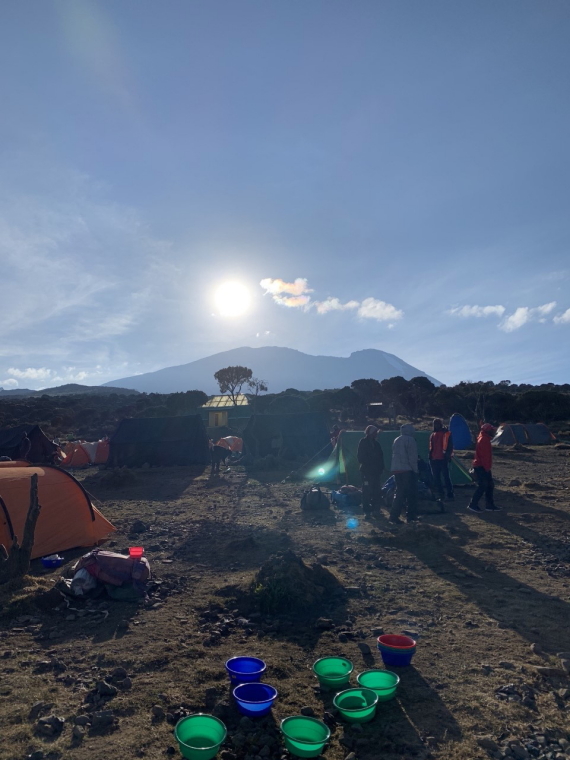 Top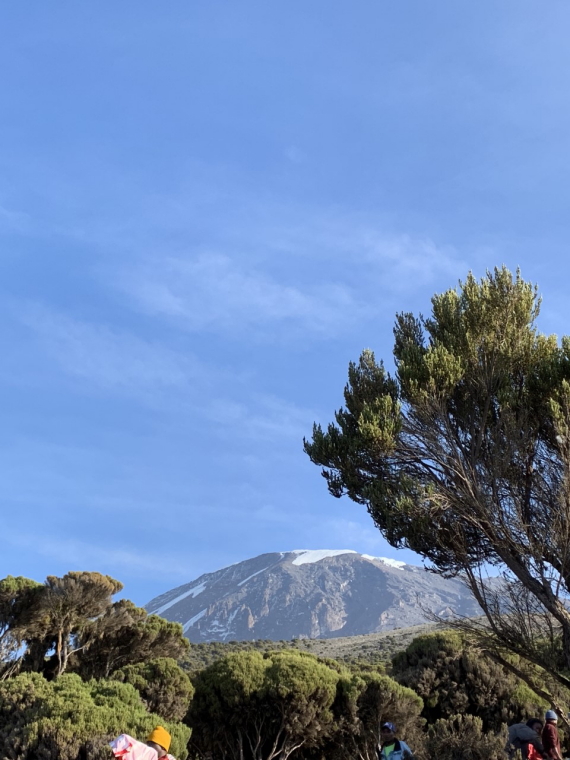 Top
Responsible travel matters, a lot. How you travel will make a real difference - for better or worse. PLEASE consider this when making plans. Read more