Climbing Kilimanjaro Summit
Key information: Climbing Kilimanjaro Summit
The assault on the summit of this spectacular, charismatic free-standing retired volcano is justly famous but a popular challenge, so sections can be crowded.
Pass through varied ecosystems, gaze at cliffs, lava fields and glaciers. Catch the vast views at dawn.
This is a very tough, altitudinous slog. Be prepared.
Walkopedia rating
Walkopedia rating88
Beauty

36

Natural interest

20

Human interest

4

Charisma

38

Negative points

10

Total rating

88

Note: Negs: Extreme altitude, miserable slog
Vital Statistics
Length:

1 long day

Maximum Altitude:

5,896m

Level of Difficulty:

Very Difficult
Top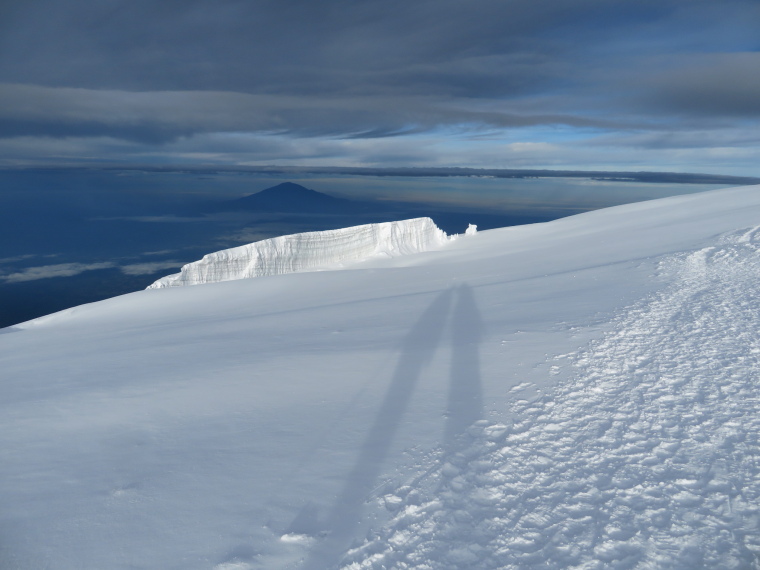 WALK SUMMARY
The roof of in Africa, and the highest free-standing mountain in the world: Kilimanjaro is spectacular, romantic and a famous "bag"; but the thousands of people on the mountain each year make at times for busy campsites and huts, and crowded trails on the summit approaches. You will feel triumph and exhilaration if you are one of the 65% who reach the peak, which your altitude misery will not wholly ruin. Many people, though, are too debilitated by exhaustion, headache, nausea or worse to manage the final ascent. This is one tough mother.
Having climbed through dense rainforest, damp giant heather, sparse scrub moorland, alpine desert, it is now time for rock and ice, deep into a complex of volcanic craters, cliffs and glaciers. Almost everyone makes the final ascent to the summit at night-time, to catch the views at sunrise and avoid the clouds which subsequently wrap the upper reaches. This is not exactly fun, a long, arduous, sleep-deprived slog on frozen scree (you hope, so you don't slide back with each step), nose to the bum in front at popular times. But it should be fabulously rewarding if you make it, as you gaze eastward over the Saddle to the elegant spires of Mawenzi, the wildly eroded second peak, and west across the sea of clouds covering the slumbering Tanzanian plains toward the dim but perfect volcano-outline of Mt Meru.
The summit area really is amazing, and Walkopedia has seen many wonders. The south-eastern rim is a long swing of sharp rock above sheer drops on both sides, between Gilman's Point (5,685m), where the combined paths from the Kibo Huts and the Outward Bound Hut Camp to the east(ish) meet the rim, and Stella Point where the trail from the Barafu Hut to the south arrives, and finally Uhuru Peak (5,896m) to the south-west. Kili's crater is huge, although the picture is confused by banks of old lava filling most of the void, with a further inner crater somewhere. You can explore it, and indeed masochists can camp there.
From Gilman's Point, a wonderful traverse along the inside of the crater rim leads to Stella Point, although most will make it in the dark and it is in places a precipitous teeter above the long rocky slopes down into the crater. The final hour's breathless slog up the rim to Uhuru Peak is excruciating for most, although beautiful light, views and cloud effects may distract you at almost every step, so progress can be even slower than it need be.
If you've timed it right, you will be enjoying pre-dawn tints around the time you make it to the rim, with Mawenzi sharp-silhouetted against a quiet pre-dawn sky soon after. The curve of ridge back to Stella and Gilman's Points is beautiful now, as is Meru emerging murkily from an indistinct horizon behind the fluted upper side of the Rebmann glacier, which is now so small it surely no longer qualifies as such?
The actual peak is slightly bathetic, a nondescript hump in the ridge with a rack of boards proclaiming its statistics and a score or more of people waiting to take their photos beside it. The next hump along actually looks higher.
The trudge back to Stella Point is tiring even though mainly downhill, a tribute to the altitude. Fortunately, there are endless reasons to stop and admire. Mawenzi changes its apparel by the minute, clouds shifting against its stunning outlines against the angled sun; the sharp rim back to Gilman's Point, swinging round the darker interior, is really breath-catchingly gorgeous.
The descent can only be described as punishing, a long slog down to Barafu Camp or Kibo Huts or onward, 1,000m at least, nearer 2,000 for some. Despite the changing drama of the surroundings, most won't enjoy it much.
The three main walkers' routes to the summit are:
From the Kibo Huts at 4,703m above the Saddle to the east. These are on the Marangu ("Cola-Cola") Route, the only all-hutted route and one of the most direct: as a result it gets high numbers.
From the Barafu Camp at 4,600m to the south. This is a huge, grim, rocky site above the romantically-named South-east valley. You get here along the Southern Circuit the Machame Route from the longer ways up via the western Shira Plateau.
From the Outward Bound Hut (actually another bleak, high campsite) to the north-east. This is fed by the relatively dry Rongai Route from the north-east, and the Northern Circuit from the Shira Plateau. The path merges with the Coca-Cola Route from the Kibo Huts, but until then you will be able to kid yourself you are in remote landscape.
There are several other routes, for tough and adventurous scramblers, including the famous Western Breach.
Choose your route carefully. While factors such as cost and your time available will be relevant, the longer you take to ascend this tough mountain, the more you will enjoy your experience and the more likely you are to make the top. If you can, follow the less-used and more gradual routes. We recommend taking a week or so to walk slowly around the mid-slopes, taking the time to enjoy the scenic and natural magnificence, and gaining acclimatization – and then tackling the summit. We talk at our Kilimanjaro Massif page about how to structure a Kili walk, and the walking options – see it also for photos and further general information on Kili.
Altitude: the top of Kilimanjaro is unreasonably high, so this a very tough walk, potentially fatal. Acclimatize appropriately, come prepared to cope, be ready to evacuate people in extreme cases. Altitude stops over half of those who attempt the summit on shorter approaches (ie, don't be depressed if the altitude still defeats you), and kills people in most years. It is unpredictable and can strike the fit, tough and experienced. Remember: the slower you ascend throughout your time on Kili, the less miserable it will be at the end. Get fit, be prepared, keep hydrated and obey your guide. If he tells you to stop/descend, do so. Watch your friends for signs of acute mountain sickness (AMS).
It is a requirement of the Kilimanjaro National Park to have a Tanzanian guide to ensure safety and to organise suitable lodgings/camping, food and porters (you really won't want to carry everything yourself to these heights).
Kili patriots will be shocked that the final ascent of this famous mountain does not make our Top 100. In the end, however, drama and boasting rights do not compensate for the miseries of life at well over 19,000 ft. If you only have time for one mountain here (and really want to get to a summit), consider Mount Meru or Mount Kenya.
www.tourdust.com organise an expedition here : we have travelled with Tourdust, and were delighted. They were very nice and flexible to deal with, and evidently cared about quality, as their walk was meticulously prepared and our support team were outstanding in every way. We are proud to be their partners.
See our Kilimanjaro Massif page for further photos and general information on Kili and the walking options to get the best out of this amazing place.
WILLIAM MACKESY'S ACCOUNT
of this walk
March 2020 – Summit day
Woken from a pleasant drowse at 10.45. An efficient clear-out, having gone to bed in my summit clothes and pre-packed. A lightish meal – porridge and biscuits, I think - then it is coverings on and we're off at 1220.
It is bitterly cold, but not as gross as we have been led to expect, and clear and starry-skied. It is steep out of camp, indeed almost all the way, with just a few stretches of moderate climb. We trudge very slowly behind Charles' pole-pole pace-setting.
We climb through broken.....
READ MORE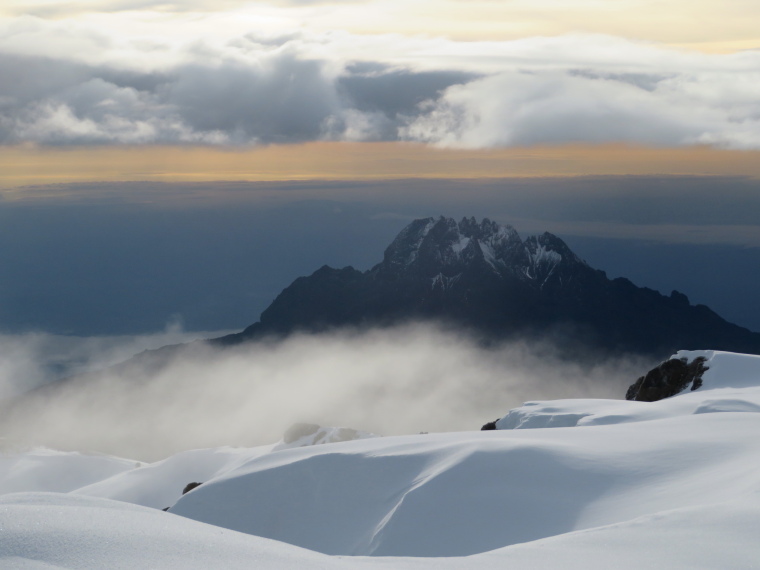 Safety and problems: All walks have inherent risks and potential problems, and many of the walks featured on this website involve significant risks, dangers and problems. Problems of any sort can arise on any walk. This website does not purport to identify any (or all) actual or potential risks, dangers and problems that may relate to any particular walk.

Any person who is considering undertaking this walk should do careful research and make their own assessment of the risks, dangers and possible problems involved. They should also go to "Important information" for further important information.
COMMUNITY COMMENTS AND PHOTOS
Name: ZiaraSafaris
Posted on: 31/03/2011
http://www.ziarasafaris.com/


Your comments on this walk, your experiences and suggestions, and your photos are very welcome. Where appropriate, you will be credited for your contribution.
Top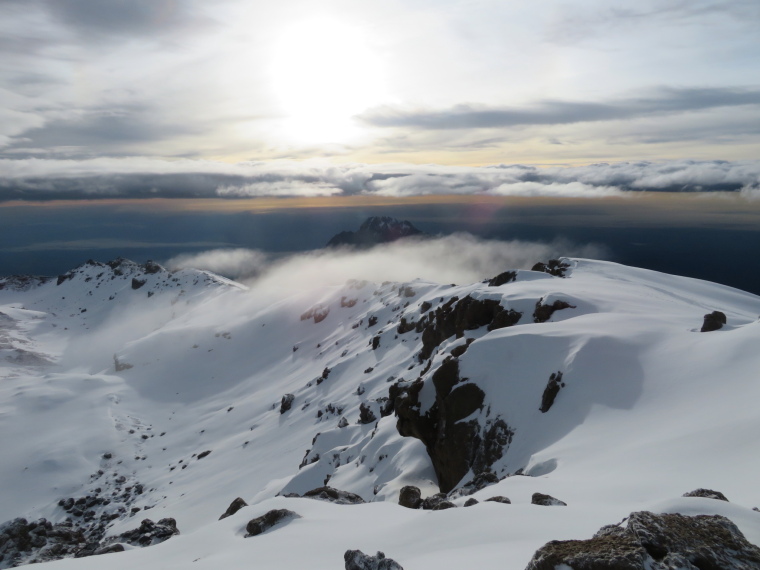 Top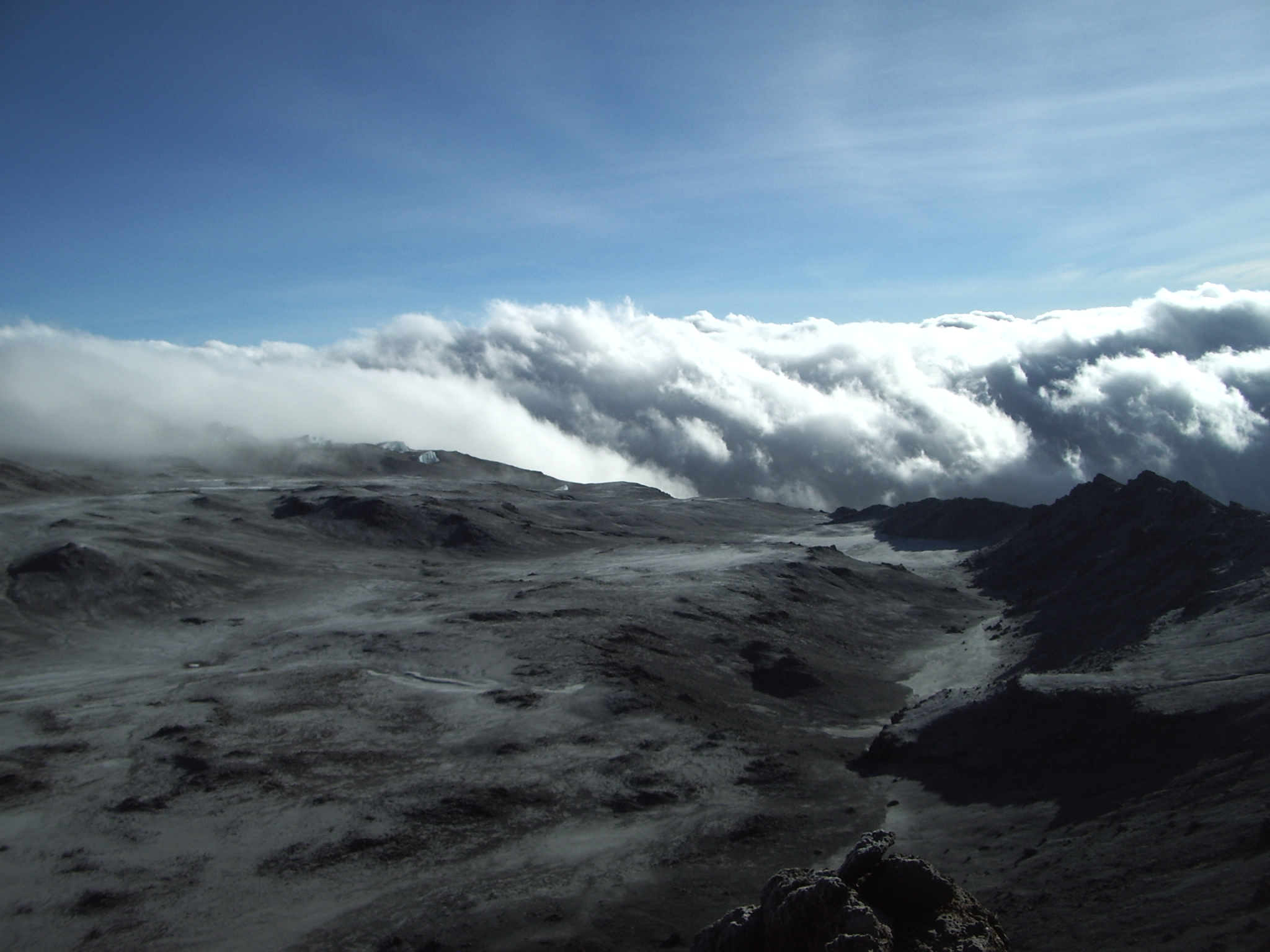 Top
Responsible travel matters, a lot. How you travel will make a real difference - for better or worse. PLEASE consider this when making plans. Read more