About Georgia
One of the world's most interesting small countries, at the crossroads between Europe, Central Asia and the Middle East, Georgia has a long and fascinating history, including being the second Christian country and the supposed birthplace of wine.
It was invaded and occupied repeatedly by the Greeks, Romans, Vikings, Mongols, Persians, Ottoman Turks, Russians, and others. Georgia was, rather remarkably, the second officially Christian country in the world, after Armenia. Georgians have a strong sense of identity, expressed through their heritage of defensive towers and splendid, very early, churches – and above all, in their love of wine and feasting and in their legendary hospitality to visitors.
It is also physically magnificent, as a large chunk of the Caucasus Mountains lies with it. The Caucasus are extraordinary beautiful, with an entrancing combination of high, grassy, flower-heaven pastures with huge peaks, spires and cliffs, and glaciers and meltingly beautiful lakes. Forests in the lower reaches.
Georgia is said to be among the world's top twelve countries for geographical diversity. It contains the heart of the Caucasus mountains – larger than the Alps – subtropical wetlands, a Black Sea coast, semi-desert, all peppered with ancient stone towers and an exceptional history.
The Caucasus include the Greater Caucasus to the north and the Lesser Caucasus to the south, divided by the plains of central Georgia. There is a gap in the middle of the Georgian Great Caucasus, which is South Ossetia, which was grabbed by Russia in 2008, and remains disputed territory.
So, Georgia has things to fascinate everyone. The variety of travel and tours you can make in Georgia is as a result huge.
Walking, hiking and trekking in Georgia
Georgia has some of the world's best walks, hikes, treks and climbs, in the Caucasus Mountains, from short explorations to multi-dayers. Various of these are in our world's Top 100 list.
Walking in Georgia isn't just for hard-nuts, although there is plenty to get their juices flowing. There is a multitude of tour operators offering services ranging from booking lodging to providing guides to transporting your luggage from place to place to fully-supported treks.
Best times for walking in the Caucasus are, broadly, from the second half of June till late September. July to mid Sept has the best weather in the mountains. The Caucasus get a lot of snowfall (especially its western parts) and winter conditions remain for the most of the spring. Non-high trekkers should wait until the second half of May, when the valleys will be green and flowery, although walking will still be limited to the lower ground. One can do many nice day hikes, but tackling mountain passes could be risky. The cultural areas in the plains are stifling in summer, so it is hard for walkers who want to go high to find good weather for both. Late June and early September are the best compromises.
See the list below for a (currently incomplete – please give us your recommendations!) list of the best walks, treks and hikes in Georgia.
We intend that our walk pages contain detail and photos on walking, hiking or trekking routes, including books, best times and weather, how to get there, possible problems, walking, trekking and hiking firms, organisers and guides in Georgia, accommodation in Georgia and useful links. But this takes a lot of research, so if they are not "there" yet, please give us any suggestions you may have.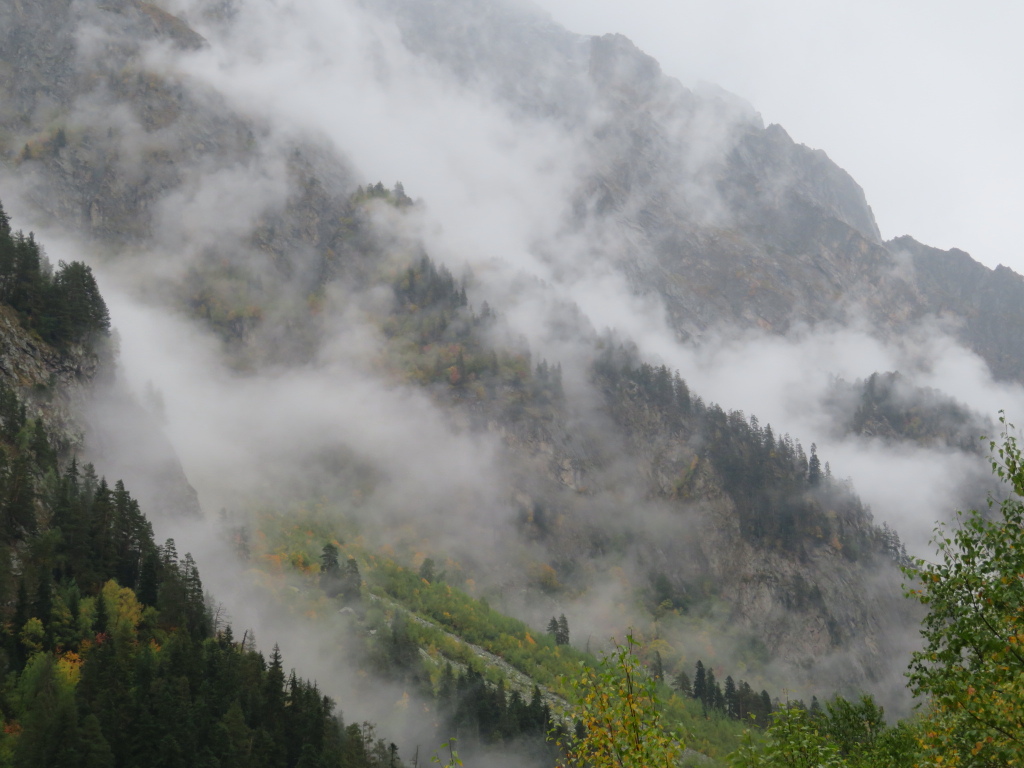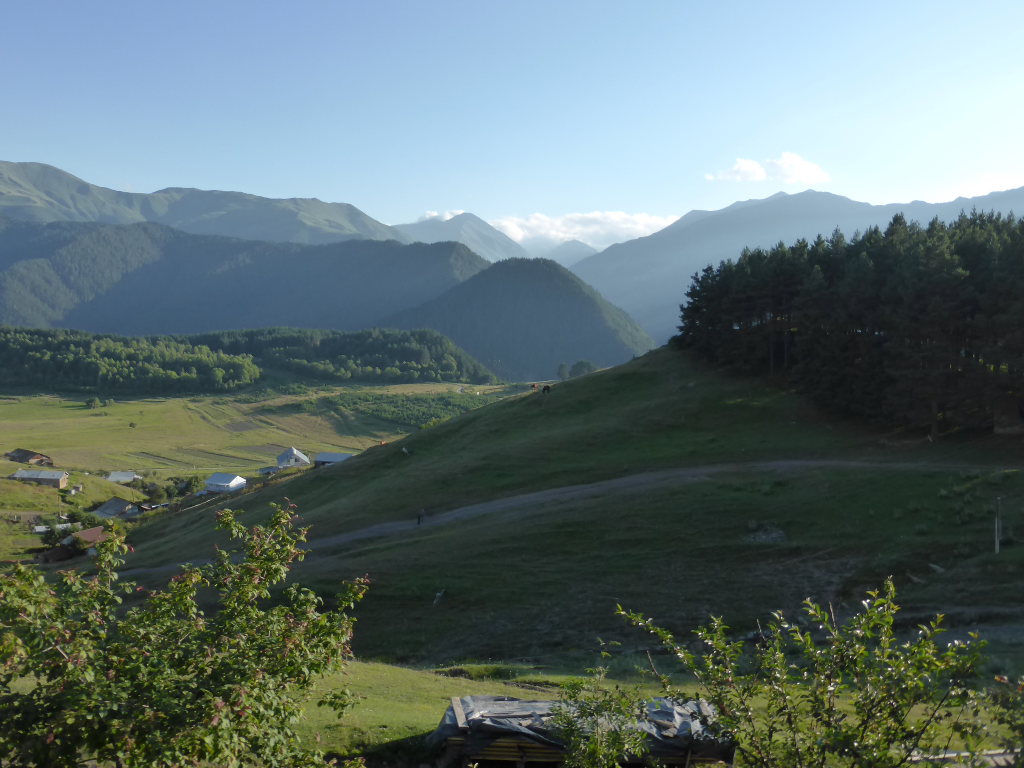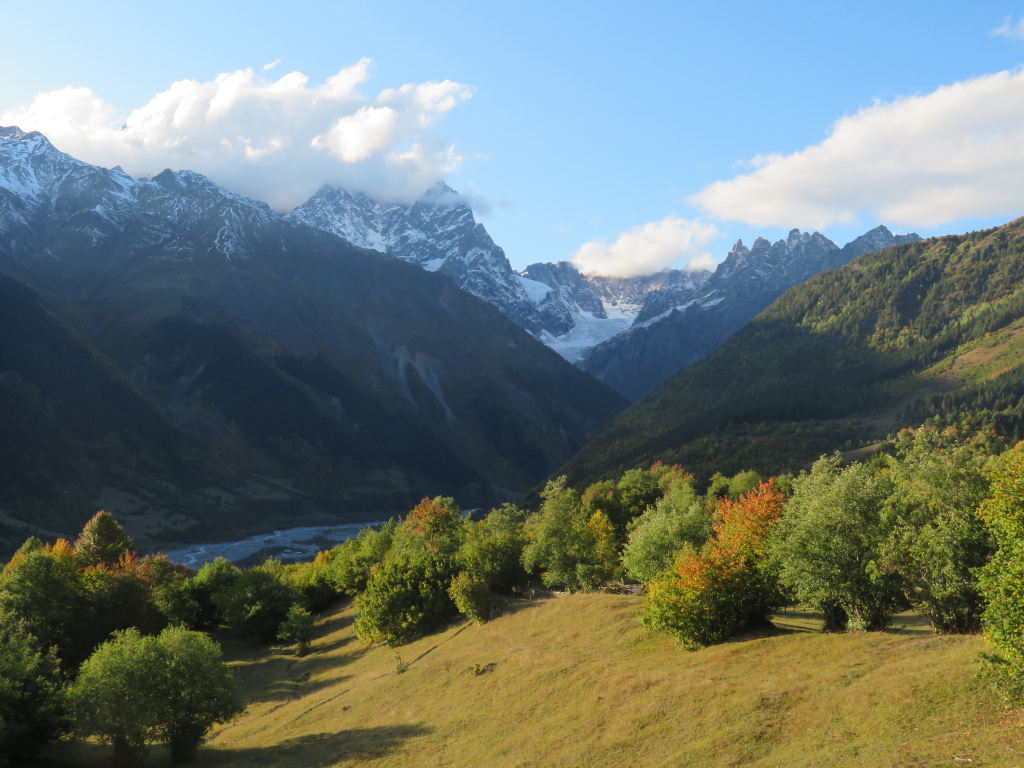 Best walks, hikes and treks in Georgia
You can sort the walks by category by clicking on the category titles.
(The rating of walks marked * is currently provisional.)
Region
Walk Name
Walkopedia Rating
Difficulty
Day Walk
Possible?

---

Gt Caucasus Mts
Greater Caucasus Mountains
Variable
Yes
Gt Caucasus Mts
Juta to Roshka via Chaukhi Pass
No
Gt Caucasus, Around Gudauri
Khada Valley and Fire Cross Tower
Strenuous
Yes
Gt Caucasus, Around Gudauri
To Lomisa Chapel
Strenuous
Yes
Gt Caucasus, Khevi
Khevi, Kazbegi and the Military Highway
Variable
Yes
Gt Caucasus, Khevi
To Gergeti Glacier
Strenuous
Yes
Gt Caucasus, Khevi
Truso Valley, Keli Plateau
Variable
Yes
Gt Caucasus, Svaneti
Above Ushguli
Moderate
Yes
Gt Caucasus, Svaneti
Becho Valley
Variable
Yes
Gt Caucasus, Svaneti
East above Mestia
Moderate
Yes
Gt Caucasus, Svaneti
Guli Pass
Strenuous
Yes
Gt Caucasus, Svaneti
Koruldi Lakes
Moderate
Yes
Gt Caucasus, Svaneti
Mestia to Ushguli
Strenuous
No
Gt Caucasus, Svaneti
Svaneti Region
Variable
Yes
Gt Caucasus, Svaneti
To Tobavarchkhili Lake
Strenuous
Yes
Gt Caucasus, Tusheti and Khevsureti
Atsunta Pass (Tusheti to Khevsureti)
Strenuous
No
Gt Caucasus, Tusheti and Khevsureti
Gonta Ridge
Strenuous
Yes
Gt Caucasus, Tusheti and Khevsureti
Tusheti and Khevsureti
Variable
Yes