Svaneti Region
Key information: Svaneti Region
The Svaneti region boasts staggeringly beautiful landscapes and is riddled with ancient villages and towers. Mestia lies at its heart.
A host of great walks of all shapes and sizes.
Walkopedia rating
Walkopedia rating95
Beauty

34

Natural interest

16

Human interest

12

Charisma

33

Negative points

0

Total rating

95
Vital Statistics
Length:

Your choice

Maximum Altitude:

Around 3,000m

Level of Difficulty:

Variable
Top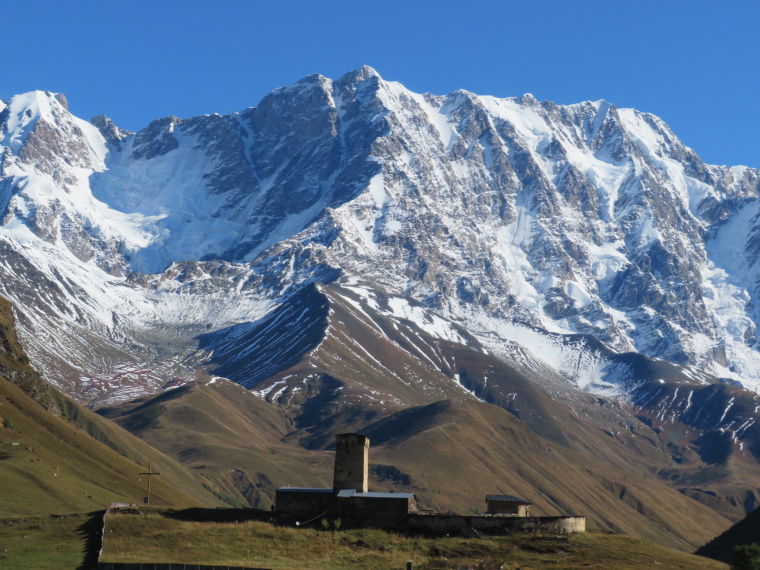 WALK SUMMARY
The Svaneti region in Georgia's north-west is said to be Georgia's wildest and remotest area (although its core sites get coach-loads), boasting staggeringly beautiful landscapes and riddled with ancient villages and towers. Mestia lies at its heart.
As one of Georgia's two best-known walking areas, it has a host of great walks of all shapes and sizes.
Day walks or less
Viewpoint east of Mestia: an upliftingly beautiful shorter walk to a viewpoint on the hillside east of Mestia, with thrilling views towards the spires and glaciers of the border ridge. Ideally done in early or late light, so perfect for opening your lungs after the long drive into Svaneti.
Upper Mestia river valley to the base of the Chalaati glacier. A stunner of a shorter walk, up the Mestiachala valley north of Mestia, which marches northwards into the heart of some of the Caucasus' grandest scenery. Start at the suspension bridge at the head of the vehicle track from Mestia at a major river junction. The trail goes up the left hand valley - the main valley goes too near the Russian border for walkers to be allowed in. The trail is immediately gorgeous, in lovely pine forest as it gently climbs the valley to moraine heaps and then the glacier, which is very broken and risky with rockfalls. It runs a lot further on up into the mountains, between spectacular icy summits and grand cliffs. 1.5hrs both ways. Note that the vehicle track is 10km each way and quite busy, and goes through depressing development including a hydro plant, so few people now walk the whole way from Mestia - you can take a taxi or indeed rent a bike. Walkopedia had to miss this walk because of a lost bridge, a regret - we hope to get back one day.
Above Ushguli: a gentle climb up a long, gorgeous valley to a glacier falling off Shkhara, Georgia's highest mountain at 5,201m (stated heights vary!), in its ridge of rock and ice. Explore remarkable Ushguli to the east of Mestia, with its bristling towers that make this landscape so unique on the way. One of the Caucasus' finest walks. 3.5+hrs.
Latpari Pass: this is a long day walk from famous Ushguli east of Mestia, southwards across the 2,963m Latpari Pass in the Svaneti range to Chvelpi in Lower Svaneti. Superb high landscape and breathtaking views north to the high Caucasus ridge. Marvellous, but demanding - 24km/10hrs, 1,280m of climb and 2,150m down. Consider starting with a day walking above Ushguli to limber up. (Recommended by the excellent www.caucasus-trekking.com, who have more information.)
Becho valley: The upper Dolra valley (aka Becho after the communities), west of Mestia, leads arrow-straight up into one of the most dramatic valley-heads in the whole Caucasus range, a huge bowl of spires and broken cliffs on the border with Russia dominated at its eastern end by 4,700m Ushba, with glaciers falling off their upper reaches and beautiful forests and waterfalls on their flanks and a wild pale glacial river on its floor.
Guli Pass: walk from Mazeri in the western Becho valley to Mestia across the glorious but high (2,961m) Guli Pass, with its amazing views of the sharp spike of famous Mt Ushba. A very long and tough climb to the pass, but you are rewarded with a ridge walk (and easyish climb of 2,925m Mt Guli).10 hrs or so, 1,424m up and 1,700m down: so, a long and demanding day. Note that you can shorten the day.
Mhkeri church: this ancient church sits at 2,470m on a hill near the mass of 4,000m Layla. A long and in places steep haul (1,200m up) through forest and then in alpine pasture gets you here, climbing south into the Svaneti range from Latali near Mestia. Huge and astounding views of the surrounding mountains, with the high Caucasus ridge to the north across the Mestia valley particularly magnificent. A wonderful but demanding walk, 12km/7 hrs both ways. (Recommended by the heroic www.caucasus-trekking.com, who have more information.)
Mestia to Tsvirmi: a 6hr walk eastward across the high Zuruldi Massif, with outstanding views around some of the Caucasus' greatest peaks. You can also take this path high into the Zuruldi Massif, returning to Mestia. (See more at the excellent www.caucasus-trekking.com.)
Koruldi Lakes: Walk to gorgeous tarns on the high slopes due north of Mestia, towards Mt Ushba. Vast views up the Mestia valley to the wild spires and glaciers of the border ridge.
Multi-dayers
Mestia to Ushguli: said to be Georgia's most popular longer hike. a fabulous 4 day, 58km hike through glorious scenery, village-to-village so tents are not required but book ahead in high season. Strenuous in places. These are amazing villages, so you will get deep into Georgia's history and culture. A possibly even better alternative is via Tsvirmi (a day walk in its own right), which takes in the higher Zuruldi Massif so gets superb views on day 1. A bit more demanding. Doable between mid-June and early October.
Svaneti eastward to Racha: between Zeskho and Ghebi. 3 or 4 days, 39km. Crosses two high passes, in really remote country, so is a demanding hike. An outstanding route even by Caucasus standards, crossing the junction where the Lechkhumi Range meets the high Causasus ridge, so expect superb views of rock-and-ice peaks and glaciers and flowery high meadows – big but also lovely lakes, forests etc. Follows a long-abandoned road much of the way, so quite a bit of reasonable walking. In remote, empty landscape with difficult wayfinding in places, so for fully-equipped, experienced hikers only. And, with two high passes (one at 2,920m), it is demanding and altitude is an issue. The undergrowth-choked Tskhenistskali valley poses particular navigation issues. (See more at the excellent www.caucasus-trekking.com.)
To Tobavarchkhili Lake [Link], in the superb Egrisi range in the south-west of Svaneti. A long and demanding trek in wild, remote landscape way off regular trekking routes at its upper end. Cross a pass to a beautiful lake, then head onward over the even higher Eastern Toba Pass (2,900m) to the wonderful Tobavarchkhili lake. You can do this walk in 2-4 days. Or, head on northwards over another high pass and through magical landscape. Amazing walking. There is no accommodation, so this is camping only.
This can be demanding walking in remote mountains with uncertain weather. Come fully prepared.
For more information and photos, including detailed practical information and some warnings, see our Greater Caucasus Mountains walk page.
(See also thoughts on the brilliant www.caucasus-trekking.com)
Safety and problems: All walks have inherent risks and potential problems, and many of the walks featured on this website involve significant risks, dangers and problems. Problems of any sort can arise on any walk. This website does not purport to identify any (or all) actual or potential risks, dangers and problems that may relate to any particular walk.

Any person who is considering undertaking this walk should do careful research and make their own assessment of the risks, dangers and possible problems involved. They should also go to "Important information" for further important information.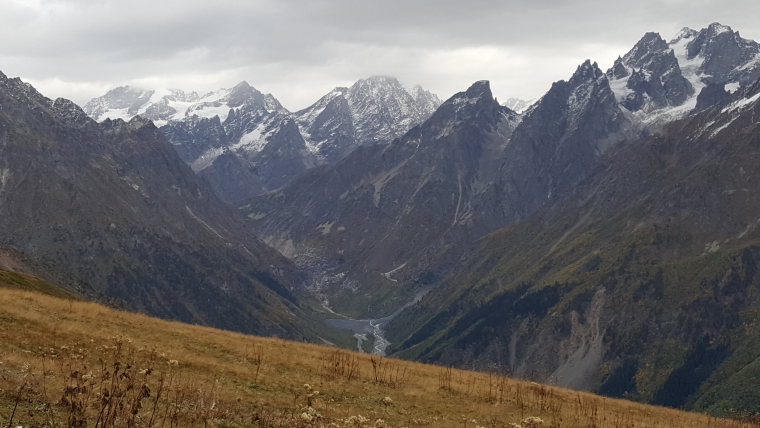 Top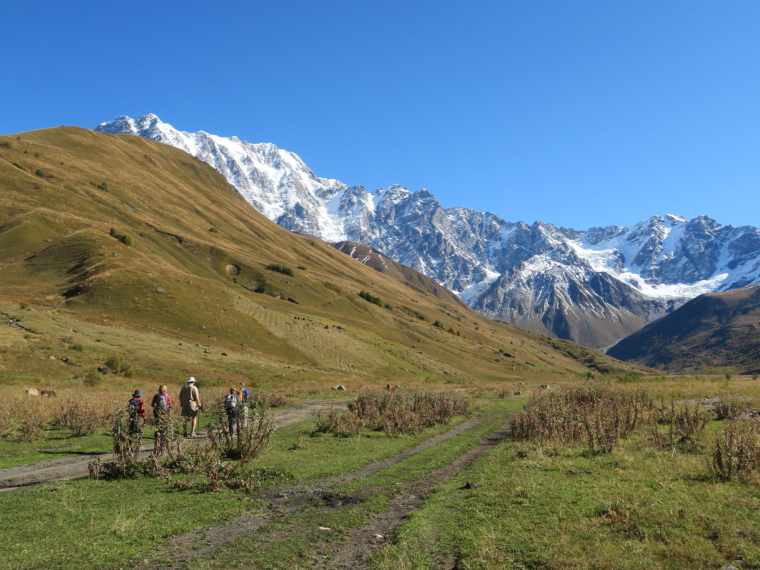 Top
Responsible travel matters, a lot. How you travel will make a real difference - for better or worse. PLEASE consider this when making plans. Read more