Via Francigena; San Gimignano to Montalcino
Key information: Via Francigena; San Gimignano to Montalcino
Arguably the best week of the Via Francigena pilgrimage route.
Bask in the beauty of the rolling Tuscan hills, with their big views, medieval villages and hilltop farmhouses. Historic Siena and other towns, ancient ruins and a host of still-used Medieval, Renaissance and Baroque relics. Enjoy!
Usually delightfully empty ̶ Camino de Santiago this is not.
Walkopedia rating
Walkopedia rating85
Beauty

30

Natural interest

8

Human interest

16

Charisma

31

Negative points

0

Total rating

85
Vital Statistics
Length:

115km

6 days

Maximum Altitude:

N/A

Level of Difficulty:

Moderate
Top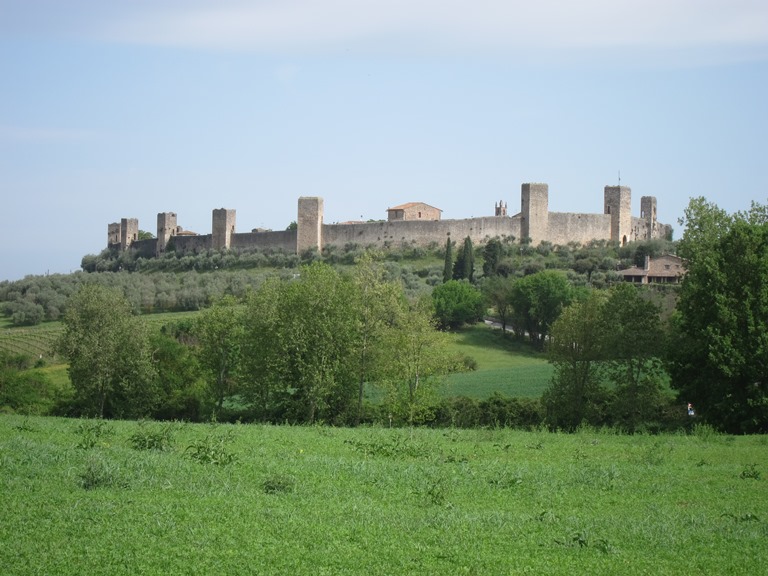 WALK SUMMARY
Arguably the most perfect single section of the Via Francigena is the seven day, 115 km leg via Siena - or, for the time-starved, the 46km San Gimignano-Siena leg, which takes two to three days depending on how much time you want to spend sitting in the shade enjoying the views and atmosphere. (Or indeed walking south from Siena through even more classic Tuscan scenery.)
Italian history you will pass (or pass on) includes monasteries (such as Monte Oliveto Maggiore), abbeys and castles; fortified villages, granaries and pilgrims' hostelries; once-important and still magnificent Siena and the delights of towns such as pencil-towered San Gimignano, Colle Val d'Elsa on its narrow ridge, and the tiny, walled hilltop Sienese outpost of Montereggione.
The landscape includes forests, meadows and vineyards littered with ancient farmhouses and hamlets, often perched on knolls and hilltops. It does also include quite a lot of big agribusiness fields south of Siena. It supports a varied and very characteristic selection of plant and animal life, from wild boar through to mellifluous nightingales, from mixed forests thick with scented wildflowers and herbs to bosky hedgerows and those classic lines and huddles of cypresses.
Outside the tourist-draws (and there are a few), walkers can genuinely anticipate hours at a time without encountering another soul other than those (few) working the somnolent vineyards and fields along the track.
Some notes:
San Gimignano's pedestrianised town centre is delightful, with a number of good restaurants (generally relatively pricey, as it's a serious tourist hub); it certainly deserves a night's stay and exploration before setting off.
The route leaves the city to the south-east and heads out through glorious open Tuscan countryside: a good, stony path leads past terraces of grapevines, fields of sunflowers and wildflowers and noble plane trees. 10km, passing the villages of Bibbiano and Montecchio in the distance left and right, carries you to Colle val d'Esla; waymarks are hard to find here, but there are opportunities to stock up with lovely rural food and the area has a number of hotels, starting at 45 Euros.
From here, 12 km east-south-east, the medieval village of Monteriggiano rears like a crown on its hilltop ahead of you. Monteriggione oozes history. It was a northern outpost of Siena for centuries; a hilltop castle-town perched above a fertile bog-plain, surrounded by hills with their farmhouses and defended villages, it prospered at a time when populations and roads migrated to the hills. Its towered walls, mentioned in Dante, still circle its tight little perch, but it is now a charming husk: swathes of its buildings have returned to olive groves, and much of the rest is shop and restaurant and EU-funded paving. It says a great deal about Italy's extraordinary richness that Monteriggione, for all its history and beauty,

doesn't even get a mention

in the

Baedeker

guidebook.
Stock up with full provisions for the day here, because the route then swings south-east, 24km across remarkably empty countryside - field and forests. You eventually emerge into open fields and join a hot minor road for a few kilometres, climbing to a ridgeline with fine views across a valley to lovely Siena, silhouetted on its own hilltop. The road gets increasingly built-up as you delve into Siena's suburbs. A dreary climb up main roads gets you, probably tired and getting cranky, up to the city walls and a fine gate. When we set out to explore, we didn't really get far - we spent an age in the Duomo, surely one of the most idiosyncratic buildings of the Renaissance, with an extraordinarily rich and varied interior. The nearby museum is stuffed with Duccios, and a climb up to the top of the perilously tall shell of the abandoned "new" cathedral will provide a remarkable evening view of huddled roofs and surrounding countryside. Then down to the huge, sloping and also highly idiosyncratic Campo for a drink and then dinner in the balmy evening as the sky darkens behind the C14 Palazzo del Pubblico. Distilled happiness.
Siena to Lucignano (25km)

:

A very different day's walking. You will leave through the great Porta Romana and will soon be on empty suburban roads winding along hillsides which carry a mixed crop of brick and stuccoed houses of different ages and qualities, then on a ridge with distant views between the fewer houses. For the entire day, you will have glimpses back to fair Siena on her hilltop, hovering above the rolling corn fields of the

crete

, the open, undulating hills to the south, which in the Middle Ages were sheep-filled grasslands and a major source of Siena's wealth, but which are now big chalky agribusiness fields with some hedges and copses in the low
A few memories stand out: a long thin snake oozing its silent way across the road ahead; the track winding ahead over and around the high ridge, disappearing, then there again on the next slope; a lone tree on a ridgetop knoll ahead of us that we steadily approach then turn away from at the last moment; the remarkable, tightly-packed fortified village of Cuna on its valley-bottom outcrop, a haven for passing pilgrims and a safe grain store for the fertile area, now a near-wreck which is being beautifully if slowly restored. And finally, our destination, Lucignano, another fortified village on a hillock in the Arbia valley, a southern Sienese bastion and a safe stop for pilgrims on the route.
Lucignano to Buonconvento (16km)

:

This is the day the post-Siena walk really takes off, a mellow yet intriguing wander along valleys and ridges in increasingly rural and beautiful countryside. Gone are the ribbon development of the Siena outskirts and the valley-floor business lots. Eventually, you will drop with regret into the Ombrone valley on a fine path. Buoncovento is built on an old Roman fort, so is rectangular, with a central street winding down its length. A delightful place to linger over lunch.
Monte Oliveto Maggiore to Montalcino (23km)

:

The last day, and probably your best day on the trail, albeit by the end a long walk. Start with a taxi ride to the famous monastery of Mont Oliveto Maggiore up in higher and wilder country to the east. The walk is immediately gripping, winding round and up to the nearby hilltop village of Chuisure, a charming place of tiny squares of old brick houses, with pauses to take in the full drama of the monastery on its cliff-surrounded promontory.
Then you follow strade biance then farm tracks on long, often open ridges affording wonderful views of eroded limestone cliffs and little gorges, and rolling hills patched with fields and woodland, each hilltop bearing a farmhouse or hamlet.
A long, steady descent through more lovely landscape will take you into the deep Serlate valley. Next is a long climb on farm tracks through more open country, a mix of meadows and cereal fields with woods in the sharp little ravines below, to another highland complete with wide views and a blink-first competition with Montalcino on its wooded hill, a patchwork of fields and farmhouses on its lower slopes. Then you must tackle Montalcino's steep, thousand-foot (well, that's how it seemed) hillside. It is a slog. The delights of Montalcino and its outstanding view will soon wipe away the pain.
See William Mackesy's account (below) for a detailed feel of what this walk is like.
It is well worth using one of the several good expedition organizers, who will arrange carefully chosen accommodation and baggage transport and generally ease your way, leaving you free to concentrate on the many pleasures of the journey, with detailed maps and guides for your route - and of course a suitably civilized picnic. The grand master of them all, the pioneering Alternative Travel Group (ATG), organize three week-long guided or (self-guided) stretches that cover the 320 or so kilometres between San Gimignano and Rome and in places follow alternate (and better) routes than the signposted via . Pilgrim Routes arrange self-guided walks, dividing the whole route into 8 week-long stretches.
For more information and photos, including detailed practical information and some warnings, see our Via Francigena walk page.
WILLIAM MACKESY'S ACCOUNT
of this walk
Pisa airport: our journey begins properly with a very Italian train ticket purchase and a time-passing drink in the depressed-looking Pisa station square, then a journey via Empoli to Poggibonsi, then a taxi to Monteriggione. All very smooth. After a 5am start, we get straight onto our beds for a mellow afternoon snooze. Bliss. What better proof you have escaped your usual cares?
Monteriggione oozes history. It was a northern outpost of Siena for centuries; a hilltop castle-town perched above a fertile bog-plain, surrounded by hills with their farmhouses and defended.....
READ MORE
Safety and problems: All walks have inherent risks and potential problems, and many of the walks featured on this website involve significant risks, dangers and problems. Problems of any sort can arise on any walk. This website does not purport to identify any (or all) actual or potential risks, dangers and problems that may relate to any particular walk.

Any person who is considering undertaking this walk should do careful research and make their own assessment of the risks, dangers and possible problems involved. They should also go to "Important information" for further important information.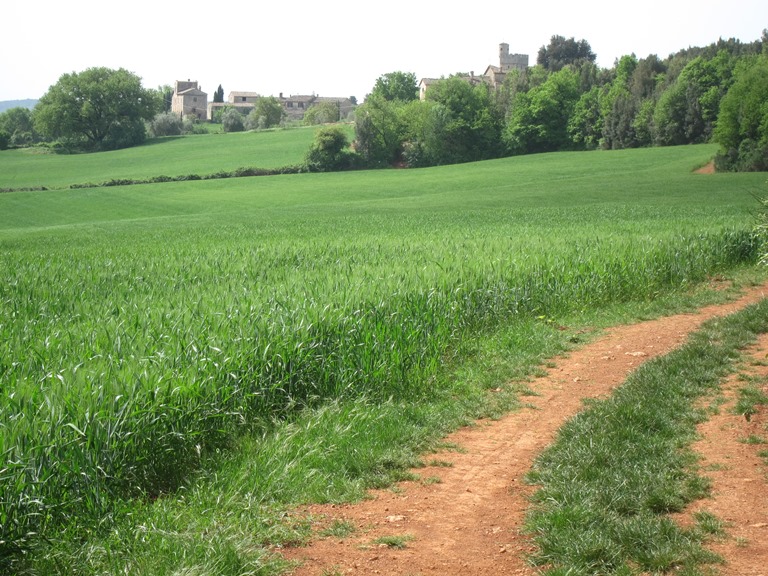 Top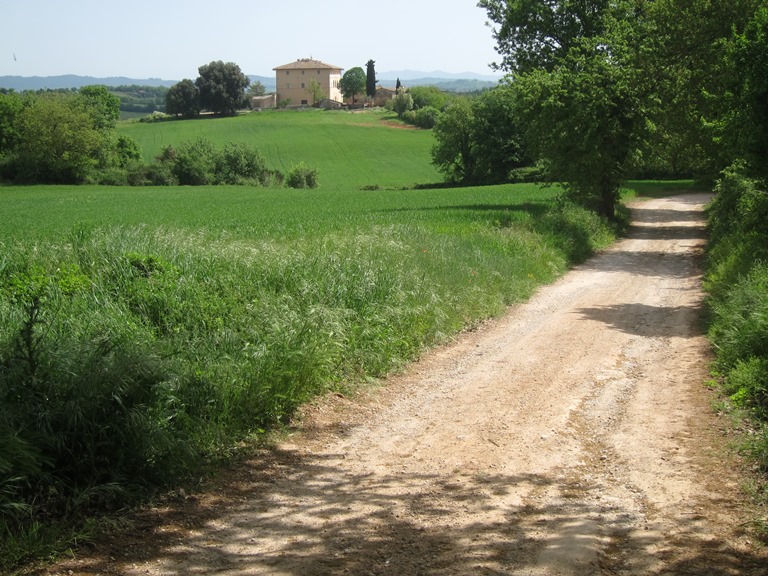 Top
Responsible travel matters, a lot. How you travel will make a real difference - for better or worse. PLEASE consider this when making plans. Read more