About Ethiopia
This is an extraordinary country, for endless reasons.
Ethiopia has a long and rich if often bloody history. As one of the world's earliest Christian countries, it has a vast heritage of rock-hewn churches, from the world-famous clusters at Lalibela to the more than 100 specimens of Tigray, many of them improbably perched on remote mountain tops. It has seen sophisticated dynasties rise and fall, before enduring a terrible 20th Century of invasion, murderous extreme leftists and famine. It is also a patchwork of ethnic variety, with the south and west home to a stunning selection of peoples: more than 80 languages are spoken here.
Ethiopia boasts some of the world's most exciting landscapes, from the weird volcanic plateaux and unbelievable escarpments of the Simien and Bale Mountains, to the lakes of the Rift Valley, to the weird depths of the Danakil Depression. With a mass of madly eroded mountains making up its highland heart.
Its wildlife is one of Ethiopia's glories. From the ultra-rare but very seeable (esp in the Bale Mts) Ethiopian wolf, to the walia ibex, Bale monkeys, to one of the world's most exciting range of birds (the Bale Mts are said to be the worlds No3 birdwatching base), Ethiopia is wildlife wonder.
So, Ethiopia has things to fascinate everyone, children included. The variety of travel and tours you can make in Ethiopia is as a result huge.
www.tourdust.com organise Ethiopia expeditions, and we had a wonderful time with them, with a well planned and supported journey. They clearly have good local partners. We are proud to be their partners.
Walking, hiking and trekking in Ethiopia
Ethiopia has some of the world's best walks, hikes, treks and climbs, ranging from famous mountain hiking and trekking trails such as in the Simien Mountains, to geological absurdities like the Bale Mountains, to climbing to ancient rock-hewn churches.
So, walking, hiking, trekking and climbing tours and holidays in Ethiopia are so varied that everyone's taste and energy levels can be met. Walking in Ethiopia isn't just for hard-nuts, although there is plenty to get their juices flowing. And there are a multitude of tour operators offering services including fully-supported treks.
Best times for walking are the dry season of November to March, although November and December will be greener. Weather is generally fine in season, but come prepared for unpredictable mountain weather and cold nights where relevant.
See below for a list of the best walks, treks and hikes in Ethiopia. Various of these are in our world's Top 100 list.
Famous walking regions include:
The Simien Mountains in the north-east. More than 20 points of 4000m or more protrude from this high plateau – called the "Roof of Africa" – although it is the vast escarpment cliffs that will really thrill you. Wildlife thrills galore.
The Bale Mountains, a high volcanic plateau at around 4000m, with lakes and gorges and vast escarpments – and an extraordinary diversity of vegetation zones and wildlife.
We intend that our walk pages contain detail and photos on walking, hiking or trekking routes, including books, best times and weather, how to get there, possible problems, walking, trekking and hiking firms, organisers and guides in Ethiopia, accommodation in Ethiopia and useful links. But this takes a lot of research, so if they are not "there" yet, please give us any suggestions you may have.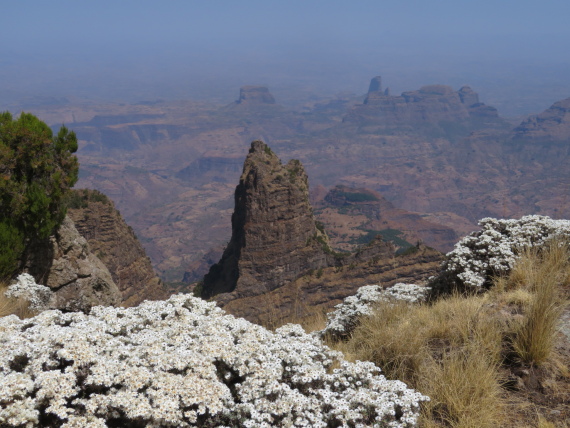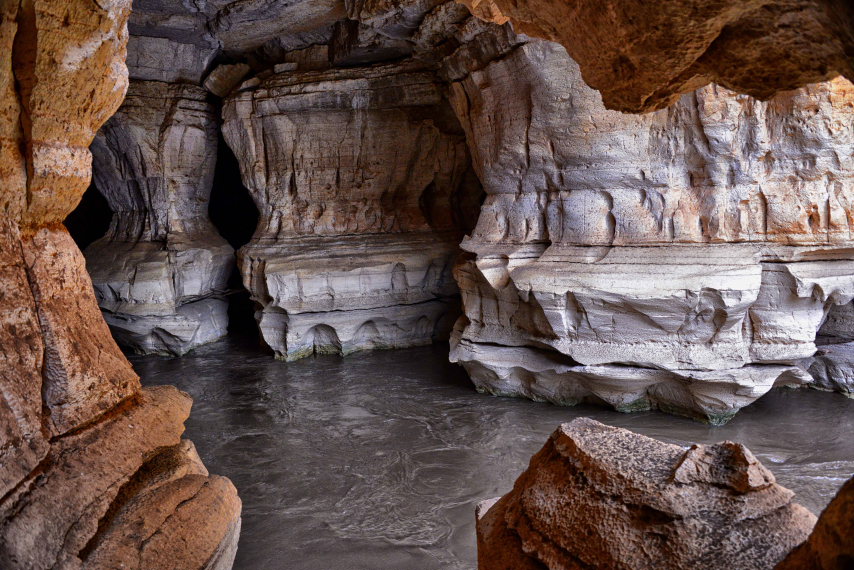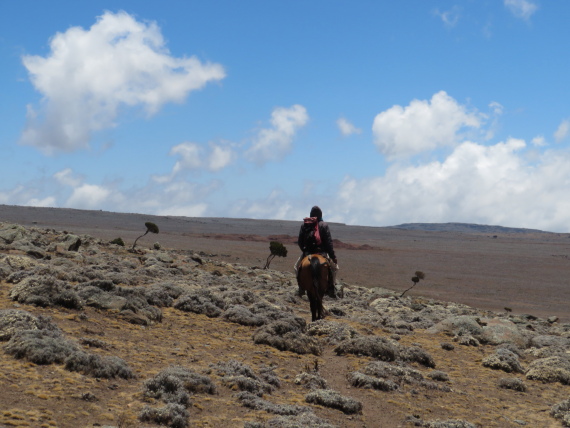 Best walks, hikes and treks in Ethiopia
You can sort the walks by category by clicking on the category titles.
(The rating of walks marked * is currently provisional.)