About Norway
A long, narrow strip of natural wonders, Norway stretches from the same latitude as northern Scotland to the tundra of the far Arctic north, sporting fine, lake-riddled mountains and the famously gorgeous fjords cutting their way into the uplands from the coastline, and superb and diverse natural life. It is said that its wildly broken coastline is 25,000km long. Its border with Sweden is 1,619km long. It is Europe's second least densely populated country.
Norway is very mountainous and very watery, a combination perfectly tailored to create some of the world's most absurdly beautiful … er…beauty, with glaciers and waterfalls tumbling for hundreds of metres into deep, narrow fjords winding between high hills and lake-strewn plateaus. Its weather is lovely but variable in the summer months, when you get nearly 24 hrs of light and can be walking easily at midnight, but it is cold and dark for a very long winter (with compensation coming from the Northern Lights).
As well as being a living textbook on glacial erosion, Norway is a nature-lover's paradise, where you should see reindeer to beavers to polar bears to eagles on and above the land, and whales and seals in the sea. Vegetation ranges from deciduous and coniferous forests to bog, birch and tundra in the far north, with pretty hill farmland in between.
History effectively started with the Vikings, those terrors of the North Sea and Atlantic, whose remains are scattered around the landscape. After King Olav I introduced Christianity in the late 10th Century, things went pretty quiet for hundreds of years, with a northern artistic awakening disturbing the fishing and agricultural slumber in the 19th Century, Grieg and Munch securing places in the worldwide firmament. Then the discovery of oil in the C20 changed everything. Norway is now one of the world's richest countries, with an artistic and cultural life to match.
That said, most visitors come for the matchless outdoors. Enjoy a fjord cruise, whale watch off the Lofoten Islands, survey the wild waters of the Northern Cape, raft white waters, etcetera. And, of course, walk.
So, Norway has things to fascinate everyone, children included. The variety of travel and tours you can make in Norway is as a result huge.
Walking, hiking and trekking in Norway
Norway has some of the world's best walks, hikes and treks, ranging from famous mountain hiking and trekking trails such as in the Jotunheimen, to geological absurdities like the host of fjords, the serrated Lofoten islands and the Preikestolen rock, to historic pilgrimage routes (St Olav Trail) to coastal beauties (the Lofoten again). You can walk on multi-day routes or for a few hours. It is the sort of country where you can choose a walk by putting your finger on the map, and not be disappointed.
So, walking, hiking and trekking tours and holidays in Norway are so varied that everyone's taste and energy levels can be met. Walking in Norway isn't just for hard-nuts, although there is plenty to get their juices flowing. The lazy and youngsters alike will be enthralled by what it offers: Norway walking, trekking and hiking holidays and tours really can be for everyone.
The walking season in the mountains is short, really mid-June to August. Snow starts falling in September in the high mountains. Beware the notorious midges on still days.
The wilderness is littered with mountain huts interconnected by trails marked with a red "T". Most huts are run by the Norway Trekking Association (DNT), but others by local hiking organisations and some are private. Some huts are staffed; some are self-service "honesty box" huts, others are more basic, although usually have gas, firewood, kitchen utensils and bunks. The standard DNT key, which you can acquire in advance, fits on all huts.
See the list below for a (currently incomplete – please give us your recommendations!) list of the best walks, treks and hikes in Norway. Various of these are in our world's Top 100 list.
Famous walking regions include:
The tough but beautiful, Jotunheimen, major mountains nestling winding lakes. Norway's most famous walking
The huge Hardangervidda plateau
Rondane NP: really lovely walking in superb scenery
Trollheimen
The Reisa plateau
The absurdly beautiful and thrilling Lofoten Islands
The deserted mountains of the far north: Okstindan in Nord-Helgeland, Saltfjellet, Sulitjelma. Cairned routes lead between huts, leading up to Lapland, even to Kautokeino via the Nordkalott trail and the Nordlandsruta
We intend that our walk pages contain detail and photos on walking, hiking or trekking routes, including books, best times and weather, how to get there, possible problems, walking, trekking and hiking firms, organisers and guides in Norway, accommodation in Norway and useful links. But this takes a lot of research, so if they are not "there" yet, please give us any suggestions you may have.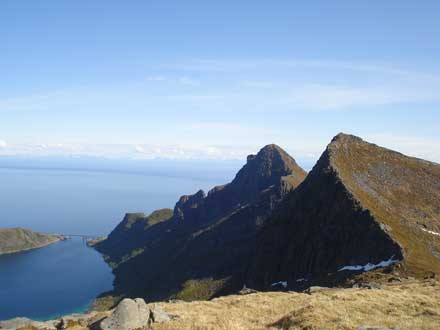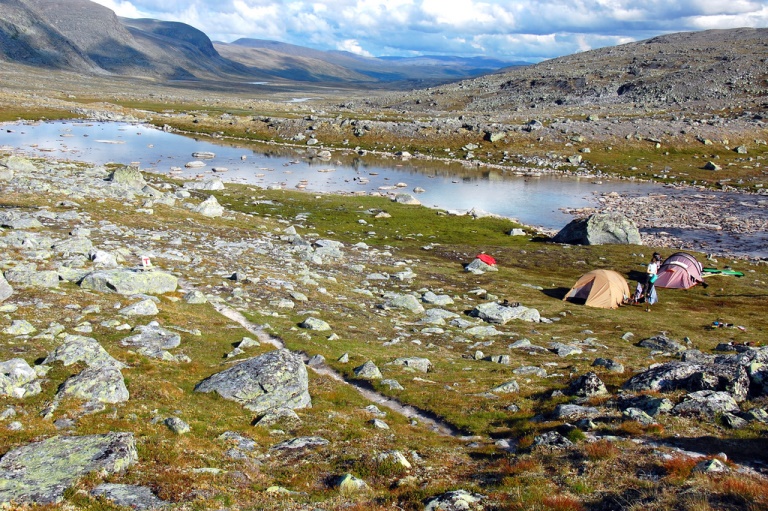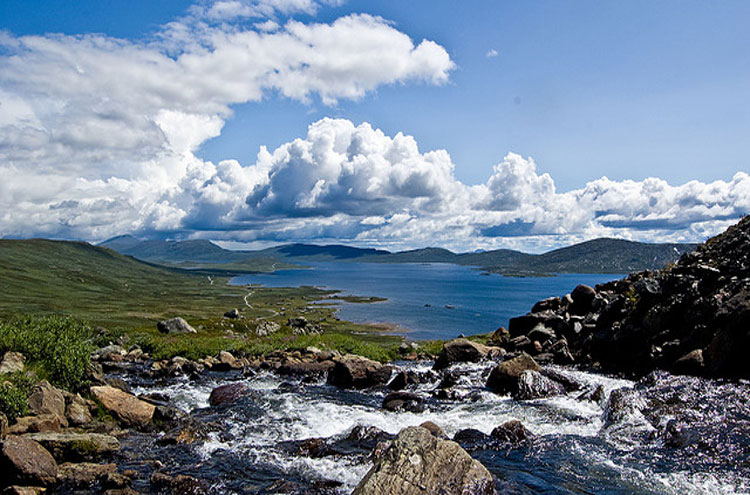 Best walks, hikes and treks in Norway
You can sort the walks by category by clicking on the category titles.
(The rating of walks marked * is currently provisional.)