Community Page
Welcome to our page for those interested in walking and in developing this resource for walk lovers. For more information on Walkopedia go to our about us page.
To give feedback or ideas, or otherwise participate in the Walkopedia project click here.
Recent Developments
Feb 2013: over 625 walks on Walkopedia, Off to check out Myanmar treks in March
Any suggestions or ideas or experiences?
---
Jan 2013: winter magazine
Featuring Cappadocia in Turkey, Wind River Mountains and much more
---
November 2012: our 600th walk loaded!
---
June 2012: featured in Brummell magazine
Brummell magazine, "the little black book for the City", features Walkopedia and its origins: see http://issuu.com/showmedia/docs/vip4-brum_june12_single-62376/25 at page 25
Click here to view the article
---
March 2012: travel writing and photo competition results
We have had some brilliant entries, and selecting the winners was a real problem.
See the results.
---
Your Thoughts and Feedback
Padakun - Posted on: 17/08/2012
Walkers will want to check my new book, "Walk Like A Mountain: The Handbook of Buddhist Walking Practice". This is the first-ever book that examineswalking as a spiritual practice and provides detailed information on 12plus practices from all over the world. It will be available at fine book outlets everywhere in October 2012. For an advance read of the table of Contents and Preface, visit http://www.realperson.com/TendaiCanada/padakun/walk-like-a-mountain-home.htm I'd love to hear from other "spiritual" walkers, Innen (Rev. Innen Ray Parchelo,Director,Tendai Canada)
micky - Posted on: 17/08/2011
Dear All My Opinion is that if you dont have a Scottish walk in the top 100 then you must be a Racialist Regards Michael Dennett Alexandria Scotland
Walkopedia says:

Worry not - they are coming! The Cairngorms, West Highland Way and Skye are all in the running for our Top 100, and more to follow!
Hello, what a wonderful site. I had never heard of it and stumbled on it while looking for information on the Landmannalaugar to Thorsmork trek in Iceland. I was therefore very surprised not to find it in your TOP100 or even in the total list. I've never walked the trek so cannot comment, but many seem to think that, although quite strenuous and subject to variable weather conditions, it is well worth the effort. Warmest Regards
Walkopedia says:
THANK you- now firmly under consideration! We'd love to get your walk comments and / or pics if you do manage to go! We know a wonderful guide, too...
Liz Parker - Posted on: 19/12/2010
The Glacier Point picture under the Glacier National Park photos is actually Glacier Point in Yosemite national Park.
Walkopedia says:

Appreciated - THANKS!
Greg Locock - Posted on: 20/10/2010
I'd nominate Mt Feathertop Victoria, Oz, up from Harrietville via Bungalow Spur and out along the Ridgeback. An easy overnighter, excellent views of some of the High Country
pifawood - Posted on: 25/10/2009
your ranking system is good, but still too subjective. having done some of the walks there are glaring mistakes, the Overland track in Australia is streets ahead of Jabel Toubkal in Morocco ( which is 7 days of repetition)
Walkopedia say

: THANK you for your comments, most helpful. Much comes down to the rating system: we believe that not to give marks for human interest would be an omision in reaching the perfect (or at lerast least bad) system. Jebel Toubkal loses out to the Overland on all counts except "human interest" - and, it is the fascinating glimpses into the Berber way of life that give it the edge, we think. To be kept under review.
docdiamond - Posted on: 21/08/2009
I love your site, but the ranking is way out of whack. How can the Grand Canyon beat out the Tour du Mont Blanc? And so many of the highly ranked hikes are very obscure. Don't take this wrong, but you guys need to bring in some other folks to help with the ratings.
Walkopedia say

: THANK you - comments like this are invaluable. It comes down to how one devises the best (or least bad??) rating system. Some people may feel they don't agree with our approach; their ideas for improvement would be vrey useful, as this is a long project. On our system, TMB suffers from the fact that there are lots of amazing mountains in the world, so it is not all that unique, despite being lovely. But there are few canyons (Fish River, Colca and Cotahuasi?) to rival the Grand one. Finally, we do plan to bring in interactive scoring, so the community can affect a walk's ranking - but, this is for the future....
tom - Posted on: 07/03/2009
A walk should be just that. There should be no need for equipment other than walking poles, and no need for skills other than putting one foot in front of the other. In other words, leave the climbs to the mountaineers. They have their Alpine clubs.
Ghostwriter - Posted on: 17/01/2009
What a great idea and a great site! A pity that New Zealand's walks do not rank more highly - after all, to the best of my knowledge, it's the only country which merits an entirely separate Lonely Planet dedicated to tramping and nothing else. But maybe I am being too partisan! I was surprised that you did not rate the Routeburn more highly since that is one of the best walks there. Also, thereís no sign of the Queen Charlotte Walkway, which is the one of the best ways to discover and enjoy the Marlborough Sounds Ė I would not rank it in the top tier but itís worth a look if you visit NZ and can easily be done in sections. The Tongariro Crossing is one of the best one-day walks in the world, but I agree that the crowds can get a bit much in the summer. Itís better to go on a clear day in the winter or autumn.
HollandPeople - Posted on: 05/07/2008
(1) love your site (2) rating Kinabalu's difficulty as DIFFICULT, while Fuji and Stromboli as STRENUOUS is off the mark. I've climbed all 3 and can tell you Kinabalu's 7200' ascent then decent was particularly brutal. Especially with all those steps. The volcanoes allowed the climber to adjust his/her steps as needed with no particular shock to the quads on the way up or the joints or hams going down. All experiences were excellent.
Kinabalu with it's 7 vegetation zone beauty, Fuji with it's cultural dimension and sunrise and Stromboli with the very real threat of getting beaned by an errant projectile (3) not including Sentiero degli Dei (Path of the Gods) a 5 hr. hike linking Positano with Priano, along the Amalfi coast is a crime as is no mention of the Cinque Terre.
Thank you, Jim Holland
Mary. - Posted on: 22/06/2008
Hello Walkopedia and welcome - we need a site like you very much. I just wanted to recommend the Cinque Terre - a World Heritage "walk" which must rate up there very high. Check it out - plenty of websites - I just walked it in April, and it's FABULOUS - a lifetime highlight - and easy so lots of people could do it.
See our fun page (including travel writings) and our competitions.


Roll of Honour: notable contributors
Reggie Heyworth
Champion walker: irritating near high passes, when he draws inexorably ahead of the field. He has accompanied and entertained Walkopedia at Mt Kailash, in the Atlas, Bhutan and the Pindos. Having worked in Tanzania for many years, he has devised the ultimate walking expedition there for Oct 08.
Jim Holland
Jim has pointed us toward some very special walks in Italy - the wonderful Sentiero degli Dei snd the Cinque Terre - and given us some great photos!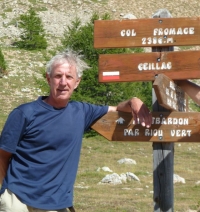 Dick Everard
Dick Everard is 65 years old and a retired civil engineer who spent a considerable part of his career working overseas. Being brought up on a farm, he has always spent as much time as possible outdoors and beside walking enjoys trout and salmon fishing and game shooting. He now works part time helping out on a small game shoot. Dick has walked the GR20 in Corsica, the GR5 in France and the TMB in France, Switzerland and Italy; he will shortly be setting out on the Haute Route Pyrenees, in France and Spain.

To give us feedback, ideas, photos or otherwise participate in the Walkopedia project, click here.