Walkopedia rating
83
(Top 100)
31

14
8
30
(0)

Total rating

83
Vital statistics
| | |
| --- | --- |
| Level of Difficulty: | Variable |
Contents

Follow us on
Facebook
for regular doses of beauty and delight.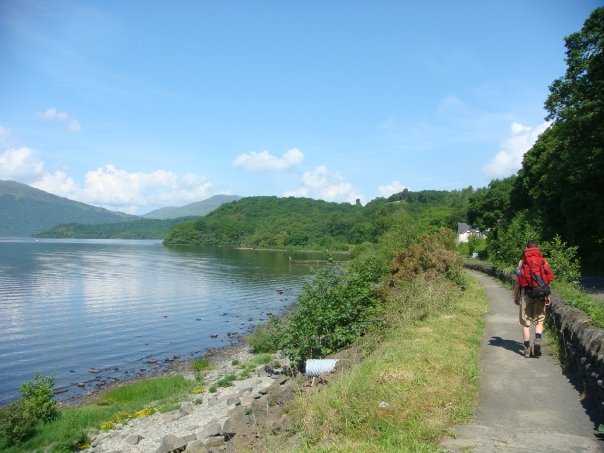 Responsible travel matters, a lot. How you travel will make a real difference - for better or worse. PLEASE consider this when making plans. Read more
Research essentials
Here are some essential tools for your travel research:
Information and review
Finding flights, organising travel
Accommodation
Equipment & Clothing
Books and Maps
Amazon
Holidays and Activities
If you enjoy and value our site, please help us (at no cost to yourself) by using these links.
And by telling friends about Walkopedia.

Follow us on
Facebook
for regular doses of beauty and delight.
Community comments and photos
Name: Administrator
Posted on: 27/08/2012

The following is Simon Whaley's piece on walking here, which was on our longlist for our 2011 Travel Writing Competition.
Seven small events that made his walk along Scotland's West Highland Way so memorable.
Seven Day Wonder
Every great journey should begin with a jumbo sausage roll. Flaky pastry crumbs provide extra sustenance for negotiating nasty clumps of gorse bushes in Mugdock Country Park. But there is more to the West Highland Way long distance footpath than sausage rolls and gorse bushes. People focus on the big wonders; Loch Lomond, Glen Coe, Ben Nevis. For me though, it offered seven days of amazing, small wonders.
Day One
Conquering Conic Hill's 1200-foot summit is not taxing, or even enduring, unless it marks the end of a long, tiring, 20-mile first day. The muscle motivating view uplifted my spirits to a far higher altitude. In the calm, evening light, Loch Lomond's islands were molehills in a golf green, or stepping-stones to the Arrochar Alps. Glancing left, I watched the windows of Glasgow's tower blocks dazzle in the fading evening sun. Leering to the right enabled me to see into the future … well … the next three days. The Highland Boundary Fault beckoned, drawing me magnetically, ever closer to Fort William. That was the small wonder of Conic Hill. Conquering it inspired me to reach my journey's end.
Day Two
Rob Roy's Cave was an unexpected wonder. There is nothing cavernous about this crevice. In fact, it is so small it's easily missed if it weren't for the word 'CAVE' daubed on an adjacent rock. I give it small wonder status because of its historical qualities. My fingers read the rock face. History in braille. Every nook, cranny, serrated edge and weather-beaten face reputedly witnessed the legend that was Raibeart Ruadh, to use his Gaelic name. Here, the valley narrows. The slopes of Beinn a Choin and Little Hills squeeze Lomond's waters to lap at the Way as it traverses this rocky, tree-root strewn section. There are no sanitised country parks now. The two-day-old bristles on my face tightened. A breeze flew across the water and the crags around Rob Roy's Cave nicked my finger. I shuddered. It was as though hundreds of eyes through history were watching my every step.
Day Three
Gravestones. I defy anyone standing on the West Highland Way between Kirkton Farm and Auchtertyre not to marvel at the optimistic patch of sloping ground, surrounded by a dry stone wall. Optimistic, for its sheer size and relative emptiness. This slice of heaven won't fill up; the locals abandoned it eighty years ago. For the first time since Milngavie, I felt alive, ironically. This final resting place stole my heart. It would have to wait for the rest of my body, though!
Day Four
Under the auspices of a headless Beinn Odhar, with a thick, low cloud scarf around its neck, I encountered the West Highland Way height restriction. A cattle creep under the West Highland Railway Line. Bending down brought my nose closer to the floor, clarifying that cattle clear their bowels whilst creeping. My head cleared the roof, but my rucksack wedged tightly against the concrete blocks supporting the railway line above.
A low rumbling noise penetrated my thoughts. The puddles at my feet danced. The rumbling crescendoed. My eardrums throbbed. Fear engulfed me. I lunged forwards, then backwards, forwards, backwards, but my rucksack was rammed fast against the ceiling. St Fillan's graveyard was a beautiful experience, but I wasn't ready for it yet. My survival instinct kicked in. Unbuckling the waist strap, I dragged my arms from the shoulder straps, lurched forwards, through the metal gate and out into the open, fresh air. Turning around, I watched the bogeys of the two-carriage Sprinter train clatter by, hurtling towards Tyndrum. Underneath, my rucksack swung nonchalantly, before suddenly, plummeting into the cattle creep mess. If a 'wonder' is something unexpected, then this cattle creep was certainly an unexpected experience.
Day Five
Weather forecasters are put through their paces on Rannoch Moor. This wilderness experiences every form of weather possible within a matter of hours. Submerged trees rose menacingly from lochs, adapting to survive in this harsh environment. Even Mother Nature fights to subsist here. Crossing this 13-mile section of open, windswept, bog deserved respect, although this is not my wonder, for it is not small. Near the end of the day's passage lies the most photographed mountain in Scotland. Buachaille Etive Mhor. Majestic. Imposing. Foreboding. But, my wonder was snuggled at its foot, occasionally slipping into the odd photo too.
Blackrock Cottage's white-washed, stone walls with reddish-brown doors squat assuredly on the moor's edge, hugging the ground: it's roof barely a few feet from the soil. Two diminutive chimneys stab the sky. After crossing that inhospitable moor, its sight raises morale. A sign of civilisation. My spirits experienced sheer wonderment that the unmitigated beauty of Rannoch Moor gave someone journeying across this inhospitable land centuries ago, enough courage and determination to build a shelter here. Rannoch is a wonder in its own right, but striding closer to the Kingshouse Hotel, I marvelled at the wonder of Blackrock Cottage's builders.
Day Six
Way walkers have two common goals. To complete the route and to get a good night's sleep. Having climbed the Devil's Staircase and clambered high across the mountains to Kinlochleven, it was with weary legs that I dropped into the town's bunkhouse. I was sharing a small room with a father and son team. His ex-army mannerisms relished this 95-mile challenge, whereas his 16-year-old son's lack of effort suggested he was enduring the family tradition his two older brothers had already undertaken. There were also thirty under-11s sharing the bunkhouse, busy re-enacting the Glencoe Massacre. Despite starting at 3pm, by 12.30am they still hadn't finished. Gut-wrenching screams, rallying-warrior cries and shuddering walls penetrated our twin bunk-bedded room. At 12.38am, Military Dad opened the door and bellowed so loudly, both sides of the Glencoe Massacre hit the decks, never to move again until after I'd left later that morning. It was the best night's sleep all week. I never saw Military Dad, or his son, again, but his ability to silence thirty children with one bellow is a wonder I shall not forget.
Day Seven
Anticipation propelled me through my final day. Up, past the dramatic Grey Mare's Tail waterfall, into the heart of the mountains, with Stob Coire na h-Eirghe rising on my right and Beinn na Caillich guarding my left. Meandering through the Mamores, I marvelled at the surroundings as I plummeted down into Glen Nevis. Suddenly, my path was tarmacked and the road bustled as my destination drew closer. I don't know what I was expecting at the end, but it wasn't a roundabout. At first, it was an anti-climax. But whilst the Nevis Road roundabout wasn't a wonder to the A82 motorists, it signified the end of my journey. My achievement. My success. A wonderful feeling. Not many roundabouts do that.
The West Highland Way not only offers stunningly wonderful scenery, but the chance to experience a mixture of emotions and small wonders. My journey back by the Citylink 916 service did not take seven days, but 2 hours 58 minutes. Not as wondrous, and an entirely different experience. It would take much more than a jumbo sausage roll to make that journey more exciting!
Your comments on this walk, your experiences and suggestions, and your photos are very welcome. Where appropriate, you will be credited for your contribution.
Safety and problems: All walks have inherent risks and potential problems, and many of the walks featured on this website involve significant risks, dangers and problems. Problems of any sort can arise on any walk. This website does not purport to identify any (or all) actual or potential risks, dangers and problems that may relate to any particular walk. Any person who is considering undertaking this walk should do careful research and make their own assessment of the risks, dangers and possible problems involved. They should also go to "Important information" for further important information.
Responsible travel matters, a lot. How you travel will make a real difference - for better or worse. PLEASE consider this when making plans. Read more