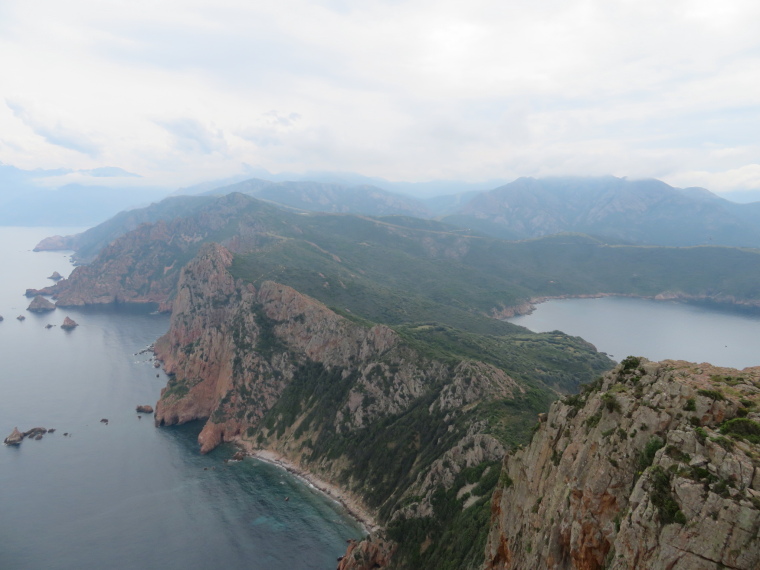 Capu Rossu, looking back up the cape
The fourth-largest island in the Mediterranean, and reputedly its most mountainous, offers a degree of wildness rarely found on the Mediterranean's well-tamed continental coastlines. Its huge areas of wilderness are full of magnificent forests and the unique and beautiful maquis scrublands. Corsica furnishes a series of glorious high, long, walks and a generous number of easier day-or-less-strolls.
French by administration, Italian and north African by both emotion and geographical location, mentioned in Roman and Phoenician myth, Corsica has a complicated history. The birthplace of Napoleon, it has been a territory of France for some 250 years, though its larger neighbour, Sardinia, is Italian and it was previously controlled by the Genoese for some 400 years.
This, however, is country that, beyond its coastal regions, is particularly unconquerable, and unprofitable to subdue: its rugged interior unsuitable for road-building and its potential for profitable agriculture limited. Until the 19th Century, when the spectacular narrow-gauge railway was built, the only way to get from settlement to settlement was via the web of footpaths and mule and stock tracks that still exist – some of them still, in fact, fulfilling their original functions – intact today.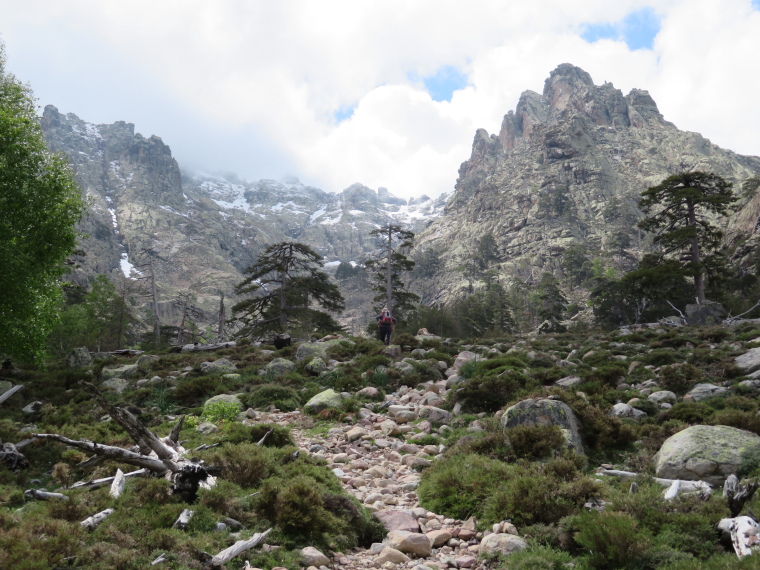 Lower Golo valley
Much of Corsica remains truly wild, unspoiled mountain country, rich with the scent of herbs, cooled by high forests and riddled with ancient footpaths: a walker's paradise affording spectacular isolation and a remarkable view, a bucolic detail or a geological wonder round nearly every corner.
Fauna includes the indigenous mountain goat, the mouflon, wild boar, harmless but hissy snakes, huge kites and tiny finches, hoopoes, the splendid bearded vulture (lammergeier – 4 breeding pairs in 2017, Walkopedia got lucky and saw one in 2018), with its 2.7m wingspan and, in the central mountain chain, eagles.
Corsica has ancient and largely granite and other igneous geology. It was once thrust as high as today's Alps by the Africa-European techtonic impact, then subsided into its current crazed state when the pressure zone moved north.
The island is host to a series of glorious high, long, walks and a generous number of easier day-or-less-strolls.`It offers a range of walks that will satisfy anyone from the most determined to the most timorous – everyone, because the interior has remained relatively undeveloped and a remarkable diversity of flora and fauna still flourishes here, offering some aspect, viewpoint or experience that makes it well worth the effort.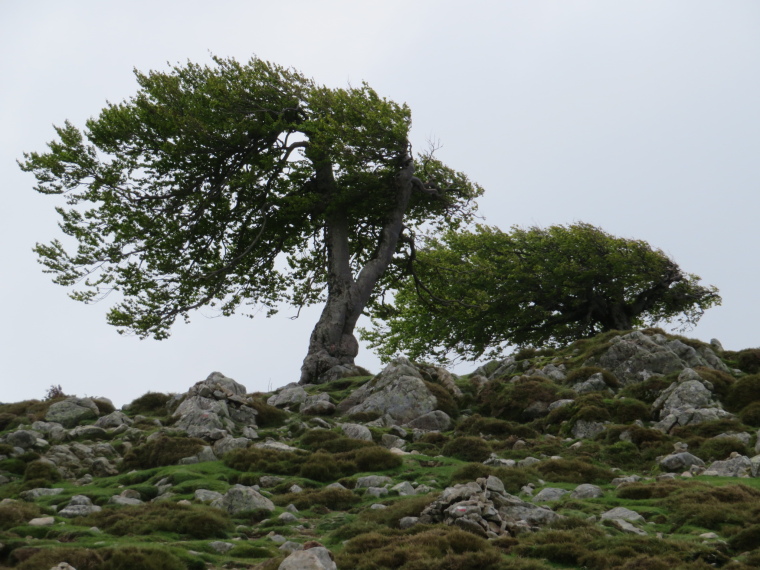 Famous contorted trees
Calanche - North from Chateau Fort
The major trails
Corsica has several outstanding long distance trails, explicable in part by its complicated and thrilling landscape, and its huge variety for such an landmass.
Lording it over the all, the GR20 – reputedly Europe's toughest long-distance walk – runs for 180km north-south along the length of the island's mountainous spine. It takes up to 15 days, although the nutters aim for 8. Tough it may be, but this walk, with its staggering views and regular geological marvels, should appeal to a far wider audience than the desperate peak-baggers.
Less time-consuming is the 10-day Mare e Monti, one of Corsica's most celebrated trails, described in the excellent Cicerone guidebook as "easily the most wonderful long-distance route in Corsica", and it more than deserves its reputation. It runs near(ish) to the west coast, snaking inland and back out to the sea, from Calenzana, 12km inland from Calvi on the North-west coast, to Cargèse 125km further south. This, too, is a tough switchback of a walk – which rewards with breathtaking sea-and-mountain views at every turn.
Similarly demanding, and similarly rewarding – and offering a deeper "interior" experience – are the east-west Mare-Mare Nord (which shares the first fifth of its length with the Mare e Monti) – 140km (11 days) from Cargèse to Mariani – and the Mare-Mare Sud , 77km (5 days), Porto-Vecchio to Propriano.
See more on walking in Corsica.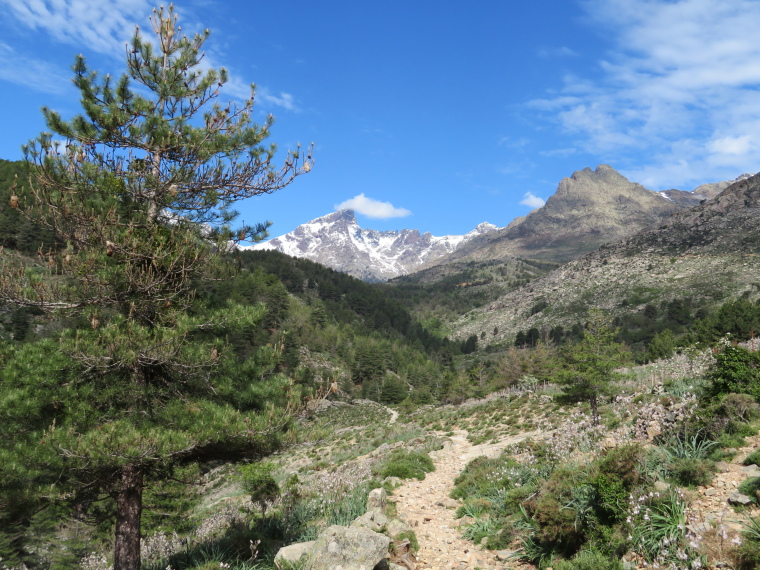 Mare-mare Nord,ooking north towards the highest mountains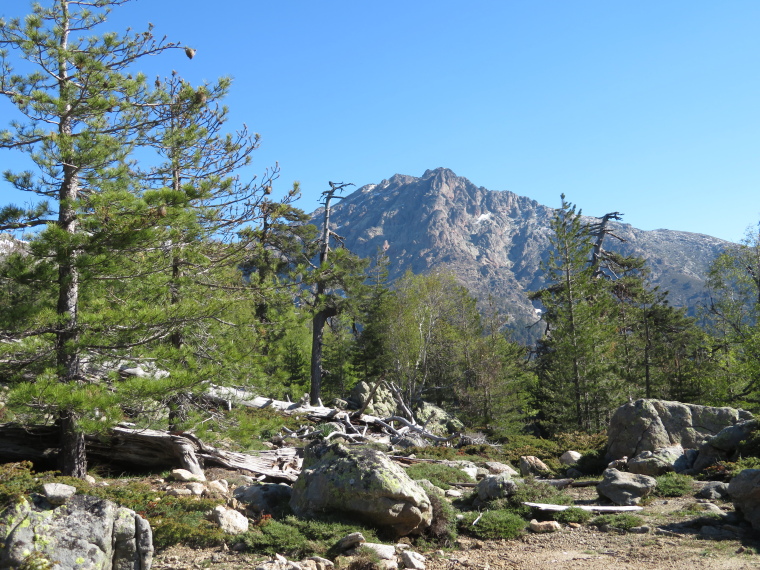 GR20 east of Col de Virgio, looking north