Welcome to Walkopedia, our interactive directory of the world's best walks and hikes.
Have a look at James Down's blog of his Greece to UK walk, Down and Out, at
http://jamesdown.tumblr.com/
A climb by wounded soldiers of this fearsome peak to raise funds for the precious Walking With The Wounded charity. PLEASE SUPPORT THEM!
We are receiving page visits at an annual rate of 500,000 for the first time



Our 700th walk is loaded!
This website offers great inspiration for walking and traveling! Every time I come to visit here I want to start walking any other trail.... (Johnnywalker)



Just discovered this website, what a fantastic resource. Time to plan some more walks! Gaby
Is this perfect feedback?
Brilliant site! Wow! Its all here. Finally something to really get your teeth into. The photos the ratings the descriptions the information are absolutley fantastic and spot on..... Thank you Walkopedia your finger is on the pulse, your feet on the right trail. Walkers of the world unite indeed! Bill Peel (7.2013)
__________________________________________________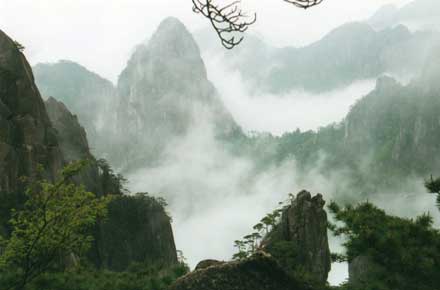 To have as close to a complete collection of the world's great walks and hikes as can be achieved, by 2020. This requires daunting levels of research - and walking - and help from walk lovers like you. So, please give us your suggestions and comments.
To give you good information and links, to help you plan an expedition.
Help Walkopedia
If you enjoy and value our site, please help us (at no cost to you) by buying your books, maps and other needs through our Amazon link.
And by telling friends about our site.
THE WORLD'S 100 BEST WALKS: as walked and selected by William Mackesy

William Mackesy is on a long quest to identify

the world's 100 best walks

. He is tackling and assessing all the walks himself, and has so far done more than 40% of the likely Top 100 (listed on our
about page
). His descriptions of these walks will be appearing on this website.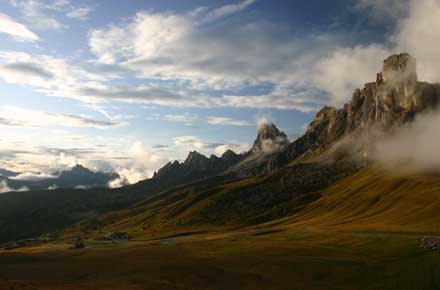 His planned book on these walks is provisionally titled "

Fat Man Walking: a Good Wheeze

". But, as he is 50 and his knees are in decline, he suspects the project will involve lowered sights at some point.
Identifying the best walks requires a system as well as stamina:but what are the essential ingredients of a great walk? Outstanding beauty is not sufficient on its own (there are thousands of beautiful walks). It is some special charisma, often combined with a natural wonder or historical or artistic association, which propels a walk into the highest ranks. Adjustments are needed for miseries such as crowding and altitude. See our walks assessment system, which we have developed to balance between these varied factors.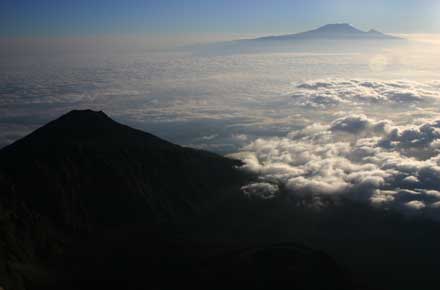 Kilimanjaro at dawn from Mt Meru
See our provisional list of the world's 100 best walks, with ratings. These preliminary rankings will be revised for further candidates and adjusted markings. You can help to develop the final, definitive, list. Your suggestions for candidates, and comments on walks on the list, will be very welcome.
Click here to see William's personal favourites walks.
RESEARCH ESSENTIALS
Here are some essential tools for your travel research:
Information and review
Finding flights, organising travel
Accommodation
Equipment & Clothing
Books and Maps
Amazon
Holidays and Activities
If you enjoy and value our site, please help us at no cost to yourself by using these links.
Responsible Travel...

... matters, a lot. How you travel will make a real difference – for better or worse. PLEASE consider this when making plans. Read more
CONTRIBUTE
You can join our community and help to develop the final, definitive, Top 100 list and a full collection of the world's best walks and hikes. Your suggestions for candidates, and comments on walks on this website, will be very welcome. You can:
recommend a walk, or submit your own description of a favourite walk;
suggest additions or changes to an existing walk description and our walks assessments, including your tips, tales and photos; and
give us other feedback or comments.
Go to our
community page t
o see more on the Walkopedia project, including the ideas of other walk lovers.
FUN AND COMPETITIONS
WALKOPEDIA TRAVEL WRITING AND PHOTOGRAPHY COMPETITIONS
Results are out for our 2011 competitions for: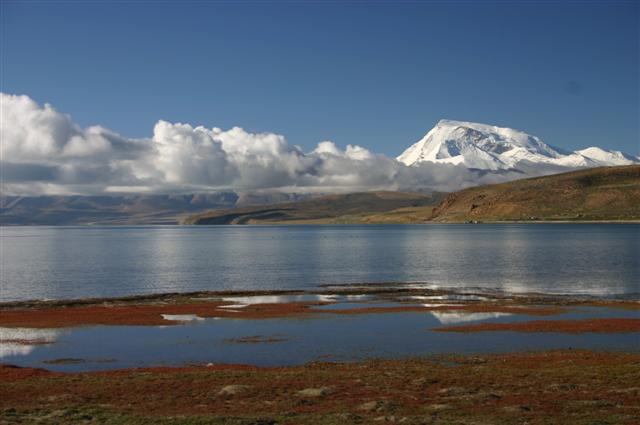 Lake Manasarovar,Tibet
What you will need to do and take with you, including an extensive check and packing list.
We are developing useful information (on travel, equipment, books, maps and so on) to help you plan your own expedition. Let us know about further useful websites and we'll add them.
(Walk-specific information can be found on the individual walk pages.)
Tell a friend about Walkopedia
Enter details to tell a friend:
Countries with highest concentration of the world's best walks
| Country | No. in Top 100 | % of all walks |
| --- | --- | --- |
| China | 11 | |
| Nepal | 7 | |
| Peru | 6 | |
| Spain | 6 | |
| USA | 6 | |
| France | 6 | |
| India | 6 | |
| Italy | 5 | |
| UK | 5 | |
| Norway | 4 | |
750
NUMBER OF WALKS CURRENTLY IN WALKOPEDIA

Follow us on
Facebook
for regular doses of beauty and delight.
CHARITY WALKS!
We are planning to feature good charity walks from around the world. Let us know of any charity walks you would like us to feature!
THE WORLD'S 10 BEST WALKS
WALK OF THE MONTH
Teton Crest Trail, Western: Grand Teton NP, USA
This is a stunning multi-day hike, taking in some of the best that Wyoming's Grand Tetons have to offer.
Take an exhilarating trek along Death Canyon shelf, a steep climb up to Paintbrush Divide, gentler walks around the high mountain Lake Solitude, Holly Lake and Marion Lake, and (almost) strolls through beautiful alpine landscape.
This is a tough walk in high, remote mountains, on which you will have to be self-sufficient. Come prepared.
WALKOPEDIA NEWS
June 2014: working away at Pyrenees pages
Working away at a huge batch of 20 or more Pyrenees pages, including the amazing Gavarnie/Ordesa circuit. What a glorious area.
April 2014: we are receiving page visits at an annual rate of 500,000 for the first time

Feb 2014: our 700th walk is loaded!

Jan 2014: 327,000 page views in 2013
Hardly google, but still 70% growth
Dec 2013: our winter magazine: Myanmar's marvels
http://www.walkopedia.net/magazine-winter13/
LATEST WALK
Conguillio NP, Patagonia: Conguillio NP,Chile
Nestled in the Mapuche heartlands of Araucania, in one of the most volcanically active areas in Chile, lies the ancient landscape of Conguillio NP.
From the centre of the park rises the huge double cone of Volcan Llaima, towering above the surrounding landscape and circled by an extensive volcanic wasteland, where vast areas have been overwhelmed by the lava of previous explosions.
The rugged, basalt slopes and peaks of the Chilean Sierra Nevada, coated in thick, antediluvian forest, provide a perfect foil for Llaima's smooth volcanic symmetry.
Walking here is remote and tough. The standard mountain dangers apply, and route-finding can be very difficult. Come prepared.
SOME QUESTIONS FOR YOU
We have been told that it is not currently possible to walk the full Cinque Terre route due to landslides, but this is not mentioned much on the internet. Does anyone have any more information?
Charity walks: we are planning to have a focus on good charity walks (it will take a while to change the site)... in the meantime let us know of great upcoming walks around the world - the longer the notice, the better!
What is your favourite walk, and why? How would it rate using our system?