Other accounts and travel writings
Shikoku Pilgrimage -
Shikoku, Japan
Nils Wetterlind's Account
Thank you to Walkopedia friend Nils Wetterlind for these extensive and very helpful thoughts!
Shikoku Pilgrimage
Introduction
The Shikoku Pilgrimage was founded by Kobo-Daishi (Kukai), 774 – 835AD, who was the founder of the Shingong arm of Buddhism. It circles the whole of Shikoku, the smallest and least developed of the four main Japanese islands, for some 1200 kilometres in all.
There are 88 temples along the route, most of which were visited or founded by Kobo-Daishi himself. There are four main 'clusters' of temples; clockwise, from north, in Sanuki Province, Awa Province (where I was), Tosa and Ehime. Each cluster will take you about a week on foot. Most non-pilgrims tend to focus on one or other of the clusters. The rest of the temples are mainly scattered, few and far between, on the south and west coast.
This is an extremely important pilgrimage for Japanese Buddhists and, although a lot of people nowadays travel by bus or car, walking (or as I did, bicycling) is getting more popular again in recent years. It is a pilgrimage full of ancient rituals, lots of interesting trivia, and is deeply rewarding on all levels.
The Pilgrimage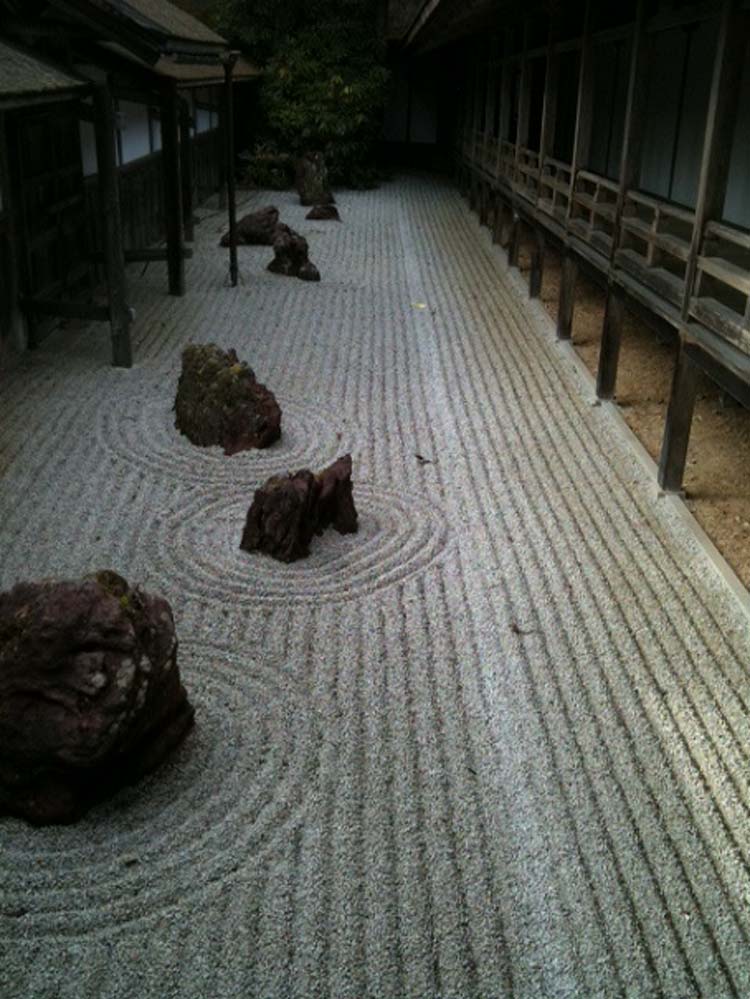 Kongoubuji Temple Garden
Beginning
You start the pilgrimage not on Shikoku island, but on Mt Koyasan, south of Osaka. Kukai built a series of temples here, and is now 'resting in eternal meditation', as they rather elegantly put it: the senior monks bring him food and drink every day. You go from Osaka Namaeki station on a rickety and increasingly scary (but beautiful) train ride up the mountain, and then take a cable car up to the top of the mountain. Go early, it's a 90 minute trip, you'll want to have at least 5-6 hours here, and then you have to take the bus down to Tokushima, on Shikoku island (another 3 hours).
Koyasan is a quite amazing temple town with about 3,000 inhabitants, perched right on top of the mountain. The first thing to do is to go to Kongobuji, the main temple; here, you get your Nokyocho (stamp book). In each temple in Koyasan and on the pilgrim route, a monk or a nun will stamp it and write beautiful calligraphy for a fee of 300 yen, as proof of your visit. You then walk down to Okunoin, Kobo-Daishi's grave, on the other side of Koyasan. Here, you ask for protection during your pilgrimage. Then walk back up and visit as many of the other temples as you fancy, and then go back to the cable car and head off.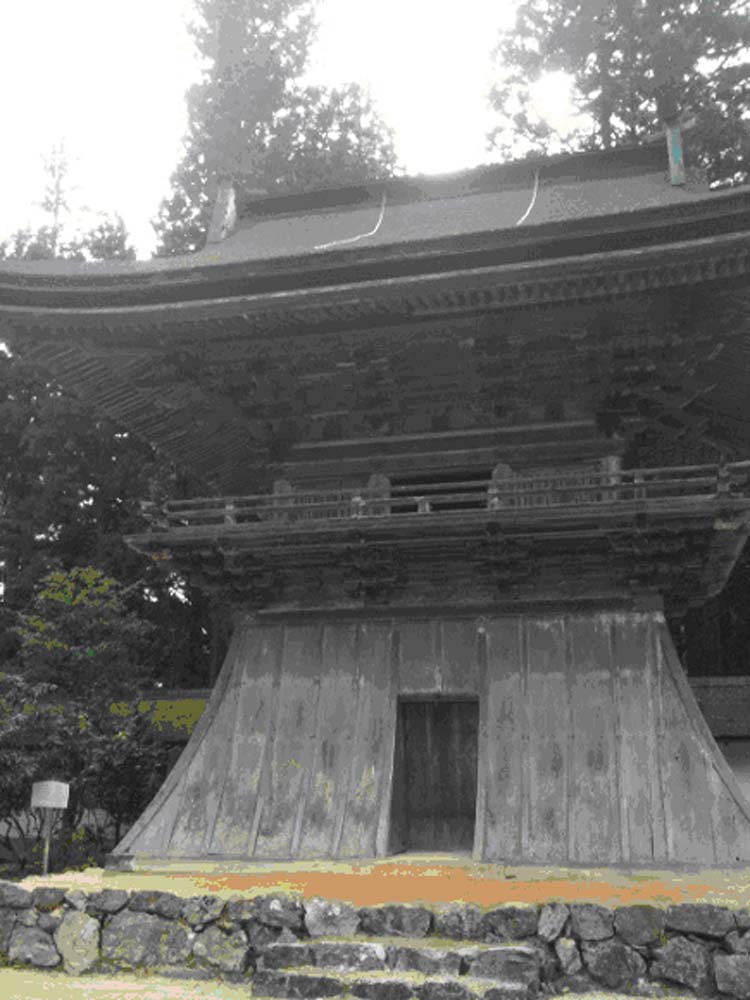 Okunonin Temple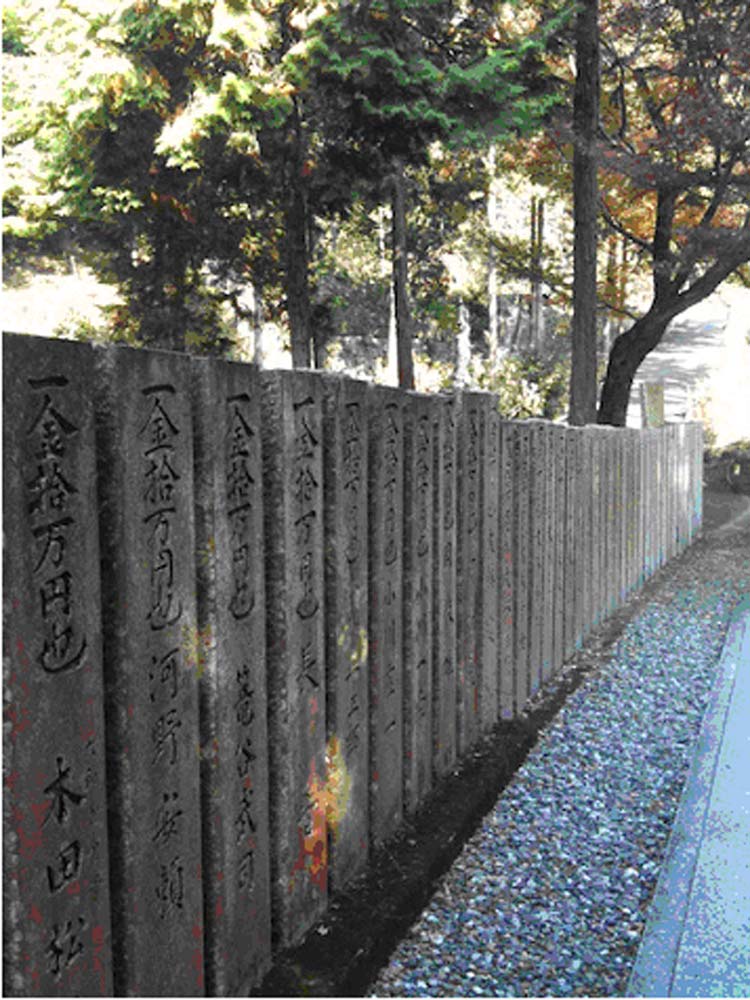 Grave Markers at Okunonin
You must start your pilgrimage on Shikoku island at Temple 1, Ryouzennji, but after that you can hop and skip and jump in any direction and order you fancy. I recommend that you, after Koyasan, head back to Osaka and take the Highway Bus from Nanbaeki station to Tokushima and stay the night there. I stayed in the excellent (and cheap, 6,000 yen) Sunroute Hotel just opposite the bus terminal. You can find this, and tons of other hotels in Tokushima, on line.
Planning - Sleeping & Eating
From now on, though, you won't find anything online at all, and it is imperative that you book your accommodation well in advance, especially if you are going in the busy season. By far the coolest thing to do is to stay in the temples that offer accommodation: Shukubós, they're called. Each room sleeps up to four, but you always get a private room if you have booked, i.e. you are not expected to share a room with strangers. A typical Shukubó room is just a square room with tatami mats, with a closet full of futons and blankets. If you're by yourself or just the two of you, pile up the futons and you'll be fine, otherwise it might take some getting used to. The Shukubós I stayed at had fabulous communal baths with great showers and hot tubs, steam rooms etc. You eat communally, dinner at six sharp, you eat what you are served, simple but delicious Japanese food. Many people plan their pilgrimage according to where the Shukubós are located; you should, too. There is only one way to get hold of them that I have found, and that is through the 'Shikoku Japan 88 Route Guide' which I bought at Temple 1, and which you must order from
shikoku@buyodo.co.jp
or
www.buyodo.co.jp
. This vital book has all the info you need: perhaps buy a decent 1:50,000 road map as well, as the maps in the book are often of different scales, and a bit confusing if you want to walk in a non-chronological fashion. You must then find a Japanese person somehow to call and book each Shukubó well in advance for you: and be aware that almost nobody you will deal with during all of this speaks a word of English.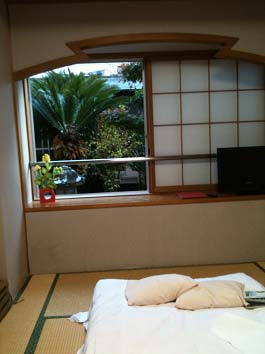 Typical Shukubo Bedroom
Your other choice is Ryokans, traditional style Japanese inns: you'll take pot luck here, though: some are wonderful and others are little more than a suburban house with three guest rooms and zero atmosphere. Go for Shubukós if you can.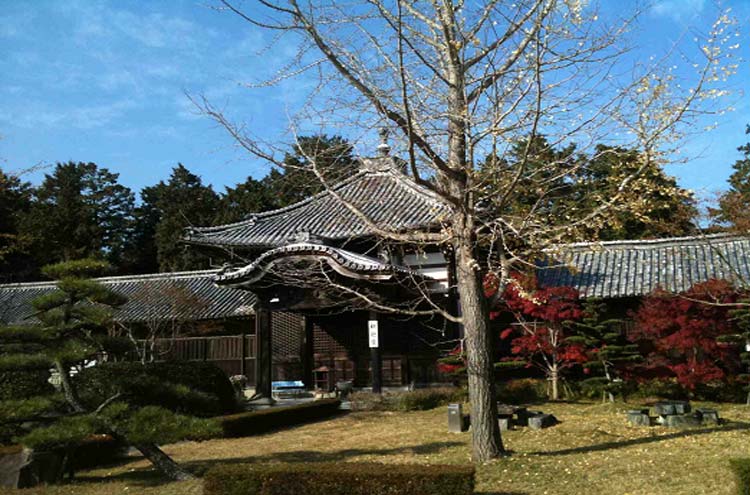 Shukubo at Ohenro-San
Both the Shukubós and the ryokans will include a Japanese breakfast in the rate. If miso soup, fermented beans and rice is not for you, tough. As for lunch, it's pack-a-snack wot rules. Unless you happen to be in the middle of a town, like at Temples 16 & 17, it's hard to find restaurants. Luckily, every supermarket and convenience store (Circle K is their 7/11) sells really great, healthy fresh foods; little sushi things, goyozas, udon noodles, etc. And every now and then, you'll walk past a wee ramen place (Shikoku is famous its udon noodles), so just stop and grab something. 1000 yen will feed you heartily and deliciously almost anywhere in Shikoku. But it is very sporadic, so always carry food, because there may not be any at all to be found on your way.
In the Temples
At Temple 1, which you get to by taking the train from Tokushima to Bandoueki and then walking for 20 minutes along the marked road, you buy your Hakui, a white cotton vest, which identifies you as a pilgrim, and a wooden staff. You can buy lots of other stuff, like a silly hat, rosaries, special prayer name slips and so on. Go pilgrim crazy, if you really must. You are then probably the sort of person who has little Buddha statues in your back garden (the garden gnomes de nous jours). For the rest of us, a white vest and a staff will suffice in order to show respect without inducing ridicule.
You can also learn all the various Buddhist temple rituals and memorize the Sutras before you go, and this is of course all fine, and kind of the point, if you are a practicing Buddhist. If you are not, here is what you need to do in the temple in order to be respectful:
Enter temple gate: bow towards the main building.

There will be a cleansing stone nearby with little water scoops. Fill the scoop, rinse your right hand, then your left, then your mouth, and then hold it up facing you, and let the remaining water run out.

Ring the bell (or, more likely, gong the gong) once; this marks that you have arrived to worship.

Go to main temple, light a candle, toss a coin in the offering box, and say a little prayer of your choosing.

Now go and get your stamp and calligraphy, then turn around at the entry gate and face the main temple, bow once, and leave.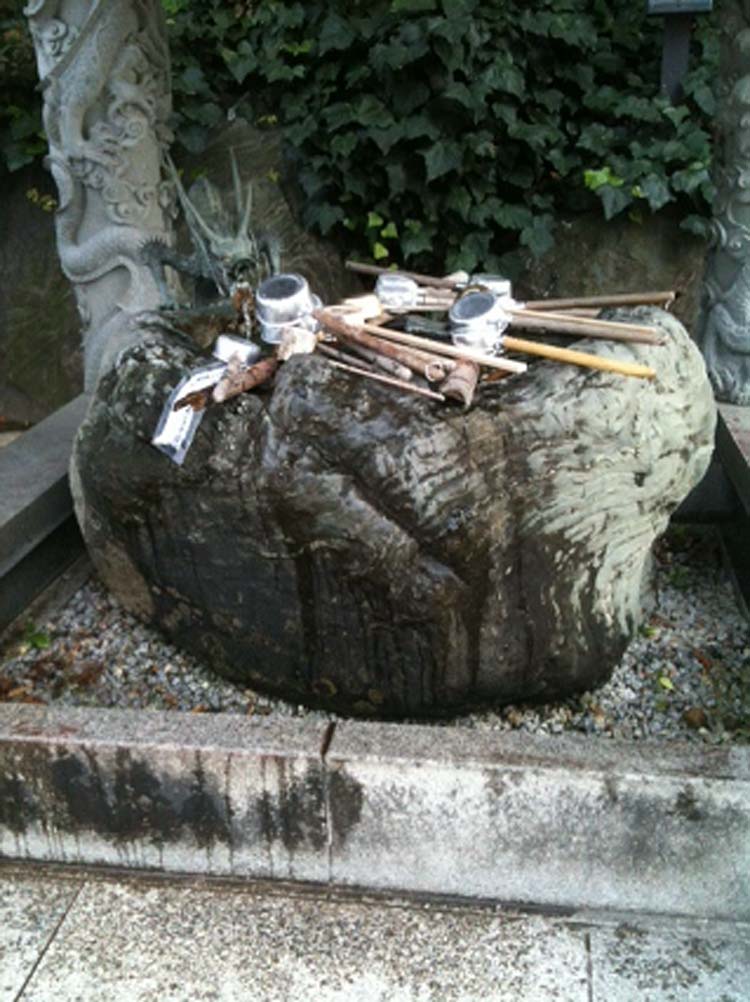 Cleansing Stone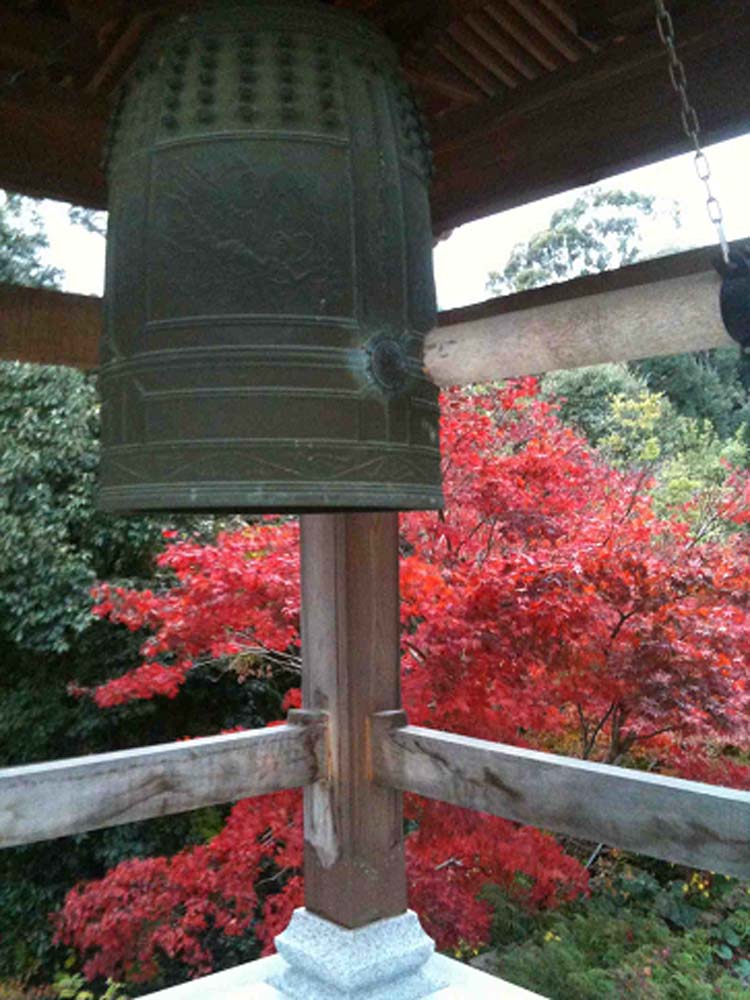 Temple Bell
Every temple has its own history: some temples have profound and very meaningful stories attached to them, like a certain spot where Kobo-Daishi had an insight which has since affected millions of people; some are rather disturbing ('....and if you can't see your reflection in the pond next to the southern Hall, you will die in three years') and some are ridiculously mundane ('Kobo-Daishi once ate a mackerel in this place and there is a statue of him holding said mackerel in the eastern Hall'). For me, the buildings temselves and their setting mean more than their history: Temple 8, for example, is where I found what I needed to find on this journey, but it wasn't becasue 'there is an ancient pine tree that looks like a dragon' in the gardens.
Walking the Walk (or Biking the Bike)
Now you're on your way, for whatever amount of time you have given yourself. I had a bad foot, which I hoped had healed by the time I set out, but it turned out it hadn't, as I found out rather painfully between Temples 3 and 4. I was really rather despondent, hobbling along pathetically along the small village road in quite a lot of pain. Luckily, after about half an hour, I passed a little bicycle shop. Aha! Kobo-Daishi looks after his pilgrims, you see. So I bought the cheapest bike, one of those typical schoolgirl bikes, no gears, and a little basket up front. Ten thousand yen. I later gave it to the rather bemused monk at my last temple. I named the bike Gerald. Smugly, I pedalled up the mountain to the next temple, looking rather ridiculous on my little girlie-bike: but who cares, and personal dignity has never been one of my main aims in life anyway. My smugness came to an abrupt end as I promptly got a puncture ('panku') and had to push the bike 4 km to the next temple. Aha! Kobo-Daishi gladly takes you down a notch if you get too comfortable, you see. But a kindly old monk organized for the 'panku' to be fixed by a man who arrived in a spotless white overall, bowing profusely, and who took the bike away and returned it an hour later, still bowing, refusing to accept payment. I had spent the intervening time sitting in the sunshine, drinking green tea and eating cookies that I bought from the little stall outside the temple gate. Life is good on 'Ohenro-san' (pilgrim walk). You will, by the way, quite likely be given small gifts along the way by non-pilgrims. Accept graciously, it is extremely rude not to. This is important.
For what it's worth, I'm glad I pedalled around the countryside on my schoolgirl bike, rather than having walked. My bottom hurt like, well, buggery I guess, and my knees ached, but I was still travelling under my own steam, and saw an awful lot more than I otherwise would have, given the limited amount of time I had. I am also sure that the sight of a Gajin-san in a white jacket pedalling away on a small girl's bike, knees up to his chin, provided much merriment to the locals, which is of course every foreign visitor's solemn duty.
It is very easy to get lost on the Ohenro-san, especially if you don't go in a numerical order. I got severely lost twice, losing three or four hours both times. The official signs are old and few and far between, and also in Japanese, so not much use to you and me. So look out for these little stickers, that are placed strategically throughout the route: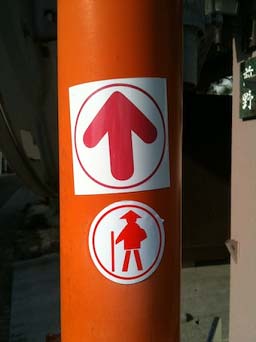 The thing is not to worry too much. As long as you are in one of the four clusters, all you need to do is to get yourself to the next temple, which you can do in a few hours, tops, and there will be a kind person to help you with whatever you need. Almost anything can be achieved by bowing a lot, using the words 'Sumimasen' (Excuse me, please), 'Gomennasai' (Sorry, please forgive me) and 'Aroigato Gozai-mas' (Thank you so very much) a lot, bowing some more, and pointing at maps and aching feet or whatever. And always, always smiling and talking softly.
You will also have transcendental moments when standing all by yourself in places like this: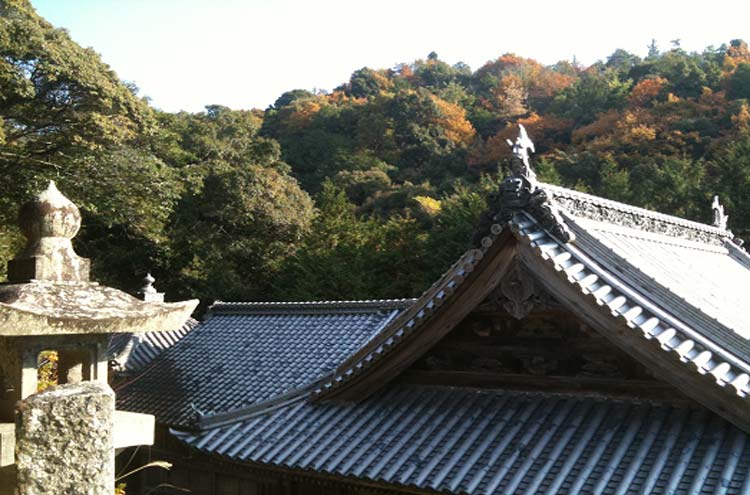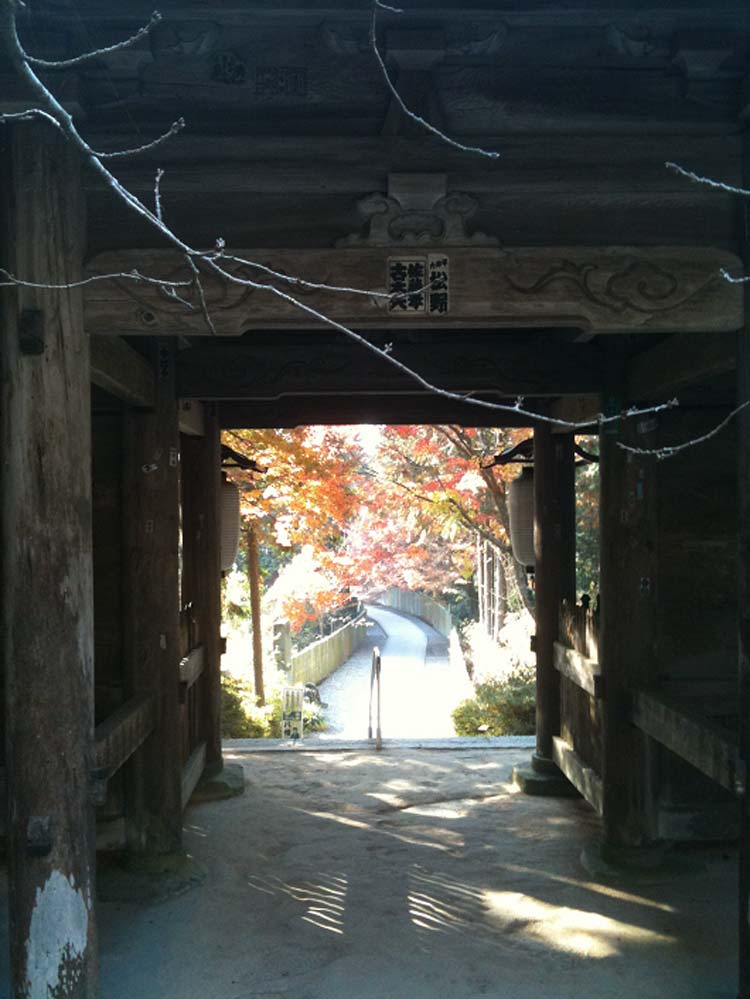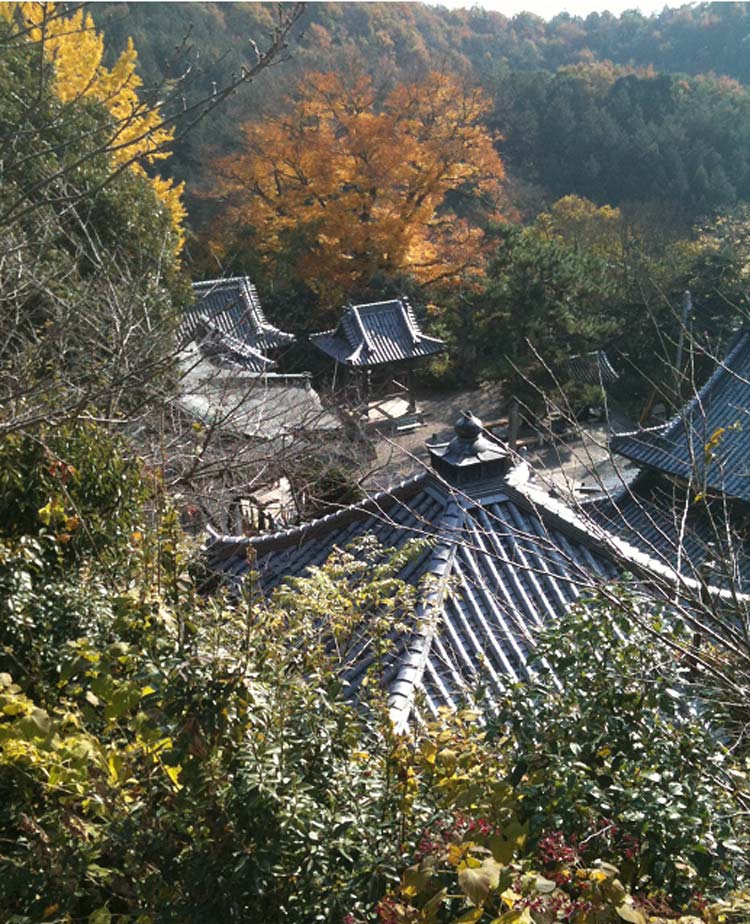 When to Go
I went early December, after the main season has finished, but I think I got the very very best of the Ohenro-san: crisp, clear, fresh air, turning leafs making the scenery ridiculously beautiful and, best of all, I was the sole visitor in more than half of the temples. Just me and the monks (or the nuns). During holidays and peak times there will be 47 buses in the car park and 700 'bus pilgrims' in every temple, which I gather can reduce the spiritual experience somewhat.
I would say, contrary to most of the websites that I have read, that mid-November is the earliest you should go. Shikoku being on the same latitude, roughly, as Greece and southern Italy, the weather will hardly be arctic in winter. Japan gets steaming hot and very humid May through October, which you can't protect yourself against. So go in the early winter or very early spring, and pack a sweater.
A Couple of Thoughts
My wife is Japanese, so I'm partial. But. Consider this. I have walked and hung out in a lot of countries (as I am sure you have), especially S/E Asia, and we have just left Bali after eight years. Therefore, to do this pilgrimage in Shikoku, be it only for a short while, in a country where silence, politeness, order, peace, cleanliness and tranquillity reigns, was just heaven. I seriously did not see a discarded piece of litter during my whole trip. No stench, no noise, no pollution of any kind. Plus the fact that the food is quite simply the best in the world; it is simply impossible to have a bad meal in Japan. But you know what the best thing is? Clean toilets and bathrooms, and lovely baths and showers. Everywhere. Seriously. We've all squatted over cholera-pits in India, crossed our legs in Sumatra and held our noses in Thailand. I don't care that you see lions in Africa, I'm not going back unless they place spotless, disinfected Four Seasons hotels across the entire Serengetti, thank you very much. I've experienced enough stench in my life. In Shikoku, though, you get all the spirituality, exotica and other-ness you could ever wish for, but with a kind, temperate climate and some of the most breathtaking scenery imaginable. Plus, the loos are so clean you can perform brain surgery in them. What else do you want?
By Nils Wetterlind ()