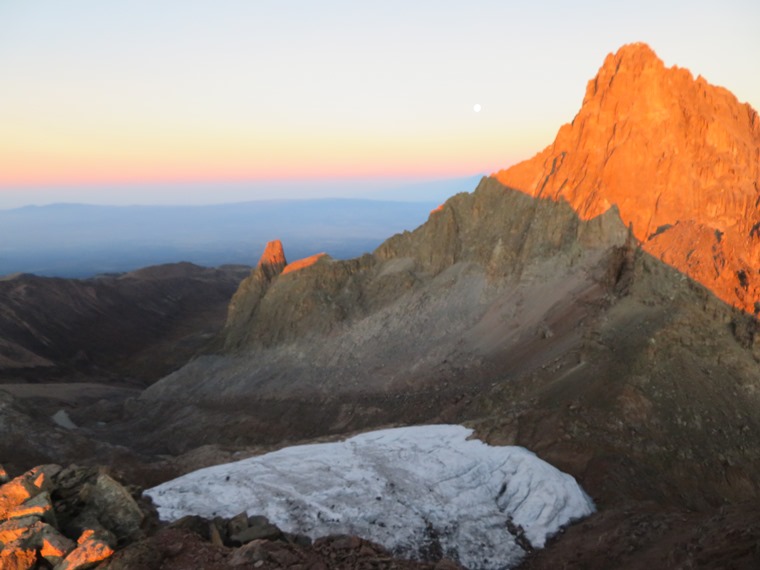 Sunrise on Nelion Summit
Sunrise on Nelion summit
The highest mountain in Kenya (and second-highest in Africa) is a huge stand-alone extinct volcano, last active some 2.6 million years ago. It is some 70km across, and its trekking peak is 4,985m, so it is a whopper in every sense. It is walking and climbing heaven. Walkopedia has yet to meet someone who has walked both it and Kilimanjaro and prefers the latter.
Mount Kenya is not just a single summit, but has eroded into a magnificent array of spire-peaks, with glaciers, numerous beautiful tarns and a selection of weird and wonderful formations all around. It is one of the few places near the equator in Africa with permanent glaciers, albeit shrinking – there are 6 or 7 of them (as at 2017 – how long until climate change reduces this number further?). Your first impression will be Mount Kenya's great mass topped by its broken peaks soaring above the fertile foothills – or, just as likely, a cope of cloud from which occasional dark glimpses will appear.
The trekking summit, Point Lenena, sits slightly lower than the conjoined climbing peaks of Batian (5,199m) and Nelion. It commands exceptional views of the surrounding rocky drama – when cloud free: it is very important to get up there early, for the best chance of clear views: even better, catch the dawn, although this will mean a very early start.
The mountain is a majestic geological and ecological wonderland, with very diverse ecosystems and some unique flora. Low down it is tea, coffee and farmland, and dryish scrub. You start climbing on slopes swamped by mountain forest; higher up are thick swathes of bamboo, and even higher it is cloud forest with cedars and smaller trees often dripping moss. On the Chogoria Route, you meet beautiful tussocky grasslands mixed with stately stands of rosewood at the highest forest zone. You emerge at around 3,200m into dramatic high moorland, where the at times fantastical vegetation ranges from boggy plants (indeed a vertical bog) to giant and ostrich-plume lobelias, sencio (giant groundsels) and cabbage groundsel, with a huge array of vivid heathers nearly ubiquitous. It is here that you get a true feel for the mountain's vastness, with ridges running relentlessly upward and expensive views across to sub-peaks and excrescences. Walkopedia believes that it is this area which gives Mount Kenya its unique allure and fascination: while its summit and highly volcanic upper regions are thrilling and magnificent, they have parallels elsewhere. Above the moorland is smaller but still varied alpine vegetation, then you are in bare rock and huge spires, with a sprinkling of tarns and a selection of glaciers and snowfields. Truly amazing.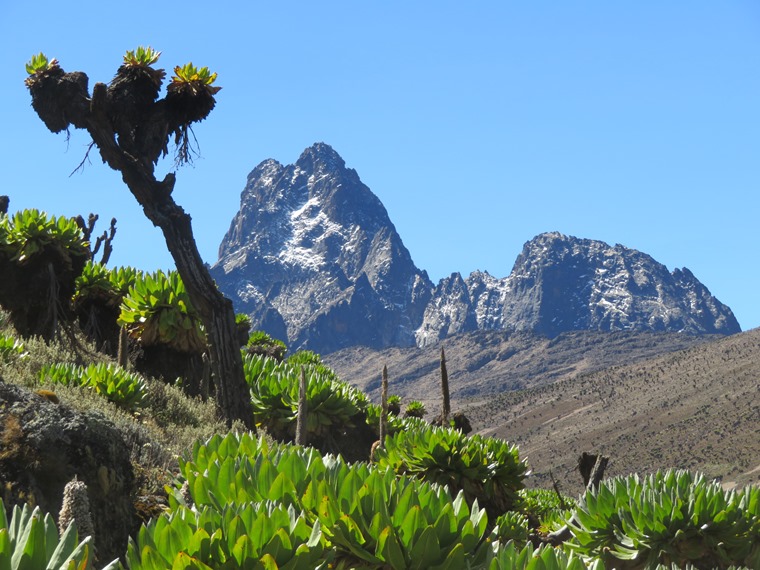 Batian from Mackinder valley flank
Wildlife is abundant, more so than on Kili. Beware of and avoid surprising buffalo, which can be extremely dangerous, and elephants and the very occasional black rhino, which you can meet in the forests and moorland. Make a noise and keep back if you see them. Lions and leopards are occasionally on the lower slopes; servals are around but shy and nocturnal. Monkeys and baboons in the forests (watch your possessions). Rock hyrax. Eland, waterbuck, bushbuck and various types of antelope. You might see hyenas and jackals. There is a huge array of birdlife, including various eagles and other raptors, lammergeyers and vultures, and, in the woodlands, hornbills, orioles and turacos; several types of sunbird and various water birds around the streams and lakes.
It is no surprise that the area is a World Heritage Site.
Important rivers flow from Mount Kenya's glaciers and rainforests. It has deep religious and spiritual importance to the tribes which live around it, and is the home of the Kikuyu god Ngai.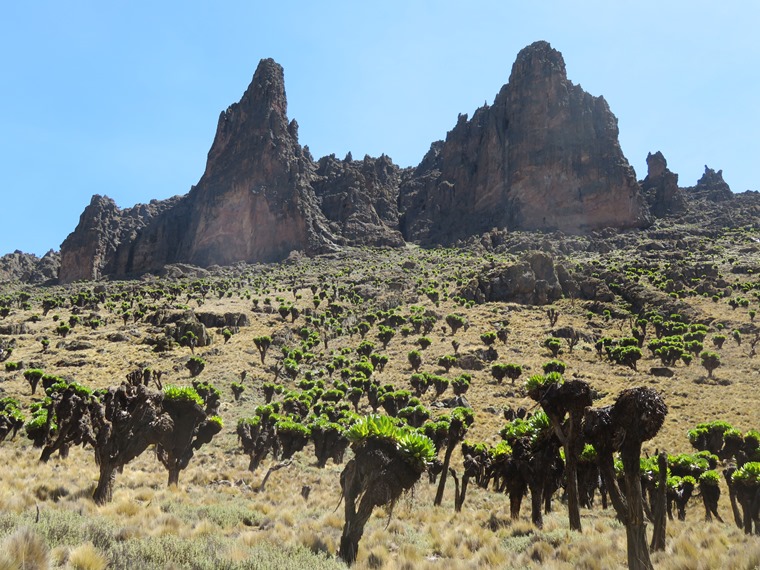 Mackinder valley flank
Routes: There are several outstanding routes, which all reach the Summit Circuit Path, a… er… circuit of the peak area. Walkers should take different routes up/down if they can, thus traversing the mountain and viewing different aspects of his most remarkable place.
All the main ascents treat you to an extraordinarily interesting selection of vegetation zones and landscapes as you ascend. They all start in thick forest, climb out of the treeline into unique moorland and alpine areas. Then it is the rocky drama of the peak area.
The Chogoria route, from the east, is generally agreed to be the most beautiful approach, and Walkopedia concurs. It starts lower than the other routes, at 1,700m, and ascends to the Summit Circuit Path at the Austrian Hut at around 4,800m, which is substantially higher than the points where the other paths reach it, although this is done in 3 days rather than the 2 usually taken on the other routes. You sleep higher than on the other routes, if you stick to it all the way. While some claim that it is the best ascent route from the point of view of altitude, it therefore appears to be arguably a better descent route, as you get the beauty and interest with reduced altitude risk, especially if you do the other routes in 3 days rather than 2. Walkopedia descended it, making a huge first day to down to Nithi, then diverting to a nearby waterfall and walking on to the Meru Bandas.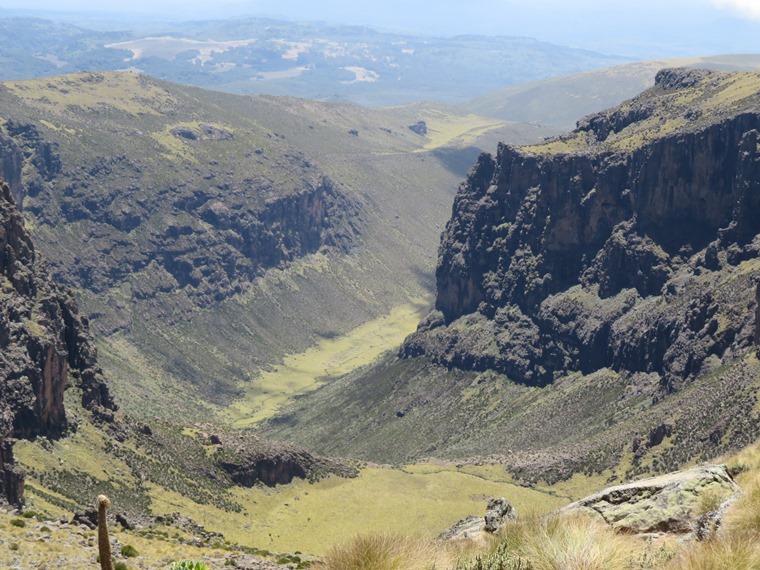 Chogoria, down Gorges valley, path ridge on left
The Sirimon Route ascends from the north-west, to Shipton's camp at around 4,200m, on the Summit Circuit Path. It used to be less used (partly because it is furthest from Nairobi), but Walkopedia saw far more people on it than on the Chogoria in 2017. This may be because more of the expedition companies are based in Nanyuki. Walkopedia considers it the best route to ascend because of its relatively gradual altitude gain, to the relatively lower Shipton's Camp, especially if you do it in 3 days via Liki North Hut rather than direct from Old Moses Hut to Shipton's Camp.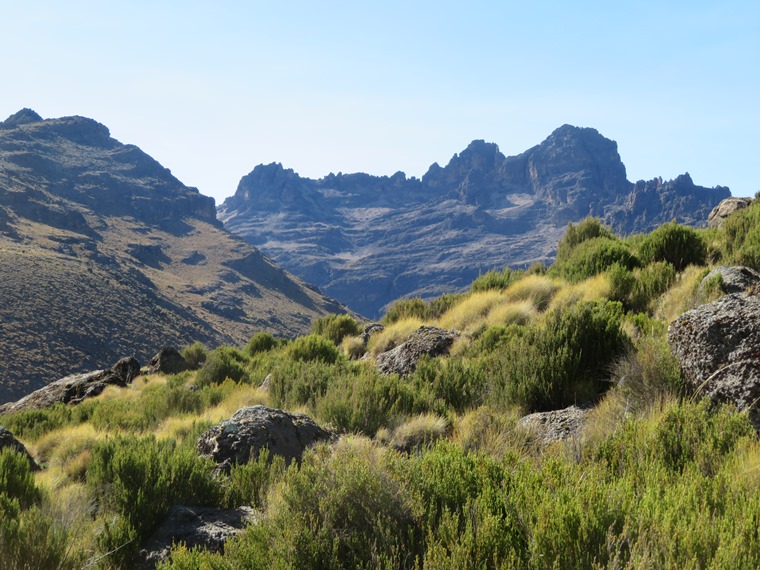 From Sirimon route
The Naro Moru Trail climbs from the west in 2 days from 2,500m (at the park gate – you can drive in further, but better to start there for acclimatization purposes) to Mackinder's Camp at around 4,200m, a bit below the Summit Circuit Path. With the usual first night at the Met station at 3,050m, you would climb over 1,000m (in 5-6 hrs) to Mackinder's Camp the next day, which is likely to leave you feeling quite sorry for yourself, at the least. With the treeline at around 3,200m, you spend the first and part of the second days in the beautiful and interesting forest. The moorland above is wet, and features a famous and self-explanatory area called the "vertical bog".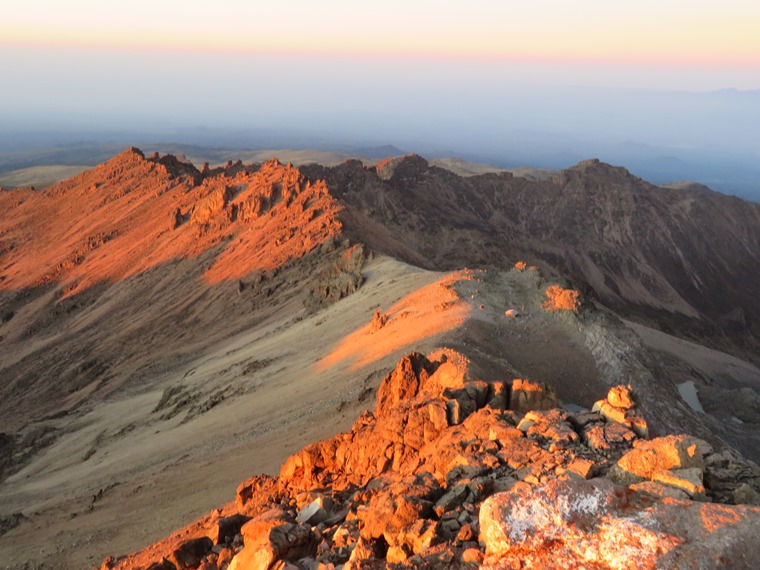 South from Lenana at dawn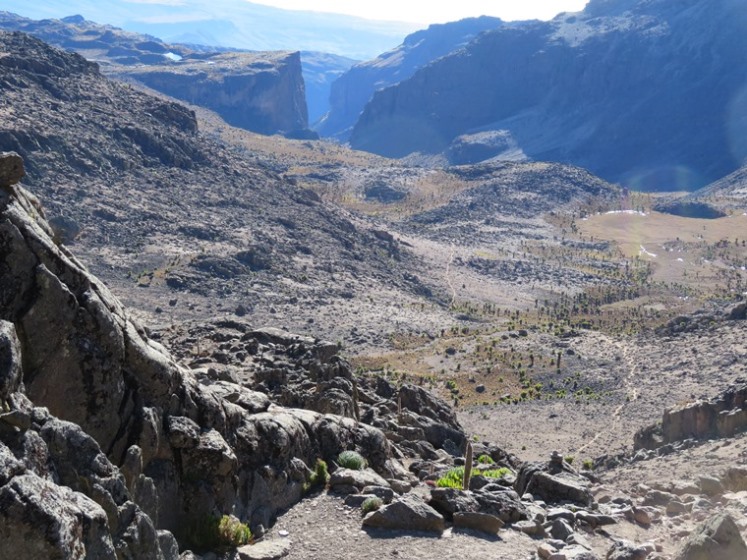 Chogoria, down toward Temple flats and top of gorges valley
See William Makesy's account of his crossing of the massif.
See our full Mt Kenya page, with more photos and practicalities.