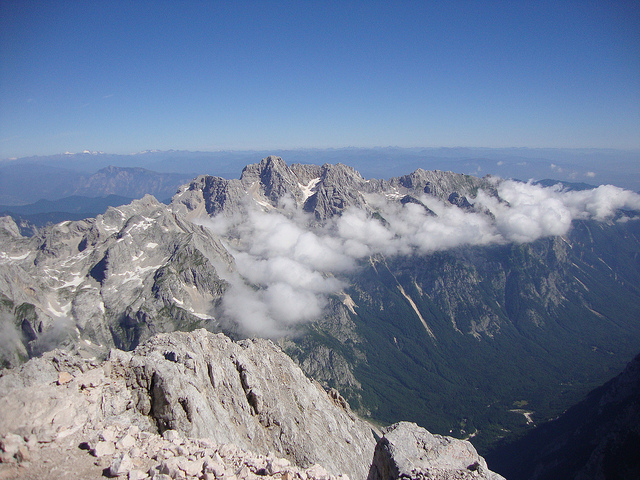 Views from Triglav Summit, - flickr user tomazlasic
This relatively undiscovered limestone range of around 150 peaks over 2000 metres high, fills north-west Solvenia and extends into north-eastern Italy, offering superb Alpine walking, with outstanding natural beauty and spectacular views.
This is glaciated limestone country, so think ridiculously sheer cliffs, spires and gorges, harsh bare rock and long scree slopes, high meadows and waterfalls and lakes mixing it with disappearing rivers. (The world karst is, indeed, Slovene derived.) It is effectively a continuation of Italy's Dolomites (without the crowds), although not as high as them or the main Alps: its highest and best known peak is Mount Triglav, at 2,864m not huge but nonetheless immensely striking (and with immense views) and a two-day effort to climb.
The Jalps' extensive and gorgeous forests are a glory, and the range shelters wildlife ranging from ibex to eagles, marmots to chamois to wild boar. High meadows alight with famously riotous wildflowers in Spring and early Summer provide vivid counterpoint. The Triglav National Park also helps conserve its remarkably unchanged rural heritage, nestling perfect mountain villages and remote farmsteads and offering an insight into traditional ways of life.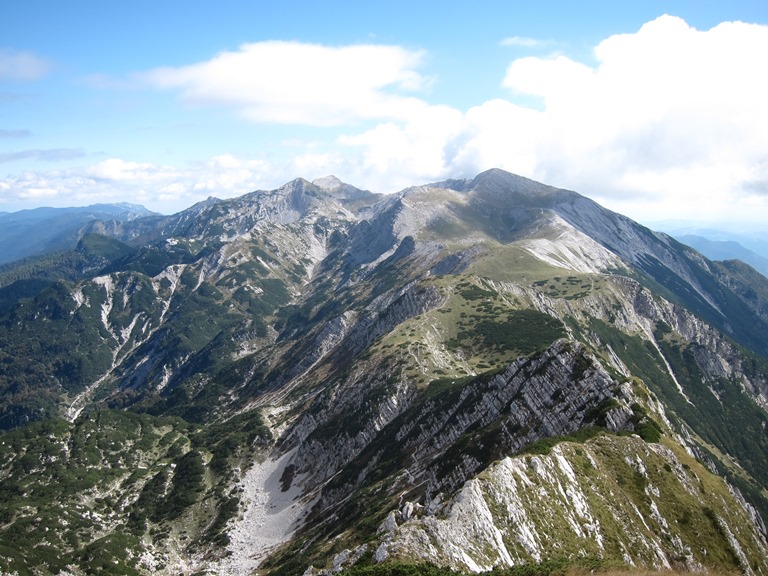 Along the South Bohinj Ridge
There are high refuges aplenty to stay in, so you can keep up in the highlands for some while, and delightful towns and villages down in the valleys to base yourself in. You will eat well and can eat cheaply and don't normally need to carry a sleeping bag.
There is a huge range of walks to suit all tastes and energy levels, from demanding multi-dayers to delightful one-day expeditions to gentle and lovely lakeside potters. Here are just a few.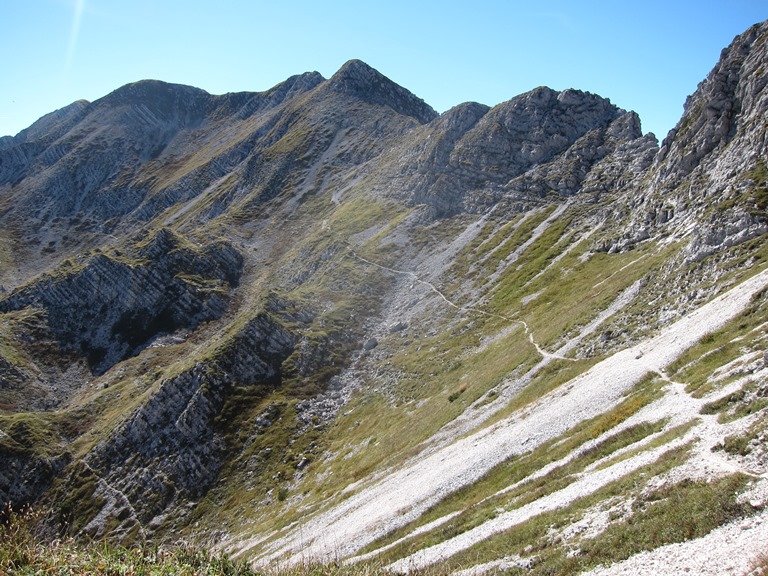 Lower Bohinj Ridge © William Mackesy
Multi-day:
The great long-distance trail is the Slovene High Level Route, which passes through the Julian Alps on its 550km Odyssey through the varied and spectacular mountains that form Slovenia's borders with Austria and Italy. A traverse of the Jalps on that trail would be an outstanding experience.
Triglav. This ultimate Slovenian peak, a fierce limestone mass standing clear of everything around, can be approached many ways, from the north as well as the southerly Bohinj area. See our Triglav page for details.
With a plethora of high huts, you can easily devise your own circuits or traverses: Walkopedia walked a snaking route along the Lower Bohinj Ridge up to the Prehodavcih hut above the Triglav Lakes Valley, planning to cross the Hribarice high land below Triglav to the Planika hut, climb Triglav and head back down. 5 magical and very varied days, which we call the Grand Bohinj Horseshoe. (We had to abandon our final days because of terrible weather and early snow - we'll be back!). See William Mackesy's account of walking the Grand Bohinj Horseshoe including the Lower Bohinj Ridge.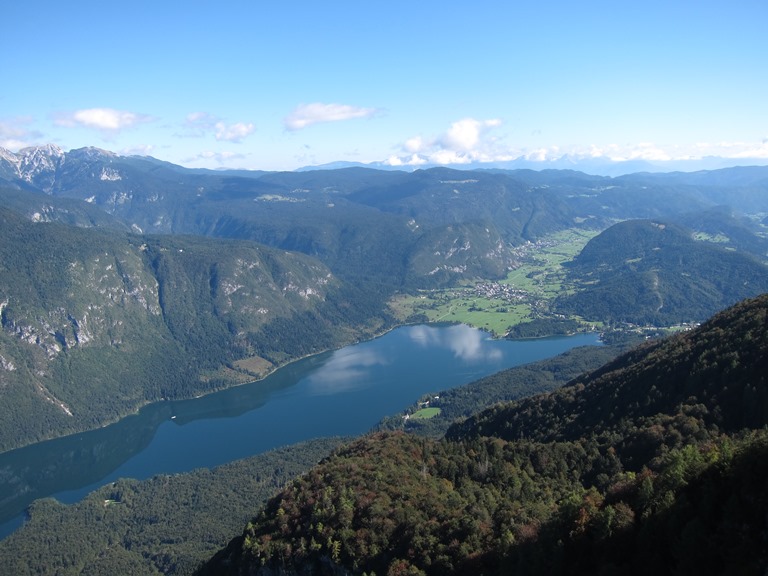 Down onto Lake Bohinj © William Mackesy
Day walks:
There are several excellent bases for walking, from all of which you can spend days on the local trails.
Kranjska Gora area: this ski town to the north of the main range has walks northward into the Karavanke range, toward the Austrian border as well as to the south in the high Jalps.
Bohinj area: beautiful Lake Bohinj, Slovenia's largest, sits in a superb glacially gouged trough, beneath huge cliffs to its north and west end, and is an excellent walking base, with fine walks in every direction. All tastes are catered for, from a tour of the lake and other lower-level saunters (including around the lake and to Slap Savica waterfall), to low peaks to high ridge traverses and summit assaults, including the easiest ascent of great Triglav.
Bovec area: this village lies to the south-west of the main range, near the Italian border. To the east (and then south-east) runs the Soča valley, scene of intense WW1 fighting. This is a lovely area, tremendous cliffs rearing above the classic valley bottoms, with fine walking in most directions.
Finally, to the south-west is the Kobarid area, which boasts a particularly immediate WW1 walk through various battle sites and other excellent valley and ridge walks.

William Mackesy's full account of this walk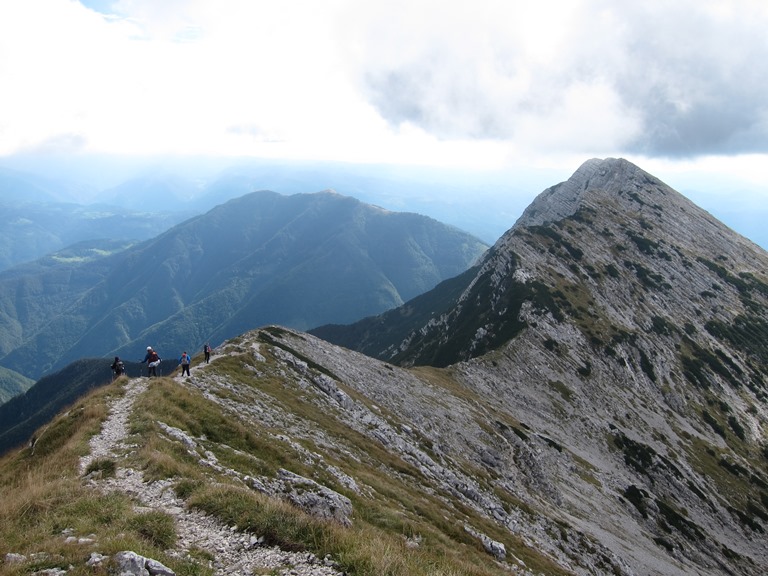 Sharp ridge off Vogel - © William Mackesy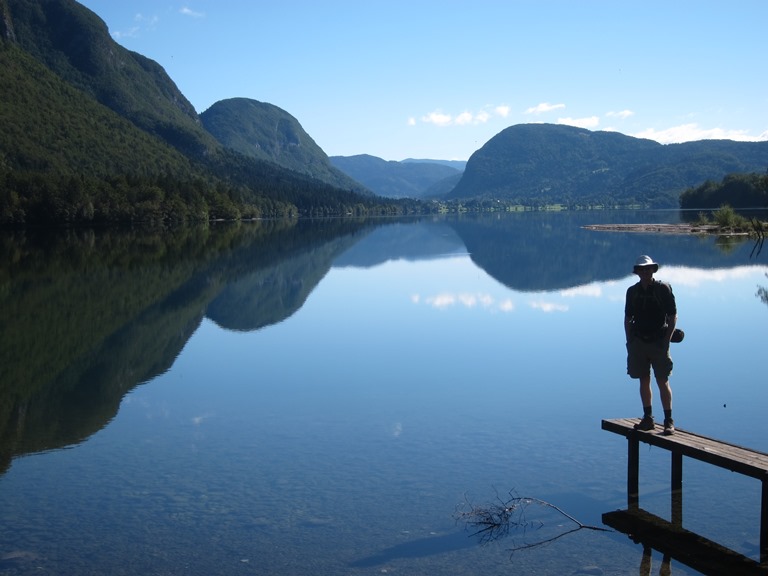 Down Lake Bohinj © William Mackesy