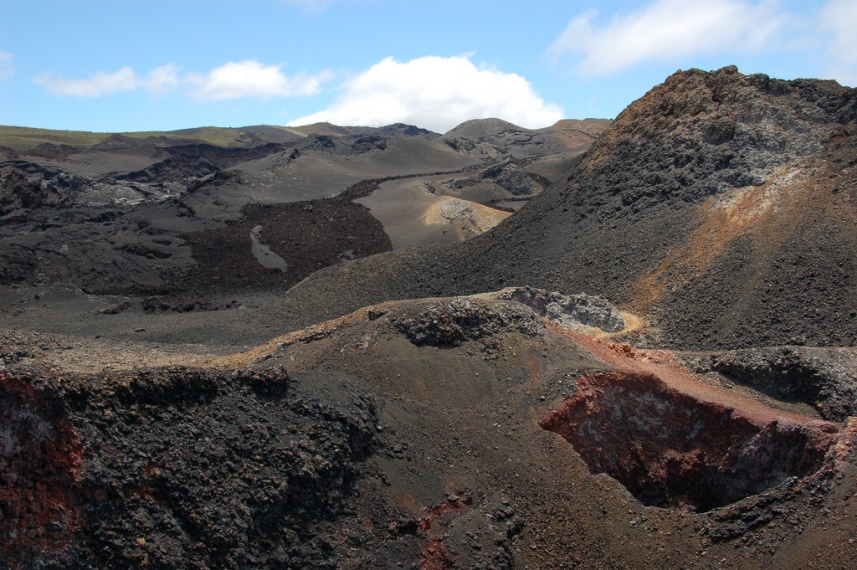 Sierra Negra, Isabela: El Chico © flickr user jdegenhardt
The Galapagos Islands are truly remarkable. Their magnificent geology and natural history – fascinatingly diverse native flora and fauna, and dramatic volcanic scenery – are impossible to separate from their role in one of those pivotal moments in human thought, the development of Charles Darwin's evolutionary theories.
The Galapagos were described by Darwin as "a land of craters", an apt moniker: classic cones loom, and still-growing shield volcanoes slope steadily upwards, in landscapes of vast fissures and collapsed calderas. You will walk through lunar landscapes of craters, old lava flows, pumice and tuff, often beside sea cliffs, rocks and gorgeous beaches. Their nineteen islands, and hundreds of islets, sprawl across the Equator nearly 1,000km to the west of Ecuador's mainland, forming a home to one of the most astonishingly diverse ecosystems in the world.
One of the many delights of the Galapagos – and one that Darwin had observed first hand – is the fearless and often curious wildlife. Rather than hunting through the undergrowth, here you can view the unusual inhabitants up close on a stroll. The most famous of the land-dwellers is undoubtedly the Giant Tortoise. The less famous land life is no less compelling: unique types of gecko, lava lizard, land iguana (don't miss the world's only marine iguana) and snakes inhabit the islands. Although there are a number of marine mammals found around the Galapagos, there are few native land mammals – just several sub-species of 'rice rat', a small, brown rodent.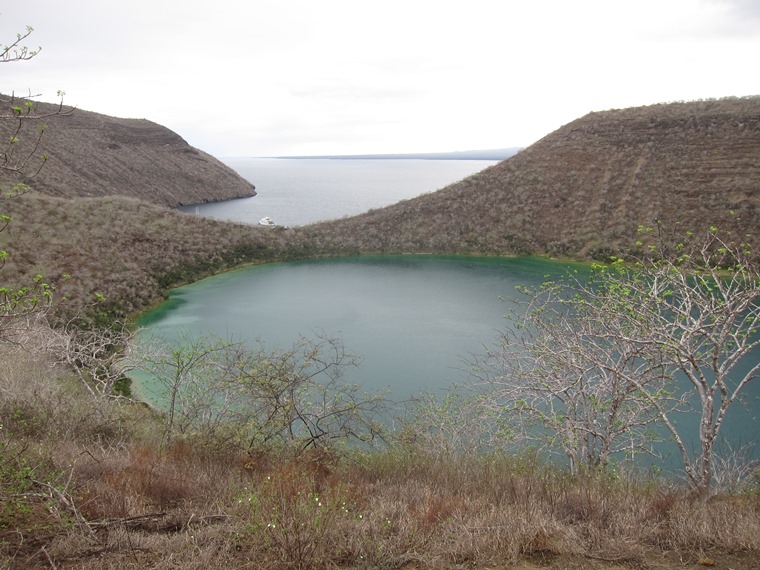 Darwin Lake, Isabela © William Mackesy
Marine life here, including the many seabirds unique to the Galapagos, is sustained by the islands' position at the confluence of several important currents. Underwater sea mountains cause an up-swelling in both the Cromwell current (running eastwards along the Equator) and the Humboldt current (which sweeps up the west coast of South America), bringing their oxygen and nutrient-rich, cold waters to the surface around the islands.
As a result, alongside the flightless cormorants, blue- and red-footed boobies, albatrosses and frigatebirds (with their astonishingly large, red, balloon throats), lives the Galapagos penguin – the only penguin in the world found north of the Equator. Sea mammals also feed here: there are permanent colonies of sea lions and bottlenose and common dolphins; and orcas, sperm whales, and a variety of baleen whales all pass through the rich waters (as well as sharks).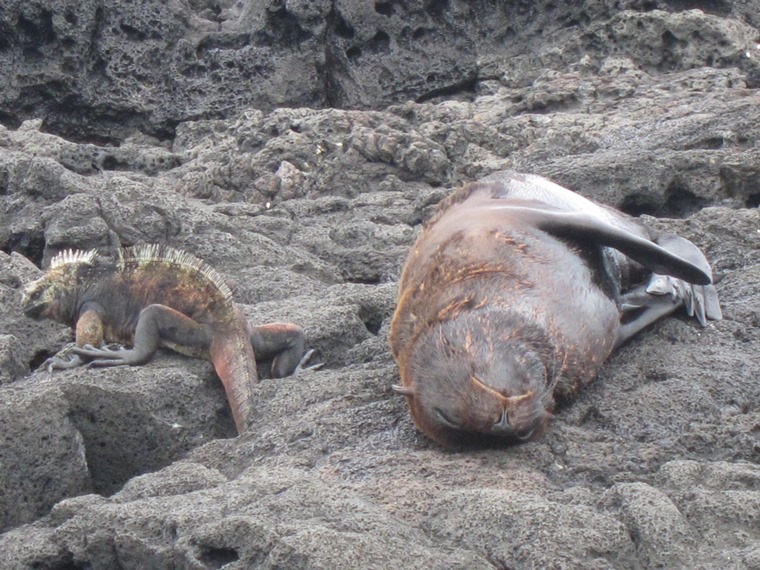 Marine iguana lumbers past dozing sea lions © William Mackesy
The walking
Walkers must generally follow carefully laid out paths and will require a guide almost everywhere. (Experienced guides can, however, point out treasures that a layperson might well miss.) Most walks are very short, between around 1 and 3 slowly taken hours. As a result, there are few walks here that would "count" in purist terms.
Longer treks include:
Other popular options include the trail circling El Junco lagoon on San Cristobal and the brief climb to the highest point of uninhabited Bartolome island. It is worth noting that these walks can't be done from a cruise (with their fixed itineries), so you will need to base yourself in particular islands, and island-hop as you wish.
For serious hikers, the Sierra Negra in the south of Isabela is unmissable, a vast volcanic caldera full of black lava and sand but partly rimmed by cloud forest. Frequently skimmed by thick fog, visibility can be poor but when it rolls back the views are fabulous. You would want to make sure that you carry on round to the dramatic Chico crater on the north-west flank, where the weather is often clearer, to make a 6 hour walk (or so). (Note though that this extended walk is not available to those exploring by boat.)
There is a selection of remarkable short walks accessible by boat, the best of which is the fascinating and beautiful 2 km hike up to Darwin Lake, an extraordinary crater lake just above a lovely cove. The lava field walk at Punta Moreno is also extraordinary.
Volcán Alcedo (1,097m) has a caldera some 7 km across and offers exceptional views. It is a major home to giant tortoises. A two day hike (camping a night).
San Cristobal (Chatham): the highlands are one of the few places that you can walk without a guide, partly because they are inhabited and farmed so there is less to protect. While there are numerous walks on the island, including a short trek through mangroves and lava fields to the beach of Puerto Chino, the best is probably that to Laguna El Junco.
El Junco is one of the few permanent freshwater lakes in the Galapagos. Circle the crater of this long-defunct volcano (within a larger caldera), taking in the wonderful panoramic views of the rest of the island, and enjoying the vegetation and the plentiful and active wildlife.
Climbing the 372 stairs to the 114m summit of Bartolome will give you great views across particularly dramatic coastscape to the Pinnacle Rock, perhaps the most photographed point on the islands. This tuff cone would have been formed by cooling ash, ejected from the vent of a long-extinct volcano. Finish of your day swimming and snorkeling with the island's penguins in the bays below.
Santa Cruz: take the muddy, rocky path to Cerro Crocker (864m), the island's highest point. You will meet a fabulous selection of vegetation and wildlife. An 8+ km trek one way.
A gorgeous walk from Purto Egas on San Salvador/Santiago (James) (once a pirate haunt, then a settlement) to rocks, pools, collapsed lava tunnels and surf, where you will meet a gorgeous selection of wildlife.
Genovesa (Tower/Bird): known as the "Bird Island" for its fabulous array of birdlife, this is the only Galapagos island north of the Equator open to tourists. It is flat, with a highest point at just 64m. The island is wrapped around a large and very deep caldera; its southwestern rim has collapsed to form the superb Great Darwin Bay. The most commonly walked trail here is from the dry landing at Prince Philip's Steps, up to the lava plateau at El Barranco. Although short (about 1.5km), the walk will take you past an extraordinary array of seabirds; blue footed, red footed and Nazca boobies, frigate birds, some of Darwin's finches (including the unnerving 'vampire finch'), Galapagos mockingbirds, petrels and short-eared owls lurking outside their nests to catch and eat them; and night herons.
Fernandina: The youngest and most westerly main island. Remarkable lava walking at Punta Espinoza.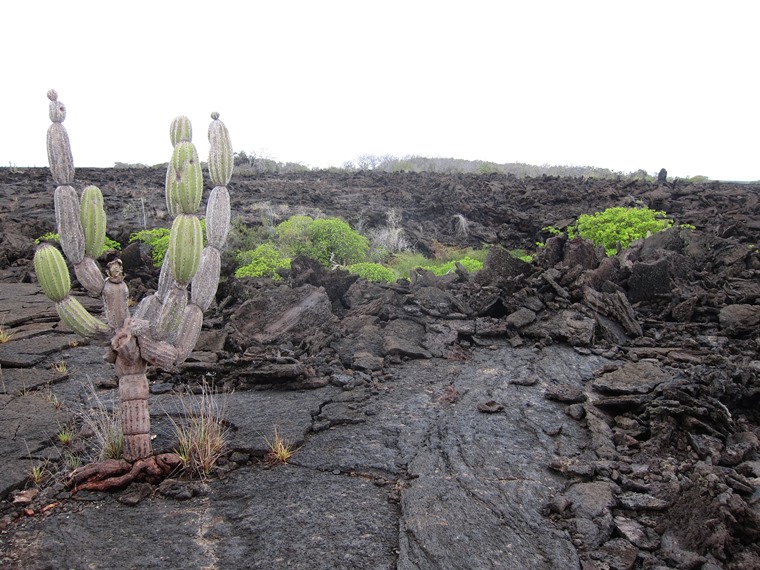 Lava field,Punta Moreno © William Mackesy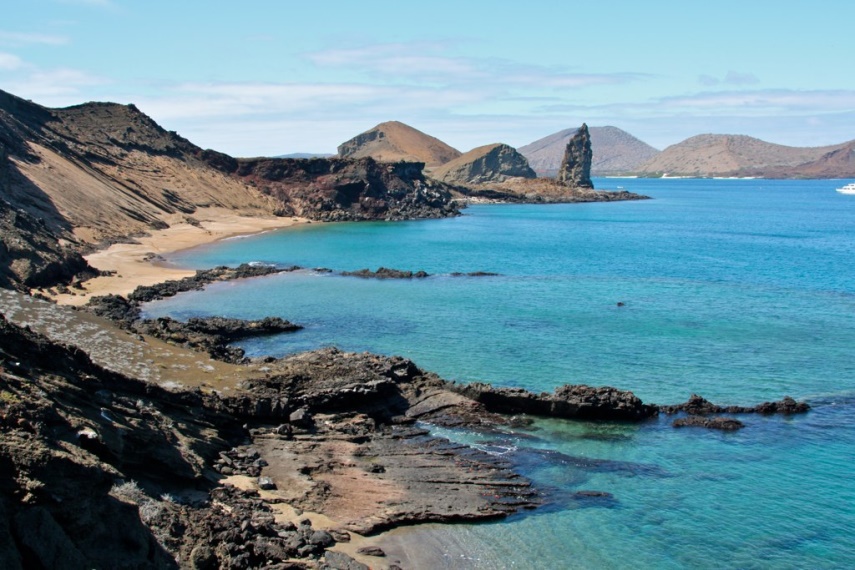 Bartolome Island and pinnacle rock © flickr user cc-eatswords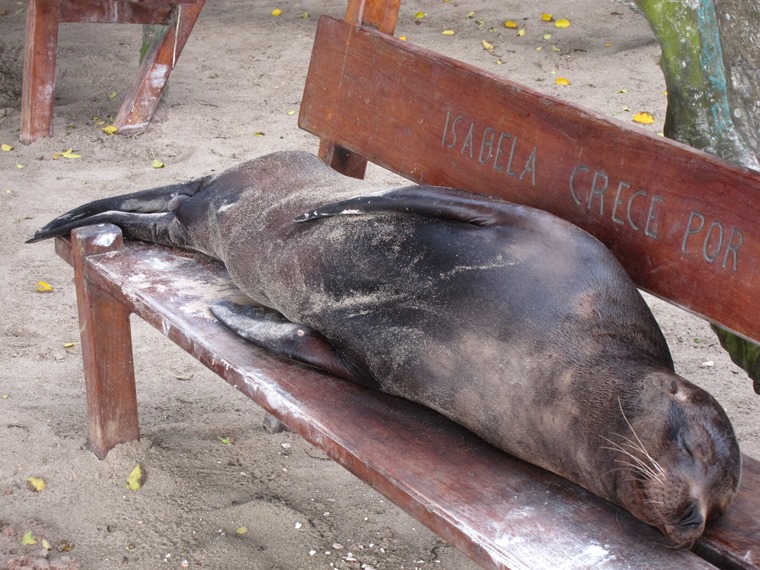 © William Mackesy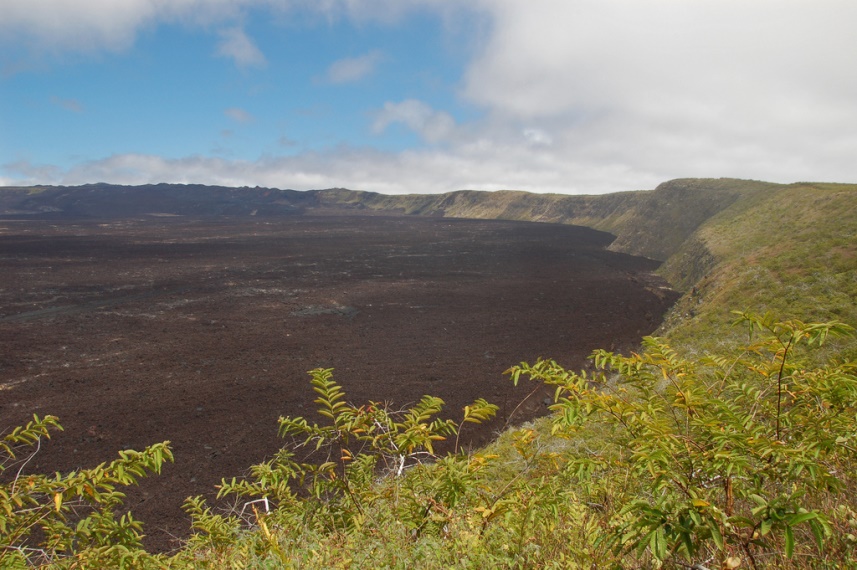 Sierra Negra caldera © flickr user jdegenhardt