Tennyson Trail, Isle of Wight
Key information: Tennyson Trail, Isle of Wight
Tread in Tennyson's footsteps as you meander over the beautiful, rolling downs of the western Isle of Wight.
Explore this historic island, taking in the legacy of thousands of years of settlement: wander amongst iron age barrows and roman ruins, and past the hulk of defensive Carisbrooke Castle.
Climb clear forested paths onto windy headlands, and gaze out over the deadly Needles, before descending onto the multi-coloured sands of Alum Bay.
ANYONE GOT ANY GOOD PHOTOS? WE WOULD BE DELIGHTED TO POST THEM!
Walkopedia rating
Walkopedia rating86.5
Beauty

30

Natural interest

13.5

Human interest

14

Charisma

29

Negative points

0

Total rating

86.5
Vital Statistics
Length:

22km

Level of Difficulty:

Moderate
Top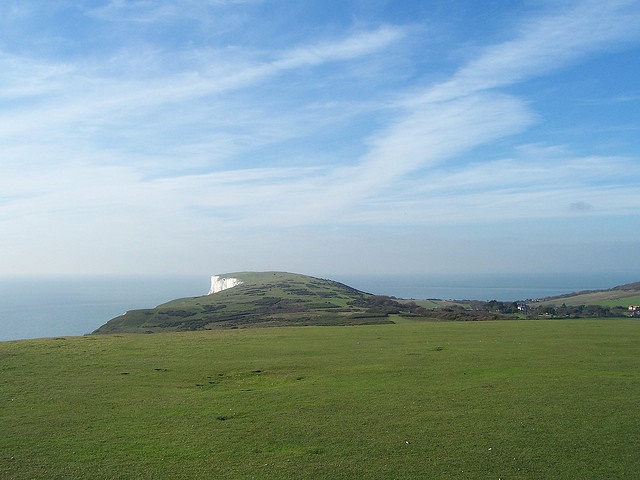 WALK SUMMARY
The tiny Isle of Wight, separated from the mainland by that thin strip of sea known as the Solent, has a charisma grossly disproportionate to its size. Wander along its country lanes and over some of its most beautiful headlands on the Tennyson Trail, a walk deep into the landscapes treasured by that great poet laureate, and pre-Raphaelite inspiration, Alfred Lord Tennyson.
Situated as it is on the coast of the history-rich UK, the Isle of Wight has often played a central role in the tides of the past. Iron age barrows dot its beautiful downs and, conquered under Vespasian in the first century AD, it is home to the ruins of at least five Roman villas. The island has been raided, sacked and burned on several occasions - most notably by the Vikings and, in 1374, by the Castilian fleet.
Fortifications were built and strengthened following the adoption of Portsmouth as a base for the Royal Navy, under Henry VII. Following the too-close-for-comfort Spanish Armada of 1588, Carisbrooke Castle, too, was strengthened and updated with defensive earthworks. A fort had been on the site since at least the Saxon era, but Carisbrooke is now most famous for its connections with Charles I, who was held here until shortly before his execution in 1649.
It was, however, during the nineteenth century that the small English county of the Isle of Wight truly came into its own. The beloved home of Queen Victoria, who died in 1901 at Osborne House after half a century of intermittent residency here, it became a popular holiday destination for the rich and famous of the Victorian era. Tennyson was quick to join them, moving in 1852 to Farringford House, in Freshwater, with his wife Emily.
The Tennyson Trail route begins in Carisbrooke, several kilometres southwest of Newport, and climbs steadily, with views over the green valley of Bowcombe gradually replacing those of Carisbrooke Castle to your left.
The track continues through Brighstone Forest, with the path clearly signposted - you will cross numerous bridleways, so make sure you keep an eye out for these signs. Eventually, you will emerge onto Brighstone Down, with beautiful views reaching out across the island from the handy toposcope at its summit. This lovely chalk ridge, at 214m, is not too far off the highest point on the island (St Boniface Down, at 240m).
This rolling path continually descends into green valleys, only to rise again onto picturesque downs, revealing fresh delights with each ascent. In turn you can wonder at the Longstone, a 4-5 thousand-year-old megalith on Mottistone Down; gaze out across Freshwater Bay from Afton Down; spare a thought for romantic poetry at the Tennyson Monument on Tennyson Down; wince as you imagine the crushing of ships on the deadly Needles, and explore the Isle of Wight's military defences at the Needles Battery. Finish the walk with a descent to Alum Bay.
With an unexpectedly varied landscape and a fascinating history, you are likely to want to explore more of this surprising island. Don't miss exploring the charismatic Osborne House or Carisbrooke Castle, or dinosaur bone hunting on the beach at Alum or Whitecliff Bay; keen walkers can take in the entire coast on the Coastal path.
Have a look at TripAdvisor - there are tens of millions of reviews, so you may get good, current views on this walk.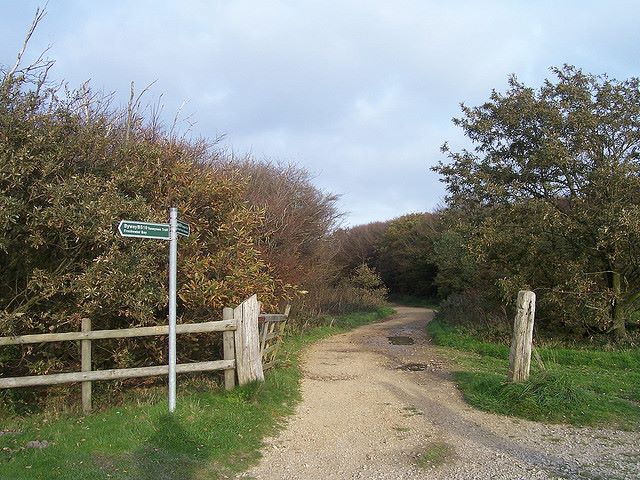 See also expedition planning, including our universal expedition checklist. Walkopedia encourages responsible travel.
Books and Maps
Books on this walk
Walking on the Isle of Wight – Paul Curtis/Cicerone
Other books
The Rough Guide to Dorset, Hampshire and the Isle of Wight – Amanda Tomlin and Matthew Hancock/Rough Guides
Discover a more criminal side to the island with Isle of Wight Villains: Rogues, Rascals and Reprobates – Jan Toms
Maps
The paths are easy to follow, so the decent route map available online may well be enough. If you want a more detailed map, then they can be bought locally, fairly easily.
Stanfords is also a good online specialist source of worldwide maps (and guidebooks). Also try Maps Worldwide and www.trektools.com.
Best times to walk/weather
Best times to walk
You can walk here all year round and, as in the rest of southern England, the weather is generally mild. May to September is likely to be more reliably pleasant, though.
Weather
The climate is mild. It is warmer here than in most of the rest of the UK, making it a popular beach resort in the summer months. The Isle of Wight also has more sunshine hours each year than much of Europe, including northern Spain, and snow is rare, even in the middle of winter.
For detailed weather information, have a look at: www.worldweather.org or www.bbc.co.uk/weather/world/country-guides.
Getting there/transport/permits/fees
Visitors will have to travel to the Isle of Wight from the mainland, and there are ferries from Lymington, Southampton and Portsmouth, all of which can be reached by rail, coach or private vehicle.
Visitors from outside the UK can fly into any of the London airports, or, if you are coming from Europe, you can fly directly to Southampton airport. Skyscanner is an excellent (relatively new) site for finding the flights you need; otherwise try Lastminute.com, or look at what's available on Tripadvisor.
Trains can be booked through National Rail, and buses can be booked through the National Express network. The main ferry routes are operated by Wightlink, Red Funnel and Hovertravel.
No permits are needed to do this walk.
Route(s)
See Walk Summary for some information on the route: if you want a more detailed description, you can find an excellent one on the Visit Isle of Wight website, along with a good route map.
Possible problems, health, other warnings
See also the websites in our useful links page for more detailed, and up-to-date, information.
Safety and problems: All walks have inherent risks and problems can arise on any walk. Many of the walks featured on this website involve significant risks and possible problems. This website cannot, and does not purport to, identify all actual or potential risks, dangers and problems that may relate to a walk or a country. Any person who is considering undertaking this walk should do careful research and make their own assessment of the risks, dangers and possible problems involved. They should also go to "Important information" for further important information.
Make sure you have appropriate insurance.
Guided or independent?
Independent
Walking independently on the Isle of Wight is straightforward and enjoyable, with paths well maintained and marked.
Guided/supported
Some people do like to form or join organised/supported walks, and self-guided walking gives you the excellent option of "slackpacking" – ie, having your bags carried from one night stop to the next, and walking with a day pack only.
Expedition organisers include:
Have a look at Infohub to see if they have any good deals on the Isle of Wight.
Check Tripadvisor for some reviews of this walk and walk organisers which may prove helpful.
PLEASE HELP Walkopedia by recommending any reputable tour organizers that you know of – local or otherwise.
Accommodation
Plenty. The route is described from Carisbrooke, several miles outside of Newport, and this town has the widest selection of accommodation on the island. Otherwise you will be able to find hotels, B&Bs and inns almost anywhere. Book ahead in summer.
The guidebooks have a selection of possible accommodation, or you can look at some of the island's accommodation websites. Try the Visit Isle of Wight website.
See what the commentary on Tripadvisor is on possible places to stay – although do take their reviews with a pinch of salt, as they can be "interested".
A good range of hotels can be found on the unimaginatively but effectively named Hotels.com.
If you're on a budget, Hostelbookers usually has a good selection of cheaper-end accommodation; or perhaps try for some bargain luxury on Lastminute.com.
Other information and tips
On the Isle of Wight, the rest of the UK is known as "the mainland".
Having the correct basic gear is helpful for a comfortable walk – in particular some walking boots will make a considerable difference. Begging and borrowing gear off others is ideal if you're on a budget, or this is your first long walk, but at some point you may want to invest in some of your own. Some of our favourite equipment and clothing specialists include Surfdome, Britain's Cotswold Outdoor, and the Utah-based company Campsaver.
Useful websites and information
There are many websites with relevant information. Here are some that we think are useful or have been recommended to us.
· Visit Isle of Wight has loads of useful information.
· www.wikipedia.org – As usual, a good starting place.
· Try www.flickr.com for pictures of this walk.
· Have a look at Tripadvisor – there are tens of millions of reviews, so you may get good, current views on this walk.
Other things to do in the area
Other walks
The Isle of Wight is crisscrossed with well-maintained footpaths, and so makes an excellent place to walk. There is a Coastal Path running around its entire coastline (with some interesting detours inland). Details of routes, including other day trails, can be found on the Visit Isle of Wight website.
Every year the island plays host to the largest walking festival in the UK. The main event, in May, includes more than 250 walks (including an apparently very successful "speed-dating" walk!), and a smaller scale festival in October has around 70. If you enjoy some sociable walking, then this could be a great way to explore the Isle of Wight.
Other activities
Almost endless historical sights and monuments: while you're on the island, explore Osborne House and Carisbrooke Castle as a bare minimum.
The Isle of Wight is also an ideal place to bring children. Nick-named "Dinosaur Island", it is one of the best areas for dinosaur findings in Europe, and children will love hunting for bones on the beach, or seeing the astonishing footprints they have left behind.
Safety and problems: All walks have inherent risks and potential problems, and many of the walks featured on this website involve significant risks, dangers and problems. Problems of any sort can arise on any walk. This website does not purport to identify any (or all) actual or potential risks, dangers and problems that may relate to any particular walk.

Any person who is considering undertaking this walk should do careful research and make their own assessment of the risks, dangers and possible problems involved. They should also go to "Important information" for further important information.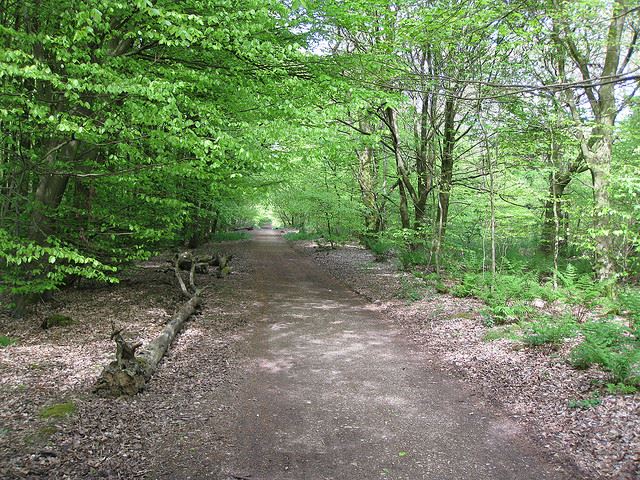 OTHER ACCOUNTS
share your experiences
Top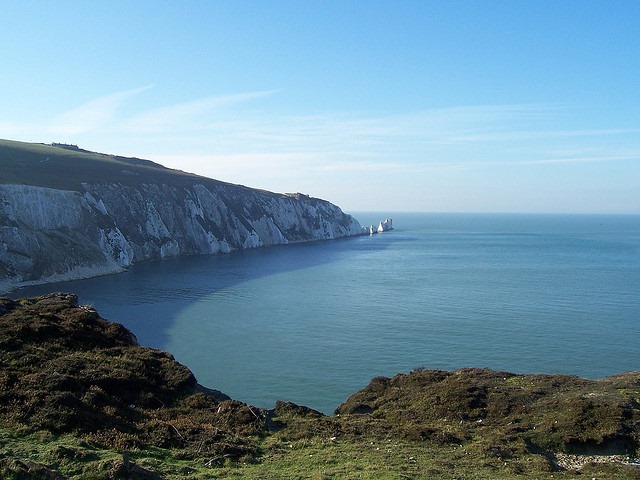 Top
Responsible travel matters, a lot. How you travel will make a real difference - for better or worse. PLEASE consider this when making plans. Read more