Conguillio NP
Key information: Conguillio NP
Nestled in the Mapuche heartlands of Araucania, in one of the most volcanically active areas in Chile, lies the ancient landscape of Conguillio NP.

From the centre of the park rises the huge double cone of Volcan Llaima, towering above the surrounding landscape and circled by an extensive volcanic wasteland, where vast areas have been overwhelmed by the lava of previous explosions.

The rugged, basalt slopes and peaks of the Chilean Sierra Nevada, coated in thick, antediluvian forest, provide a perfect foil for Llaima's smooth volcanic symmetry.

Walking here is remote and tough. The standard mountain dangers apply, and route-finding can be very difficult. Come prepared.
Walkopedia rating
Walkopedia rating83
Beauty

34

Natural interest

18

Human interest

0

Charisma

34

Negative points

3

Total rating

83

Note: Negs: dreary slog of Llaima
Vital Statistics
Length:

Variable

Maximum Altitude:

3,125m

Level of Difficulty:

Variable
Top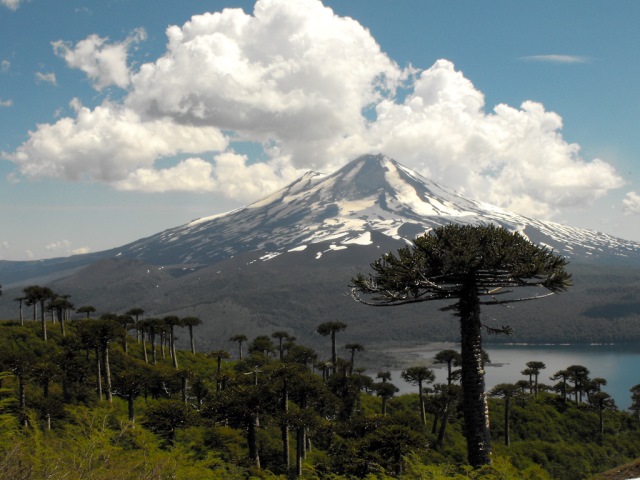 WALK SUMMARY
Parque Nacional Conguillio lies 120km east of the Chilean provincial city of Temuco, the largest in the region of Araucania - the historical heartland of the resilient Mapuche Indians. The Mapuches are renowned for their successful resistance against the might of both the Inca and the Spanish Empires, and the area was not fully incorporated into Chile until as late as 1882.
Temuco, now an ideal base from which to head into Conguillio National Park, was founded in 1881 by Chilean military forces during the occupation of Araucania, quickly flourishing as agricultural production boomed in its environs. Around one fifth of the current population are of Mapuche descent: also notable is the sizeable presence of descendants of Germanic immigrants, which has had a palpable influence on the area's culture.
With its harsh volcanic scenery and unexplored ancient forests, it is easy to see why the dramatic Patagonian national park of Conguillio was chosen as a setting for the BBC's epic series, Walking with Dinosaurs. Set in one of the most volcanically active parts of the southern Andes, this park's most famous landmark is Volcan Llaima, its impressive double cone surrounded by an extensive volcanic wasteland, occasionally interspersed with isolated patches of greenery. Lake shores and highland forests are home to the distinctively shaped "Monkey Puzzle", or Araucaria, tree so symbolic of this region, and their edible nuts have given the park its name: in the Mapudungun language, Conguillio can be translated as "water with pine nuts".
At 3,125m, Volcan Llaima towers above its surrounds. The ascent of this active volcano can be a challenge (a dreary slog, even), with some tiring clambering up steep slopes of snow and rock to the summit. Once here, though, you are far above the clouds, and can gaze out for miles across the mountains of the Andes.
Constant, if generally relatively low key, volcanic activity has blocked the Rio Traful-Traful to form three lakes to the northern and eastern slopes of the volcano. Old lava flows run in barren lava fields to the shores of the largest, Laguna Conguillio, which is bordered on its other three sides by the jagged Sierra Nevada. A walk above Laguna Conguillio climbs up through thick forest to an exposed ridge on the western edge of the Sierra Nevada, reaching the panoramic views of the Sierra Nevada Lookout before turning south and heading back to the park entrance.
The Sierra Nevada Lookout can form a relatively straightforward return walk from the administration centre; alternatively, this can be extended into a strenuous multi-day walk across the Sierra Nevada and to Rio Blanco, with its undeveloped thermal springs.
The least demanding walk in the park is a short but picturesque stroll through the forest to quiet Laguna Captren. From a path looping the small lake you can glimpse the eerie drowned trees in its depths, overwhelmed when Llaima's lava flows blocked the channel of the river Traful-traful in a recent eruption.
Conguillio is an isolated national park, and some of the walking here is tough. In particular, route-finding can be difficult, and you will need to be experienced and confident to walk the longer trails. Water can be scarce in some areas, particularly on the exposed ridges of the Sierra Nevada.
View Larger Map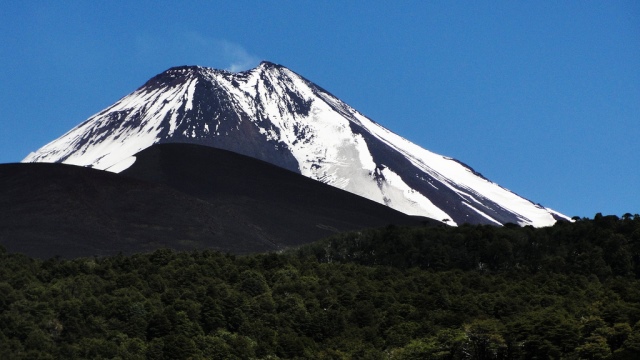 See also expedition planning, including our universal expedition checklist. Walkopedia encourages responsible travel.
Books and Maps
Books on this walk
Trekking in the Patagonian Andes – Lonely Planet/Carolyn McCarthy: An updated version of the classic Lonely Planet guide for trekking Patagonia, this is an essential guidebook for anyone walking Conguillio.
Other books
Chile and Easter Island – Lonely Planet/Carolyn McCarthy
The Rough Guide to Chile – Rough Guides/Shafik Meghji & Anna Kaminski
Dictionary of Chilean Slang: Your Key to Chilean Language and Culture – Emilio Rivano Fischer: A useful insight into language use in Chile, which is significantly different to that in Spain or elsewhere in Latin America. Note: this book is in Spanish.
Voyage of the Beagle – Charles Darwin: Darwin spent some considerable time in Chile, with some arguing that this was as influential as his time spent on Galapagos Islands for the development of his later theories.
Chile: Travels in a Thin Country – Sara Wheeler
Patagonia Chronicle: On Foot in Torres del Paine – Susan Alcorn
The Last Cowboys at the End of the World: the Story of the Gauchos of Patagonia – Nick Reding
The Motorcycle Diaries – Ernesto "Che" Guevara: It is almost impossible to escape the pervasive legacy of Che Guevara in South America; this bestseller charts the early travels which inspired his crusade for social justice.
Clandestine in Chile – Gabriel Garcia Marquez: here, the Colombian author describes the experience of exiled film director Miguel Litten when he returned to Chile in disguise during Pinochet's dictatorship. Part adventure story, part political reportage, this short book earned the ultimate accolade of governmental displeasure, with around 15,000 copies burnt upon publication.
In Patagonia – Bruce Chatwin: Although the veracity of some of Chatwin's encounters has been questioned, his stylized account of travelling through Patagonia transformed ideas about travel writing.
By Night in Chile – Roberto Bolano: A novella comprised of a dying priest's monologue, in which even as his ramblings become more disjointed, his ties to Chile's twentieth century political history become clearer.
The Essential Neruda: Selected Poems – Pablo Neruda, Ed. Mark Eisner: A collection of poems by Chilean national treasure, and Nobel prize winner, Pablo Neruda.
Maps
Lonely Planet recommend Conaf's 1:110,000 contoured map of Villarrica, which can largely be relied upon.
Take a look at what Stanfords: www.stanfords.co.uk has to offer, a good online specialist source of worldwide maps (it is also good for guidebooks). Also try www.mapsworldwide.com and www.trektools.com.
Find the books and maps listed above, and many more:
Best times to walk/weather
Best times to walk
The lower, more straightforward treks are walkable from October to mid-May, although the tabanos may make them unpleasant during December and January. The more challenging walks will generally be walkable November – March, although snow remains until mid-December at altitudes higher than 1,750m.
Bear in mind that these conditions will vary year on year.
Weather
Generally a reasonably mild climate, although temperatures fall considerably in winter, and snowfall can be heavy. There is substantial rainfall here; slightly less so in the rain-shadow of Volcan Llaima.
For more detailed weather information have a look at Weather2Travel, or check the BBC weather country guide for Chile.
Getting there/transport/permits/fees
Temuco is the closest city to Conguillio, and the largest in the Araucania region. There are domestic flights to here (Maquehue airport) from Santiago, as well as a train line and buses.
Skyscanner is an excellent (relatively new) site for finding both international and domestic flights you need; otherwise try Lastminute.com, or look at what's available on Tripadvisor.
The park itself is best reached by private transport, although it may well be possible to hitchhike if you don't have your own car.
Route(s)
See individual walks in Conguillio National Park:
Possible problems, health, other warnings
See also the websites in our useful links page for more detailed, and up-to-date, information.
Safety and problems: All walks have inherent risks and problems can arise on any walk. Many of the walks featured on this website involve significant risks and possible problems. This website cannot, and does not purport to, identify all actual or potential risks, dangers and problems that may relate to a walk or a country. Any person who is considering undertaking this walk should do careful research and make their own assessment of the risks, dangers and possible problems involved. They should also go to "Important information" for further important information.
Make sure you have appropriate insurance.
Guided or independent?
Independent
You can walk here independently, although bear in mind that you will need to be self-sufficient and route-finding on the longer walks can be tough, so come fully prepared.
Guided/supported
There are a few opportunities for guided walking in Conguillio NP, which some choose to make use of.
Expedition organisers include:
PLEASE HELP Walkopediaby recommending any reputable tour organizers that you know of – local or otherwise.
Accommodation
Within the park, most people will have to camp – and this will be your only option on multi-day walks.
There are some more comfortable options just outside the park and in the surrounding areas. If you are coming here on a day trip, then you can base yourself in a larger town or city nearby.
A good range of hotels in most places can be found on the unimaginatively but effectively named Hotels.com.
If you're on a budget, Hostelbookersusually has a good selection of cheaper-end accommodation; or perhaps try for some bargain luxury on Lastminute.com.
See what the commentary on Tripadvisor is on possible places to stay – although do take their reviews with a pinch of salt, as they can be "interested".
Other information and tips
Bear in mind that Chilean Spanish differs significantly from that spoken in Spain, and even that spoken in other Latin American countries. Therefore even if your Spanish is fluent it may be worth investing in a phrase book to help you get by here.
Useful websites and information
There are many websites with relevant information. Here are some that we think are useful or have been recommended to us.
·Wikipedia is always a good starting point.
·Go Chile has some information on visiting Conguillio
·Try www.flickr.com for pictures of this walk.
Other things to do in the area
Other walks
Chile has a huge variety of great walks, particularly in Patagonia. The national parks are fantastic, with some truly amazing landscapes. Take a look at Laguna del Laja, Huerquehue and Villarrica, all also in Araucania; further south are Vicente Perez Rosales and Alerce Andino. Chile also has some of the most isolated walks on the planet: explore the ends of the earth on the Dientes Circuit in Tierra del Fuego, or wander the Juan Fernandez Islands, inspiration for Defoe's Robinson Crusoe.
Other activities
Skiing is popular on Volcan Llaima, and there is a ski centre on its western slopes.
Shopping, if you must
We are not a shopping website. But, there are beautiful and interesting things to be found, sold in the markets by the indigenous Mapuche people.
Safety and problems: All walks have inherent risks and potential problems, and many of the walks featured on this website involve significant risks, dangers and problems. Problems of any sort can arise on any walk. This website does not purport to identify any (or all) actual or potential risks, dangers and problems that may relate to any particular walk.

Any person who is considering undertaking this walk should do careful research and make their own assessment of the risks, dangers and possible problems involved. They should also go to "Important information" for further important information.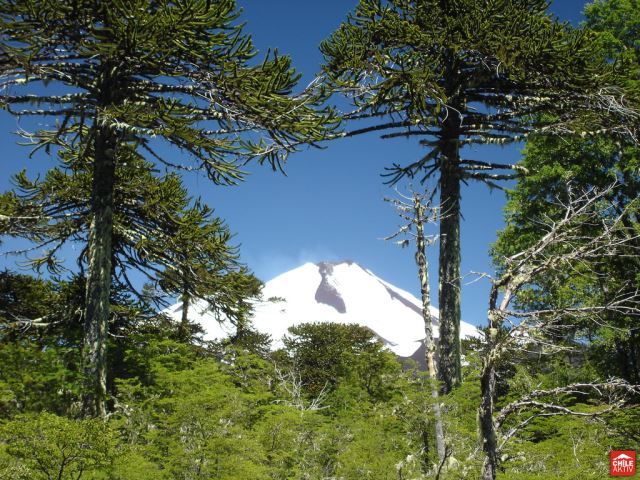 OTHER ACCOUNTS
share your experiences
Top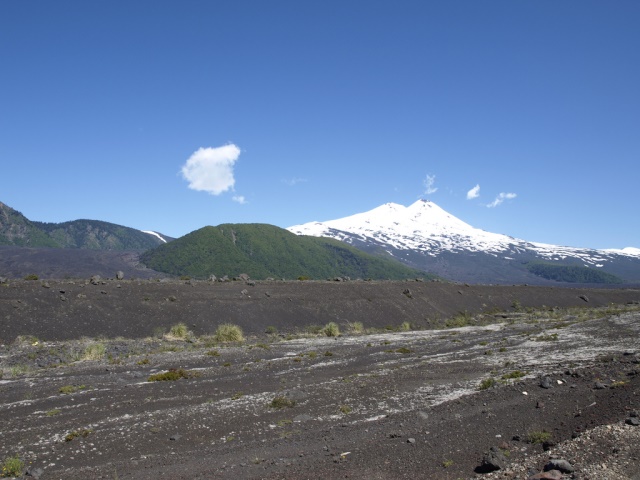 Top
Responsible travel matters, a lot. How you travel will make a real difference - for better or worse. PLEASE consider this when making plans. Read more