Huerquehue NP
Key information: Huerquehue NP
Although without the barren volcanic splendour of Laguna del Laja, Conguillio and Villarica, Huerquehue National Park's lake strewn highlands, blanketed in ancient rainforest, have their own drama and glory.

Explore the lakes of Huerquehue Plateau on a three to four day trek taking in the attractive Lago Chico, Lago El Toro, and Lago Huerquehue, with an optional side trek to lush Lago Verde.

Cerro Quinchol and San Sebastian offer the best views in Huerquehue: a short and relatively straightforward walk will take you to Quinchol's summit, with its outlook across the park's verdant vegetation and scattered lakes, the horizon dominated by distinctive Volcan Villarica to the southeast. Take the tougher route up San Sebastian for a panorama reaching out across a vast swathe of Patagonia.
Walkopedia rating
Walkopedia rating84
Beauty

34

Natural interest

17

Human interest

0

Charisma

33

Negative points

0

Total rating

84
Vital Statistics
Length:

Variable

Maximum Altitude:

Variable

Level of Difficulty:

Variable
Top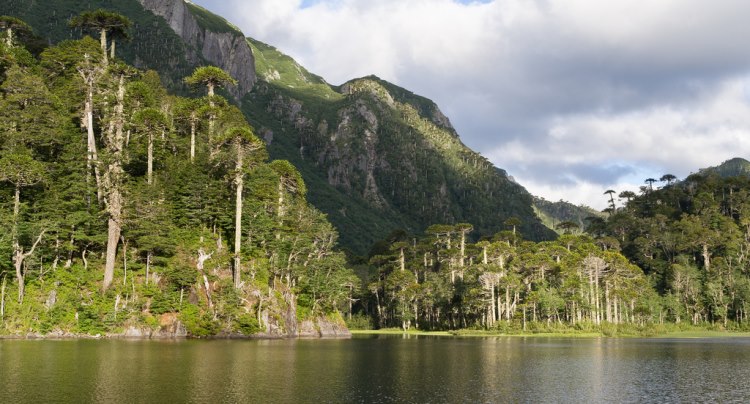 WALK SUMMARY
Huerquehue NP, just 35km from the popular tourist town of Pucon, lacks the desolate volcanic majesty of some of the other Araucanian national parks. However its picturesque lakes, rough highland slopes coated in atmospheric ancient rainforests and the distant views of impressive Volcan Villarica make for what is arguably some of the best walking in Chile.
The Araucaria tree, so symbolic of this area, grows in abundance here. Its distinctive shape rises high above the clear waters of the lakes, emphasizing the magnificence of Chile's national emblem and "living fossil". These trees are historically both an important food source and sacred to some Native American Mapuches and their long lifespan, thought to be up to 1,000 years, makes these a genuine piece of living history. Previously popular for wood, they are now actively protected in many areas, and in this endeavor parks such as Huerquehue are critical.
A trek, exploring the rainforest and glacial lakes of Huerquehue Plateau takes in the picturesque Lago El Toro, Lago Chico, Lago Huerquehue and Lago Verde: these can be enjoyed on a popular day walk (sometimes known as the "Sendero Los Lagos") or extended over a 3-4 day long return hike from the Guarderia Tinquilco to the hot springs of Termas de Rio Blanco. To relieve tired legs dip into Lago Tinquilco, warmed by the summer sun, or opt for a bathe in the Termas - the brave can break this up with a dash to the cold waters of the Rio Blanco.
The park's best panoramas are those seen from the outlooks of Cerro Quinchol and San Sebastian. Although the straightforward ascent to Cerro Quinchol can be fairly uninspiring, clambering up the forested slopes to the summit of San Sebastian, with its unfolding views across the Andean foothills and to distant volcanoes, has a prehistoric - even Jurassic -feel. Once at the top gaze down across Huerquehue's lush, dense rainforests and numerous lakes, to Volcan Villarica's textbook cone dominating the skyline in the southeast.
Huerquehue's proximity to Pucon makes it an easy trip for both locals and the many tourists who base themselves in this resort town. This does mean that, particularly in high season, the park can get quite busy. The day walk to the lakes is generally the busiest, so some may consider it worthwhile to spend time getting a little further away from the park entrance, by making this into a multi-day trek.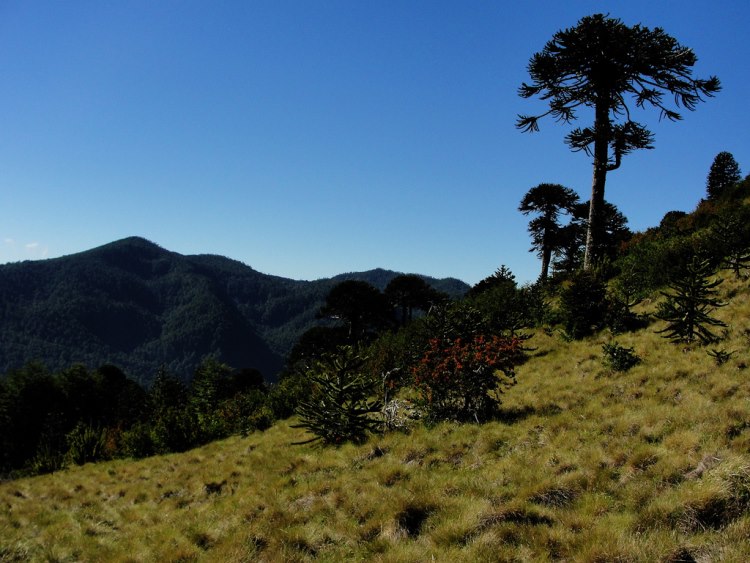 See also expedition planning, including our universal expedition checklist. Walkopedia encourages responsible travel.
Books and Maps
Books on this walk
Trekking in the Patagonian Andes – Lonely Planet/Carolyn McCarthy: An updated version of the classic Lonely Planet guide for trekking Patagonia, this is an essential guidebook for anyone walking Huerquehue.
Other books
Chile and Easter Island – Lonely Planet/Carolyn McCarthy
The Rough Guide to Chile – Rough Guides/Shafik Meghji & Anna Kaminski
Dictionary of Chilean Slang: Your Key to Chilean Language and Culture – Emilio Rivano Fischer: A useful insight into language use in Chile, which is significantly different to that in Spain or elsewhere in Latin America. Note: this book is in Spanish.
Voyage of the Beagle – Charles Darwin: Darwin spent some considerable time in Chile, with some arguing that this was as influential as his time spent on Galapagos Islands for the development of his later theories.
Chile: Travels in a Thin Country – Sara Wheeler
Patagonia Chronicle: On Foot in Torres del Paine – Susan Alcorn
The Last Cowboys at the End of the World: the Story of the Gauchos of Patagonia – Nick Reding
The Motorcycle Diaries – Ernesto "Che" Guevara: It is almost impossible to escape the pervasive legacy of Che Guevara in South America; this bestseller charts the early travels which inspired his crusade for social justice.
Clandestine in Chile – Gabriel Garcia Marquez: here, the Colombian author describes the experience of exiled film director Miguel Litten when he returned to Chile in disguise during Pinochet's dictatorship. Part adventure story, part political reportage, this short book earned the ultimate accolade of governmental displeasure, with around 15,000 copies burnt upon publication.
In Patagonia – Bruce Chatwin: Although the veracity of some of Chatwin's encounters has been questioned, his stylized account of travelling through Patagonia transformed ideas about travel writing.
By Night in Chile – Roberto Bolano: A novella comprised of a dying priest's monologue, in which even as his ramblings become more disjointed, his ties to Chile's twentieth century political history become clearer.
The Essential Neruda: Selected Poems – Pablo Neruda, Ed. Mark Eisner: A collection of poems by Chilean national treasure, and Nobel prize winner, Pablo Neruda.
Maps
Stanfords: www.stanfords.co.uk. A good online specialist source of worldwide maps (it is also good for guidebooks). Also try www.mapsworldwide.com and www.trektools.com.
Best times to walk/weather
Best times to walk
Mid-November to late April, although swarms of tabanos, nasty horse flies, can cause problems from December to February.
Weather
The central area of Huerquehue NP is largely sheltered by its huge, craggy ranges. This creates milder, warmer areas in the lowlands, whilst the weather higher up can be significantly colder.
For detailed weather information, have a look at: www.worldweather.org or www.bbc.co.uk/weather/world/country-guides.
Getting there/transport/permits/fees
Pucon is a natural base for walking here, and its popularity with tourists mean that transport is not generally an issue - buses run daily to and from the park; in summer it is worth booking your place in advance.
Those on locally organised expeditions are also likely to be given transport to and from Pucon.
No permits are needed to do this walk, although there is an entrance fee to the park. Anglers will need a permit.
Route(s)
See our individual walk pages for Huerquehue Plateau and for Cerro Quinchol and San Sebastian.
Possible problems, health, other warnings
· Mountain weather on the peaks: snow, rain, severe cold and wind are possible at any time of year and the weather can change rapidly. Come prepared.
· Heights: can be dangerous; not for those who have difficulties with heights.
· Tabanos, large horse flies which swarm in the area, are often around from December to mid-February. Repellent can help, but it may be worth avoiding hiking during this time.
See also the websites in our useful links page for more detailed, and up-to-date, information.
Safety and problems: All walks have inherent risks and problems can arise on any walk. Many of the walks featured on this website involve significant risks and possible problems. This website cannot, and does not purport to, identify all actual or potential risks, dangers and problems that may relate to a walk or a country. Any person who is considering undertaking this walk should do careful research and make their own assessment of the risks, dangers and possible problems involved. They should also go to "Important information" for further important information.
Make sure you have appropriate insurance.
Guided or independent?
Independent
You can do these walks independently, but you will need to be self-sufficient, so come fully prepared.
Guided/supported
Some people form or join organised/supported expeditions. Choosing a suitable guide or company is of course vital, and it is worth looking at Tripadvisor to get an idea of other people's experiences.
If hiring a guide locally, meet him/her and get comfortable before committing. Make sure all requirements are understood and agreed – including how you will eat and the importance of avoiding illness, as well as overnighting and, of course, remuneration!
Expedition organisers include:
· Ecotours Chile does a hike taking in almost all of the NPs covered by Walkopedia in Chile's Lake District.
· Elementos Chile do an eco-hike to Cerro Quinchol and San Sebastian.
· Paradon Expeditions do an ascent of San Sebastian.
· Cascada Expediciones is a reputable company operating across Chile and Argentina.
· Steppes Travel – www.steppestravel.com – can help you plan your holiday in Chile. Whilst they won't do guided holidays everywhere, they can link you up with tried and tested local guides in different areas.
· Far Frontiers – www.farfrontiers.com – can help you plan your holiday in Chile.
· www.journeylatinamerica.co.uk – a team of specialists on the region, offering a huge number of travel options. Worth contacting for possible trips to the area.
· High Places – www.highplaces.co.uk visit Huerquehue on one of their standard itineraries – we have used these (elsewhere) and been very happy
· PLEASE HELP Walkopedia by recommending any reputable tour organizers that you know of – local or otherwise.
Accommodation
Pucon has a plethora of accommodation on offer. With tourists ranging from backpackers on a shoestring to those searching for a luxury stay, the options that have grown up are broad.
Mirador Los Volcanes is a popular option at a middling price range, with excellent reviews on Tripadvisor. At the budget end of the scale there are numerous hostels – Hostelbookers has a good selection of cheaper-end accommodation in Pucon. If, on the other hand, you're searching for luxury then try the well written up Hotel Antumalal.
If you don't have your own transport, then make sure you opt for something in the centre of Pucon, or getting to and from Huerquehue will be much more of a hassle.
There is also some accommodation much closer to the park, which may be welcome as it can save an hour journey at either end of a hiking day.
Always see what the commentary on Tripadvisor is on possible places to stay – although do take their reviews with a pinch of salt, as they can be "interested".
Other information and tips
Bear in mind that Chilean Spanish differs significantly from that spoken in Spain, and even that spoken in other Latin American countries. Therefore even if your Spanish is fluent it may be worth investing in a phrase book to help you get by here.
Tipping is expected in a range of situations, so come mentally prepared and with enough cash. Restaurants usually expect around 10%, although check guidebooks for current rates. Tour guides will also appreciate a tip. The people packing your bags in supermarkets, looking after your car etc., do not get a salary and are reliant on tips for their income. Taxi drivers are not usually tipped in Chile and they should give you the correct change, although you can of course act at your discretion.
Do be careful, considerate and respectful in all dealings with the locals. However also be aware that, particularly in touristy areas, there may be a minority of individuals acting unscrupulously, and don't feel pressured to hand over cash.
Useful websites and information
There are many websites with relevant information. Here are some that we think are useful or have been recommended to us.
· Travel Aid has good general and route information.
· Tripadvisor - tens of millions of reviews, including of popular walks and walk providers.
· Several blogs describe walking here, including 'The Travelling Cabbage'
· Try www.flickr.com for pictures of this walk.
Other things to do in the area
Other walks
Chile has a huge variety of great walks, particularly in Araucania and the Lake District, in Chilean Patagonia. Conguillio NP is just to the north of Huerquehue, and even further up is the harsh volcanic scenery of Laguna del Laja. Some of the national parks to the south are more well known: just to the other side of Pucon lies the stunning Villarrica NP, from which you can cross the border into Argentina's vast Lanin NP and the adjoining Parque Nacional Nahuel Huapi. There is likely to be a good walk within range wherever you may be. Lonely Planet's Trekking in the Patagonian Andes is full of excellent suggestions.
Other activities
The lakes of Huerquehue NP are good for both fishing and swimming. Lake Tinquilco is particularly well-suited; the lowest point in the park, its waters warm-up considerably during the summer.
Safety and problems: All walks have inherent risks and potential problems, and many of the walks featured on this website involve significant risks, dangers and problems. Problems of any sort can arise on any walk. This website does not purport to identify any (or all) actual or potential risks, dangers and problems that may relate to any particular walk.

Any person who is considering undertaking this walk should do careful research and make their own assessment of the risks, dangers and possible problems involved. They should also go to "Important information" for further important information.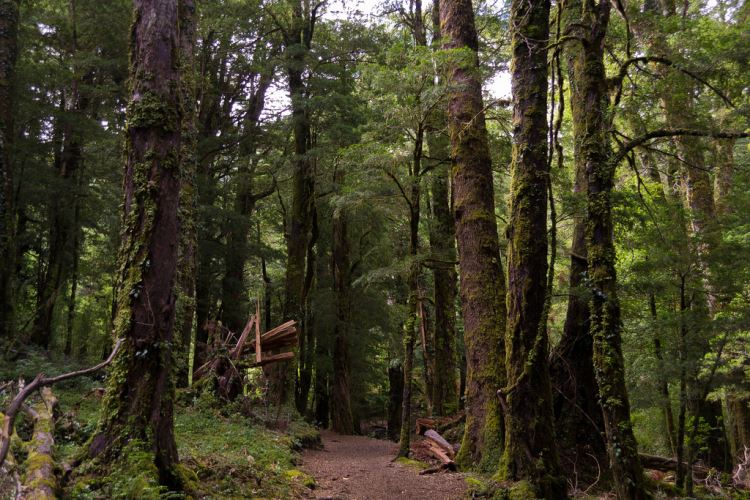 OTHER ACCOUNTS
share your experiences
Top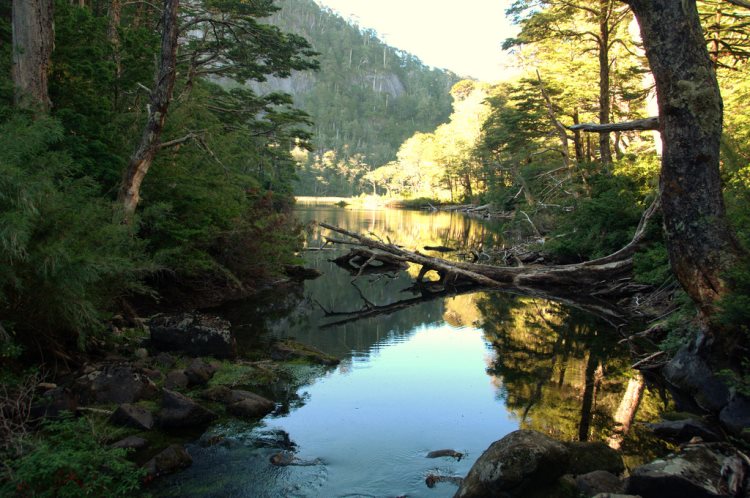 Top
Responsible travel matters, a lot. How you travel will make a real difference - for better or worse. PLEASE consider this when making plans. Read more