Jotunheimen
Key information: Jotunheimen
Enjoy the stunning mountain scenery of Jotunheimen, with dazzling green lakes, impressive glaciers, and the highest peaks in Norway.
The 'Home of the Giants' offers endless walks in totally unspoilt mountains, making it the most popular hiking destination in the country for Norwegians and foreigners alike.
Make good use of the excellent huts run by the Norwegian Hiking Association (DNT), so you do not need to carry tents or food.
The walks can be remote and tough: come prepared.
Walkopedia rating
Walkopedia rating87
Beauty

35

Natural interest

16

Human interest

3

Charisma

33

Negative points

0

Total rating

87
Vital Statistics
Length:

Variable

Maximum Altitude:

2,469m

Level of Difficulty:

Variable
Top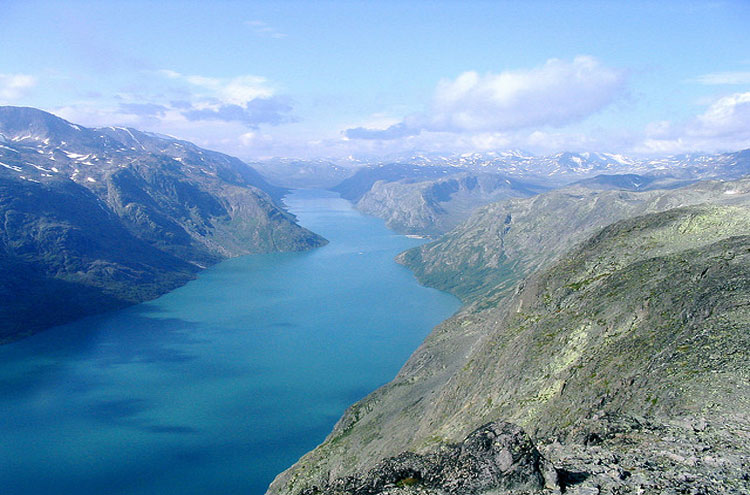 WALK SUMMARY
Vast, ice-carved, landscapes stretch out over more than three thousand square kilometres: a fitting setting for the giants of Norse mythology. Post-enlightenment, the desire for discovery led to the exploration of these mountains, and they came to encapsulate Norway's late-nineteenth century wave of romantic-nationalism.
It is easy to understand Jotunheimen's ability to capture the Scandinavian imagination through the ages; the grandeur and sheer scale of this area is breathtaking. Twenty-six of Norway's highest mountains lie within the Jotunheimen mountain range, including its tallest, Galdhopingen (2,469m). This is the highest concentration of mountains above 2,000m in northern Europe, and the surroundings are totally unspoilt; sharp peaks and impressive glaciers provide a grand background for the intense green rivers and vivid blue lakes, icy cold from snowmelt.
Now Jotunheimen tends to be busy with visitors, especially in the summer months. This does mean that solitude is hard to find, but the area's popularity holds distinct advantages for hikers. The Norwegian Mountain Touring Association clearly waymarks the hundreds of trails that criss-cross the region - look out for a red T painted on rocks for route confirmation. Also, they run mountain huts ranging from large to small, from overnighters to pit-stops with only the facilities for making a cuppa. Plan around these carefully, and you can negate the need for hauling heavy tents or food around with you.
Although during the summer temperatures can reach beyond twenty five degrees, the weather here can change rapidly. During winter, snowfall is heavy and blankets much of the range, lasting well into July above 1,400m, and often creating wild, swollen rivers in the mid-summer months.
The scale of the landscape means that we couldn?t possibly include all of the walks; here, then, is a selection:
Besseggen Ridge (6 - 8 hours)
The most visited trail in Jotunheimen is the Besseggen ridge, a narrow path dividing two lakes, with a steep cliff running down to the water on each side. Henrik Ibsen, perhaps Norway's most famous contributor to literature, immortalised Besseggen ridge in his work Peer Gynt, wondering:
Have you seen

That Gjendin ridge? It cuts along

With an edge like a scythe for miles and miles
Start from either end (Gjendesheim, or the Memurubu Mountain Lodge, accessible by boat), and follow the ridge, rising to 1,743m, between emerald Lake Gjende, and Lake Bessvatnet (1,373m) to the north.
Aursjoen Culture Trail (5 hour round trip)
Easier going, flatter, with information boards aplenty. The Culture Trail takes you through the heart of a region with comparable annual rainfall to the Sahara desert, yet cultivated for millennia. Ancient irrigation channels, now empty, fed the land, and the walk actually begins in one of these man made ditches, bypassing the small Flatatjonn Lake where a dam was once built to collect meltwater, and also the remains of a reindeer pitfall system.
Begin from the car park above Aursjoen Lake, on the edge of Reinheimen National Park.
Galdhopiggen (3 - 4 hours each way)
The tallest mountain in Norway is actually surprisingly accessible, and achievable independently (climb from Spiterstulen) or guided (via an initial glacier traverse beyond Juvasshytta Mountain Lodge). As you would expect, outstanding panoramas of Jotunheimen?s sprawling mountain-scape, plunging to dense, dark green forest.
The Hurrunganes (4 days)
Multiple day trek beneath the towering Hurrungane massif and through goliath glacial landscape. Read more here. Begin and end on the Sognefjell road in western Jotunheimen.
Any number of Glacier walks (Variable)
These can be configured to any fitness level, experience level, group-size and time-scale. Just organize with any of Norway's many outdoor activity companies.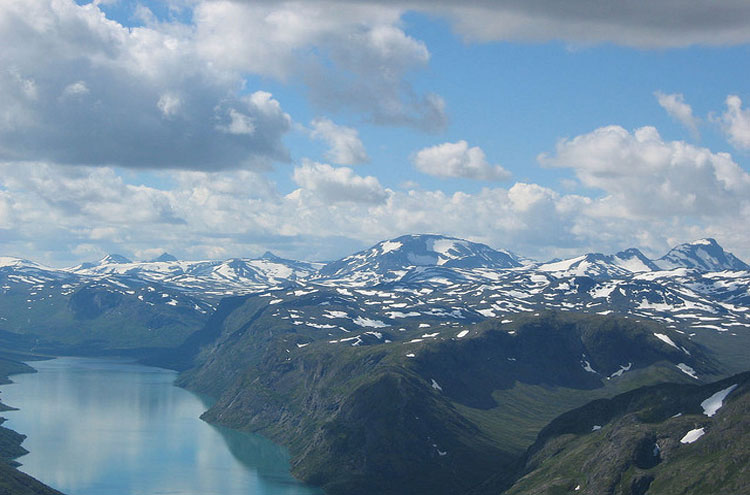 See also expedition planning, including our universal expedition checklist. Walkopedia encourages responsible travel.
Books and Maps
Books on this walk
Norway – Lonely Planet
Walking in Norway – Cicerone
Walks and Scrambles in Norway – Anthony Dyer/I.H.Robertson/J.Baddeley
Norway South: The 50 Finest Valley and Mountain Walks – Rother Walking Guides
Scandinavian Mountains and Peaks Over 2000m in the Hurrungane – James Baxter
Other books
Chapter in Classic Treks – Ed. Bill Birkett
Maps
Maps are available from the many huts, some recommended ones include:
Jotunheimen 1:100.000, (DNT – the Norwegian Hiking Association)

Jotunheimen Vest, Statens Kartverk and

Jotunhemein Aust, Statens Kartverk, both 1:50.000.
Stanfords: www.stanfords.co.uk. A good online specialist source of worldwide maps (it is also good for guidebooks). Also try www.mapsworldwide.com and www.trektools.com.
Find the books and maps listed above, and many more, on Amazon:
Best times to walk/weather
Best times to walk
The best time is usually in August, before the snow falls again in September and after the snow-melt from Spring descends on the rivers. However, it is also busier then, and July has the benefit of being quieter.
Weather
Snow is a year-round feature of Jotunheimen, although it is less likely to rain than further west in Norway. The weather can be very changeable - generally fine in season, but come prepared for unpredictable mountain weather and cold nights. In the high summer, the sun sets at midnight and rises at three, so it is never dark!
For detailed weather information, have a look at: www.worldweather.org or www.bbc.co.uk/weather/world/country-guides.
Getting there/transport/permits/fees
There are buses from Oslo, Bergen and Trondheim regularly throughout the day to the area; the nearest train station is Otta and local buses run from there into most places in Jotunheimen.
It is also accessible by car, and there are several very scenic routes leading into the area - The Sognefjell Road (Rv. 55), The Old Strynefjel Roa (Rv. 258) and Valdresflya (Rv. 51).
Route(s)
See Walk Summary above.
Possible problems, health, other warnings
Extreme mountain weather:

snow, rain, severe cold and wind are possible at any time of year and the weather can change rapidly. Come prepared.

Heights:

can be dangerous; not for those who have difficulties with heights.

This is remote country:

help may be hard to get if things go wrong.
See also the websites in our useful links page for more detailed, and up-to-date, information.
Safety and problems: All walks have inherent risks and problems can arise on any walk. Many of the walks featured on this website involve significant risks and possible problems. This website cannot, does not purport to, identify all actual or potential risks, dangers and problems that may relate to a walk or a country. Any person who is considering undertaking this walk should do careful research and make their own assessment of the risks, dangers and possible problems involved. They should also go to "Important information" for further important information.
Make sure you have appropriate insurance.
Guided or independent?
Independent
You can do nearly all of the walks in Jotunheimen independently, although you will need to be self-sufficient, so come fully prepared. Some treks, such as most glacier walks, should only be done with an experienced guide.
Guided/supported
Some people form or join organised/supported expeditions. These tend to run throughout the winter, too, to sample the area's pristine snow-covered wilderness.
Expedition organisers include:
Accommodation
If embarking on a multi-day walk, try to plan around the fantastic Norwegian Trekking Association run huts. See www.turistforeningen.no/e/Jotun for the whereabouts (as well specifics) of their cabins in Jotunheimen.
The more off-piste you go – or at least the further into its wilderness – the more camping becomes the only real option. Free camping is allowed, although the Norwegian authorities request people to stay no more than three days at any one pitch.
Turtagro Hotel on the Sognefjell road is an obvious start point for a Hurrungane[Link] trek, followed by the Fannaraken and Skogsdalsboen huts (all meals provided).
See www.visitnorway.com/e/where-to-stay-Jotunheimen for a wide choice of accommodation.
Hostelbookersusually has a good selection of cheaper-end accommodation.
Other information and tips
Useful websites and information
There are many websites with relevant information. Here are some that we think are useful or have been recommended to us.
Other things to do in the area
Other walks
Norway is full of spectacular natural formations – fjords, mountains et al, and a commensurate number of fantastic walks.
Other activities
Lots! Winter sports, water sports, extreme sports… the list is endless.
Safety and problems: All walks have inherent risks and potential problems, and many of the walks featured on this website involve significant risks, dangers and problems. Problems of any sort can arise on any walk. This website does not purport to identify any (or all) actual or potential risks, dangers and problems that may relate to any particular walk.

Any person who is considering undertaking this walk should do careful research and make their own assessment of the risks, dangers and possible problems involved. They should also go to "Important information" for further important information.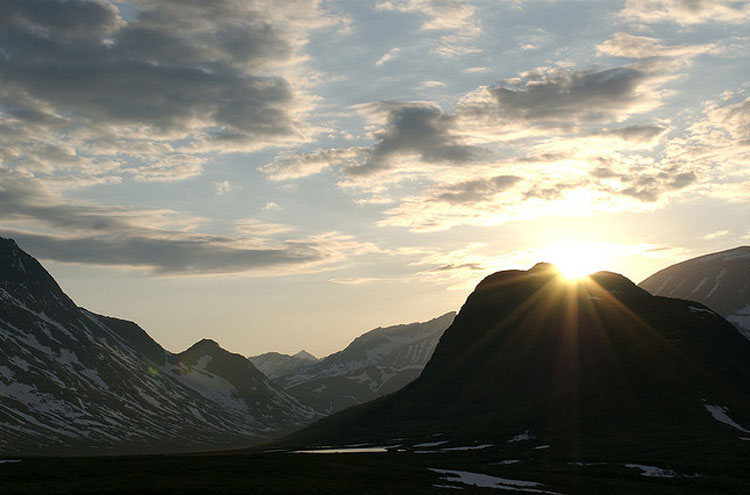 OTHER ACCOUNTS
share your experiences
Top

Top
Responsible travel matters, a lot. How you travel will make a real difference - for better or worse. PLEASE consider this when making plans. Read more