Cockpit Country
Key information: Cockpit Country
Weird, impenetrable karst country, often described as an inverted egg-box, of pinnacles, humps and sinkholes, all clothed in dense jungle.
Spanish slaves, released when the British arrived, removed themselves here and lived independent lives harassing the British, until granted autonomy in 1738. Their descendants still live here.
Tough and humid walking in landscape that can be lethal (through collapse) if you stray off the path. A guide is necessary.
ANYONE GOT ANY GOOD PHOTOS? WE WOULD BE DELIGHTED TO POST THEM!
Walkopedia rating
(Top 100)
Walkopedia rating89.5
Beauty

30

Natural interest

16.5

Human interest

12

Charisma

31

Negative points

0

Total rating

89.5

Note: Negs: dangerous walking; heat with no water sources
Vital Statistics
Length:

Variable

Level of Difficulty:

Moderate
Top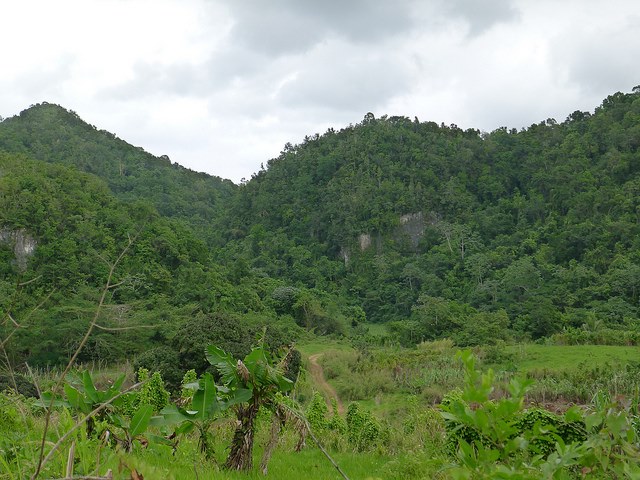 WALK SUMMARY
Jamaica's Cockpit Country is a landscape of weird, impenetrable karst, a geological phenomenon often described as an inverted egg-box. Water drains below the surface of the porous limestone, eroding underground caverns which can collapse into sinkholes at any moment. Dense vegetation covers the whole, disguising crumbling caverns and forming sometimes impenetrable barriers to walkers.
This is tough, humid walking, through country that can be lethal if you stray off the paths - and yet its enticing beauty and fascinating history continue to draw a steady trickle of tourists to explore this remote area of inland Jamaica. The curious cave systems which riddle the Cockpits, including 193m Smokey Hole Cave (the deepest on the island), provide an excellent opportunity to indulge in the thrills of cave exploration.
When the British arrived in Jamaica in 1655 the Spanish inhabitants fled, and their slaves retreated into the wild inlands. These "Maroons" went on to live independent lives, making excellent defensive and offensive use of the difficult topography to harass the British, who were forced to grant them autonomy in 1738. Their descendants still live here.
Exploring the edges of Cockpit Country is relatively easy, and short day hikes allow visitors a chance to experience some of the splendid scenery. There are only three possible routes which traverse Cockpit Country: of these the most used is the Troy-Windsor Trail, which follows the route of a British military road built in the 1700s, apparently in an attempt to control access to water in the region.
The road itself, which cuts almost directly across the middle of the Cockpits, was an impressive achievement, both strategically and physically. However, it came at the cost of many lives and ultimately proved unsuccessful for the British, who in 1738 signed a peace treaty with the Maroons. Walking the Troy-Windsor trail now can take anything between 6 and 10 hours, winding torturously along the contours of the limestone hills. The road is overgrown and at times almost impossible to follow without a guide.
The second possible route, the Quickstep Trail, runs 18km from Windsor to the village of Quickstep, from which hikers can either walk the return journey, or arrange for transport onwards. Heading into the southwest region of Cockpit Country, the place names begin to conjure up the strain and insecurity of the Maroon Wars: "Me No Sen You No Come", and "Land of Look Behind".
Heading-Pantrepant, the final trail traversing Cockpit, is all but lost: there is an ongoing project to record its path (as of 2013), but it seems unlikely to become a viable alternative to the Troy-Windsor and Quickstep trails.
There is no water available throughout this karst countryside, heat can be extreme and humidity is almost always very high; getting lost is easy, and the sinkholes can be deadly. Do not underestimate this lethal landscape: we advise a guide. Not only will they be able to keep you on the right paths, they will also be able to tell you more about the area's diverse flora, and intriguing history.
Several non-profit companies heavily involved in protecting the area, and its ecosystem, offer guided tours and hikes as a way of bringing in some much needed funding. If you want a challenging walk, then Jamaican Caves Organisation appear to be the go-to guides; if you're looking for a more relaxed approach, then try Cockpit Country Adventure Tours. Prices are not extortionate for either company, and a day's outing is affordable on $50/£30 (2013 prices). In addition, any profit on the walks will go towards research and conservation in the area.
With thanks to Rosie Pearson for first bringing this to our attention.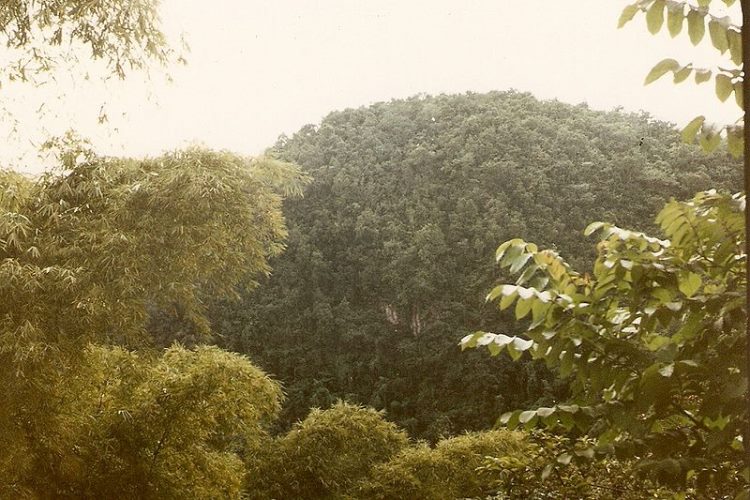 See also expedition planning, including our universal expedition checklist. Walkopedia encourages responsible travel.
Books and Maps
Books on this walk
Jamaica – Adam Karlin and Anna Kaminski/Lonely Planet
Rough Guide to Jamaica – Polly Thomas/Rough Guides
Other books
The Dead Yard: Tales of Modern Jamaica – Ian Thomson – if you want to find out more about modern Jamaica, this book is interesting reading.
The Book of Jamaica – Russell Banks – an American professor explores the culture of the Cockpit Country during the 70s.
Author Margaret Cezair-Thompson is a Jamaican whose father was a Jamaican cabinet minister and diplomat. She has firmly embedded her two novels, The True History of Paradise and The Pirate's Daughter, in the landscape and history of the island.
Maps
The National Land Agency of Jamaica produces topographical maps of the island at 1:12,500, which are available through their website.
Stanfords: www.stanfords.co.uk. A good online specialist source of worldwide maps (it is also good for guidebooks). Also try www.mapsworldwide.com and www.trektools.com.
Best times to walk/weather
Best times to walk
The best time to walk the Cockpit Country is between December and March, when the discomfort from heat and humidity is at its lowest ebb. June to November is hurricane season.
If you are doing a short hike, then it is always best to set off early morning and do your walking before the heat of the middle of the day.
Weather
The weather in Jamaica is hot and humid all year round. Hurricanes are possible any time between June and November, although generally concentrated in August and September.
For detailed weather information, have a look at: www.worldweather.org or www.bbc.co.uk/weather/world/country-guides.
Getting there/transport/permits/fees
The main international airports in Jamaica are Sangster International Airport, near Montego Bay, and Normal Manley International Airport, near Kingston. Montego Bay is the busiest, the best place to get cheap flights from the UK, and the easiest from which to access Cockpit Country.
There are plenty of buses in Jamaica, but information on routes and times doesn't appear to be readily available. Therefore, getting around the country may best be done by taxi (these are unmetered, so negotiate a price before you get in!) or car hire. Driving here is notoriously dangerous, so go carefully.
Most companies offering walks here are local, and therefore those on organised expeditions will generally not have any transport included, unless this is arranged when you book. Cockpit Country Adventure Tours will meet you in Albert Town; Jamaican Caves Organisation will meet you in Windsor, or can arrange to pick you up from the Montego Bay area.
Route(s)
See Walk Summary above.
Possible problems, health, other warnings
· Karst: seemingly solid ground can give way as you walk, opening up vast limestone caverns beneath. Sinkholes can also be well hidden by vegetation. This is dangerous landscape, make sure you have a knowledgeable guide.
· Heat, humidity and strong sun during the day, whilst nights can get cold. Carry enough water (there is none available) and protect yourself.
· Heights: can be dangerous; not for those who have difficulties with heights.
· This is remote country: food and other supplies will not be readily available and help will be hard to get if things go wrong.
· Health risks: this is a relatively undeveloped country, and you will not get prompt medical help of a standard available elsewhere if you become ill. Come prepared, including getting all appropriate inoculations/medications. In particular Rabies is present in bats in Jamaica. It may be worth considering the vaccine if you plan on caving in Cockpit Country.
See also the websites in our useful links page for more detailed, and up-to-date, information.
Safety and problems: All walks have inherent risks and problems can arise on any walk. Many of the walks featured on this website involve significant risks and possible problems. This website cannot, and does not purport to, identify all actual or potential risks, dangers and problems that may relate to a walk or a country. Any person who is considering undertaking this walk should do careful research and make their own assessment of the risks, dangers and possible problems involved. They should also go to "Important information" for further important information.
Make sure you have appropriate insurance.
Guided or independent?
Independent
Some do choose to hike independently, but this is one of those brave moves which strays well over the line into foolishness. This landscape is notoriously dangerous, and getting lost here is not an enjoyable experience. We strongly advise a guide.
Guided/supported
Most people form or join organised/supported expeditions. Given the difficult landscape, remoteness of the country and difficulty of getting supplies, travelling here with a knowledgeable guide has tangible advantages (not least a lower possibility of an untimely death). Choosing a suitable guide or company is of course vital, and the guidebooks contain good advice in this regard.
If hiring a guide locally, meet him/her and get comfortable before committing. Make sure all requirements are understood and agreed – including how you will eat and the importance of avoiding illness, as well as overnighting and, of course, remuneration!
Expedition organisers include:
PLEASE HELP Walkopedia by recommending any reputable tour organizers that you know of – local or otherwise.
Accommodation
Camping is the only option if you stay out in Cockpit Country overnight.
Good starting points for walks include Albert Town and Windsor. Accommodation in this area is always basic, and very different from the luxury beach resorts of Jamaica's coast; finding any accommodation in Windsor may prove a challenge.
In Albert Town the South Trelawny Environment Agency have been active in developing facilities for travelers. In particular their tourist off-shoot, Cockpit Country Adventure Tours, can arrange for bed and breakfast accommodation in the houses of local families – see details of this excellent initiative, and of the Casa de Anita guesthouse, on Hostelbookers.
Even if you spend one or two nights in Cockpit Country, you are likely to be more comfortable basing yourself for the most part further out. Have a look at hotels and hostels in Montego Bay and Ochos Rios on Hotels.com and Hostelbookers. Check Tripadvisor for reviews.
Other information and tips
Tipping is expected, so come mentally prepared and with enough cash. Check guidebooks for current rates. Do err on the side of generosity if unsure – wages are low here and the cost of living is high.
Do be careful, considerate and respectful in all dealings with the locals.
Bring insect repellent. Mosquitos can be a nuisance, and the ticks here apparently like to head straight for the groin area.
Useful websites and information
There are many websites with relevant information. Here are some that we think are useful or have been recommended to us.
· Wikipedia is, as usual, a good starting place.
· The Southern Trelawney Enrivonment Agency have a wealth of information on what's going on in the area, as well as their own firm operating guided hikes.
· Windsor Research Centre has a great website, with loads of information on the area's geography, flora, fauna and culture.
· The Jamaican Caves Organisation has some good information on hiking and routes.
Other things to do in the area
Other walks
For those willing to leave behind the beautiful Jamaican beaches, there is some surprisingly excellent walking and some incredible countryside to be found inland. If you get time, try combining Cockpit Country with some time spent in the Blue Mountains, on the eastern side of the island.
Other activities
Caving is very popular here.
If you're in Cockpit Country over Easter, then don't miss the annual Easter Monday Yam Festival.
Safety and problems: All walks have inherent risks and potential problems, and many of the walks featured on this website involve significant risks, dangers and problems. Problems of any sort can arise on any walk. This website does not purport to identify any (or all) actual or potential risks, dangers and problems that may relate to any particular walk.

Any person who is considering undertaking this walk should do careful research and make their own assessment of the risks, dangers and possible problems involved. They should also go to "Important information" for further important information.
OTHER ACCOUNTS
share your experiences
Top
Responsible travel matters, a lot. How you travel will make a real difference - for better or worse. PLEASE consider this when making plans. Read more