Grand Teton National Park, Wyoming
Key information: Grand Teton National Park, Wyoming
The dramatically jagged peaks of the Grand Tetons, America's youngest mountain range, dominate the Grand Teton National Park, their majesty reflected in mirror-like lakes.

The stark contrast between the flat valley-plain of Jackson Hole and its encircling mountains is spectacular, attracting almost 4 million annual visitors.

With more than 250 miles of trails, the Park offers many different and wonderful hikes. The best known and longest hike is the Teton Crest Trail: a challenging walk through the entirety of the Teton Range, with magnificent views.

Some of these are difficult walks in serious mountains: come prepared.
Walkopedia rating
(Top 100)
Walkopedia rating88
Beauty

35

Natural interest

17

Human interest

2

Charisma

34

Negative points

0

Total rating

88
Vital Statistics
Length:

Variable

Maximum Altitude:

3,288m

Level of Difficulty:

Variable
Top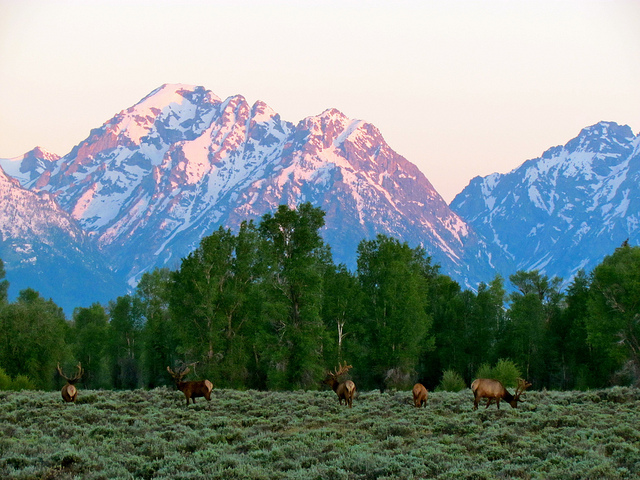 WALK SUMMARY
The peculiar landscape of the Grand Teton National Park - the flat valley of Jackson Hole abruptly meeting the steep peaks of the Tetons, with no foothills between - is a result of the fault line that created these geologically young mountains. Glaciers then carved out the mountain scenery as they spread before retreating northwards with the fluctuations of each ice age, leaving behind a fabulous array of deep lakes and steep ridges.
Amongst all this, wild animals roam freely; grizzly and black bears, wolves, coyotes, mountain lions, bison, moose, elk, deer, marmots and chipmunks all make this area their home. Various pines, spruces and firs grow to high altitudes, whilst aspen, cottonwood and willow cluster the shores of the wild lakes and rivers. In late spring and early summer, the flowers can be seen all over the valley.
Although humans have been visiting the area for 10,000 years, it is only in the last 120 that permanent habitation in the valley took hold. The Tetons are in many ways a crossing-place through which first animals and later native Americans have for millennia migrated, stopping only to hunt and to gather the edible parts of plants in Jackson Hole.
Tourism is now the economic backbone of the region, and people visit in huge numbers all year round, whether for walking, skiing or just to marvel at the views. That said, you can easily escape humankind here.
Multi-day hikes
The most popular multi-day hike is the beautiful Teton Crest Trail, which covers around 50-64km (dependent on route). Although not an easy trek (altitude can be a problem, weather is often unpredictable and, as with most American National Parks, obtaining a backcountry permit is a necessary hassle), the high passes and lookouts, and their grand views over the Teton range, make the effort worthwhile. Incorporating abundant landmarks, including Death Canyon shelf, Marion Lake, Snowdrift Lake and Inspiration Point Lookout, this is a hike on which walkers should keep the pace light and focus on luxuriating in their surroundings - give time for long overnight stops and wake up early, taking in the glorious sunsets and sunrises.
An amalgamation of many of the park's best day walks has been created in the four day hike known as the Grand Teton Loop. Beginning at Jenny Lake, hikers set out initially on the Cascade Canyon Loop. The trail then circles around the Tetons, traversing three passes (the highest reaching 3,288m) before descending (via the Garnet Canyon Trail) to the flower filled Lupine Meadows and trekking back to the starting point.
Day walks
A good alternative to these (and one which for some surpasses the better known Teton Crest Trail), is the Paintbrush Divide/Cascade Canyon Loop. At around 35km, this can be completed in a very long day - but it is a strenuous walk.
For other, less strenuous, day hikes the Cascade Canyon area remains an ideal base. This is unsurprising, as here Hidden Falls and Inspiration Point Lookout (two of Grand Teton NP's most famous landmarks) can be found.
The quieter Two Ocean Lake Trail is a fairly level walk taking in the abundant wildlife surrounding Two Ocean Lake. Although the terrain is gentle, the Tetons dominate the surrounding views, and a vast landscape of meadows, lakes and volcanic outcrops is visible from Grand View Point, 600ft up and just a short detour off the main trail.
For those searching for a short challenge, the Garnet Canyon Trail heads up into the peaks, climbing steeply on switchbacks up towards the Middle Teton.
For some good summaries/suggestions for day hikes, try www.grand.teton.national-park.com.
As with most US parks, there are no refuges on the hike, so camping is the only option once in the backcountry.
To the north of Grand Teton NP is Yellowstone; those attempting the Continental Divide Trail will pass through the neighbouring Teton Wilderness and Teton National Forest.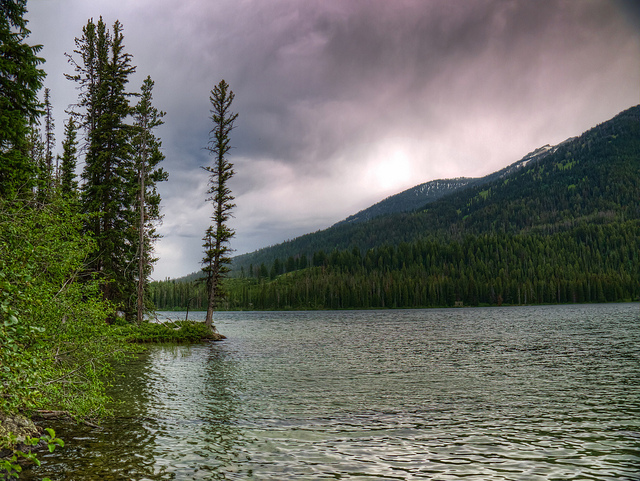 See also expedition planning, including our universal expedition checklist. Walkopedia encourages responsible travel.
Guidebooks/maps/background reading
Guidebooks
Hiking Grand Teton National Park (2nd Ed.) – Bill Schneider, Falcon/Globe Pequot. A great, knowledgeable book.
Hiking in the Rocky Mountains – Lonely Planet, gives a good route for the Teton Crest Trail, which is full of their characteristic knowledge and detail and well worth a look for those intending to walk the complete trail.
Best Easy Day Hiking Guide and Trail Map Bundle: Grand Teton National Park – Bill Schneider/Falcon Press (published June 2011)
Top Trails Yellowstone & Grand Teton National Parks: Must-Do Hikes for Everyone – Andrew Dean Nystrom/Wilderness Press
Yellowstone and Grand Teton – Bradley Mayhew, Carolyn McCarthy/Lonely Planet National Parks Guides
Frommer's Yellowstone and Grand Teton National Parks – Eric Peterson/Frommer
The Rough Guide to Yellowstone and Grand Teton – Stephen Timblin/Rough Guides
Insiders' Guide to Yellowstone and Grand Teton – Brian Hurlbut/Insiders' Guides
Teton Trails – Kate Duffy and Darwin Wile/Grand Teton Association (available at www.grandtetonpark.org)
Other books
Hiking in the Rocky Mountains – Clem Lindenmeyer, Helen Fairbairn, Gareth McCormack/Lonely Planet
Spectacular Yellowstone and Grand Teton National Parks – Charles Preston and Jin Robbins/Universe Publishing
Yellowstone and Grand Teton Wildlife – Henry H. Holdsworth/Farcountry Press
A chapter in Walking the World's Natural Wonders – Jon Sparks, which outlines the 'Grand Teton Loop': a four-day hike combining several of the trails described in the walk summary, above.
Most Trailheads have booklets available, which are interesting and useful.
Maps
The National Park Service website has good general maps of the park, with one detailing summer services and the other winter. These can be found here.
Grand Teton National Park Wyoming: NG.NP.202 (Trails Illustrated Maps) – National Geographic Maps
National Geographic Yellowstone and Grand Teton National Parks Road Guide: The Essential Guide for Motorists – Jeremy Schmidt (Author), Steven Fuller/National Geographic: a useful, well laid out map/guide for filling your days while you adjust to the altitude
For more detailed maps, you can go to the Grand Teton Association Bookstore, a non-profit organisation, which is available online.
Best times to walk/weather
Best times to walk
The season is generally considered to be from the end of May through to the beginning of September. Snow remains on high trails all the way into mid-July, however.
Weather
Generally fine in season, but come prepared for unpredictable mountain weather and cold nights. Spring is cool, with lots of rain and sometimes snow; summer is warm, with temperatures occasionally reaching 26°C, but with frequent afternoon thunderstorms. The autumn is cool again, with periodic rain and snow.
For detailed weather information, have a look at: www.worldweather.org or www.bbc.co.uk/weather/world/country-guides
Getting there/transport/permits
The closest airports to Grand Teton National Park are Jackson Hole Airport in nearby Jackson, Idaho Falls Regional Airport and Salt Lake City International Airport (which is about 275 miles away)
From Jackson Hole Airport there is a regular shuttle service, otherwise the best option is often to rent a car. Highways 26, 89 and 191 all lead to Jackson.
There are some great ways to reach trailheads; it's possible to get a ferry across Jenny Lake to the lower alpine trails into valleys or up summits, and from Teton village there is an aerial tramway going up to 3,185m for the high-country trailheads. The tramway can be used for the Teton Crest Trail.
Permits are needed to do these walks. They can be obtained from the park entrance, and once you pay the $20 fee you have access to both Grand Teton and the neighbouring Yellowstone – so, if you are visiting Yellowstone first, then your permit is sorted. You will, however, need a separate backcountry permit if you are going hiking into the backcountry, normally you need to organise this and reserve campsites well in advance (generally January 1st before the season you are hiking) from the National Park Service website (here).
Remember that hitchhiking is officially illegal here.
Route(s)
See "Walk Summary" above.
[Note: insert here any suitable route map that has been found. Can do link if appropriate.]
Possible problems, health, other warnings
Altitude:

can affect some, come prepared to cope.

Mountain weather:

rain, severe cold and wind are possible at any time of year, snow at many. Come prepared.

Heat

and strong sun. Carry enough water and protect yourself.

Heights:

can be dangerous; not for those who have difficulties with heights.

Dangerous/harmful animals

, including stinging/biting insects (including ticks) and plants.

Bears

are a problem: come prepared to deal with an encounter and store camp food appropriately. There are plenty of websites with advice on hiking in bear country, and a particularly good one is the US National Parks Service site.

Take all appropriate precautions.

This is remote country:

you may have to carry all your food and other supplies and help may be hard to get if things go wrong. Water purification tablets will be necessary.
See also the websites in our useful links page for more detailed, and up-to-date, information.
Safety and problems: All walks have inherent risks and potential problems, and many of the walks featured on this website involve significant risks, dangers and problems. Problems of any sort can arise on any walk. This website does not purport to identify any (or all) actual or potential risks, dangers and problems that may relate to any particular walk. Any person who is considering undertaking this walk should do careful research and make their own assessment of the risks, dangers and possible problems involved. They should also go to "Important information" for further important information.
Make sure you have appropriate insurance.
Guided or independent?
You can do these walks independently, and in fact there appears to be very little option. Although lots of tour operators work in Yellowstone, finding guided/supported walking in Grand Teton National Park is much more difficult. You will need to be self-sufficient, and aware of all the possible dangers (including from bears), so come fully prepared. Always contact the park's rangers: as well as advice on walking in the backcountry, they can give you the most up to date information on the trails – including any trail damage, the weather, and bear activity. In addition, they can conduct various guided walks.
Accommodation
There are a variety of places to sleep in Grand Teton National Park, from fairly basic dormitory accommodation to more luxurious log cabins. For more information on these, including contact details for each of them, go to the National Park Service website, here.
Briefly, the most expensive/formal is Jenny Lake Lodge, and the most inexpensive/informal is Moose Junction.
There are no towns or villages in the park, but a few miles south, in Jackson Hole, there is plenty more accommodation available.
If you are hiking for longer than a day in the backcountry, then you will have had to organise your permit well in advance, and at the same time try and book those campsites which require it, which is about a third of them. These tend to be basic, and have strict regulations about food storage, owing to the presence of bears.
Jenny Hill Campground lies on the shores of the lake and in the shadow of the peaks, a lovely place to stop. However, it does fill up early in the day.
At the north end of the park, Lizard Creek Campground is also a great place to stop, and doesn't fill up so quickly.
Other information and tips
· Remember that hitch-hiking is officially illegal here.
· If you want to go fishing, then you will need a special permit.
Useful websites and information
There are many websites with relevant information. Here are some that we think are useful or have been recommended to us.
www.grand.teton.national-park.com/hike.htm - This site has some really useful information about safety, and about causing minimum impact on the environment.

Backpacker

magazine ran an article on some hikes in the Tetons in their June 2008 edition, and this can be found on Google books – simply search "5 hikes, 7 days (or so)".
Other things to do in the area
Other walks
Neighbouring Yellowstone [link to page] is fantastic and has some amazing hikes. Grand Teton is also not far from some sections of the Continental Divide Trail [link], an immense long-distance trek running from New Mexico to Glacier National Park [link] which passes through the Teton Wilderness and Teton National Forest.
The nearby Caribal Targhee National Forest presents some wilderness opportunities for camping and hiking.
Other activities
Many people see the park on horseback or from a bicycle (although cyclists face limitations and some heavy traffic), which can both be a great alternative to walking. There is also fishing (permit required – local sporting stores can supply), bird-watcing, climbing and boating. If you haven't got the time to penetrate deeply into the park, then scenic drives along its main roads are excellent. In winter skiing and snowshoeing are popular, with summer hiking trails open to cross-country skiers.
Photography is great here: Ansel Adams' iconic 1942 photograph, which came to symbolise the entire American West, was taken in the Tetons.
Mountaineering is some of the most accessible and diverse in the country – go to Jenny Lake Ranger station for climbing info.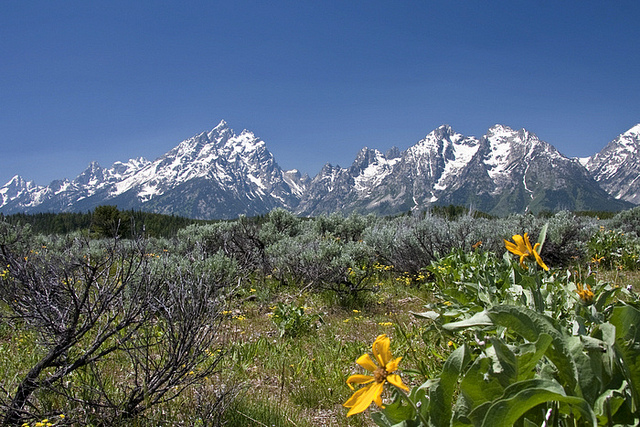 OTHER ACCOUNTS
share your experiences
Top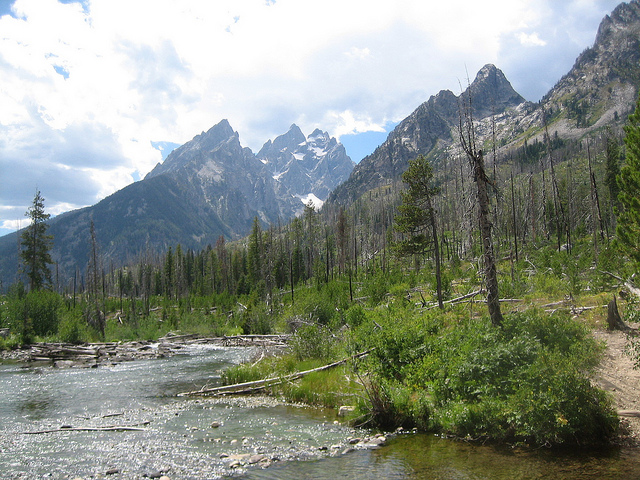 Top
Responsible travel matters, a lot. How you travel will make a real difference - for better or worse. PLEASE consider this when making plans. Read more