Tasmania
Key information: Tasmania
A wonderful range of walks in a remote, often rugged island the size of Ireland or Sri Lanka.
Fascinating, often indigenous plant and animal life.
Walks range from famous and quite tough multi-dayers such as the Overland Track and South Coast Track to delightful day walks such as on the Freycinet and Tasman Peninsulas.
Some of these walks are tough and remote, and the weather is unpredictable everywhere; come prepared.
Walkopedia rating
Walkopedia rating88
Beauty

34

Natural interest

18

Human interest

3

Charisma

34

Negative points

1

Total rating

88

Note: Negs: expect bad weather
Vital Statistics
Length:

Variable

Maximum Altitude:

1,617m

Level of Difficulty:

Variable
Top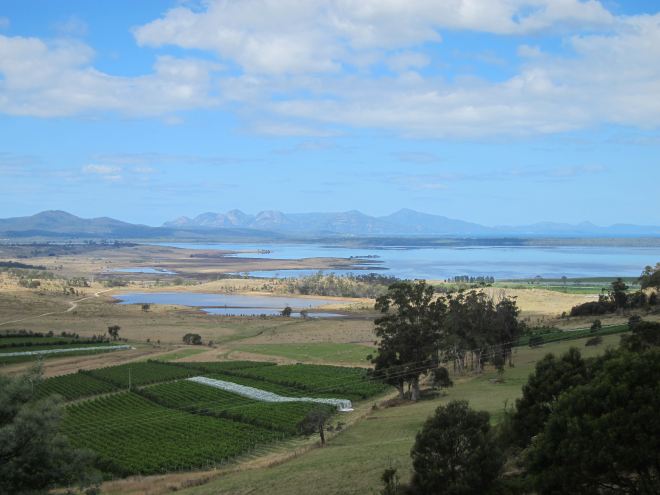 WALK SUMMARY
Wonderful, wild, rugged, remote, beautiful Tasmania. It's west Scotland without the heather but with wallabies and devils. Much of it still fairly unvisited, it is a traveler's delight and a walker's paradise.
The landscape varies from the tangled rainforests and wild rivers of the west to the glens, peaks, moors and lakes of the centre to the perfect beaches and coastal cliffs of the south and east.
Tasmania's great wilderness areas achieved World Heritage Status in 1982, powerful evidence of its international importance.
Complementing the extraordinary landscape is an exceptional array of wildlife. As well as animals found elsewhere in Australia - kangaroos, possums, platypus echidnas snakes and spiders (evidence of the island's recent separation from the mainland at the end of the last ice age) - it has its own unique fauna, including the famous Tasmanian devil.
Tasmania's plants are also diverse and in many cases unique, including the extraordinarily long-lived Huon pine. Fascinatingly, some of them are closer related to South American plants than mainland Australia.
Tasmania has more than merely world-class walking: it is some of its very best. It is not possible here to mention all the island's great walks, but we have done our best! Almost wherever you go, you will find good walking nearby: if it is not here, check the guidebooks.
Multi-day walks
The Overland Track:

Tasmania's most famous walk, and justly so. Five or more days southward through the Cradle Mountain/Lake St Clair area.

Bay of Fires Walk:

perfect, empty beaches and coastal scenery in the north-east. (See below)

Freycinet Experience Walk;

on the beautiful, eponymous peninsula.

Tasman Coastal Trail

, on the

Tasman Peninsula

with its enormous cliffs and surprisingly remote forests.

South Coast Track:

one of Tassie's great tracks: rugged, utterly remote coastal scenery. 85 outstanding kilometers ( 6-8 days). Beware frequent bad weather.

Port Davey Trail:

also in the south west 70 even remoter kilometres than the South Coast Track.

Walls of Jerusalem:

a totally remote ring of mountains in the heart of Tasmania, adjacent to where the Overland Track passes. Argued to be the best of all Tasmania's parks - but being a genuine wilderness makes for demanding walking. Expect no support and few facilities of any kind, although there are some proper walking trails. Peaks, cliffs, lakes forest, all part of the World Heritage Area. You can make long day walks from the Mersey Forest Road beyond Mole Creek into the WOJ Park.

Maria Island Walk

: (see below)

Tarkine Rainforest

in the north west: the largest intact temperate rainforest in the southern hemisphere and said to be the most diverse wilderness in Tasmania - and beaches, dunes and heathland, too. Famously bad weather. Tarkine Trails (www.tarkinetrails.com.au) organise a variety of walks.

Western Arthurs Traverse:

6 days up onto and along the spine of these totally remote mountains in the wet far west, much of it above the treeline and reminiscent of the UK's Lake District. Some of the best walking in Tasmania, but it will be wet and you will need to bring everything yourself. See www.retiredaussies.com for a good idea of what it is like.
Frenchman's Cap:

tough, utterly remote, 4 days trek to this fine but inaccessible peak. The first day can be walked out and back as a day walk.

Other superb south west multi-dayers include the

Mt Anne Range

and

Federation Peak

.

The 480km

Tasmanian Trail

is said to be excellent, but perhaps less thrilling than other shorter walks.
Day Walks
North-east
Wineglass Bay

and other day walks on the glorious

Freycinet Peninsula

, one of Tasmania's most special places.

Cataract Gorge Walk

in the heart of Launceston.

The Bay of Fires:

wonderful, unsullied coastal scenery, huge, empty white sand beaches claimed to be some of the most beautiful in the world. Think seriously about taking in the four day Bay of Fires Walk.

Douglas-Apsley NP:

emptier than Freycinet. Varied scenery in ancient eucalyptus forest. Walks range from the Apsley Gorge to the multi-day, demanding Leeaberra Track.

Ben Lomond NP:

fantastic walking in yet another area of peak and plateau, Tasmania's largest alpine area. Vegetation ranges from ancient forest to alpine wildflowers. Interesting rock columns. Legges Tor, at 1,575 m the second-highest Tassie mountain, is a fine 4 hour round trip.

Lovely, empty

Mt. William NP

in the far north-east. Lonely beaches, woodland and hills. Not Tasmania's most dramatic walking, but beautiful and interesting and undervisited.

Flinders Island

to the north. Empty and beautiful.
North-west
Cradle Mountain Area:

a plethora of gorgeous walks in Tasmania's most famous area. Includes a tough ascent of the eponymous mountain itself for outstanding views. And the Enchanted Nature Walk and the Dove Lake Circuit.

The Alum Cliffs Gorge:

in Mole Creek Karst NP a 1km round walk to a fine lookout over the Mersey Valley. Superb scenery. Also long day walks to the Walls of Jerusalem NP (see above).

Franklin River:

the first stage of the walk to Frenchman's Cap, or the short Franklin River Nature Trail from the Lyall Highway.

The Kelly Basin:

on the west coast, walked along an old railway line - 3-4 hrs return. Utterly remote, magnificent rainforest reaching a ravishing, huge inlet.

The fabulous 3 hr walk along an old tramway to the

Montezuma Falls

near Rosebery.

Tarkine Rainforest

(see above)

The Nut:

a volcanic plug near Stanley. A steep 20 mins plus half an hour circuiting up the top, with splendid views across bay and sea. Beware crowds due to the chairlift.
Central Lake County
This area of mountains and, yes, lakes, contain a huge variety of excellent walking.
The

Liffey Falls

(lovely but a short and sometimes crowded walk) and elsewhere in the Liffey Valley.

A 5 hr return to remote

Meander Falls

, lovely forest walking, pristine landscape.
South-east
The amazing

Tasman Peninsula

includes famous 300m high cliffs, beaches and wildlife. Not to be missed if visiting the Port Arthur penal colony. The Tasman Coastal Trail is one of Tasmania's great hikes.

Mt Field National Park:

High mountain to rainforest to waterfalls, a mere 80 km from Hobart. Options include the short trail to Russell Falls and the Pandani Grove Nature Walk by Lake Dobson. The high level walking is marvelous, the most famous being the Tarn Shelf Track.

The Hartz Mountains

, including the day walk to Hartz Peak. High, rugged, beautiful county easily reached from Hobart.

For something different, the treetop

Tahune Airwalk

.

Mt Wellington

, overlooking Hobart, including the Zig Zag Track and Organ Pipes Walk. Accessible by bus.

The Truganini Track:

two hour climb of Mt Nelson near Hobart (lower and easier than Mt Wellington).

The multitude of trails on relaxed, lovely

Bruny Island

, including Fluted Cape and Labillardiere Peninsula.

Lovely, empty

Maria Island

, to the north of Hobart, has wonderful scenery and wildlife - and very few people. You can do a fabulous (but expensive) four day guided walk.
South-west
The first section of the

Port Davey Track

from the end of the Scott's Dam Road. Forest and boggy plain.

Mt Eliza:

5 long hours to superb views over the Lake Redder Area.

Mt Wedge:

5 hours to a peak just south of Lake Gordon.
See also expedition planning, including our universal expedition checklist. Walkopedia encourages responsible travel.
Books and Maps
Books on this walk
120 walks in Tasmania

- Tyrone Thomas

Day Walks in Tasmania

- J. Chapman & M. Chapman

Southwest Tasmania

- J. Chapman

Walking in Australia

- Lonely Planet

Cradle Mountain, Lake St Clair & Walks of Jerusalem NPs

- J. Chapman & J Siseman

Great Walks of Tasmania

;

Tasmania's Great Short Walks

; and

60 Great Short Walks

- free brochures to be found in many visitor centres.

Bushwalking in Australia

- J. Chapman & M. Chapman
Other books
Tasmania

- Lonely Planet

Tasmania - Bradt

English Passengers

- Matthew Kneale - prize-winning Wunderschrift

In Tasmania

- Nicholas Shakespeare.
Maps
Good maps can be bought locally, fairly easily.
Stanfords: www.stanfords.co.uk. A good online specialist source of worldwide maps (it is also good for guidebooks). Also try www.mapsworldwide.com and www.trektools.com.
Best times to walk/weather
Best times to walk
Summer (December to February) for the best weather, although early Autumn is lovely and Spring good for wild flowers (but likely to be wet and windy) and both get fewer visitors. Try to walk in midweek on popular walks if there in Summer.
Weather
Fairly described as maritime - changeable at any time of year so come prepared for unpredictable weather.
For detailed weather information, have a look at: www.worldweather.org or www.bbc.co.uk/weather/world/country-guides.
Getting there/transport/permits/fees
Getting from overseas to Hobart or Launceston (the nearest airport to the start of the Overland Track) involves at least two airlines. There are many options, including Asian stop-offs if you want.
If you are walking on a walking package, you will be usually be picked up at and returned to a fixed start point, although you may be able to make other tailored arrangements.
Visitors' fees are payable for all national parks.
A booking system applies to the Overland Track in high season ( Oct – May, 2012) via Parks & Wildlife Service (0061 3 6233 6047; parks.tas.gov.au), so book early. Permits and parks pass cost A$230 (2012).Expedition organisers should be able to arrange these.
Route(s)
See Walk Summary above.
Possible problems, health, other warnings
Weather:

rain, severe wind and cold are possible at any time of year (and snow on high ground) and the weather can change rapidly. Come prepared.

Heat:

strong sun at times. Carry enough water and protect yourself.

Dangerous animals

, including snakes, spiders, mosquitoes, leeches, stinging ants stinging/biting insects and plants. Take all appropriate precautions.

Risky rivers

can need to be crossed - Prepare carefully and only cross in the recommended way.

This can be remote country:

you will have to carry all your food and other supplies on some trails and help may be hard to get if things go wrong.
See also the websites in our useful links page for more detailed, and up-to-date, information.
Safety and problems: All walks have inherent risks and problems can arise on any walk. Many of the walks featured on this website involve significant risks and possible problems. This website cannot, does not purport to, identify all actual or potential risks, dangers and problems that may relate to a walk or a country. Any person who is considering undertaking this walk should do careful research and make their own assessment of the risks, dangers and possible problems involved. They should also go to "Important information" for further important information.
Make sure you have appropriate insurance.
Guided or independent?
Independent
You can do these walks independently, but come properly prepared for the walks you plan to make.
Guided/supported
Many people form or join organised/supported expeditions for some of the longer trails. Given the remoteness of some of the country and difficulty of getting supplies, many will prefer to do it this way, and travelling here with a knowledgeable guide has real advantages. Organisers can also arrange for permits to be obtained.
Expedition organisers include:
PLEASE HELP Walkopedia by recommending any reputable tour organizers that you know of - local or otherwise.
Accommodation
There is an increasingly wide and exiting array of accommodation to be found, from campsites to B&Bs to resorts to heritage hotels.
Good websites include:
Hostelbookers usually has a good selection of cheaper-end accommodation.
Some suggestions:
Launceston:
Sportsmans Hall Hotel £
Central, smart rooms, popular locally (0061 3 63313968; doubles from A$75/£49).
Werona ££
B&B in an old building, lovely decoration, superb views. (6334 2272; werona.com; doubles from A$120/£78).
Peppers Seaport Hotel £££
Cool, modern waterfront hotel (6345 3333; peppers.com.au; doubles from A$120/£78).
Cradle Mountain:
Cradle Mountain Highlanders Cottages ££
Well-loved wooden cottages in a fabulous wild setting (0061 3 6492 1116; cradlehighlander.com.au; doubles from A$115/£75).
Cradle Mountain Lodge £££
Well-established, comfortable collection of cabins. Walking, spa, and the best food in the area (6492 2103; cradlemountainlodge.com.au; doubles from A$310/£201).
Lake St Clair (end of Overland Track):
Lake St Clair Lodge £-£££
Various types of accommodation at the foot of the lake, where the OLT officially ends. Facilities range from a backpackers' lodge with bunk rooms to comfortable cottages (0061 3 6289 1137; lakestclairresort.com.au; double cottages from A$240/£156).
Hobart:
Henry Jones Art Hotel £££
Much lauded, cool, modern and comfortable hotel in a former jam factory in a fabulous waterfront position. (0061 3 6210 7700;thehenryjones.com; doubles from A$320/£208).
Freycinet:
Saffire Freycinet £££
Immaculate new luxury resort hotel in a perfect position near the famously lovely Freycinet Peninsula. Outstanding food, spa and endless activities (0061 3 6256 7888;saffire-freycinet.com.au; doubles from A$1450/942).
Other information and tips
Useful websites and information
There are many websites with relevant information. Here are some that we think are useful or have been recommended to us.
Other things to do in the area
Other walks
Tasmania has a huge variety of great walks. There is likely to be a good walk within range wherever you may be.
Other activities
Endless
Safety and problems: All walks have inherent risks and potential problems, and many of the walks featured on this website involve significant risks, dangers and problems. Problems of any sort can arise on any walk. This website does not purport to identify any (or all) actual or potential risks, dangers and problems that may relate to any particular walk.

Any person who is considering undertaking this walk should do careful research and make their own assessment of the risks, dangers and possible problems involved. They should also go to "Important information" for further important information.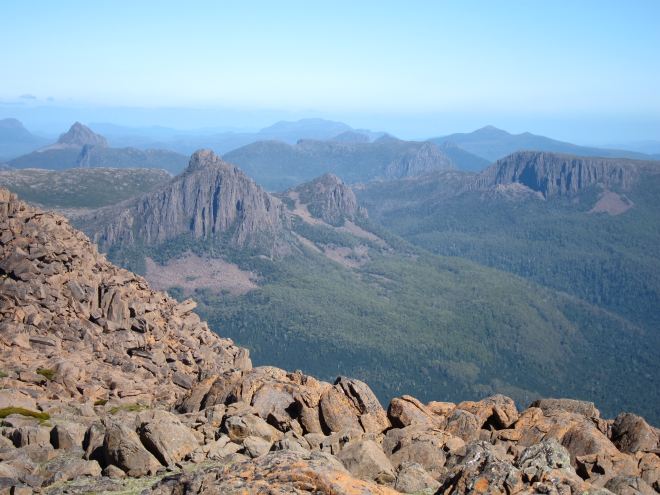 OTHER ACCOUNTS
share your experiences
Top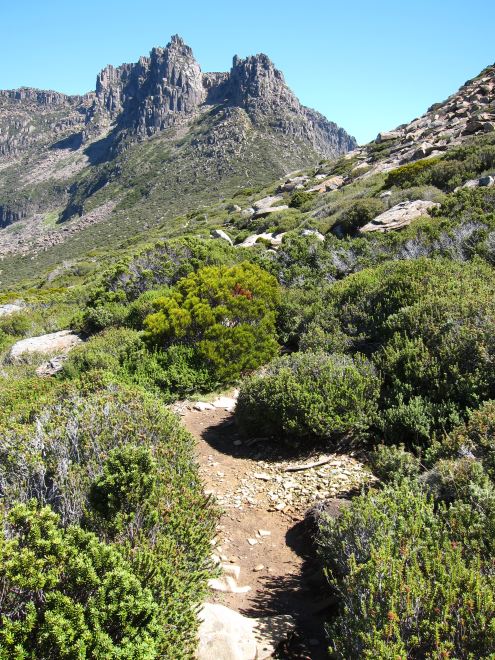 Top
Responsible travel matters, a lot. How you travel will make a real difference - for better or worse. PLEASE consider this when making plans. Read more