Mount Sinai
Key information: Mount Sinai
Mount Sinai is the second highest mountain on Egypt's Sinai Peninsula, and is believed to be the site on which Moses received the Ten Commandments.
This is a grand, harsh desert scenery of broken mountains and deep, dry ravines.
Visitors usually ascend the less steep side of the mountain from the ancient monastery of St Catherine while it is still dark, and then watch the sunrise before descending the much steeper 3,750 Steps of Penitence'. Consider a daytime ascent to get more views and atmosphere, but beware of extremes of heat.
The Mountain's great religious significance is reflected in the various buildings and sites along the way.
This walk can be very crowded, and also entails two or three hours of walking in the dark if you want to catch the dawn.
Walkopedia rating
Walkopedia rating88
Beauty

30

Natural interest

14

Human interest

15

Charisma

32

Negative points

3

Total rating

88

Note: Negs: crowds; a walk in the dark
Vital Statistics
Length:

5 hrs

Maximum Altitude:

2,285m

Level of Difficulty:

Strenuous
Top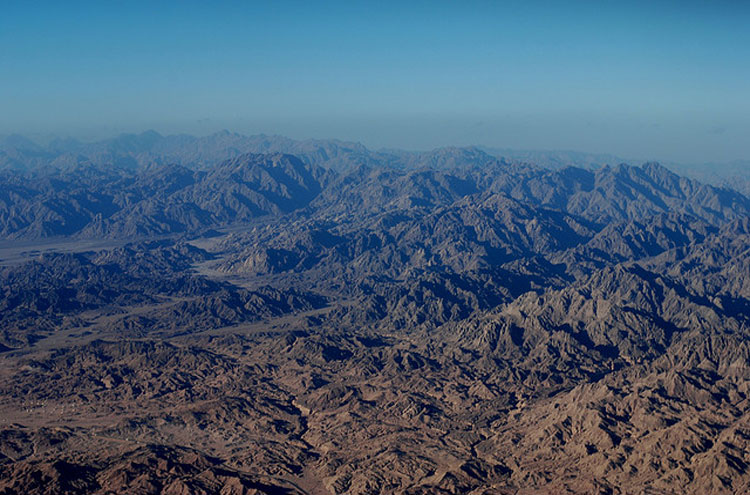 WALK SUMMARY
The Sinai peninsula is perhaps best known for the Red Sea resorts around Sharm-el-Sheikh. However, within the dry and often stark interior looms the remarkable Mount Sinai, one of the Middle East's most sacred mountains, which can be ascended from the marvellous St Catherine's monastery at its foot, and, walked at the right time, provides a stunning view of the Sinai peninsula at sunrise.
The local Bedouins often refer to this mountain as Jebel Musa', the Mountain of Moses. According to biblical legend, it was near the monastery that Moses was confronted with the famous Burning Bush, and it was also the slopes of the mountain that he climbed to receive the Ten Commandments. The area has spiritual significance for the three major religions of the surrounding regions; Christianity, Islam and Judaism, but the moving and rewarding climb is not made any less so by lack of piety.
The only problem with this vast appeal is that the gorgeous views are often shared with several hundred other people, and if you choose to sleep on the summit this makes it a tight, and noisy, squeeze.
Most people climb the mountain when it is still dark, going up the more gentle camel trail (Siket el Basha) and then stopping at a plateau known as Elijah's Basin (complete with the 500 years (or more) old tree upon the spot where the prophet Elijah is said to have heard the voice of God), which is where those spending the night on the mountain sleep. From here there are around 750 steps leading to the summit, and the aim is to have made your way up these before the sun rises the next morning. If walkers want to try out both routes up Mt Sinai, then it is advised to go down the Steps of Penitence' (Siket Sayidna Musa) rather than climb up them they were devised by a monk as (naturally, given the name) a form of penitence, and the 3,000 steps up to Elijah's basin are indeed punishing, although they offer fantastic views of the monastery on the way down.
Once you have completed the walk, St Catherine's monastery, now a Unesco World Heritage Site, is certainly worth a visit. One of the longest surviving working monastic communities in the world, it has for centuries been visited by dedicated pilgrims, and modern visitors can still see a bush claimed to be a descendant of the original burning version within the grounds. Other things worth seeing are the Church of the Transfiguration and the Monastery museum. Naturally, gift shops abound.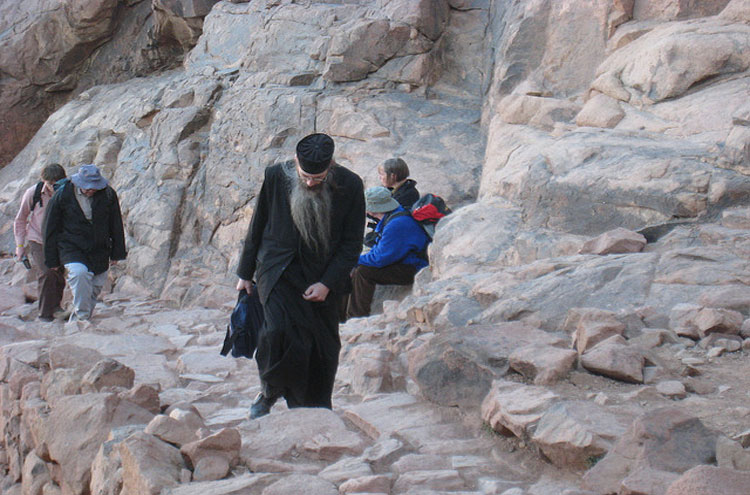 See also expedition planning, including our universal expedition checklist. Walkopedia encourages responsible travel.
Guidebooks/maps/background reading
Guidebooks
Sinai: Egypt Pocket Guides - Alberto Siliotti
Other books
There are a number of books for background reading on Mount Sinai, however they are generally very expensive. The best bet is to look on amazon.com.
Maps
Stanfords: www.stanfords.co.uk.An excellent (and user-friendly) online specialist source of worldwide maps (it is also good for guidebooks).
Best times to walk/weather
Best times to walk
Arriving in the night and walking up the mountain before dawn is the best way to do it, as the sun in the daytime can be very fierce. In terms of season, it is probably best to visit during spring and autumn as the summer is very hot. However, summer is still possible for those who aren't too bothered by the heat, as it is not humid, and you are also less likely to find crowds of people.
Weather
Can reach very high temperatures during the day, but there can also be a huge discrepancy between day and night temperatures, up to 30 degrees. During winter light snow falls can occur, whilst in summer the heat can be overwhelming. If you are walking at night, then bear in mind that the desert-like conditions make for low temperatures whatever time of year it is.
Getting there/transport/permits
There are many international flights to Egypt, some now direct to Sharm el-Sheikh (otherwise it is possible to get domestic flights, usually with Egyptair or Sinai Air Company).

To reach the mountain the only choice is by road, and this takes about 3 hours from Sharm el-Sheikh or Nuweiba, and about 2 hours from Dahab. Buses can be got from Cairo, run by the East Delta Bus Company (Tel: +20-2-4824753 Fax: +20-2-2619784). Buses from Sharm, Dahab or Cairo will normally drop you in the village of Al-Milga, about 3.5 km away from the monastery, and taxis regularly run between the two.
Those on organised expeditions are likely to be transported from Sharm el-Sheikh.
Route(s)
There are two route options up the mountain, along the gentler camel trail (Siket el Basha) or up the steep steps of penitence (Siket Sayidna Musa). See the walk summary for more detail.
Possible problems, health, other warnings
Heat

and strong sun. Carry enough water and protect yourself.

Bring a good torch (head torch) and a warm top if you are climbing in the dark.
See also the websites in our useful links page for more detailed, and up-to-date, information.
Safety and problems: All walks have inherent risks and potential problems, and many of the walks featured on this website involve significant risks, dangers and problems. Problems of any sort can arise on any walk. This website does not purport to identify any (or all) actual or potential risks, dangers and problems that may relate to any particular walk. Any person who is considering undertaking this walk should do careful research and make their own assessment of the risks, dangers and possible problems involved. They should also go to "Important information" for further important information.
Make sure you have appropriate insurance.
Guided or independent?
Independent
Shouldn't cause too much of a problem, providing you have a reasonable level of fitness. However, even if you enjoy walking alone, it is generally recommended that you join a group with a local guide and it is still possible to keep some distance from the main group.
Guided/supported
While this walk can be done independently, many people form or join organised/supported expeditions, or else get a local guide, which is recommended.
Expedition organisers include:
Explore!

www.explore.co.uk

- reputable and experienced organisers. (they do a seven night holiday walking in south-eastern Sinai, which culminates with an ascent of Mount Sinai)

Casterbridge do a camel expedition to Mt. Sinai.
Accommodation
Many visitors do this climb on a day (or night) trip from Dahab or Sharm el-Sheikh, and it is usual for people to spend the night before they climb back down sleeping on the plateau Elijah's Basin (no room for tents, so bring a sleeping bag and some warm clothes). If you are staying in the area longer, or don't wish to spend the night on the plateau, then there is St. Catherine's Monastery guesthouse, with comfortable rooms, good food and somewhere to leave your luggage overnight whilst you climb the mountain. Alternatively, there is a range of accommodation in the nearby village of Al-Milga, where most buses stop.
Other information and tips
Useful websites and information
There are many websites with information on this walk. Here are some that we think are useful or have been recommended to us.
Other things to do in the area
Other walks
The area surrounding Mt Sinai and St Catherine's monastery is ideal for trekking, with several of the most popular being:
A 3-4 day circuit to the Galt al-Azraq (Blue Pools), with the route briefly described in Lonely Planet's

Egypt

.
A walk through the Wadi Nugra canyon to the 20m high Nugra waterfall.

A day hike up Gebel Katarina (named, of course, for the same saint as the monastery – this is where, it is claimed, her body was taken to by angels following horrific torture, and monks later 'found' her 300-year old, perfectly preserved body here).
Other activities
Many visitors will be on a day trip from more built-up areas – the most likely being Sharm el-Sheikh, which is a major centre for diving in the Red Sea.
Shopping, if you must
There is a craft shop in the village of St Katherine's, with more than 200 local tribeswomen making traditional hand-woven handicrafts.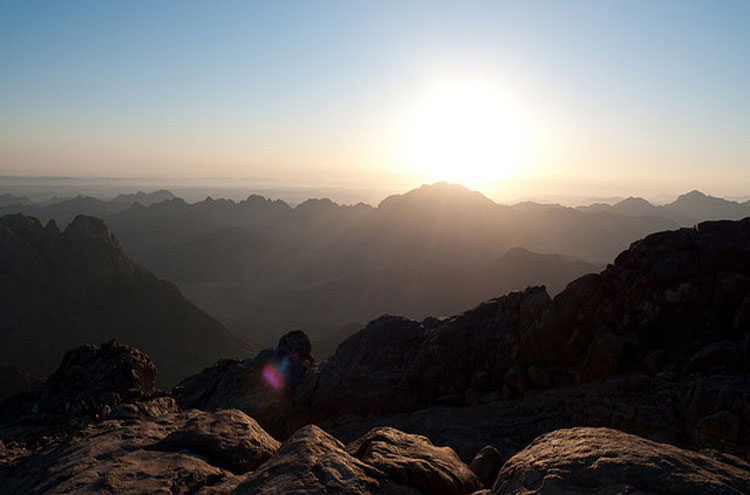 OTHER ACCOUNTS
share your experiences
Top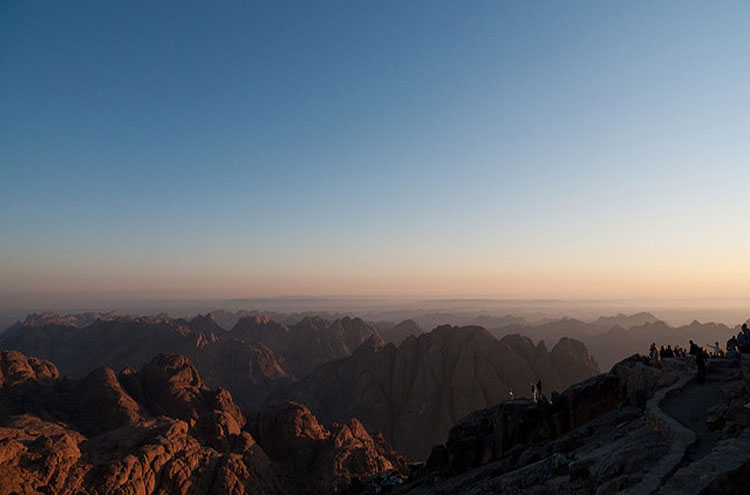 Top
Responsible travel matters, a lot. How you travel will make a real difference - for better or worse. PLEASE consider this when making plans. Read more