Ausangate Trek
Key information: Ausangate Trek
A circular route starting and ending at the traditional village of Tinqui, in the Peruvian Andes.

Experience the beauty of this towering range, and circle the sacred Nevado de Ausangate.

Soaring peaks, calving glaciers, colourful lakes; plus exciting wildlife.

After leaving the lower valleys, populated by colourful mountain people, this walk enters remote, frozen highlands. Snow underfoot, and two passes of over 5,000m. Come prepared.
Walkopedia rating
Walkopedia rating87
Beauty

36

Natural interest

16

Human interest

5

Charisma

34

Negative points

4

Total rating

87

Note: Neg: high altitude
Vital Statistics
Length:

7 Days

Maximum Altitude:

5,200m

Level of Difficulty:

Difficult
Top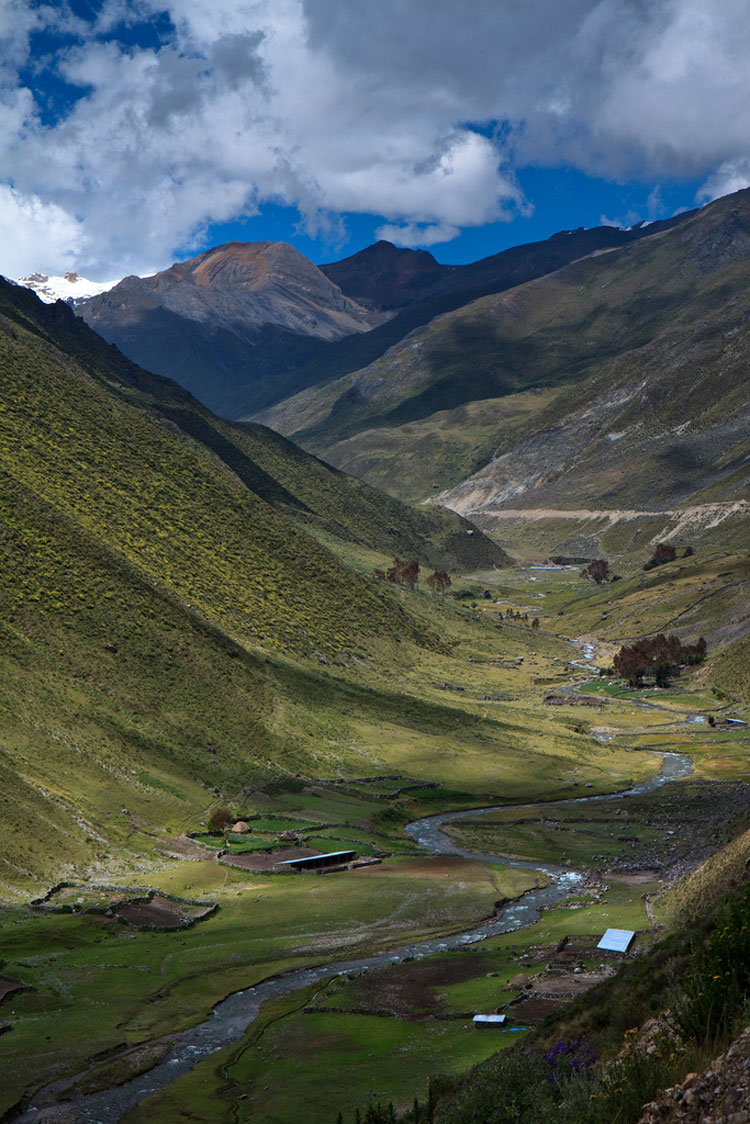 WALK SUMMARY
A tour of Ausangate offers everything one could hope for from a trek: soaring alpine scenery; trailside hot springs; glaciers; lakes; ragged llama and alpaca herds; and colourful mountain peoples giving way to an empty landscape. It is a tough route, with steep uphill and downhill sections and high altitudes, yet the views and the challenge are well worth the pain.
An alternative route could be to the Alpamayo base camp.
6,385m Ausangate is an Apu - a designated holy mountain - and South America's Mt. Olympus, home of the pre-Inca Gods. Quickly you learn to revere this massif too, as the indigenous pre-Inca inhabitants of this forbidding landscape did; and should you visit in June, there still exists a fusion of Christian and ancient pagan celebrations, the Qoyllur Rit'i festival, paying homage to the mountain in a spectacular flurry of colour and activity.
The kaleidoscope scenery runs the entire gamut of blues ethereal cobalt hues far within encroaching glaciers; turquoise lakes; sapphire skies. Crystalline, pure-white snow crunches underfoot for much of the circular route, once away from the villages in the (relative!) lowlands.
Having waited out the necessary acclimatisation period in Cuzco, or somewhere of similar altitude, a transfer to Tinqui heralds the beginning of the expedition. From there, a day's walking will bring an overnight stay neighbouring some hot springs, from which there are some great views to the Nevado de Ausangate itself.
The following day climbs the first high pass (morning), before a trek down into lake-filled valleys: the green Puga Q'ocha, and turquoise Jatan Puga Q'ocha. Most remarkable, though, is Vino Q'ocha a further ridge along; the lake appears blood red, a colour lent by glacial sediment filtering down from nearby mountains, named by local Quechua Indian herdsmen. Wildlife to be seen in this frigid landscape includes the Andean condor and many vincuna, a stocky llama-like animal. In the night you hear ice from a nearby glacier, passed in the next two days, cracking, calving; breaking off in house-sized lumps and falling into vast lakes.
Two ascents on the fourth day of trekking reach altitudes of 4,900m (at Apuchata) and the highest pass, 5,200m Palomani Pass. Respite is finally granted, after the previous days exertions, for day five winds between the lush, broad, green valley of Pampa Jutunpata and the Rio Q'ampa valley, the twin snow-capped peaks of Tres Picos and Puca Punta rearing in the backdrop.

From here, the return trek to Tinqui is fairly straightforward, with another turquoise lake en route, before finishing amongst more hot springs and a small, traditional Andean village (where you can buy a refreshing beer). A perfect end!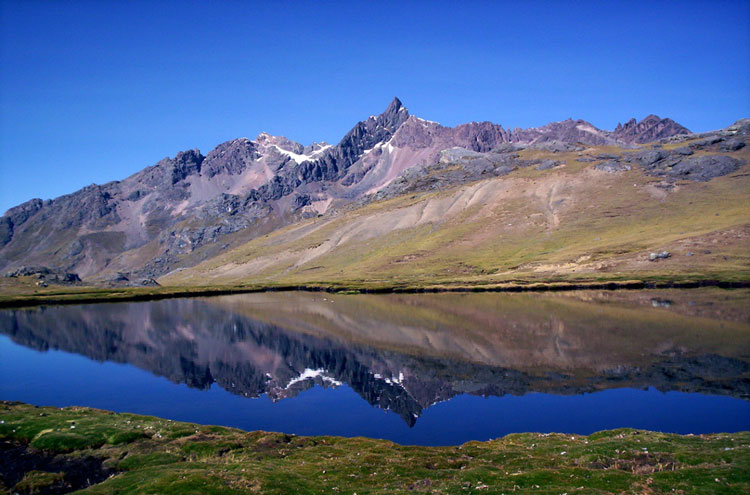 See also expedition planning, including our universal expedition checklist. Walkopedia encourages responsible travel.
Books and Maps
Books on this walk
Trekking in the Central Andes – Lonely Planet
Trekking and Climbing in the Andes – by Kate Harper
Other books
Peru – Lonely Planet
Trekking in Peru: Trekking and Travelling in the Huaraz, Cusco and Arequipa Regions – by Sara Bensonm Rafael Wlodarski, Paul Hellander and Carolina A. Miranda.
Backpacking and Trekking in Peru and Bolivia – Bradt
The Rough Guide to Peru – (recommended by Richard Danbury; Trailblazer Guides)
Maps
Detailed maps can be difficult to come by, so start looking in Cuzco or before and don't leave it until Tinqui!
Stanfords: www.stanfords.co.uk. A good online specialist source of worldwide maps (it is also good for guidebooks). Also try www.mapsworldwide.com and www.trektools.com.
Best times to walk/weather
Best times to walk
June, to coincide with the Qoyllur Rit'i religious festivities; or otherwise, the high season runs through June–August (people still do trek in May and October), even though this is during the winter cold season. However, it is also practicable in December and January, when the wildflowers will be in bloom.
Weather
Remember: Southern Hemisphere – the seasons run opposite to those in the northern.
The highlands around Cuzco experience well-defined winter and summer seasons. The winter season, from June to August, yet has warm and sunny days, although the temperature drops to near freezing in the night. Summer tends to be wetter here, with fuller rivers.
For detailed weather information, have a look at: www.worldweather.org or www.bbc.co.uk/weather/world/country-guides.
Getting there/transport/permits/fees
Expeditions usually start in Cuzco: operators transfer hikers to the start of the walk. Access to Cuzco itself can be had by plane, with approximately 12 flights per day arriving from Lima.
Trains are also an option, from various places, although buses are probably best left alone; prepare for long journeys and uncomfortable conditions.
Route(s)
A loop, or to Urpis (the first camp) or Lake Jatun Puqa Q'ocha (turquoise lake; halfway) and back.
Day 1
Five hours' trekking to the first camp, situated at Urpis (hot springs).
Day 2
Hike to the first pass (Arapa Pass, 4,850m) in the morning; then down into the valley to camp at the turquoise lake Jatun Puqa Q'ocha.
Day 3
Ascend the second pass of Apuchata (4,900m), then down briefly to the shores of Laguna Ausangate. Climb again to the Palomani Pass (5,200m; the highest), an hour from the campsite at Pampacancha.
Day 4
Comparatively easy trekking down valleys towards the community of Q'ampa, before climbing to the final pass (5,000m).
Day 5
An easy trek (about 2 ˝ hours) down to the small Andean village of Pacchanta, the trek's terminus. (The bus from here serves both Cuzco and Tinqui.)
Possible problems, health, other warnings
Altitude:

potentially fatal. Acclimatize appropriately, come prepared to cope, be ready to evacuate people in extreme cases.




Extreme mountain weather:

snow, rain, severe cold and wind are possible at any time of year. Come prepared.

Heights:

can be dangerous; not for those who have difficulties with heights.




This is remote country:

you will have to carry all your food and other supplies, and help will be hard to get if things go wrong.




Health risks:

this is a relatively undeveloped country, and you will not get prompt medical help of a standard available elsewhere if you become ill. Come prepared, including getting all appropriate inoculations/medications.
See also the websites in our useful links page for more detailed, and up-to-date, information.
Safety and problems: All walks have inherent risks and problems can arise on any walk. Many of the walks featured on this website involve significant risks and possible problems. This website cannot, does not purport to, identify all actual or potential risks, dangers and problems that may relate to a walk or a country. Any person who is considering undertaking this walk should do careful research and make their own assessment of the risks, dangers and possible problems involved. They should also go to "Important information" for further important information.
Make sure you have appropriate insurance.
Guided or independent?
Independent
While it is possible to undertake this walk independently, it is not recommended, not least because of difficulties accessing the route; also, it is an extended trek and in remote mountains, involving heavy baggage. Operators can supply animals to carry this.
Guided/supported
Verging on essential, with multiple tour operators based in Cuzco, who organise supplies and baggage transport. You can arrange these upon arrival, particularly during high season (June–August), but they may cancel at short notice if spare places in the group aren't filled.
Accommodation
Accommodation whilst on the trek will necessarily be camping; equipment carried by pack animals if part of an organised expedition. At Cuzco there is a vast array of hotels, pensions and hostels, not to mention no little nightlife. See also our Inca Trails page for ideas.
Hostelbookers usually has a good selection of cheaper-end accommodation.
Other information and tips
Useful websites and information
There are many websites with relevant information. Here are some that we think are useful or have been recommended to us.
Other things to do in the area
Other walks
Peru has a huge variety of great walks. There is likely to be a good walk within range wherever you may be. Try:
The Sacred Valley [Link]

The Cuzco Ruins Trek [Link], taking in the fortress of Sacsayhuaman.
Other activities
Shopping, if you must
We are not a shopping website. But, anything bought from local people must be of some help to this area, whose micro-economies turn on tourism. So, wallets out!
Safety and problems: All walks have inherent risks and potential problems, and many of the walks featured on this website involve significant risks, dangers and problems. Problems of any sort can arise on any walk. This website does not purport to identify any (or all) actual or potential risks, dangers and problems that may relate to any particular walk.

Any person who is considering undertaking this walk should do careful research and make their own assessment of the risks, dangers and possible problems involved. They should also go to "Important information" for further important information.
COMMUNITY COMMENTS AND PHOTOS
Name: edreicop
Posted on: 23/06/2014
I highly recommend the Tierras Vivas http://www.tierrasvivas.com/


Your comments on this walk, your experiences and suggestions, and your photos are very welcome. Where appropriate, you will be credited for your contribution.
Top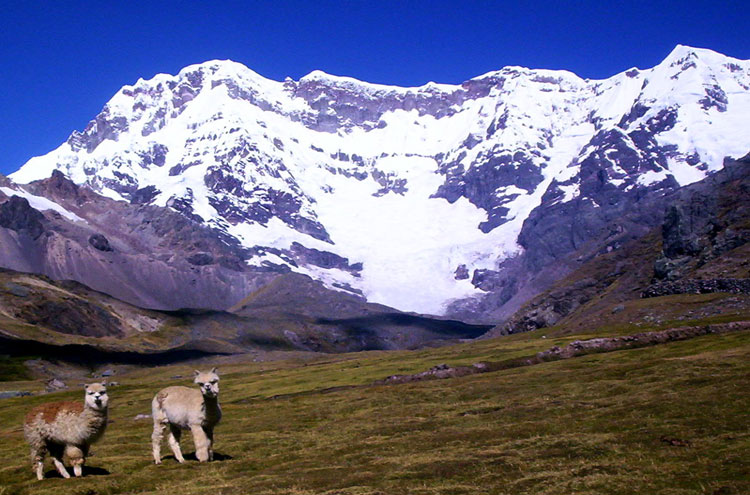 OTHER ACCOUNTS
share your experiences
Top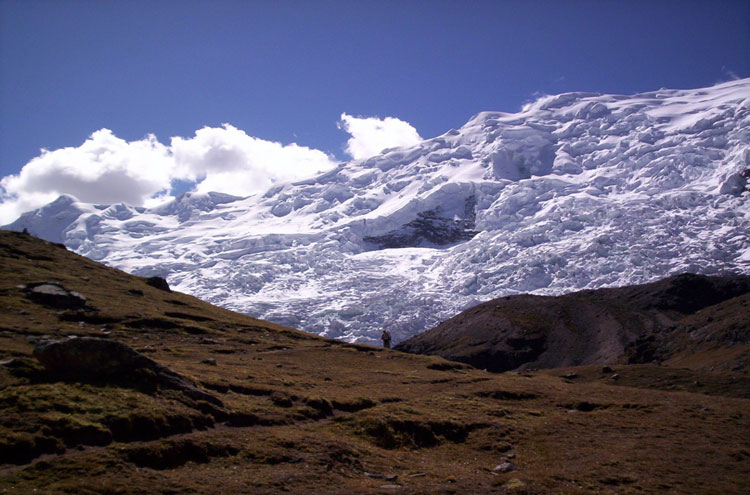 Top
Responsible travel matters, a lot. How you travel will make a real difference - for better or worse. PLEASE consider this when making plans. Read more