Green Lake
Key information: Green Lake
Marvellous trek to where the dazzling, pristine waters of Green Lake, below the Zemu Glacier and high in the Kangchenjunga massif, used to be - before glacial movement and calving drained its frigid bowl.

Long days ascending deep but spectacular valleys to achieve the great views of Kangchenjunga and the great glacier.

This is a tough walk in high, remote mountains where altitude can cause real problems. Come prepared.
Walkopedia rating
Walkopedia rating87
Beauty

34

Natural interest

18

Human interest

4

Charisma

34

Negative points

3

Total rating

87

Note: Neg: altitude
Vital Statistics
Length:

9-10 days

Maximum Altitude:

4,940m

Level of Difficulty:

Difficult
Top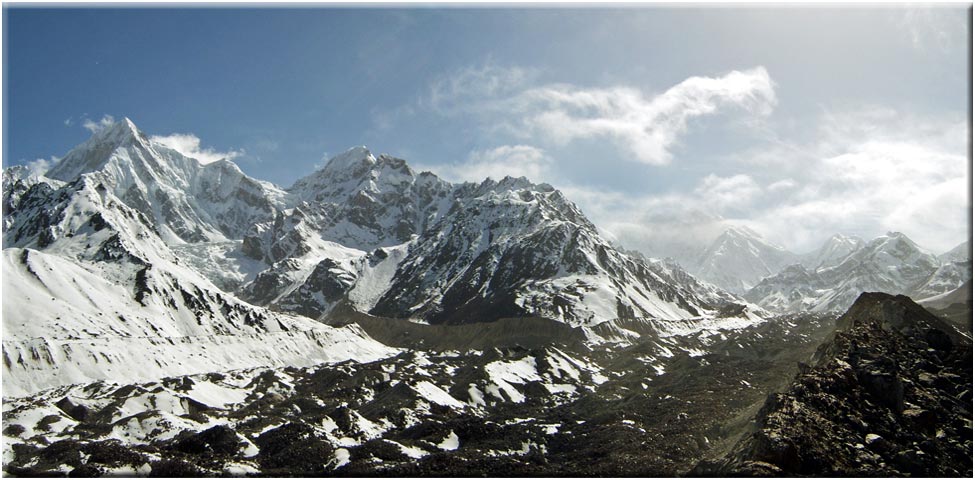 WALK SUMMARY
Marvellous trek to where the dazzling, pristine waters of Green Lake, below the Zemu Glacier and high in the Kangchenjunga massif, used to be ? before glacial movement and calving drained its frigid bowl.

Long days ascending deep but spectacular valleys to achieve the great views of Kangchenjunga and the great glacier.
While much of the trek is spent deep inside spectacular valleys, the scenery is remarkable throughout, and outstanding at its high destination. There are tough days toiling across the Zemu Glacier's lower reaches and moraines, so make sure to spend a few rest days soaking up the scenery and atmosphere as you pass various valley heads.
Sikkimese bureaucracy means it can take months to organize permits to access the protected Green Lake area, and an army of porters and cooks is obligatory. (Contact the Sikkimese Government, and Indian Home Department in Delhi, to set the wheels in motion.)
See extracts from David Brieses excellent account of his trek to Green Lake, the lake-that-was (below), or his full text at www.gang-gang.net/nomad/sikkim/Sikkim05.
Map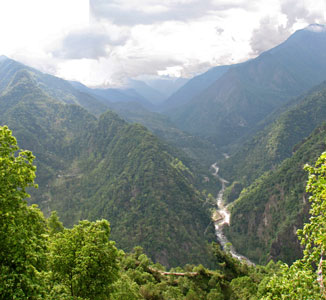 Safety and problems: All walks have inherent risks and potential problems, and many of the walks featured on this website involve significant risks, dangers and problems. Problems of any sort can arise on any walk. This website does not purport to identify any (or all) actual or potential risks, dangers and problems that may relate to any particular walk.

Any person who is considering undertaking this walk should do careful research and make their own assessment of the risks, dangers and possible problems involved. They should also go to "Important information" for further important information.
COMMUNITY COMMENTS AND PHOTOS
Name: Administrator
Posted on: 12/01/2012

David Briese: Walkopedia would like to thank tramper David Briese, based in Oz, for access to his personal account of this magnificent trek, walked with friends. See the full blow-by-blow description and more in his fantastic website www.gang-gang.net/nomad/sikkim/Sikkim05 (in two parts). We love it!
Extracts from David Briese's account:
Day 1: Lachen to Tallem
The grey-green waters of Zema Chu thundered down their boulder-strewn bed, fed by unseen glaciers high up the valley and long thin waterfalls from the steep sides around us. We walked slowly up a well-formed stone path.
Climbing steadily, we crossed several more areas of landslip, where massive boulders had been plucked out of the mountainsides.
Pushing on quickly up and through a jumble of mossy boulders, we finally left the roar of the Zemu Chu behind and climbed up through the conifers to reach a flattish, semi-open area at the junction of two steep valleys surrounded by dark brooding mountains.
We had reached Tallem (3310m), our campsite for the night.
Day 2: Tallem to Jakthang – in the mud
We quickly passed through the grove of budding willows at Tallem, before crossing a field of boulders and a small wooden bridge that crossed a rushing side stream. Soon we were entering a flatter, boggy area, and very quickly after that walked into a forest of fir and rhododendron.
A steep descent of the gully of a side-stream brought us back to the level of the Zemu Chu. From here we followed the valley floor across more forest and boggy grassland until eventually we reached Jakthang, a clearing alongside the churning waters of the Zemu Chu.
Day 3: Jakthang to Yabuk – the company divides
We set forth under once again sunny skies, pushing slowly up the valley of the Zema Chu, heading up and over a forested ridge and crossing a rapidly-flowing side stream on a wooden bridge.
Pushing on, we traversed the narrow path across the first of several treacherous traverses across steep unstable sections of the valley slopes, before passing a spectacular snow chute that had spread across the river, which tunnelled beneath to emerge from its icy prison in a boiling fury.
More narrow traverses, a powerful waterfall where glacial boulders had almost blocked the river and a gradual climb up through the rhododendrons brought us to a magnificent viewpoint looking both down the valley along our recent path and up the valley to where we were heading.
The walk after lunch went quickly, old snow drifts, low deciduous forest, rhododendrons and the odd boggy stretches, until we finally started a steep climb upwards. We had reached the tree-line and the sight of a curious double storey wooden hut announced our arrival at Yabuk (4013m) - our camp for the night.
Day 4: Rest day at Yabuk
Day 5: Yabuk to Sona Camp – what a day!
Climbing steadily at first, we soon made a short steep descent to the level of the Zema Chu, reaching the enormous rocky U-shaped bed, left by the retreating glacier. The cairn-marked track led us slowly and steadily up the boulder-strewn valley and across the steep scree slope.
Reaching the top, we were greeted with the sloping face of the Zemu Glacier, covered in glacial sand and rubble, with only the odd patch of ice visible.
The track became less steep for a while as it entered a narrow valley between the lateral moraine and the mountain slopes, and soon we had our first glimpses of mighty Kanchenjunga. We followed a small stream up this valley, which broadened into a grassy flat with stone paths and circles left by long-gone yak-herders, then narrowed forcing us to criss-cross it.
Crossing a jumble of boulders, we found ourselves looking over a large flat gravel bed, at the end of which lay the enormous bulk of Kanchenjunga, with the double top of Twin Peaks (7365m) to its right. To our left, Siniolchu and its razor-back ridges towered above the rugged lateral moraine.
A check had revealed that there was no suitable water at Rest Camp and our porters decided to set up camp here at Sona (4505m).
Day 6: Sona Camp to

Green

Lake
Our assault party of 7, Wangchuk, Pemba, Allu, the two Indian soldiers, Ian and myself, left at 7.15 am and headed back up the flat gravel bed and across the juniper-covered rock jumbles to Rest Camp - directly opposite Siniolchu and its pristine glacier flowing down into the mighty Zemu ice river. From here we continued a steady climb between morain and mountain, crossing a long stony flat, before starting a steeper, though still relatively gentle, ascent up through the brown-leafed juniper bushes.
Finally, we reached a point where we could overlook the Zemu Glacier, a landscape in its own right. Pushing on across a grassy alpine meadow, we soon found ourselves trudging through icy wet snow, reaching a trek highpoint of 4940m, before a slight descent took us to Green Lake campsite (4930m), nestled below Nepal Peak. In reality, Green Lake no longer exists; having been drained when the glacier opened up on one side.
The descent back to Sona was done in half the time.
Day 7: Sona Camp to Yabuk – the way down again
It would be an easy day, retracing our steps down the valley between mountain and morain to the head of the glacier. After the long descent, we had only one short steep climb to reach the sloping plateau of Yabuk.
Day 8: Yabuk to Tallem – a double descent
It was time to do a double descent, skipping the campsite at Jakthang and heading straight on to Tallem, 700m lower down the valley. Going down is just so much easier.
Following the sinuous path down through forest and clearings along the steep-sided valley, we remembered what a tiring track we had ascended 6 days earlier.
Another short steep climb, to remind us of earlier efforts, was followed by a long steady descent through fir and rhododendron forest.
One last bridge-crossing and we arrived at the willow flat of Tallem - the ground flora had grown noticeably since we set up camp there on our first night and the willow catkins and buds were bursting out.
Day 9: Tallem to Lachen – home again!
We found ourselves on the paved track once again, descending through the beautiful old fir forest to the Zema Chu.
New growth was everywhere; the light green tips of the young firs sprouting, willow catkins swelling, wild berry canes reshooting, and deciduous trees leafing up. We were farewelled by the rhododendrons, splendid in their ornate red, pink, mauve, apricot and cream blooms and by the simple white blossoms of the wild roses. Finally we reached the trackhead at Zema.
And then the trek was over - a rumbling from the road below signalled the arrival of a "goods carrier" (one of the monster ornately-decorated Tata trucks used for transport in India) to carry us back to Lachen.
© David Briese. See his full account and much more in his fantastic website www.gang-gang.net/nomad.

Your comments on this walk, your experiences and suggestions, and your photos are very welcome. Where appropriate, you will be credited for your contribution.
Top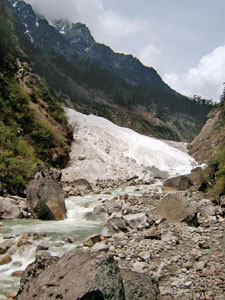 Top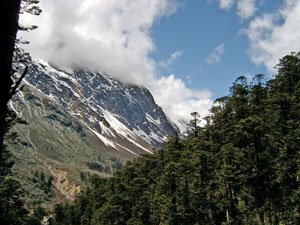 Top
Responsible travel matters, a lot. How you travel will make a real difference - for better or worse. PLEASE consider this when making plans. Read more