Lycian Way
Key information: Lycian Way
The magnificent Lycian Way winds some 510km along Turkeys south-western coast.
The ruins of Lycian, Greek and Roman cities litter the area. Enjoy spectacular views over the Mediterranean coast and the rugged, mountainous scenery.
The path avoids the main tourist areas, and allows you to experience the natural beauty and welcoming locals of the Tekke Peninsula.
Some dull sections, but they can be hopped across using local transport.
Walkopedia rating
Walkopedia rating87
Beauty

31

Natural interest

14

Human interest

10

Charisma

32

Negative points

0

Total rating

87
Vital Statistics
Length:

510km

Optional

Maximum Altitude:

1,800m ( (2,366m if you climb Mt. Olympos)

Level of Difficulty:

Variable
Top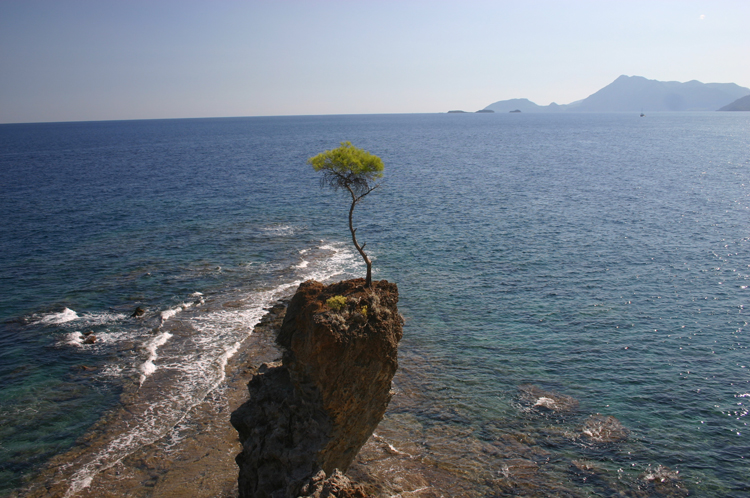 WALK SUMMARY
The Lycian Way, in the partly protected Tekke Peninsula in Turkeys south-west, has only relatively recently been created, mapped and marked, and was opened in 1999 as the first long-distance way-marked trail in Turkey, comprising some 509km of ancient roads, mule trails, and forest paths between Fethiye and Antalya. The Way was the brainchild of the remarkable Kate Clow, who researched, planned and way-marked it. Most of us will only be able to walk sections.
The huge variety of the trail is a particular delight: the high, lonely peaks of the Taurus Mountains southern flanks, to tough, rocky plateaus, to olive groves to meadows (revel in the wildflowers in spring), to wheatfields, to the coastal cliffs and long, glorious beaches of the Turquoise Coast. You will pass Greek and Roman remains temples, theatres and amphis, houses, whole cities, even this was a highly prosperous backwater for centuries Byzantine churches and towns, Genoese and Ottoman forts, medieval-feeling hamlets.
Highlights are endless, and include:
The climb of 2,366m Tahtali Dagu (

Mount Olympos

), an "alternative" section of the trail;

Patara (for the amphitheatre, aqueduct and other ruins of what was once a 20,000 strong Roman city, and for its 12km beach);

Ucagiz (for its harbour, sunken ruins, and a castle);

Goynuk (for a swim in the canyon);

On the east coast, the ruins of ancient Olympos and Phaselis, and the wild, beautiful Gelidonia Peninsula, with its lighthouse looking over islands and a graveyard of ancient ships; and you need to take a side-walk to

The Chimaera

if in the area.

The remote, rugged inland Baba Dagi massif;

Kas to Sura or Uchaz (Kate Clow?s favourite coastal stretch);

Mira to Finike, through cedar forest with fine views;

Lovely, (relatively) remote Butterfly Valley near Faralya is just off the trail itself but a particular favourite, and a day expedition if you want. Walk in down the spectacular cliffs from Faralya ? not for those with vertigo. Great walking, and a fine beach ? but you won?t be alone when you get there.
The historical background and ruins of the area endlessly enhance the walk, as you follow in the footsteps of Alexander the Great through a parade of Mediterranean civilizations. The Lycian coastline came into historical focus in the Bronze Age, on the shipping routes between Greece and Egypt. The area was conquered by the Persians, then Alexander the Great, then, after a couple of hundred years of independence, the Romans; it flourished for centuries, then went into decline while part of the Byzantine Empire, as central weakness and Arab raids turned the area into an impoverished backwater.
Although the Lycians absorbed many aspects of Greek and then Roman culture, they had an individual style (synthesized over time, with Persian, Greek, Roman, Byzantine and Turkish influences) which permeates their art and architecture; this fascinating trail leads its followers past many of their remote archaeological sites, as Lycian graves and ruins are scattered all over the peninsula.
Captivating history and culture aside, the Lycian Way has much to offer: the natural beauty of Turkey without tourist crowds, as the track winds through forest, along beaches, up mountains and past small bays, usually with glorious views of the Mediterranean and the surrounding landscape. The folded, eroded limestone peninsula contains excitingly changeable landscape, from peaks and ridges, to pockets of high pasture, to gorges, to lovely varied forest and farmland in the lower reaches. Animal life is not its strongest point as a result of fairly unregulated hunting, but is interesting nonetheless, with a variety of birds. The spring wildflowers are gorgeous.
The trail also gives a fascinating insight into contemporary rural Turkey, and introduces hikers to the friendliness of the local villagers, in whose houses it is often possible to stay. Accommodation is more likely to be small, characterful hotels, which are almost all run, in our experience, by charming and helpful people.
It is difficult to find problems with this walk, although you need to be reasonably fit. There are some dull (dreary, even) sections of polytunnels and towns, but they can be skipped over using local buses or taxis. Having a firm to anticipate and leapfrog you across those to the next good bit has real advantages.
The walking, although not inherently difficult, can be tiring as a result of the heat and sea-humidity in much of the year: a rest day or two is as a result a welcome delight. Explore ruins, take a boat (gullit) out for the day; swim and snorkel; and just hang out in lovely, tranquil spots.
It will take you up to four weeks to walk the entire route, although most people walk shorter sections, usually (but by no means always) supported by a company that moves their luggage between stops, or even guides them along. A lot of this trail can be walked as day walks.
On the western parts of the trail, accommodation is easy to come by, ranging from small hotels to rooms in houses, often in atmospheric settings. Further east, it is less plentiful in some places and you will need to camp some of the time.
Marvellous as it is, the Lycian Way is overhyped on the basis of a

Sunday Times

article including it in the worlds top 10 walks. They haven't travelled.
WILLIAM MACKESY'S ACCOUNT
of this walk
Journey-excitement, poor sleep and a 3am get-up made for dopey travel and a very early bed last night. We are now up, hugely breakfasted and ready to march on the porch of our "atmospheric" if dimly lit hotel on a high ridge back from the Lycian Mediterranean. Bright sunlight and huge views down a gorge to the distant sea heighten our anticipation.
READ MORE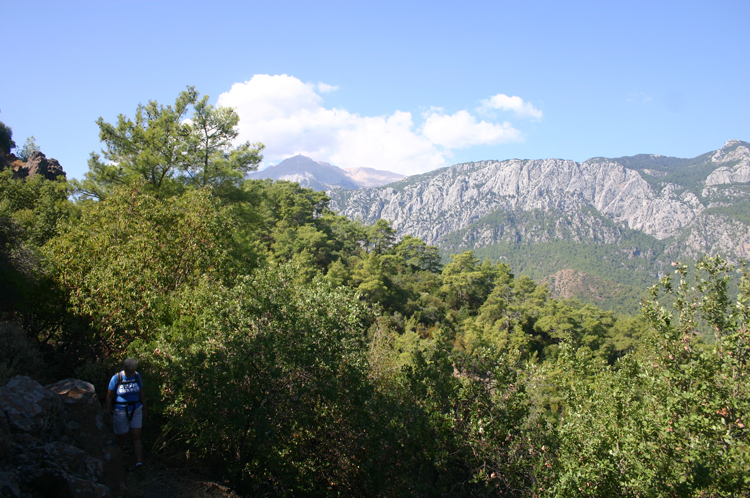 See also expedition planning, including our universal expedition checklist. Walkopedia encourages responsible travel.
Guidebooks/maps/background reading
Books about this walk
The Lycian Way – Kate Clow. Essential.
Other books
The Lycian Shore – Freya Stark
Turkey – Lonely Planet
Chapter in Trekking Atlas of the World – Ed. Jack Jackson.
Chapter in Trek! The Best Trekking in the World– Claes Grundsten.
Turkish Coast: Antalya to Demre
Turkish Coast Pocket Guide – Berlitz Travel
Clean Breaks: 500 New Ways to See the World – Richard Hammond and Jeremy Smith
Maps
A basic map is included in The Lycian Way, listed above. Maps don't seem very easy to come by, although they will be provided by expedition organisers.
Best times to walk/weather
Best times to walk
During the spring (March-June) and the autumn (September – November), as the summer is blisteringly hot (indeed, June and September will be too hot for some). December and January have heavy rainstorms. January to April will often mean standing snow on high ground. April can be showery.
Weather
The peninsula has long, hot, dry summers and short, rainy, warm winters; it is considered warm enough to swim there for nine months of the year!
Getting there/transport/permits
There are many cheap flights available either to Antalya, or to Dalaman, from here there are scheduled Bus services to Fethiye.
Those on organised expeditions are likely to be transported from Fethiye or Antalya.
Route(s)
The Lycian Way begins in Fethiye and follows a 509km route, usually walked eastward, to Antalya. The walking becomes more difficult further away from Fethiye, and the route zig-zags to the sea and back, whilst also ascending and descending various mountainous areas near the coast.
Possible problems, health, other warnings
See also the websites in our useful links page for more detailed, and up-to-date, information.
Safety and problems: All walks have inherent risks and potential problems, and many of the walks featured on this website involve significant risks, dangers and problems. Problems of any sort can arise on any walk. This website does not purport to identify any (or all) actual or potential risks, dangers and problems that may relate to any particular walk. Any person who is considering undertaking this walk should do careful research and make their own assessment of the risks, dangers and possible problems involved. They should also go to "Important information" for further important information.
Make sure you have appropriate insurance.
Guided or independent?
Independent
You can do this walk independently, but you will need to be well prepared for eventualities. You can book accommodation ahead, or take pot luck, although the latter can of course have its risks.
Guided/supported
There are many opportunities for guided or self-guided walking, with the benefit of luggage transportation.
Other expedition organisers include:
Different expedition organisers tend to approach the trail in different ways. There are guided (or self-guided but supported) walks along much of its length, whilst it is also possible to remain in one base and be transported to various points along the Way on each day, or to find a shorter holiday. Guided/supported expeditions tend, however, to last a minimum of 5 days.
Accommodation
There are various different types of accommodation along the Lycian Way; pensions and small hotels are found during the first part of the route, as well as in the more built-up areas, whilst later on it is usually possible to find a local who is willing to let you stay in their home, or to camp out (which does not require permission).
A benefit of using an organizer is their experience in booking suitable accommodation (and transport if needed).
On the East Coast, we especially liked:
Other information and tips
Useful websites and information
There are many websites with information on this walk. Here are some that we think are useful or have been recommended to us.
Other things to do in the area
Other walks
This walk should really be enough for most people – for one trip anyway! We combined the Lycian Way with time in Cappadocia.
The St Paul Trail, which was researched and designed by the same people as The Lycian Way.
Other activities
Along the walk there are plenty of opportunities to indulge any interests in history and archaeology, with many coastal and more remote sites, as well as the potential for swimming in the canyon at Goynuk (and in the Mediterranean!). Hire a boat

(Gullit)

for a day or longer. Swim, snorkel, dive.
Safety and problems: All walks have inherent risks and potential problems, and many of the walks featured on this website involve significant risks, dangers and problems. Problems of any sort can arise on any walk. This website does not purport to identify any (or all) actual or potential risks, dangers and problems that may relate to any particular walk.

Any person who is considering undertaking this walk should do careful research and make their own assessment of the risks, dangers and possible problems involved. They should also go to "Important information" for further important information.
COMMUNITY COMMENTS AND PHOTOS
Name: Administrator
Posted on: 08/12/2014

Walk-friendly Hotel near Antalya
Hello, We would like to give you some info about our nature and ecology friendly boutique hotel which hosts various types of walking and hiking tours in Turkey around Lycian Way routes and areas.
Please find our detailed information below and visit our website www.erendiz.de ERENDIZ HOTEL Aslanbucak Mah. 263 Sk. No:5 07980 Kemer/Antalya/ Turkey Relaxed vacation in a peacefull green oasis. · Our privately owned hotel (german owner) stands for ecology and environmentally - ..sensitive Tourism. · Completely german and english speaking team.
· We offer guided outdoor walking tours and a variety of side trips for your leisure time (no shopping stops on any of our excursions). TREKKING TOUR KESME CANYON HIKING TOUR TO KEMER CALISTEPE MOUNTAIN PHASELIS HIKING AND SWIMMMING HIKING TOUR TO THE BLACK MONOLITH CHIMAERA, ULUPINAR, YANARTAS, CIRALI HIKING TOUR ADVENTURE TOUR GOYNUK KANYON OLYMPOS HIKING AND SWIMMING ·
Child-friendly atmosphere. Pets are allowed. · Car rental and bicycle rental within the hotel premises. · Information about culture, country and people. Guide availiable. · Individual sports such as yoga, fitness and the posibility of individual sessions for stress ..reduction. · Beach area located at the Kemer Kindlbeach Park. Discover more on our following pages www.erendiz.de www.facebook.com/erendizhotel OUR RESORT • 3 ½ Stars. • half board / Breakfast and dinner • Time table of the reception 24h • time check-out is At 12.00 o'clock • Children are free until 5.9 years. • All our rooms are Non Smoking rooms • All rooms have a big double bed + 1 single bed. • SPA, Hamam (massages are extra charge) • We accept Visa, Mastercard, Maestro • Most of our rooms are triple rooms (1 double bed + 1 single bed). • There is actually no room with just 1 single bed. 4.500 sqm garden paradise. . Private beach at the Kemer Kindl Beach with shuttelservice · Many lovely small details in the garden and in the rooms. · Turkish teahouse. · Small cabanas to relax, read and dream. · Hammocks. · Romantic pool bar. · Large pool 25 x 15 meters. · Romantic evening lighting. · Yoga / Fitness place. · Table tennis and table football. · Garden pond with a small bridge. · Many tame animals such as peacocks, cats, dogs, chickens, chicks, ducks, rabbits and ..guinea pigs (of course in a small enclosure). · WLAN / WI FI free of charge throughout the resort.
Name: smalltrek
Posted on: 23/04/2015
Your write up has plenty of great information and links. It would also benefit from a link to http://trekopedia.com/?page_id=471 A free wiki completely dedicated to the Lycian Way trek itself. Route Sections, Communities, Accommodations, Attractions, Services, Points of Interest, Resources/Links, and gps tracks.

Name: Map
Posted on: 13/09/2015
Lycia West Hiking Map (http://www.map-site.de/onlineshop/Hiking-trekking-maps/Lycia-West-Hiking-Map-1-50-000-Martin-Hoepke::18.html) Lycia East Hiking Map (http://www.map-site.de/onlineshop/Hiking-trekking-maps/Lycia-East-Hiking-Map-1-50-000-Martin-Hoepke::19.html) (Also available over several bookstores and Amazon.de/Amazon.co.uk I'am the publisher of the maps.


Your comments on this walk, your experiences and suggestions, and your photos are very welcome. Where appropriate, you will be credited for your contribution.
Top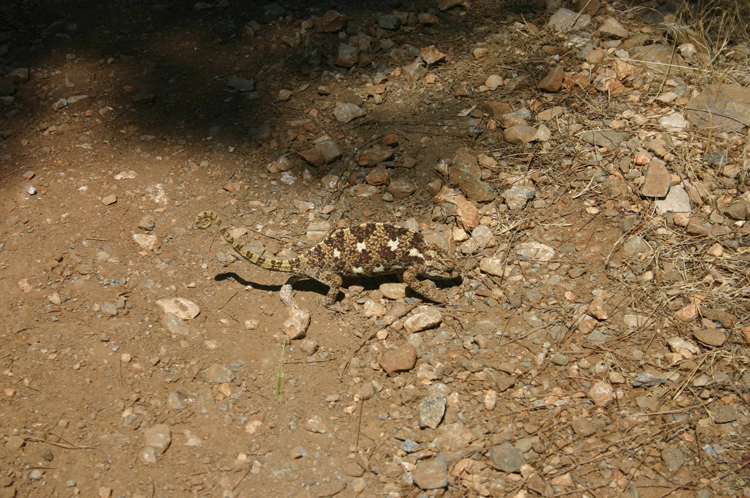 OTHER ACCOUNTS
share your experiences
Top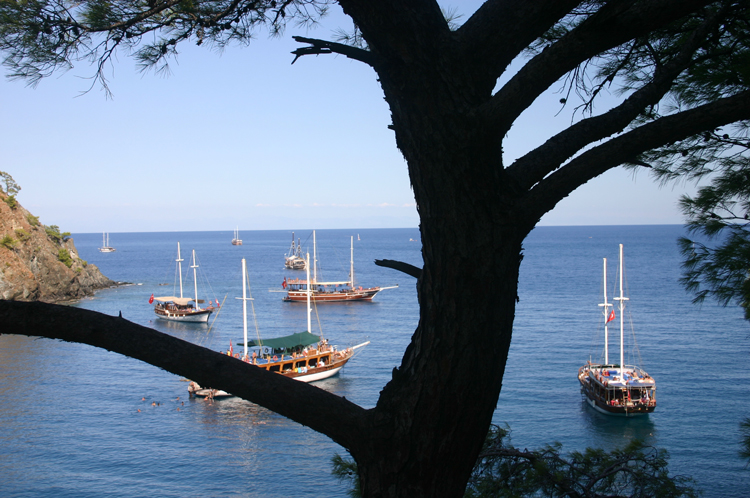 Top
Responsible travel matters, a lot. How you travel will make a real difference - for better or worse. PLEASE consider this when making plans. Read more