Tenerife
Key information: Tenerife
This remarkable volcanic island peaks out at 3,718m El Tiede, Spain's highest mountain.

The undoubted highlight is the Las Canadas and El Tiede area, a huge caldera ringed by thousand-foot cliffs, with magnificent Tiede to the north and a dramatic floor of lava flows.

A plethora of superb trails throughout the island, from Tiede's high, cindery outer slopes to the drama and beauty of the Anaga and Teno peninsulas, to the cloud forests of La Orotava.

Huge views over the crags and chasms of the caldera; and, from the outer slopes, across craters, fumeroles and barrancos down to the ever-present sea.

This can be tough walking in serious mountains: prepare.
Walkopedia rating
Walkopedia rating86
Beauty

32

Natural interest

18

Human interest

2

Charisma

34

Negative points

0

Total rating

86
Vital Statistics
Length:

Variable

Maximum Altitude:

3,718m

Level of Difficulty:

Variable
Top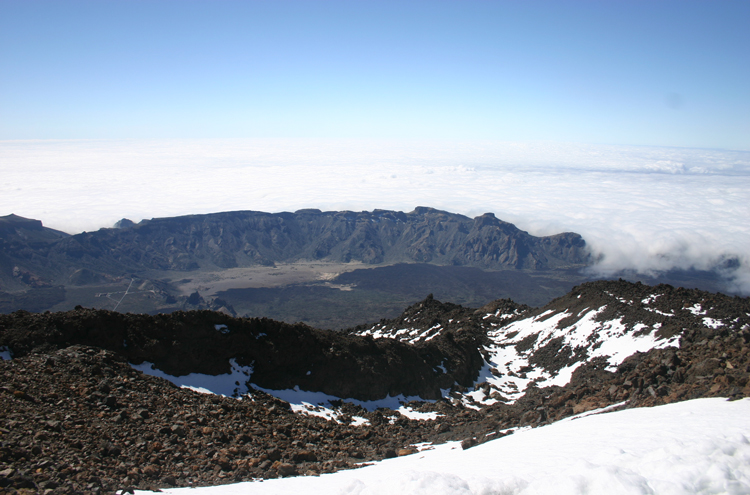 WALK SUMMARY
Imagine an underwater volcano so large, it has grown from the deep ocean into an island nearly 4,000 m high. It is subject to a catastrophic collapse, the whole of its highest massif, the Canadas Edifice, falling back into the sea, leaving a huge abyss surrounded by a crescent of cliffs hundreds of metres high. In a mere 170,000 years, a new volcano grows that dwarfs the rim - remnant of its predecessor, filling the great hole with its hot spewings. It in turn is supplanted by its unruly offspring, so energetic that it nearly overwhelms its worn-out parent, growing so that it stands more than 500m above it, the tallest mountain in a mountainous country. That island is Tenerife; that clogged-up abyss the Las Canadas caldera, that young mountain, El Tiede.
Tenerife is some 70km long, and has many remarkable walking areas, although the most famous is:
Las Canadas and El Tiede
When the Canadas Edifice collapsed in a northward landslip, it created a huge caldera - now called Las Canadas - surrounded by a great jagged curve of cliffs to the South. Subsequent eruptions have filled in much of the abyss, creating in a geological scintilla the much higher - grand but not lovable - peak of El Tiede (at 3,718m) in its centre, with great lava flows running off it into the crescent-shaped depression, which has filled up a long way but is still surrounded by huge cliffs on its southern curve.
The present Las Canadas caldera is 16km long and five or so wide, a series of arid gravelly flats almost overwhelmed by the vast lava flows of the millennia.
This natural and visual drama makes for thrilling walking it is in our Top 100. See our Las Canadas and El Tiede page for more information. If you can, spend at least two, preferably three days in this area.
While most walkers come to Tenerife to experience Las Canadas, or to climb El Tiede, there are many superb walking areas, and we recommend that, having made the effort to come here, you allow time to explore more widely...
Central Uplands
Other excellent walks in the central uplands include:
The 17km, five hour trail from El Portillo to the perfect, wooded but over-municipalised little crater of La Caldera in the La Orotava valley (or vice versa) - Cicerone 25, Sunflower 8. Superb views and colours as you contour round the central mountainside before dropping steeply through attractive Canary pine forests and cloudy shrub to La Caldera. The best views are from the deep red top of the Montana de Limon, five minutes above the trail, El Tiede's snowy peak presiding over the convulsed, colourful upper slopes and quiet forests below, all of it sitting on a carpet of perfect virgin cloud when we were there. Tip: Start the walk where it leaves the surfaced road, some 3-4 km from the El Portillo junction. This cuts out some dull road bashing.

The short walk in the lava-gravel area around Samara. Or a longer but superb-sounding trail from La Montanaeta to Los Silos (Sunflower 16) through bleak, cindery scenery.

Various walks from Las Canadas down the mountainside to the upland towns, with wonderful sea views and volcanic scenery - see the Cicerone guide (eg walk 34): walk 41 sounds particularly intriguing, from Chiuyero down rounded slopes of dark cinders, littered with struggling Canary pines, is bleakly beautiful and dotted with intriguing little craters and other volcanic detritus.
La Orotava Valley
The "valley" - in fact the remnants of another vast landslip, as evidenced by its cliff walls many kilometres apart - has wonderful laurel, tree heather and Canary pine forests above the rather dreary, densely populated coastal farmland and towns, some of which - La Orotava and Puerto de la Cruz - have delightful old centres.
It is worth making time to walk in the area above La Caldera. See our La Orotava page.
Anaga Peninsula
This rough, green peninsula in Tenerife's wetter north-east is also worth a visit. Wonderful vegetation and views of sharp, maze-like volcanic ridges, with the sea far below as an ever-present backdrop.
See our Anaga Peninsula page.
Teno Peninsula
In the north-west is the drier, starkly beautiful Teno Peninsula. Deep, steep valleys, intriguing villages, beautiful coastline. This makes for yet more superb walking. These are well written-up in Cicerone and Sunflower. See in particular the Fleytas to Mirador de Baracan to Punta de Teno walks. The walk down to the sea on the Barranco de Masca is very popular (Cicerone 42-44). Sunflower has various options, including No. 19, from La Tabaiba to Buena Vista.
________________________________
An example of a possible itinerary (and demonstration of the need for flexibility to cope with possible weather changes), based on our own journey, would be:
On arrival: stay at Puerto de la Cruz or La Orotava; short Orotava walk.
Day 2: Walk in El Portillo area on western upper slopes to acclimatize. Stay in Las Caadas Barador.
Day 3: Roques de Garcia, early enough for good light; short rest, then La Guajara, returning in late afternoon light.
Day 4: Ascent or descent of El Tiede, if weather permits (or swap with Day 5).
Day 5: More walking in Las Canadas or outer slopes, to suit your tastes.
Day 6: Walk on Teno or Anaga peninsulas, depending on which airport you fly from.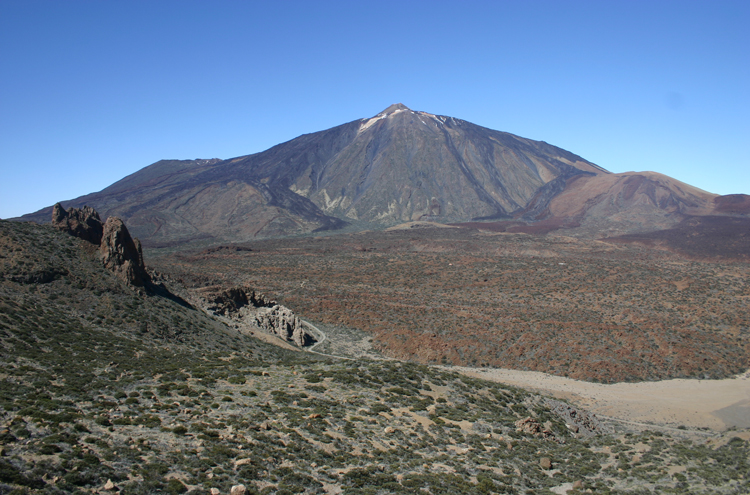 See also expedition planning, including our universal expedition checklist. Walkopedia encourages responsible travel.
Books and Maps
Books on this walk
Canary Islands: 1 West – Cicerone: excellent ideas and information as usual, a must-take
Tenerife – Sunflower Landscapes: a good complement to the Cicerone
Walk! Tenerife – David Brawn
Other books
Canary Islands – Eyewitness Travel Guides – brief but very accessible.
Canary Islands – Lonely Planet Country and Regional.
Tenerife – Globetrotter Travel Pack.
Native Flora of the Canary Islands – Miguel Angel & Cabrera Pérez.
Flora of the Canary Islands – David Bramwell.
Maps
Tenerife Hikers Map – David Brawn – Doesn't cover all areas, but worth having.
Free Tenerife maps are easily available in situ.
Stanfords: www.stanfords.co.uk. A good online specialist source of worldwide.
Best times to walk/weather
Best times to walk
Very broadly, the north gets quite a lot of rain, and is often humid; the south a huge amount of sun and little rain; the Tiede Massif, cloud quite a bit of the year and some snow in winter. Subject to that, you can walk all year, though the best times are spring and autumn. Winter is lovely if you stay lower (high-up is unpredictable). Summer can be blazingly hot.
Weather
The weather depends on the direction of the wind at the time. There is often a bank of cloud around the upper reaches – although the Las Cañadas area is usually above it, with wonderful views in bright sun across a 'sea of clouds'.
The weather is unpredictable, so always come prepared for rapid change.
For detailed weather information, have a look at: www.worldweather.org or www.bbc.co.uk/weather/world/country-guides.
Getting there/transport/permits/fees
Flights to two international airports, in the north and south.
Hiring a car gives you a lot of flexibility and is easy. Many people hire taxis to get around: excellent for non-circular walks, although the cost is best shared! You can get about by local bus, and the Sunflower Guide is good on routes that link up to walk roadheads.
Permits are needed to climb the final section of the El Tiede peak, and used to be obtainable only in at the National Park office in Santa Cruz. However, as at March 2011, permits had to be got at www.reservasparquesnacionales.es and turned out to be bookable only four days ahead. Infuriating. Check the latest on this.
Route(s)
See Walk Summary above.
Map of Tenerife
By Mysid. License: Attribution-Share Alike 3.0 Unported.
Possible problems, health, other warnings
Altitude:

can affect you on the upper reaches of El Tiede. Be prepared and acclimatize appropriately.




Mountain weather:

snow (in winter), rain, severe cold and wind are possible on the high mountain. Rain and humidity in the north. The weather and temperature can change rapidly. Come prepared.




Heat

and strong sun. Carry enough water and protect yourself.




Heights:

can be dangerous; not for those who have difficulties with heights.




Dogs

and chained billy-goats in farming areas

. Bring a stick and take appropriate precautions.




Canyon dangers:

canyons can be lethal, particularly as a result of

flash floods

. Assess and prepare for all risks on those walks involving canyons.


Parts of Tenerife are remote:

and help may be hard to get if things go wrong.
See also the websites in our useful links page for more detailed, and up-to-date, information.
Safety and problems: All walks have inherent risks and problems can arise on any walk. Many of the walks featured on this website involve significant risks and possible problems. This website cannot, does not purport to, identify all actual or potential risks, dangers and problems that may relate to a walk or a country. Any person who is considering undertaking this walk should do careful research and make their own assessment of the risks, dangers and possible problems involved. They should also go to "Important information" for further important information.
Make sure you have appropriate insurance.
Guided or independent?
Independent
You can do these walks independently, but come prepared.
Guided/supported
There are excellent organised/supported expeditions available. Organisers can arrange for permits to be obtained. Expedition organisers include:
Accommodation
Staying in a town or village (or in a coastal hotel if you don't mind hordes of tourists) and driving out for day walks is the recommended way. The guidebooks have some recommended accommodation.
You should stay at the slightly tired Parador las Cañadas, over 2,000m up in the amazing Las Cañadas caldera: you can do two days' walking straight from the hotel.
Hostelbookers usually has a good selection of cheaper-end accommodation.
Other information and tips
Useful websites and information
There are many websites with relevant information. Here are some that we think are useful or have been recommended to us.
Other things to do in the area
Other walks
There is a huge variety of great walks on the other Canary Islands, if you want to travel around.
Other activities
Endless: riding, sailing, cycling, diving, surfing, fishing. Sunning yourself and swimming!
Safety and problems: All walks have inherent risks and potential problems, and many of the walks featured on this website involve significant risks, dangers and problems. Problems of any sort can arise on any walk. This website does not purport to identify any (or all) actual or potential risks, dangers and problems that may relate to any particular walk.

Any person who is considering undertaking this walk should do careful research and make their own assessment of the risks, dangers and possible problems involved. They should also go to "Important information" for further important information.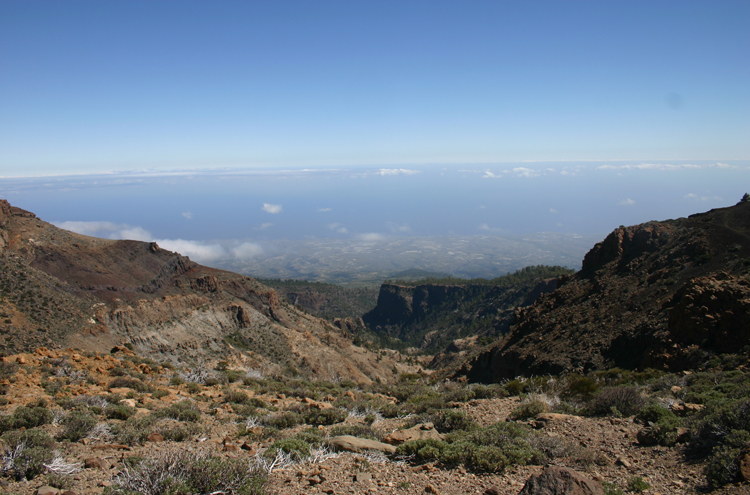 OTHER ACCOUNTS
share your experiences
Top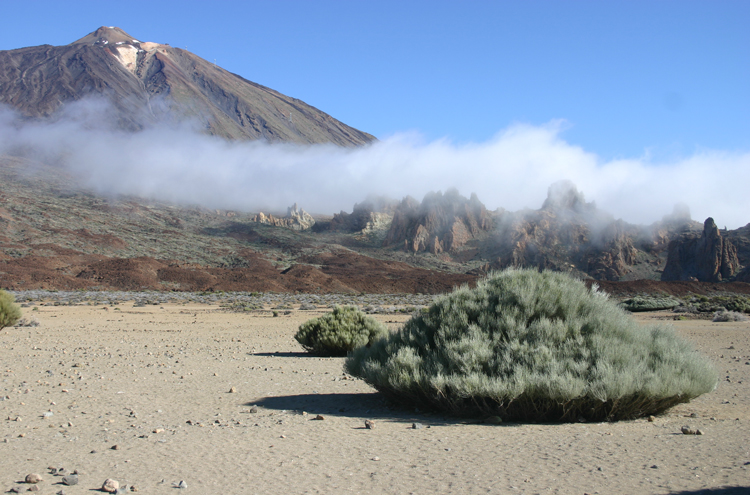 Top
Responsible travel matters, a lot. How you travel will make a real difference - for better or worse. PLEASE consider this when making plans. Read more