Mount Snowdon
Key information: Mount Snowdon
Snowdon is one majestic mountain; promising spectacular views as far as England, Ireland, Scotland and the Isle of Man on a clear day.
From the Watkin Path for abundant flora and fauna to the challenging Horseshoe for experienced mountaineers, Snowdon provides a variety of options, including centuries-old miners' tracks, to observe fascinating vestiges of Waless industrial past. The Miner's / Pyg Tracks are an ideal combination of the approaches.
The climb can be conquered in 4-6 hours (or 6-7 hours for those disarmed by the splendid panorama) which makes for a perfect if tiring day.
The summit can be overrun with tourists; perhaps aim to set out early in the morning, to avoid the crowds.
Walkopedia rating
Walkopedia rating80
Beauty

32

Natural interest

15

Human interest

8

Charisma

30

Negative points

5

Total rating

80

Note: Negs: summit is crowded, cloudy, and has a cafe
Vital Statistics
Length:

Varies: around 12km

2-3 hours each way; longer in the evenings

Maximum Altitude:

1,085m

Level of Difficulty:

Variable
Top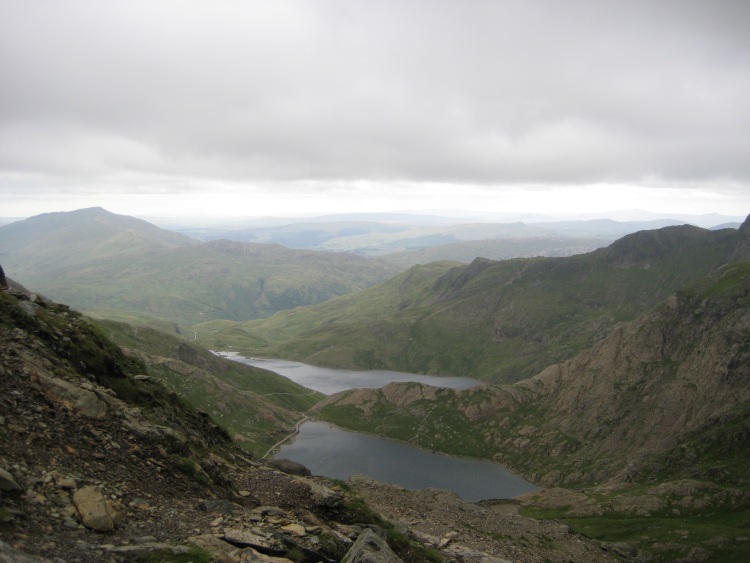 WALK SUMMARY
Appeal:
Meriel is 9 and has NEMALINE MYOPATHY, a rare form of Muscular Dystrophy.
Meriel's dream to place a stone on Mt Snowdon cairn has now evolved into a 'Dream Stone' Triathlon to Snowdon. With support from a teacher at school & friends, collectively know asTeam MAP-NEMALINE (Team MAP-N), her 'Dream Stone' is going to be carried over water, road & track.and placed on Snowdon. Raising funds for her charity.
Place a stone on a summit for Meriel and send us your photo to walkopedia@gmail.com, saying who you are where the stone is being put!
For more, including how to support the challenge, see our page.
_____________________________________
Steeped in history, geological significance and folklore, Mount Snowdon is one of the more beguiling mountains in the world. Whether your interest is ancient marine fossils; flora and fauna, from skylarks to bedstraw; Wales' industrial heritage or pulse-racing extreme sports, the mountains beautiful glaciated valleys and rugged peaks do not cease to fascinate walkers and climbers alike.
Snowdon, or Yr Wyddfa (burial place in Welsh as legend has it that the summit's cairn marks the grave of the giant, Rhita Fawr) is the UK's highest mountain south of the Scottish Highlands; located in the Snowdonia National Park in North Wales. Snowdon's starfish form affords an intriguing variety of routes to the summit, each with their own unique allure and varying degrees of difficulty.
Aside from the notorious Horseshoe Crib Goch ridge (not to be attempted by the inexperienced mountain climber, and never in poor conditions), the most famous itinerary is perhaps the Miner's/ Pyg Track combination (Pyg apparently referencing the Pen y Gwryd hotel at the bottom of the pass, once frequented by the leading explorers of yesteryear): incorporating stunning lakes, bruised blue by their copper content; intriguing ruins of the miners' old Britannia Mine copper crushers; dazzling hydroelectric works; a taxing, craggy ascent and sublime panoramic views of slate mountains, valleys and rivulets stretching down to the sea.
We want to give more information on other routes. Photos and ideas welcome!
Although unsettled Welsh weather often shrouds the summit in moody mist, clear days produce spectacular views across to England.
The only downside to these varied splendours is, sadly, its depressing exploitation for tourism: once dubbed the highest slum in Wales by Prince Charles, the funicular railway, ugly navigation dial and former café structure at the very top have been the subject of much disgust for the walking community. Recently reopened after a multi-million pound makeover, the new visitors centre is, at the very least, an interesting piece of architecture: encased in granite, with one glass, floor-to-ceiling wall (aiming to endure extreme weather, blend with the natural landscape and offer a window to the world), it boasts ecological credentials, with rainwater cannily redirected from the roof to flush the lavatories. Talk about high tea...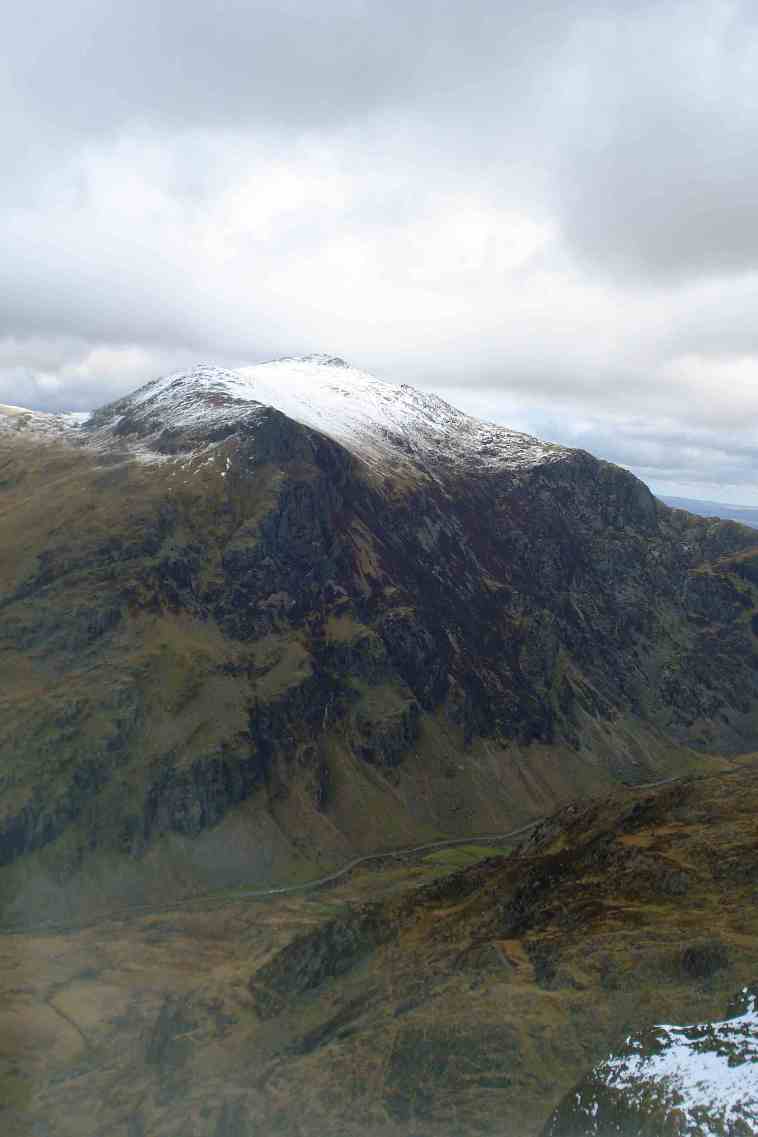 See also expedition planning, including our universal expedition checklist. Walkopedia encourages responsible travel.
Guidebooks/maps/background reading
Guidebooks
Hillwalking in Snowdonia: British Hills and Techniques – Steve Ashton/ Cicerone Press: a beautifully illustrated, detailed guide to nearly 70 routes throughout Carneddau, Glyders, Snowdon and the Outlying Areas, from an author whose passion for the area is palpable throughout.
The Ascent of Snowdon – EG Rowland/ Cicerone Press: a popular, good value guide to the best approaches to climbing the mountain, in handy pamphlet form.
Snowdonia & North Wales: 50 Walks – AA 50 Walks Walking Guides/ AA Publishing: offers a wide mix of relatively short treks in the region, with practical advice, maps and a readily accessible grading criteria to assess difficulty levels, minimum times etc.
Other books
The Complete Guide to Snowdon – Robert Jones/ Seren: provides fascinating insight into the history and geology of the region – but use in conjunction with a detailed map.
Maps
Snowdon (OS Explorer Folded Map). Can also be bought locally.
Stanfords: www.stanfords.co.uk. An excellent (and user-friendly) online specialist source of worldwide maps (it is also good for guidebooks).
Best times to walk/weather
Best times to walk:
Spring/ Summer/ early Autum – the changing seasons in Wales each have their own distinct charm, but from October (and sometimes up until June), the mountain can be dangerously covered in snow, with the ascent requiring extreme caution and adequate training/ experience.
Weather:
Snowdonia is alleged to have one of the wettest and most unsettled climates in Great Britain, so come prepared for all eventualities with both water flask and waterproofs, as well as proper hiking boots; can be blighted by high winds, sleet, fog and snow in Winter.
For detailed weather information, have a look at: www.worldweather.org or www.bbc.co.uk/weather/world/country-guides
Getting there/transport/permits/fees
The most convenient route to the beginning of the Miner's Track is to take the regular Sherpa shuttle bus from Llanberis to the youth hostel/ car park at Pen-y-Pass, or drive straight there (but aim to arrive early in the morning, as the car park quickly becomes full) and head for the gate at the southern-most end.
No permits are required, but parking will incur a fee.
For those with very small children, less able walkers or who wish to walk one way only, the scenic Snowdon Mountain Railway runs from Llanberis to the summit (pending weather conditions).
For times and prices: www.snowdonrailway.co.uk/times_prices.html
Route(s)
Miner's/ Pyg tracks: Stroll through the clearly-marked gate at the southern-most end of the Pen-y-Pass car park. After meandering along a broad, foxglove-lined quarry path for approximately 800 km, pass above the serene Lyn Teyrn, before dwelling at the shore of Llyn Llydaw. Cross the lake via the 'Miner's Causeway' and skirt its edge, observing derelict old copper miners' buildings and mills, where the track begins to rise more steeply. This leads eventually to the copper-tinged lake at Glaslyn. The final stint entails a narrow, steep, zig-zagging scramble to the latter part of the Pyg track, and Snowdon's ridge, aided by steps carved into the rock.
Walkers' Tip: The combination of ascent via the Miner's Track and descent via the Pyg track is one of the most enjoyable ways of experiencing breathtaking scenery and mixed terrain; both begin and end at the Pen-y-Pass car park.
At a glance, the Pyg track is more strenuous at the start, while the Miner's Track below is easier and more scenic for the first two miles, but then has a fairly difficult scree-climb after Llyn Llydaw.
Snowdon Map:
By Wikipedia user Stemonitis; License: Creative Commons Attribution Share Alike 2.5 Generic
Possible problems, health, other warnings
Terrain:

can be slippery and very uneven underfoot, with steep, narrow stints: ensure proper hiking boots and a stick, if desired.

Mountain weather:

variable temperatures; don't rely on the weather forecast. Snow, rain, cold and wind are always possible.

Come prepared.

Heat

and strong sun

can be experienced in high summer. Carry enough water and protect yourself.

Heights:

can be dangerous; not for those who have difficulties with heights.

Refreshments:

there is a café with plenty of hot and cold snacks in the car park at Pen-y-Pass and at the summit,

but opening hours can depend on the weather, so bring some of your own supplies just in case.
See also the websites in our useful links page for more detailed, and up-to-date, information.
Safety and problems: All walks have inherent risks and potential problems, and many of the walks featured on this website involve significant risks, dangers and problems. Problems of any sort can arise on any walk. This website does not purport to identify any (or all) actual or potential risks, dangers and problems that may relate to any particular walk. Any person who is considering undertaking this walk should do careful research and make their own assessment of the risks, dangers and possible problems involved. They should also go to "Important information" for further important information.
Make sure you have appropriate insurance.
Guided or independent?
You can easily do this walk independently, but some of the more remote, challenging routes require professional guidance, safety equipment and technique. Ask in any of the climbing shops in Llanberis for further information.
Joe Brown - www.joe-brown.com – well-stocked, reputable and long-established climbing shop in Llanberis.
Adventure Activities in Snowdonia - www.outdooradventureactivities.com – local company, which has been organizing adventure holidays for the past 20 years.
Accommodation
Although many walkers find camping the easiest option, there is a wide range of hotels, hostels, B&Bs and guesthouses available throughout the region. Book in advance during high season to avoid disappointment.
Other information and tips
Obtain a reliable local weather forecast before setting off, and plan the route accordingly.

Don't rely on receiving a mobile phone signal.
Useful websites and information
There are many websites with relevant information. Here are some that we think are useful or have been recommended to us.
Other things to do in the area
Other walks
The Crib Goch route, Y Lliwedd overpass, Watkin, Rhyd Ddu, Llanberis, Snowdon Horseshoe and the Snowdon Ranger Paths all rate highly with walkers as alternative climbs and vary in difficulty. Access the following link for more detailed information: www.wanderingaengustreks.com/info-Snowdon

Other activities
Snowdonia is a Mecca for adventure and extreme sports enthusiasts: choose from a wealth of climbing opportunities, including bouldering; also gliding; mountain biking; coasteering and watersports.
The region is also host to one of the UK's tallest indoor climbing walls: www.beaconclimbing.com
And a popular high ropes course (for kids and adults alike): http://www.totaltravel.co.uk/link.asp?fid=645872
For those seeking an insight into Snowdon's history and culture, the National Slate Museum also comes highly recommended: www.museumwales.ac.uk/en/slate
Safety and problems: All walks have inherent risks and potential problems, and many of the walks featured on this website involve significant risks, dangers and problems. Problems of any sort can arise on any walk. This website does not purport to identify any (or all) actual or potential risks, dangers and problems that may relate to any particular walk.

Any person who is considering undertaking this walk should do careful research and make their own assessment of the risks, dangers and possible problems involved. They should also go to "Important information" for further important information.
COMMUNITY COMMENTS AND PHOTOS
Name: Administrator
Posted on: 27/08/2012

The following is Martin Sweeney's piece on walking here, which was on our longlist for our 2011 Travel Writing Competition.
Inspiring description of weather clearing just in time on Mt Snowdon.
Snowdon's Rewards
The summit was encircled by black cloud and mist, with visibility measured in yards. A howling gale blowing through - seemingly from all sides at once - threatened to sweep the unwary off the ridge, and cold and wet, my girlfriend and I reached the summit of Snowdon.
In the midst of a hot summer, we had set out to climb one of Britain's favourite mountains. Fully expecting the famous picture-postcard views throughout the day, we had arrived instead to a dank, drizzle-drenched scene, with the less well prepared walkers turning back from the car park before their treks had even begun.
We began our approach to the mountain from the east, along the Miner's Track, treading across the grey rock, worn down by the long-dead miners of the Britannia copper mine over the hundred years before it closed for the final time during the Great War. easing into our stride, we crossed the causeway over the tranquil waters of Llyn Llydaw. The early part of the walk was easy, but above us we could see greying cliffs and greyer skies. We felt certain though, that the clouds would lift as we gained the summit; this was our day and the mountain would surely not disappoint.
Approaching the steep ascent above Llyn Llydaw, the track seemed to vanish up the hillside, becoming almost vertical from our perspective. Struggling upwards we stopped several times for breaks, each time peering down at the water below, where the few figures in view became ever more distant.
The sound of voices above us signalled our arrival at the Pyg Track, where our ascent became less steep for a time, and the infamous Snowdon crowds began. The continuous stream of people heading upwards along this motorway of a trail threatened to destroy any sense of wild beauty the mountain held, but the ubiquitous friendly nature of the hillwalker, offering smiles and hellos, helped to compensate for this.
Through a thickening mist and a strong, almost burning wind trying to drive us back, we forced our way up towards the summit. Nearing the top, we found that extra energy the body always holds in reserve and seemed to glide upwards, in contrast to our progress up the steep and rocky path by the copper-blue Glaslyn lake. Topping out by the tourist railway that traces the Llanberis path from the valley below, the final few hundred metres along the ridge passed easily. With no sign of a break in the clouds though, the glorious view to both east and west was absent.
The dark, chilled mountain top was dominated by a tremendous gale, and the hoped-for early afternoon summer sun was nowhere to be found. Small knots of people huddled together in the lee of rocks, or gathered near the then unfinished café, looking worn and beaten. The only movement at the top was from those battling against the wind, awaiting a moment of calm to dash up the summit rocks for a stolen photograph and trying not to be torn away by the gusts.
With little protection from the wind, and nothing to see but cloud and fog, we soon began our descent of the western side of the mountain, following the Snowdon Ranger track. Sliding through the scree that barely clings to the mountainside, we were resigned to the disappointment that can so often accompany high expectations. We were leaving the mountain behind, still shrouded in its evil grey cloak, and still concealing its rugged beauty.
Passing close to the famous 'Cloggy' (Clogwyn Du'r Arddu) crag though, we received our reward at last. Dream-like, the clouds to the south began to part, and then re-form again. Snatched glimpses of hillside, lakes and streams were reclaimed by the clouds almost as soon as they were offered up. Sculpted green and golden hillsides sheltered glassy lakes, and when the sun penetrated sufficiently, its silver light reflected back to us through the mist.
Each time the cloud cover thinned a little, we were treated to a new scene. Like a living gallery - ever changing, never static - the scene to our left held a wild beauty beyond any it could have had on a cloudless day. As we walked on, the breaks in the cloud became more and more frequent. Above us, a dazzling blue sky crept into view to share the scene below, delicate watercolour brush strokes developing before our eyes.
So often, I have been to places of truly astounding beauty, but then turned my back on them after just a short while, anaesthetised to their power by over familiarity. Here, on this day, our spirits were renewed and refreshed by the fleeting visions the mountain chose to give us, our thirsty souls lapping up the drops of beauty we were offered.
As the day drew to a close we padded gently downwards towards the Snowdon Ranger youth hostel; former home of the original 'Snowdon Ranger' John Morton, an early mountain guide. Looking back for a glimpse of the path we had taken, we knew we were lucky to have been on Snowdon on that day.
Moving forwards, we have both been spurred to explore further, climb higher and push on deeper into the outdoors. Above all else though, I have learned to savour what the hills offer me, not just what I want to take from them. If I am prepared to stop and look, to feel and to dispense with expectations, I know that the hills will always have a reward for me.

Your comments on this walk, your experiences and suggestions, and your photos are very welcome. Where appropriate, you will be credited for your contribution.
Top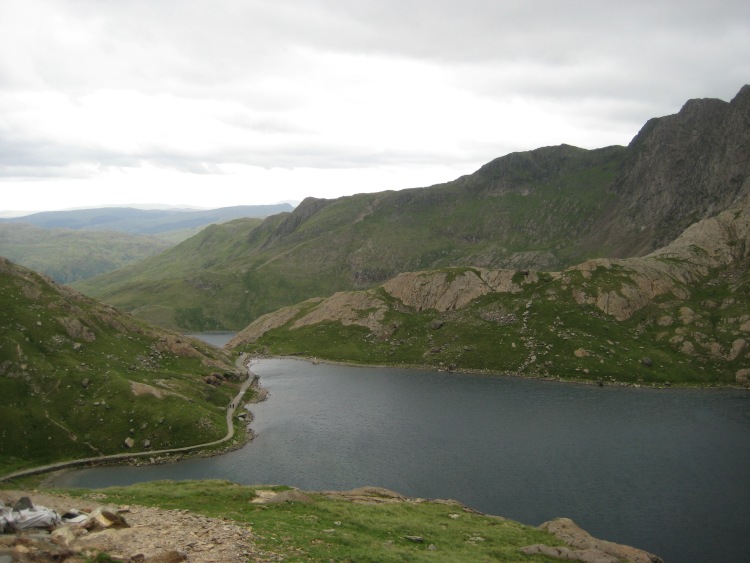 OTHER ACCOUNTS
share your experiences
Top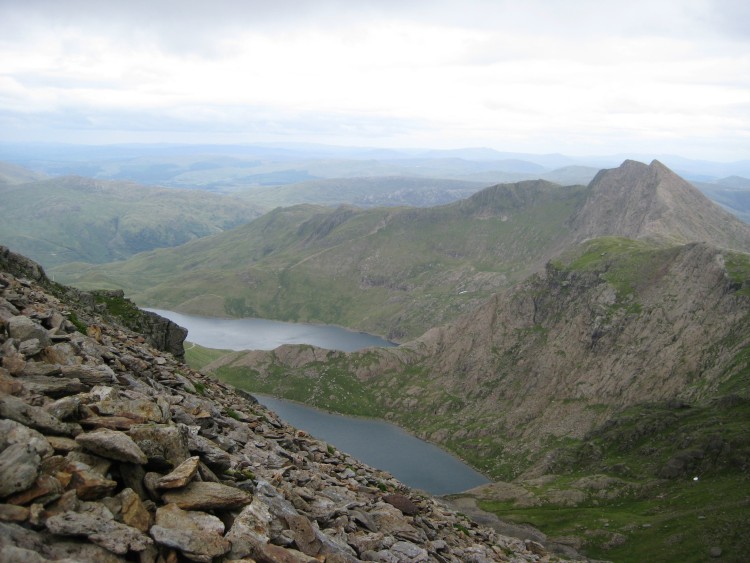 Top
Responsible travel matters, a lot. How you travel will make a real difference - for better or worse. PLEASE consider this when making plans. Read more