Tulum, & Coba to Yaxuna
Key information: Tulum, & Coba to Yaxuna
Tulum is famed for its dramatic coastal setting atop rugged cliffs, high above the shimmering azure waters of the Gulf of Mexico. Limestone monuments and colonnades offer textured contrast in the sharp, ever-present sun.

Grand civic buildings and temples are continually juxtaposed with a vicious, complex heritage; rituals of sacrifice covered the entire spectrum from treasure, to bloodletting, to killing.

One of the best preserved coastal Mayan sites, Tulum bears all the hallmarks of their culture and politics - in treasures from stelae to statues.

Stelae, inscribed or sculpted slabs of rock, remain hidden in temples hidden in undergrowth. The still-vast buildings rise organically from lush greenery.
Walkopedia rating
Walkopedia rating85
Beauty

28

Natural interest

10

Human interest

18

Charisma

32

Negative points

3

Total rating

85
Vital Statistics
Length:

V ariable

Maximum Altitude:

Not high

Level of Difficulty:

Variable
Top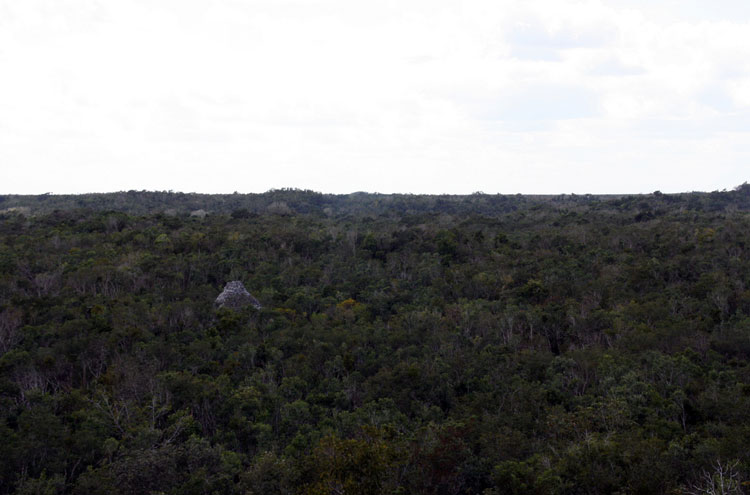 WALK SUMMARY
Mayan Tulum's setting is startling. 12m high cliffs hold firm against a bright, restless gulf sea. Above, white limestone blocks tessellate in a fashion not unlike Incan masonry, grand municipal buildings and religious temples standing right up to the very cliff-edge. The rich Mayan heritage of Tulum is evident in its every monument and facade, and in its fortified trench and wall on the landward side.
While their culture can seem vicious, characterised by feuding city-states and bloodthirsty divine-succession, it was complex and subtle. The countless, goliath temples are both steeped in blood and remarkable feats of engineering and vision. At its peak in the 13th -15th Centuries, Tulum was a commercial and political centre.
Tulum's influence commanded satellite sites all around the Yucatan's east coast. Cozemel, Xel-ha and Coba (a little inland) were all party to its extensive trade networks, which ushered riches of obsidian, art and treasures into Tulum's public and private coffers.
Xel-ha, up the coast from Tulum, seems to have functioned as one of Tulum's vassal ports, lying on less rugged terrain next to the Xel-ha Lagoon. The site is small, a collection of fallen-down residential buildings and smaller platforms; not quite Tulum's Temple of Frescoes, watchtowers and palaces. Still, it is timeless. The area is rich in cenotes, where underground rivers collapsed the peninsula's limestone crust, and beautiful inlets.
Turn inland - and avoid the highways. Massive roads cut through into the peninsula's interior, but are loud, ugly and unsafe to walk. If you plan to walk this stretch to Coba, at least consult with a guide (if not hiring one) to establish a managable route. Perhaps transport is wise for this portion.
44km west lies Coba iself, in thick, deep jungle. Many buildings are still under the canopy of vegetation, others lost to it. The grand temple of the Nohoch Mul group rears above the treeline, 12 storeys tall; 120 steps and 42m. It is the largest in the Yucatan. Unlike many of its cousins throughout the region, you can still climb to its top to see myriad ruins jutting above the verdant jungle.
Coba Archaeological Area spreads across 80sq miles, taking in 5 lakes. The Coba site is concentrated around two of the lagoons, white stone-and-plaster roads (singular: sacbe) radiating from its core. Palaces line its streets; and colonnaded plazas; and further temples, halls and courts. These sacbeob connect Mayan sites near and far. Choose one, or two, follow it at random and back again. The smaller sites in and around the Coba area will be emptier, organically tree root-and-earth clad.
As ever, there are no set routes or defined trails. Within sites, it is a matter of wander-at-will; extending your walk needs (at the very least) consultation with an experienced guide, lots of maps, and the means to report your whereabouts and progress. Sacbeob that begin promisingly can peter out, falling into disrepair, or be swallowed by the voracious jungle.
One sacbe travels some 70 continuous kilometres (the longest ever built by the Maya) to the site of Yaxuna. Again; parts of the road vanish; parts are unwalkable; parts in dense undergrowth. Sacked and ritually destroyed, the city at its end is in ruin. Its ancient fortifications encircle the temple groups and plazas, consumed by the forest. What is truly remarkable, though, is the Heart of Darkness trek to get there.
Map of Major Classical and Post-Classical Mayan Sites
By Wikipedia user Kmusser. License: Creative Commons Attribution-Share Alike 3.0 Unported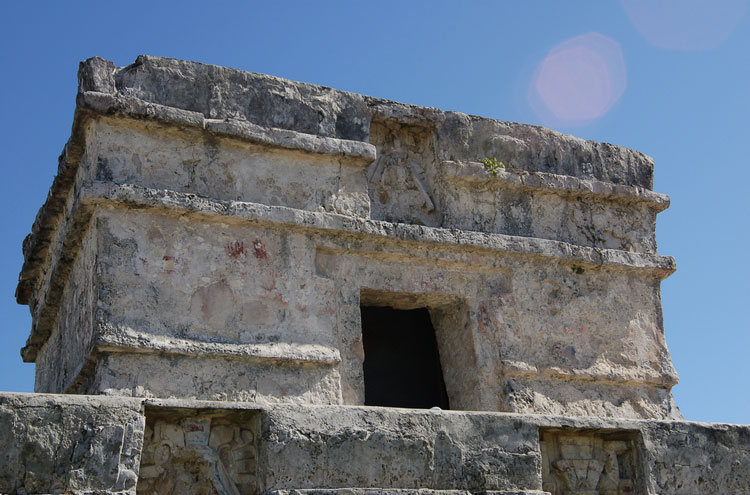 See also expedition planning, including our universal expedition checklist. Walkopedia encourages responsible travel.
Books and Maps
General Books
There are just too many ruins to be specific!
Costa Rica, Belize, Guatemala: A Complete Guide with the Rainforests, Mayan Ruins and Jungle Treks – Fodor
Yucatan and Mayan Mexico – N. Rider
Yucatan – Lonely Planet (Regional Guides)
Cancun, Cozumel and the Yucatan – Lonely Planet (Country and Regional Guides)
The Rough Guide to the Yucatan – Z. O'Neill and J. Fisher
Moon Yucatan Peninsula – L. Prado and G. Chandler (Moon Handbooks)
Other books
Mexico – Lonely Planet (Country Guides)
Maps
Northern Yucatan / Maya Sites – Adventure Map
Central America – Nelles Map
Map of the Yucatan Peninsula – ITMB
Stanfords: www.stanfords.co.uk. A good online specialist source of worldwide maps (it is also good for guidebooks). Also try www.mapsworldwide.com and www.trektools.com.
Best times to walk/weather
Best times to walk
September is ideal; after the summer high season but before the October rains. Furthermore, accommodation is cheaper and there are more spaces.
Weather
In the wet seasons it can rain every day, all day (coastal regions). Inland, it is more a case of regular showers. In June and July this can offer some welcome respite from the intense heat. Rainy seasons are from October – January, and April – July.
Hurricanes and other natural disasters can devastate large swathes of the Yucatan during the rainy season, and are not particularly uncommon.
For detailed weather information, have a look at: www.worldweather.org or www.bbc.co.uk/weather/world/country-guides.
Getting there/transport/permits/fees
Flights into the Yucatan run from either Mexico City (Mexico's capital) or Cancun, both international airports. However there are no flights into Cancun during the off-season. Those on organised expeditions are likely to be transported from/to arranged start and departure points.
Tulum is connected to Coba by a 44km modern road.
Most of the major ruins are either privately- or state owned, and will charge an entry fee.
Route(s)
See Walk Summary, above, and consulting a guide beforehand is advised.
Tulum
By Hobe (Holge Behr): licensed under Creative Commons Attribution-Share Alike 3.0 Unported license.
Coba
By Wikipedia user Michael Wal.
Possible problems, health, other warnings
Heat

and strong sun. Humidity too is especially high, here; making the jungle oppressive, and any trek demanding. Carry enough water and protect yourself.

Dangerous/harmful animals

of all shapes and sizes

, including snakes and other jungle fauna; mosquitoes, stinging/biting insects and plants. Take all appropriate precautions.

Some ruins are in remote country:

food and other supplies will not be readily available and help will be hard to get if things go wrong, particularly if on an extended trek.

Health risks:

parts of Mexico are relatively undeveloped, and you will not get prompt medical help of a standard available elsewhere if you become ill. Come prepared, including getting all appropriate inoculations/medications.

Drug cartels:

in Mexico City and some other urban areas, drugs gangs fight a daily war against the authorities and, in particular, the army. ALWAYS check your country's consulate advice before

travelling

to Mexico.
See also the websites in our useful links page for more detailed, and up-to-date, information.
Safety and problems: All walks have inherent risks and problems can arise on any walk. Many of the walks featured on this website involve significant risks and possible problems. This website cannot, does not purport to, identify all actual or potential risks, dangers and problems that may relate to a walk or a country. Any person who is considering undertaking this walk should do careful research and make their own assessment of the risks, dangers and possible problems involved. They should also go to "Important information" for further important information.
Make sure you have appropriate insurance.
Guided or independent?
Independent
You could do this walk independently, but you will need to be self-sufficient, so come fully prepared. The surety of having a local guide is a fantastic safety net.
Guided/supported
The best bet is to hire an experienced local guide: they can help you pick the best - and safest - routes, and avoid ugly interruptions of modernity.
If hiring a guide locally, best practice is to meet him/her and get comfortable before committing. Make sure all requirements are understood and agreed – including how you will eat and the importance of avoiding illness, as well as overnighting and (of course) remuneration.
Accommodation
The guidebooks have a selection of possible accommodation, while camping is the only realistic option along the Coba-Yaxuna sacbe.
The Tulum area is divided into four zones: Tulum Archaeological Site, the Pueblo (town), the Biosphere Reserve of Sian Ka'an and the auspiciously-named zona hotelera (hotel zone).
Try the usual Trip Adviser / Expedia medley. Hostelbookers usually has a good selection of cheaper-end accommodation.
Other information and tips
Useful websites and information
There are many websites with relevant information. Here are some that we think are useful or have been recommended to us.
Other things to do in the area
Other walks
Mexico, and the Yucatan peninsula, has a multitude of fantastic walks. See our Mayan Ruins overview page.
Other activities
Swimming, in myriad cenotes or in the warm Gulf seas (Tulum is the only Mayan site with a beach!).
Safety and problems: All walks have inherent risks and potential problems, and many of the walks featured on this website involve significant risks, dangers and problems. Problems of any sort can arise on any walk. This website does not purport to identify any (or all) actual or potential risks, dangers and problems that may relate to any particular walk.

Any person who is considering undertaking this walk should do careful research and make their own assessment of the risks, dangers and possible problems involved. They should also go to "Important information" for further important information.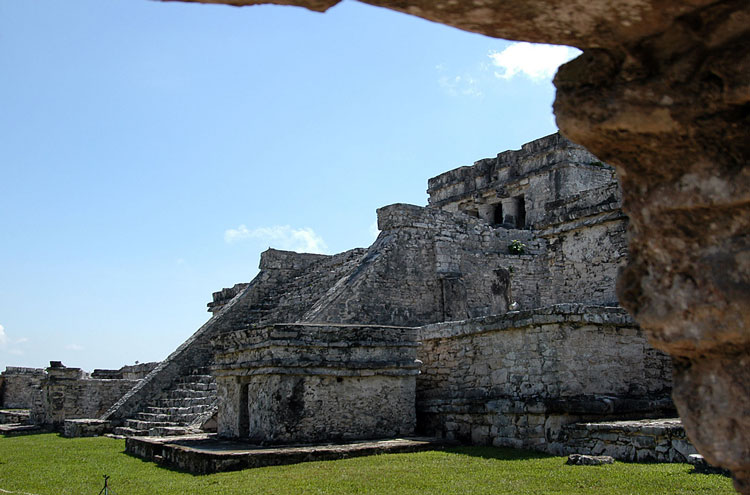 OTHER ACCOUNTS
share your experiences
Top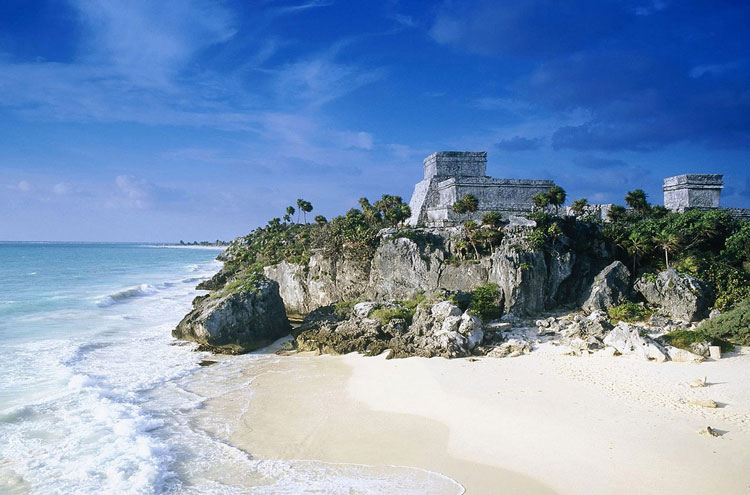 Top
Responsible travel matters, a lot. How you travel will make a real difference - for better or worse. PLEASE consider this when making plans. Read more