Mt Everest Base Camp
Key information: Mt Everest Base Camp
The Big One: the world's highest mountain, 8,850m (over 28,000 feet) of striated rock, ice, tumultuous falling glacier, unblemished snow, jagged ridges... and dead bodies. An ultimate target for most serious walkers, albeit tarnished by too many visitors.

Stunning scenery all around in what is the absolute heart of the Himalayas, with many variations that enable you circuit in or out to escape the crowds on the best known trails and get up to miraculous viewpoints.

This is tough walking in high, remote, capricious mountains, on which you will have to be self-sufficient and where altitude will cause real problems and can be fatal. Come prepared, and acclimatize properly.

ANYONE GOT ANY GOOD PHOTOS? WE WOULD BE DELIGHTED TO POST THEM!
Walkopedia rating
Walkopedia rating88
Beauty

36

Natural interest

17

Human interest

10

Charisma

33

Negative points

8

Total rating

88

Note: Negs: altitude, crowding
Vital Statistics
Length:

14 days minimum

Maximum Altitude:

5,623m (Kala Pattar)

Level of Difficulty:

Very Difficult
Top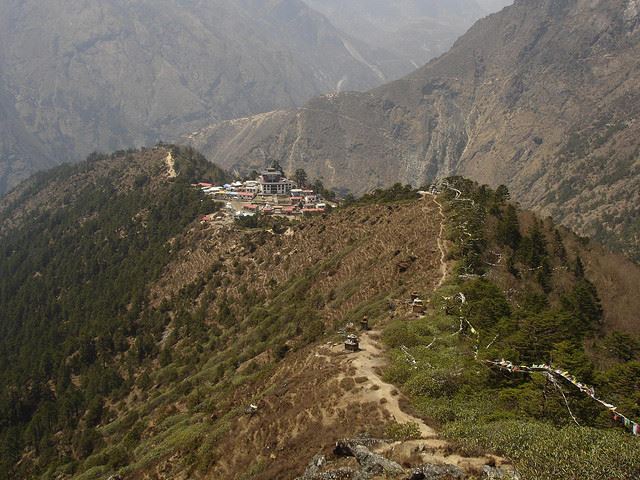 WALK SUMMARY
The Big One, undoubtedly one of the most baggage-laden places on earth, with myth often clouding reality. The world's highest mountain: 8,850m of striated rock, ice, tumultuous falling glacier, unblemished snow, jagged ridges... and dead bodies. An ultimate target for most serious walkers, albeit tarnished by too many visitors. The main trails are of course accordingly popular in high season, so less pristine than other parts of Nepal.
Stunning scenery all around in what is the absolute heart of the Himalayas, with many variations that enable you to escape the crowds on the main trails and get deep into some of the world's most miraculously beautiful scenery. While Everest base camp has semi-mythical status, there is actually better, more rewarding walking (better views of Everest, even) to be had elsewhere, so if at all possible allow time to explore more widely into this glorious fastness.
The trek is 14 days minimum from Lukla, but allow more if at all possible.
The initial walk from the airstrip at Luka (2,806m) to the regional trading centre and hub at Namche Bazaar (3,420m) is a delightful, acclimatizing two days.
Consider an acclimatization day at Namche - there are some fine local walks, and much to do.
The famous monastery at Tengboche (Thyongboche) (3,870m) is worth spending time in and around - another good place to spend a day acclimatizing.
Acclimatize again at Pheriche or Dingboche (between 4,250m and 4,360m).
It is then 3 days to Gorak Shep at 5,160m, below Kala Pattar (5,545m) an unlovely excrescence in itself but take in the viewpoint there, as BC does not itself have an Everest view.
The final day to and from BC is a wearisome slog. Base Camp can itself be deeply disappointing, a crowded mess (althought a lot cleaner since clear-up programmes have been instigated), so approach with some philosophy. But it is also thrilling and fascinating if viewed in the right spirit.
A classic variant is to circle in or back through the amazing Gokyo Valley (18 days as part of Everest circuit), with its glorious lakes beneath Chu Oyu (great day walk to base camp), getting outstanding views from the passes of a sweep of huge peaks (the Renjo La to the west is said to have perhaps the best views in the whole area). Gokyo Ri (5483m) is a great day-walk trekking peak with superb views. Enormous glaciers abound.
Jiri (or the closer Shivalaya) to Lukla or Namche Bazaar is the old walk in before the landing strip was built at Lukla. Lush countryside, friendly communities and almost no visitors in these lovely "lower" areas. It takes six days. Think of adding this acclimatization trek at the start of your Everest attack.
Teahouse accommodation is available throughout, although camping will give you more flexibility.
Remember that the altitude can cause misery and even death. It will undoubtedly detract from your enjoyment, although most still think that a major walk here is a high point of their hiking lives. You don't HAVE to do this, and slightly lower-level treks can be more unsulliedly joyous. Allowing time for acclimatization days en route is vital.
SEE OUR MOUNT EVEREST REGION PAGE FOR DETAILED PRACTICAL INFORMATION (AND WARNINGS).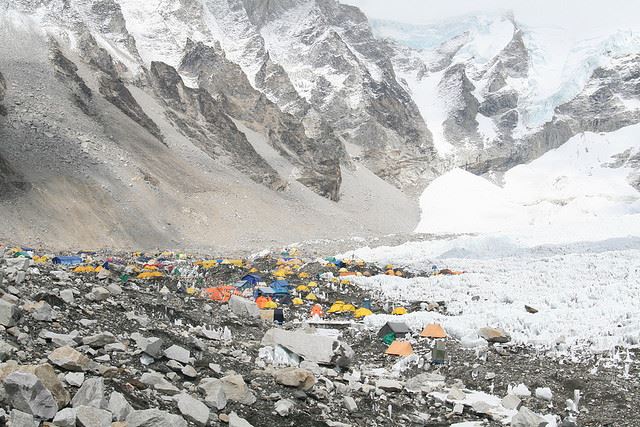 Safety and problems: All walks have inherent risks and potential problems, and many of the walks featured on this website involve significant risks, dangers and problems. Problems of any sort can arise on any walk. This website does not purport to identify any (or all) actual or potential risks, dangers and problems that may relate to any particular walk.

Any person who is considering undertaking this walk should do careful research and make their own assessment of the risks, dangers and possible problems involved. They should also go to "Important information" for further important information.
COMMUNITY COMMENTS AND PHOTOS
Name: Fi
Posted on: 25/05/2008
The two weeks spent trekking to Base Camp and back were among the most amazing of my life. Despite the effects of altitude and general fatigue which increase as the trek goes on, the scenery and the warmth of the Nepalese people make it all worthwhile. The majority of us reached Base Camp and either cried or just collapsed in a chair with exhaustion. The feeling of achievement, for me at least, only really set in a couple of days later as we were walking back towards Lukla. Although it required quite a bit of training, and the trek itself felt a little like hell at times, the experiences gained are absolutely incredible and well worth it. I would love to do the trip again some time - it was just awesome.

Name: Greg Locock
Posted on: 19/10/2010
A group of 6 friends did this in 96, with World Expeditions. We did the circuit via Gokyo Ri rather than the 'there and back' again main trail, and reached Kala Pattar and slept at Gorak Shep rather than the actual Base camp. One of us (the fittest) got altitude sickness, 1 day above Namche, and had to be taken down to the hospital at Dingboche. This circuit joins the main track at Tukla, after crossing the Cho La pass, which was even tougher than the rest of the walk. I had a headache continuously above 3000m, until we started descending, and lost my appetite, partly due to the rather unexciting diet of cauliflower and garlic soup. Mind you, descending was great fun, one big party. Being walking-fit was crucial, you've got enough other things to think about without having to deal with blisters or sore muscles. We went in late December and were dead lucky with the weather, we had clear skies and not much wind.

Name: sunnyone
Posted on: 26/06/2011
The trek in the direction of Mt Everest base camp (but skipping the base camp) is an amazing trip! The Gokyo valley and the Chukkung valley are spectacular and you are IN the mountains, not just looking at a view. The Sherpas are hospitable. I can't believe this is not one of the top two treks in the world on your list!

Name: Walksalone
Posted on: 10/02/2013
Khumbu Panorama and Monastery Trekking 13 oktober till 3 november 2012 Day 1 Arrival Kathmandu 08u35 morning with Qatar Air Meeting with our travel agent and wondering in Thamel Day 2 Kathmandu seightseeing Pashupathinath, Boudhanath, Swayambhu Day 3 Kathmandu Durbar Square (ask for a vistors pass for several days, no extra charge) Day 4 Kathmandu: taxi to Budhanikantha (Hindu temple) hike to Nagi Gompa in Shivapuri NP Day 5 Kathmandu (1400m) to Lukla (2840m) Fly to Lukla (35 minutes) and Phakding (2610m): trek. +1210m 8,83km / 03u00 A spectacular flight and hair raising landing on a steep mountain airport Day 6 Phakding to Namche Bazaar 3440m Trek. 11,90km / 07u00 +830m we cross and re-cross the river on high suspension bridges Intens walk! Day 7 Rest day at Namche Bazaar 3440m for acclimatisation Namche: busy Friday and Saturday market - a meeting place for the Hindu traders from the lowlands and the Tibetan yak caravans that have crossed the glaciated Nangpa La. Walk to Everest Viewpoint (2 h up, 1 h down) A two hour walk up to the Everest View Hotel above Namche for the sunset view of Ama Dablam, Nuptse, Lhotse and Everest. There are also good views from the National Park Centre and Museum just above the village. Day 8 Namche Bazaar to Thame (3820m): Trek 10,39km / 05u00 +380m Lovely valley walk of the beaten trek From above the village, Thame Gompa overlooks the valley Day 9 Thame to Khumjung (3790m): Trek. 10,77km / 05u00 -30m. ( take the pad via Namche Airstrip) At first light and in a frozen landscape we walked to the Edmund Hillary Memorial Stupa above the village, great views! Khumjung: picturesque village which also has its own gompa at the top end of town Day 10 Khumjung to Phortse Tanga ( 3680m) (Phortse 3542m) 7,0km / 03u30. Here we change the plan and stay at Photse Tanga and we make the clim to Phortse tomorrow ( 1/2 hour) Day 11 Phortse Tanga to Pangboche 3985m. 5,5km / 03u35. +305m Day 12 Pangboche to Dingboche 4530m 5,00km / 02u30. +545m Day 13 hike in the vally towards Chukhung (4780m). And back to our lodge for a soup 2u25 and return to Pangboche. 2u30 Island Peak en Ama Dablam , Lhotse, views. The original plan was to stay overnight at Chukhung but because of the cold weather (-10°C at night and some snow) and the difficult sleep at this alltitude we decided to go back lower. Day 14 Pangboche to Tengboche 3864m. 2u30 We arrived at Tengboche arround 10u00 in the morning, the sun warmed up the village, a very lovely place! We joined for puja at the monastey Day 15 Tengboche to Namche Bazaar3440mTrek. 7,00 km / 04u15. -424m We stayed in Tengboche till after lunch to enjoy this village and the sunny lawn Day 16 Namche Bazaar to Monjo 2835m Trek. 7,24km / 03u15. -605m Day17 From Monjo to Thado KoshigoanTrek. 2727m 04u15 We could split up the 14,50km / 7u35. +5 m to Lukla because we did not sleep at Chukhung Monjo and Lukla are at the same altitude but the pad is like a rollercoster up and down time after time... Day 18 Thado Koshigoan to Lukla 2840m Plenty of time to see the vally and explore Lukla 02u15 Day 19 Lukla to Kathmandu: Fly to Kathmandu (35 minutes). -1440m Evaluation meeting with Rishi Day 20 Kathmandu to Bhaktapur Durbar Square Day 21 Kathmandu back to Bouddhanath and to Gokarna Temple Day 22 Kathmandu visit Patan Zoo, quiet park with lake and animals like Tiger , Leopard, Beer, departure flight 23u40 evening Trekking : 105 km - 56u hiking in 13 hiking days en 1 acclimatisation day– ad the time for teastops + 1u and lunch + 1u to all treks hights 2460 m en 4500m - Oxygen between 85% en 55% compared to ocean level- breathing is fast, walking goes slow Do not rush to Everest Base Camp where everyone comes together but chose the remote valleys, quiet villages, take care to go higher graduatly and not to get altitude sickness! Tip: Alternatieve route Dingboche 4360M Nangkartshang Gompa 4760M Nangkartshang Summit 5090M Dingboche 4360M ... From Dingboche you can go to Everest BC or Island Peak BC, from Pangboche you can visit Ama Dablam BC * VIP ! check if the trekking company is registerd: http://www.taan.org.np/member_directory * trekking poles (walking sticks) are very usefull on trek * buy a good down sleeping bag ! Warm wind and rain proof gear * take some dry abricots, nut, raisens with you, you can not find fruits on trek. * visit some monasteries on the way * when the moon and stars light up Ama Dablam it is magic! *hotel in KTM : Fuji hotel very quiet place in Thamel, modern rooms, real homefeel, simple breackfast, internet computer * Gaia restaurant and Coffe shop is great for a dining outside on a lovely courtyard *Food Bazaar serves a honest tasty meal from an open kichen, loungy restaurant & bar above Food Bazar shop Taxi: airport to thamel 350 NPR Riksja: thamel to ktm Durbar sqaure 100 NPR

Name: Administrator
Posted on: 23/07/2014

From Mountain Mart Trek "The Everest Base Camp trek takes you from the airport at Lukla after 35 min short Mountain flight from Kathmandu, through Sherpa villages over countless ridges, closer to the ice-giants than any other trail. Mountain Mart Trek adventure team has designed this trek to minimize the risk of Acute Mountain Sickness (AMS), including two rest days. On the rest day, we will visit the Everest National Park headquarters with interesting displays of local flora and fauna and of the culture of the Khumbu Sherpas: plus the first views of mighty Everest. An afternoon walk to the large village of Khumjung offers a unique and authentic experience of Sherpa traditional life in this unforgiving territory and magnificent views of Thamserku, Kangtega, Ama Dablam (The Jewel), Island Peak plus Everest together with Nuptse and Lhotse. Continue to the hilltop village of Tengboche and visit their Buddhist Monastery. Then Pangboche and Dingboche, another acclimatization stop: walk to Nangkartshang Hill for fitness and oxygen intake at the higher altitudes and unparallel views of the Ama Dablm, Lhotse – Nuptse glacier . As the altitude rises, the temperature drops; forests give way to alpine scrub, rock and ice. The last village is Gorak Shep: walk to view the ring of peaks surrounding Everest Base Camp on the Khumbu Glacier – and the ice fall towards the summit. A sunrise climb up Kala Patthar offers superb views of Everest, the South Col, Nuptse and the glacier. After breakfast, begin the easier four day downward trek."



Your comments on this walk, your experiences and suggestions, and your photos are very welcome. Where appropriate, you will be credited for your contribution.
Top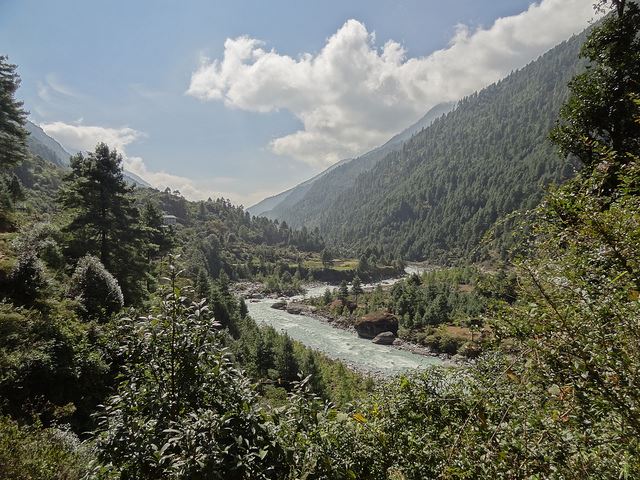 Top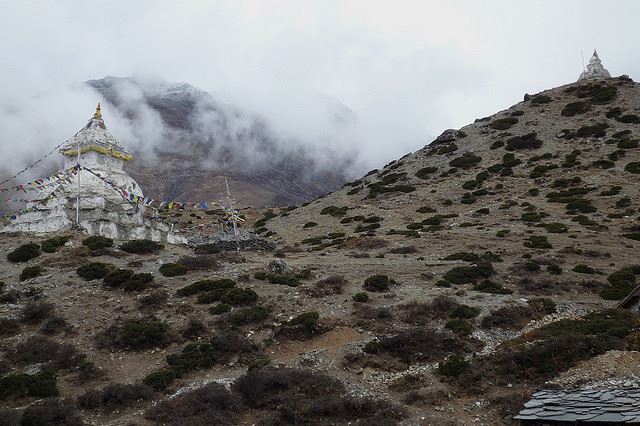 Top
Responsible travel matters, a lot. How you travel will make a real difference - for better or worse. PLEASE consider this when making plans. Read more