Via Jacobi (aka Jakobsweg)
Key information: Via Jacobi (aka Jakobsweg)
The Swiss feeder of the celebrated Camino de Santiago, which carried German and Scandinavian pilgrims from Lake Constance on the German/Austrian border to Geneva on the French, and ultimately to the shrine at Santiago de Compostela, Spain.

Recently restored, and waymarked with predictable (and wonderful) Swiss precision, the route leads right through the rural heart of this mountainous country, affording spectacular Alpine and lake views and delightful old towns as language, food, architecture and way of life gradually give way from German to French.

Skirting the fringe of the Alps, paths are a great way to experience the fascinating, varied culture of this venerable civilisation without the horrors of aprs-ski.



Walkopedia rating
Walkopedia rating80
Beauty

30

Natural interest

14

Human interest

13

Charisma

25

Negative points

2

Total rating

80

Note: Not as crowded as Spain, but popular
Vital Statistics
Length:

350km

3 weeks in total

Maximum Altitude:

1,414m

Level of Difficulty:

Variable
Top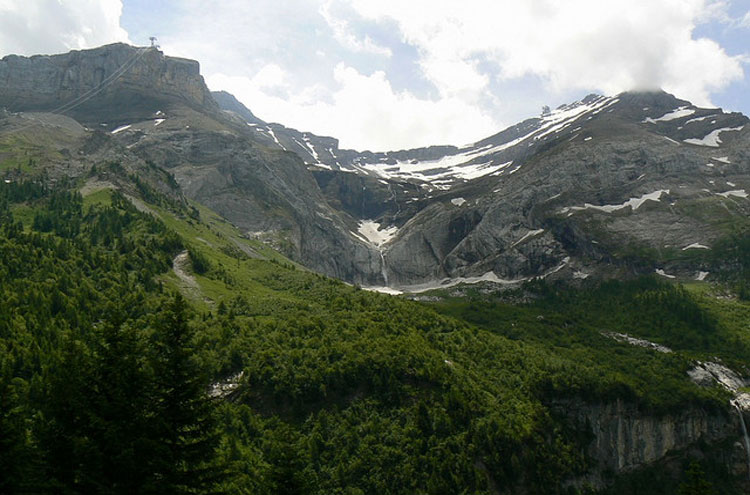 WALK SUMMARY
The celebrated Camino de Santiago pilgrimage route spreads its tentacles out way beyond Spain. In the Middle Ages, the shrine at Santiago de Compostela was a major draw for the religious across the continent, and many of what are thought to be the original paths remain intact. Though the practice had essentially fallen into desuetude, with only 13 people registering as pilgrims in 1978, the route is once again thriving, with 250,000 visitors to the shrine itself last year. Switzerlands Via Jacobi, also known as the Jakobsweg, marks the official start-point of the route (though it began, of course, at your own front door) for pilgrims coming from Eastern Europe and Scandinavia.
The Via Jacobi, which takes pilgrims from the German/Austrian borders at Lake Constance (the Bodensee) along a choice of paths to the French border at Geneva, has been wonderfully restored in recent decades, and now forms an impressive network of paths and mule tracks that carry one through the lush rural feet of the Alps.
Switzerland is often underestimated by those who think of it in skiing terms. Its beauties especially in spring and Summer, though walking continues year round on the impressive Winterwanderweg networks extend far beyond times of snow. Its surprisingly varied farming and cultures have thrived for many centuries in among the mountains, and of course, its neutrality (backed up by heavily-armed forces) during both world wars has meant that much of its Medieval architecture has survived.
These well-maintained, admirably signed, paths, though obviously involving some serious uphill stretches its a mountain country, after all afford a superb way to get a taste of the beauty of the Alps without the skills and burdensome equipment required for a long, high trek. Add to this a helpful, friendly, multilingual population and a vast choice of both accommodation and robust food (none of it cheap, however), and the charms of the Jakobsweg are obvious.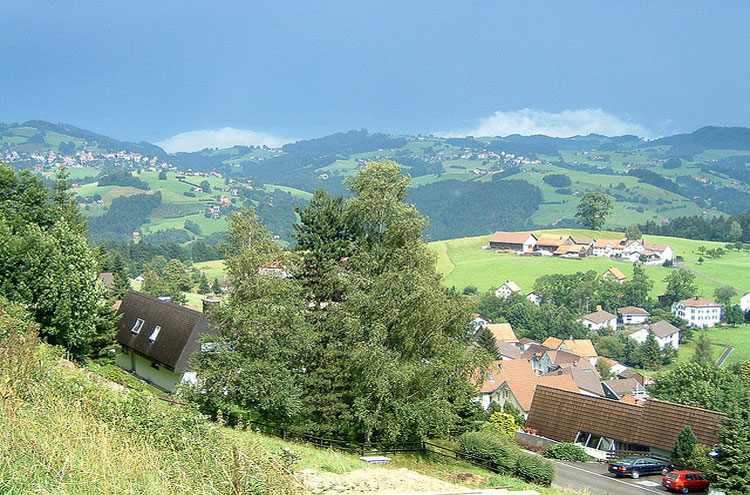 See also expedition planning, including our universal expedition checklist. Walkopedia encourages responsible travel.
Books and Maps
Books on this walk
Remarkably little has been published in English on the route; guidebook publishers seem to stick to the Alps. Even the redoubtable Confraternity of St John are still in the process of producing a Swiss pamphlet. However, useful, information-heavy pdf brochures with basic maps can be downloaded for printing here. The free, 128-page Unterwegssein auf dem Jakobsweg, vom Bodensee zum Genfersee durchs Berner Oberlandis useful even if you havelittle or no German, and is widely available in tourist offices, church bookstalls etc. A parallel booklet, Von Rorschach nach Romont durchs Berner Oberland deals with the St. Gallen branch.
Wanderland Schweiz 4: Via JacobiSabine Bolliger/ AT Verlag – Excellent detailed guide, with maps – but in German, obviously.
Schweiz: Jakobsweg vom Bodensee zum Genfersee Hartmut Engel/Stein, Conrad Verlag – In German, again, but, again, a specific guide to route.
Other books
Lonely Planet SwitzerlandNicola Williams, Kerry Walker/ Lonely Planet – good general guidebook will at least let you know what you're looking at along the way.
Switzerland without a car Anthony Lambert/ Bradt travel guides – Swtizerland's public transport is second-to-none; this reliable guide will help you navigate to just about anywhere.
Central Switzerland: A Walking GuideKev Reynolds / Cicerone – not specific to the Jakobsweg, but the most useful English-language walking guide to the area.
The Rough Guide to SwitzerlandMatthew Teller/ Rough Guides.
Michelin Guide Switzerland Lura Seavey, Alison Coupe/ Michelin – with lots of maps, of course.
Maps
General overview map, which leads to leg-maps and section-descriptions, can be found here
Switzerland NATIONAL map 729 – Michelin
Switzerland – GeoCenter Euro Map
Switzerland 200k (2-sheet set) - Bundesamt für Landestopographie (Switzerland Survey)
Stanfords: www.stanfords.co.uk.An excellent (and user-friendly) online specialist source of worldwide maps (it is also good for guidebooks).
Best times to walk/weather
Best times to walk
Early May – Late September, unless you like snow.
Weather
Generally fine in season, but temperatures vary widely and it does rain.
For detailed weather information, have a look at: www.worldweather.org or www.bbc.co.uk/weather/world/country-guides
Getting there/transport/permits/fees
Zurich airport, then excellent trains to Konstanz or Rorschach (1.5-2 hours) or Einsiedeln (1 hour). Try the Swiss Rail Site for timetables.
Those on organised expeditions will/are likely to be transported from/to Konstanz, Rorschach or Einsiedeln.
No permits are needed to do this walk.
Route(s)
The route is well-signed, as one would predict in this country where everything, almost miraculously, seems to work. For a run-down of the signage (currently changing over to a unified system), see here.
The route of the medieval path was, obviously, dictated by weather and local conditions, but much of it was sufficiently established to have become modern roads (the modern path is clearly detoured where this is the case). Pilgrims from eastern Germany entered the country at Rorshach (the route of St Gallen); those coming from western Germany and Scandinavia at Konstanz, at the far end of the Bodensee (the route of Svabia), and Austrians entered close to Rankweil.
The St Gallen route then proceeds through St Gallen, Herisau, St Peterzell, Wattwill and Neuhaus to the point where all the routes join up at Rapperswil. The Rankweil-St Peterzell route passes Eggerstanden and Appenzell to join the St Gallen route at St Peterzell. The Svabia route passes through Tobel, Fischingen and Wald before joining the others and going on to Einseideln, the fourth "official" start route (possibly so because of its convenience for Zurich airport).
The paths then remain together until Brunnen, on the Lake of Lucerne. Here, you have a choice: skirt southerly along the lake and head west across the Swiss plateau via Flueli, Brunig, Interlaken and Amsoldingen to the laid-back town of Fribourg, based smack on the French-German language border. Alternatively, reach the same destination by catching a boat all the way up the Lake of Lucerne to Lucerne itself – a sophisticated lakeside canton capital extremely popular with tourists – and then through Willisau to the capital, Bern, where one swings south to rejoin the other route just before Fribourg. From here, all is straightforward: follow on through Lausanne, Celigny, Geneva and so to the French border.
A general overview map, which clicks through to leg-maps and section-descriptions, can be found here.
Possible problems, health, other warnings
Mountain weather:

snow, rain and cold are all features of the Swiss landscape. Choose your time of year and take appropriate clothing.
See also the websites in our useful links page for more detailed, and up-to-date, information.
Safety and problems: All walks have inherent risks and potential problems, and many of the walks featured on this website involve significant risks, dangers and problems. Problems of any sort can arise on any walk. This website does not purport to identify any (or all) actual or potential risks, dangers and problems that may relate to any particular walk. Any person who is considering undertaking this walk should do careful research and make their own assessment of the risks, dangers and possible problems involved. They should also go to "Important information" for further important information.
Make sure you have appropriate insurance.
Guided or independent?
Independent
You can easily do this walk independently.
Guided/supported
We are not aware of many organisers who do supported tours of this route. Our current list:
Headwater – www.headwater.com – have a new guided walking holiday (2013) following St James' Way (only the Spanish part, though). It looks good.
Tell us if you know of anyone.
Accommodation
Accommodation in Switzerland is rarely cheap. Guidebooks have a selection of possible accommodation; or download a pdf list here.
Hardy types with sleeping bags and no allergies can try the Schlafen im Stroh/Aventure à la Paillescheme, where participating farms will lend you a corner of their hay-barn, washing facilities and breakfast for SF20-30: the scheme's pdf lists and information can be found here.
Find hostels along the route at Hostelbookers.com.
Other information and tips
Everywhere you go will have at least two spellings, and sometimes two completely different names. That's multiculturalism!
Useful websites and information
Other things to do in the area
Other walks
If you're in Switzerland, the Alps are your oyster.
Other activities
Gawk at buildings: Switzerland is full of medieval towns and cities that, while they give a slight impression of being preserved in aspic, are in fact fully functional. There is barely one that doesn't have something to be said for it, but Bern, Zurich, Chur and Fribourg are all good starting points, and each has its own distinct personality.
Take a train: the Swiss rail system is semi-miraculous: punctual, reliable, comfortable and, best of all, spectacular. Don't waste your time with a car. Train trips here are a holiday in themselves.
Ski, obviously.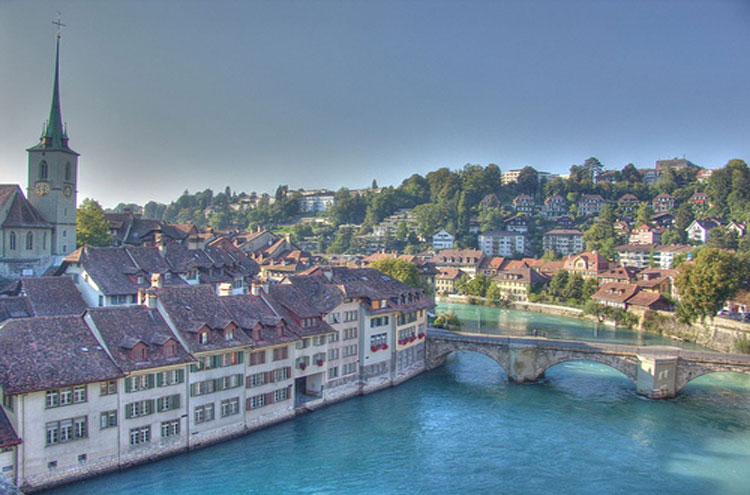 OTHER ACCOUNTS
share your experiences
Top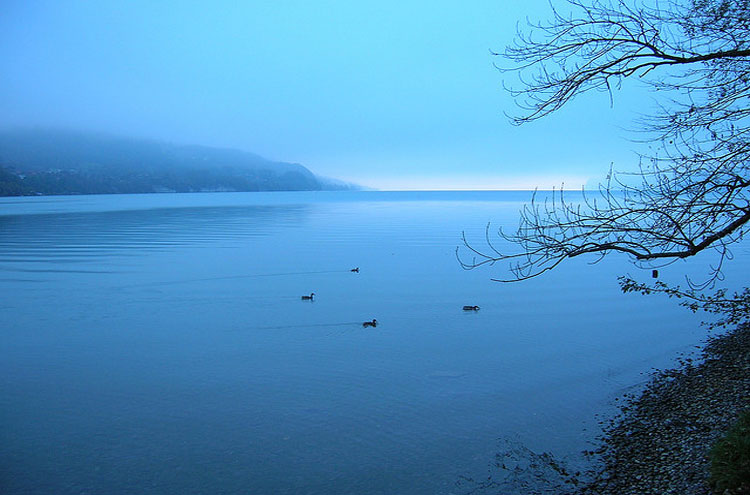 Top
Responsible travel matters, a lot. How you travel will make a real difference - for better or worse. PLEASE consider this when making plans. Read more