Fitz Roy Massif
Key information: Fitz Roy Massif
The Fitz Roy Massif is the crowning jewel of the spectacular Los Glaciares National Park, Argentinas finest and a UNESCO World Heritage Site.

The romance of historic estancias is juxtaposed with vertiginous mountains and awesome nature: panoramas of glaciers, towering granite spires, lakes and Patagonian forest.

Superb walking into the heart of this magnificent area. Fitzroy treks take in vistas of its eponymous massif, as well as a second (marginally smaller) granite peak, Cerro Torre.

A vast landscape, isolated and empty except for guanacos (close relative to Llamas) and condors, or the occasional gaucho (local).

This is wild, remote country and the weather is often horrible. Come well prepared.
Walkopedia rating
Walkopedia rating89
Beauty

36

Natural interest

18

Human interest

2

Charisma

36

Negative points

3

Total rating

89

Note: Negs: consistently bad weather.
Vital Statistics
Length:

Variable

Up to 10 days

Maximum Altitude:

around 1,200m

Level of Difficulty:

Moderate
Top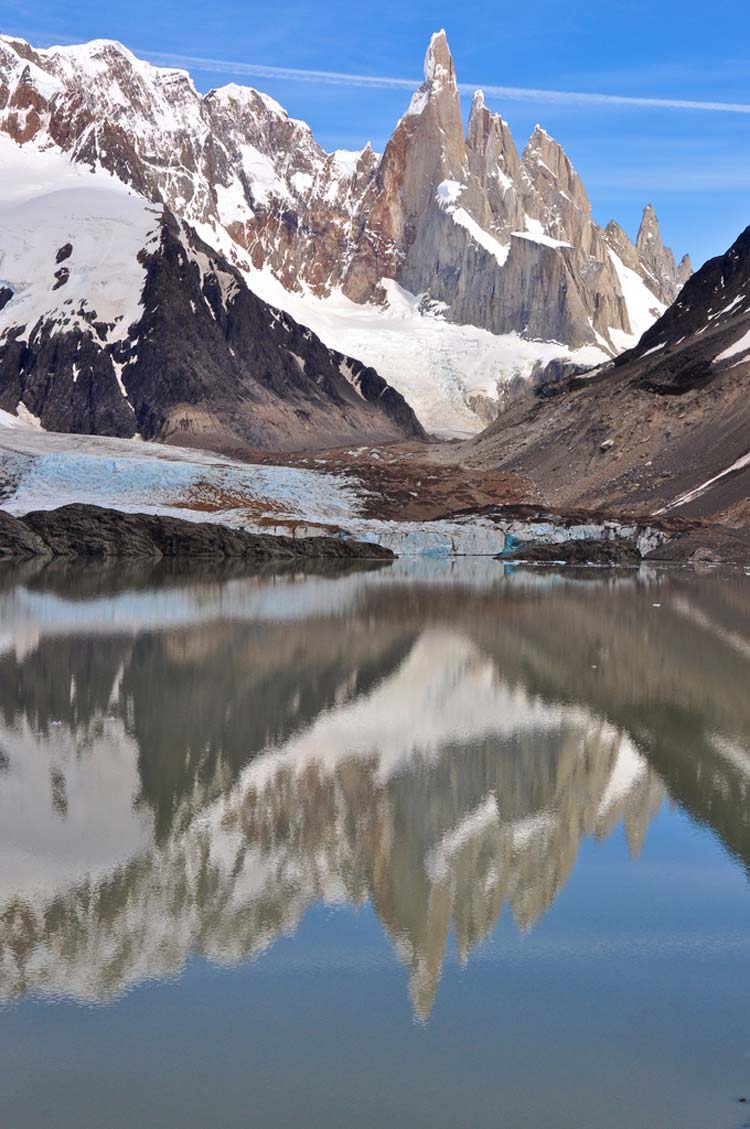 WALK SUMMARY
Los Glaciares National Park, host to the fantastic Fitz Roy Massif, is a UNESCO World Heritage Site and, at 8,500sq miles, of a scale matched only by its grandeur. Approximately a third of its area is covered by ice-fields connecting 47 major glaciers, which sets the area apart as the largest continental ice expanse after Antarctica.
The northern extreme of Los Glaciares is characterized by a range of fantastical spikes, of which Mount Fitz Roy is the most enduring image. A series of jagged, monolithic towers of barren granite thrust into the sky; precipitous cliffs plunge down towards frigid glacial tarns and sparse, indigenous flora.
The range's tallest peak, once known as Cerro Chalten (Smoking Mountain), not as a volcano but for the cloud seen to form around its peak, was renamed in 1877 after the captain of the HMS Beagle, Robert Fitzroy. The dramatic mountain was sighted by his 1834 expedition, sailing up the Santa Cruz River to chart the desolate and isolated Patagonian coast: now, it is symbolic of the Santa Cruz province and iconic to thousands of travellers worldwide.
Los Glaciares' virgin landscape creates pristine vistas wherever you turn, and a marvelous variety of otherworldly terrain makes for breathtaking stuff. Modern international links (El Calafate Airport) and the growth of El Chalten village offer access to Fitzroy like never before.
A Fitz Roy trek will typically incorporate both the Fitz Roy and Cerro Torre base camps (thereafter progress becomes exclusively the domain of elite climbers), while trails go on to navigate myriad lakes and outcrops of hardy vegetation, even ascending a few lesser peaks and approaching Viedma Glacier. Hiking here is truly varied.
The national park offers a frozen, beautiful wilderness. The barren slopes of the 3,405m Fitz Roy Massif seem alien and inhospitable. There is no formal round-the-mountains trek, although you can do this if you are happy with doing some serious glacier walking. The hiking is surprisingly easy, often winding through beech forest between viewpoints. Highlights of a Fitz Roy trek include:
Classic Route: An 11km meander across gentle slopes to the foot of inspiring Cerro Torre (3,128m), joining the Rio Fitz Roy en route. Diversion at Laguna Torre brings you to an even better viewpoint before circling back to Camp Jim Bridwell as Glaciar Torre looms behind. The next day traces a path up to high plateau, then winding through the Lagunas Nieta, Hija, Capri and Madre. Overnight at Camp Poincenot, and the following day take two separate diversions: over moraine and boulder-field to a rose-tinted Fitz Roy sunrise at Laguna de los Tres, and a second, wilder and more rugged, to the rarely visited shore of Laguna Sucia below Glaciar Rio Blanco. Then, its 9km or so along Rio Blancos banks and up the Rio Electrico valley. Retrace your steps to Camp Poincenot to return, taking a valley to your left for further rewards in scenery and atmosphere, overnighting in the glorious refuge perched above Laguna Capri and looking out over range, river and glacier to Fitz Roys serrated peak.
A Circuit: This can only be done by hikers with experience of glacier-walking, and guided. Follow the classic route as above, continuing on from camp Piedra del Fraile past desolate Laguna Electrico and circling back behind Fitz Roy, and down and around Glaciar Torre, yielding fantastic views of Fitz Roys north face.
Los Glaciares National Park is found in the Santa Cruz province of Argentina, in South America's extreme south. Be prepared for terrible weather: storms are common here, even in summer. The Argentine and Chilean borders detour to pass directly over the summit of Mount Fitzroy, such that Cerro Torre, the region's largest mountain, is actually in disputed territory. The spectacular Torres del Paine National Park is nearby in Chile.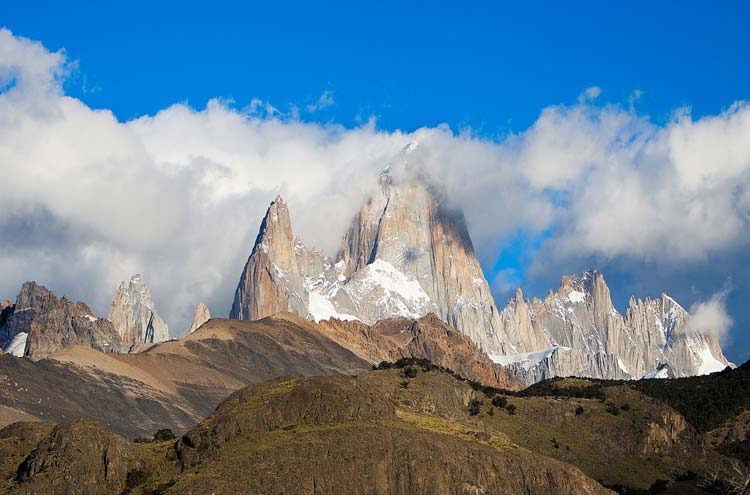 See also expedition planning, including our universal expedition checklist. Walkopedia encourages responsible travel.
Books and Maps
Books on this walk
Trekking in the Patagonian Andes (Lonely Planet Walking Guide) – by Carolyn McCarthy (2009).
The Andes: A Trekking Guide – by Cathy Biggar and John Biggar (2001).
Chapters in Classic Hikes of the World – Peter Potterfield (good practical information) and Trek! The Best Trekking in the World – Claes Grundsten (a more artistic approach, with great photos).
Other books
For general books on Patagonia (in its entirety), start with:
Natural Patagonia: Argentina and Chile – by Marcelo D. Beccaceci (1998).
In Patagonia – by Bruce Chatwin (2008). An account of Bruce Chatwin's journey through Patagonia, where he searched for almost-forgotten legends, Butch Cassidy's log cabin, and the descendants of Welsh immigrants.
Fodor's Patagonia – by Fodor Travel Publications (2008).
Patagonia Handbook (Footprint Handbooks) – by Lucy Cousins and Janak Jani (2009).
Frommer's Argentina and Chile – by Haas Mroue, Kristina Schreck, Michael Luongo (2005).
For general guidebooks on Argentina:
The Rough Guide to Argentina – by Danny Aeberhard, Andrew Benson, Rosalba O'Brien, Lucy Phillips (2010).
Argentina (Lonely Planet) – by Sandra Bao (2010).
Frommer's Argentina (Frommer's Complete) – by Michael Luongo, Charlie O'Malley, Christie Pashby (2009).
Maps
From Amazon.co.uk:
Patagonia & Tierra del Fuego: ITM.5661 ­­– by ITMB (2008) (Folded Map).
Patagonia Map Guide – by Horacio de Dios (2004).
Argentina: South, Patagonia, Uruguay Nelles Ma (Nelles Map) – Ed., Günter Nelles (Jan 2011) (Folded Map).
Independent Travel Map: Argentina and Chile– by Collins Publishers (2000) (Folded Map).
Specific maps can be bought locally – fairly easily – from El Calafate and El Chalten. The Intendencia del Parque (ranger station) at El Chalten, across the bridge at the entrance to the town, hands out helpful trekking maps with routes / campsites marked, giving distances and walking times.
Stanfords: www.stanfords.co.uk.An excellent (and user-friendly) online specialist source of worldwide maps (it is also good for guidebooks).
Best times to walk/weather
Best times to walk
The Argentine high season runs through January/February (summer holidays) and July (winter vacation, but not really an option for Fitzroy). During these periods there is substantial internal tourism, and prices in general rise too.

The Patagonian trekking season is November to April. However, with its milder temperatures and long days, throughout Summer (mid December; January; February; part of March) is fine to visit. March is perhaps the best bet, in order to avoid the crowds. For foreign visitors, high season runs from January to March.
Book well ahead if you are coming in high season.

Weather
The only thing you can predict is unpredictable weather, even in high Summer. Temperatures typically range from about -2 degrees Celsius to around 20 degrees Celsius (winter – summer); bear in mind that being in the southern hemisphere means seasons here run opposite to those in the northern.
Wind (up to 80km/hr) is always a factor; rain, sleet and snow can follow a day of bright sunshine, even into early summer. Fitz Roy is notorious for terrible storms, potentially consigning you to tent or refuge for days at a time. There is an old saying in both Torres del Paine and Fitz Roy: "If you don't like the weather, wait a minute."
For detailed weather information, have a look at: www.worldweather.org or www.bbc.co.uk/weather/world/country-guides
Getting there/transport/permits/fees
Most visitors to Argentina do not need visas and receive free renewable 90-day tourist stamps upon arrival. From December 2009, Argentina has charged a new one-time entrance tax for all visitors holding passports from United States, Canada, and Australia. The total tax is equivalent to the one that Argentines pay to get their visa to travel to these respective countries.
Almost all Fitzroy treks begin in the small hiking village of El Chalten, known as the Trekking Capital of Argentina. The village is approximately 140 miles north of the larger tourist centre of El Calafate, which receives regular flights from Buenos Aires.
By plane
The nearest airport is El Calafate International Airport, 215 Km/4 hours from El Chalten. From Buenos Aires there are daily flights to El Calafate (3hr direct flights), and flights run to/from most major Argentine cities.
By bus
www.elchalten.comhas a reasonably up-to-date bus timetable to/from El Calafate.
Trips take around four hours and cost about US$ 19 one-way. Buses run daily from October until May.
Buses also run to/from Perito Moreno glacier, but are not regular.
By car
If you come by car, keep your lights on half-beam at all times, and always keep your seatbelt on as some roads are unpaved. Bring a spare tire (in good condition), and extra fuel. Tire socks/winter tires are needed in winter, and some roads can get cut off.
From Buenos Aires, 2,755km in total (with tolls):
National Route 3 (along the Atlantic coast; paved).

Provincial Route 288 (through Tres Lagos town).

National Route 40 (parallel to the Cordillera de los Andes; unpaved).

Provincial Route 23 to El Chalten.
West on Provincial Route 11.

Turn left onto National Route 40.

Turn left onto Provincial Route 23.
Those on organised expeditions are likely to be transported to and from their arranged start/departure points.
Get accustomed to the routes with this interactive map from Expedia.
Upon arrival in El Chalten, trekkers must check in with the rangers located in the Intendencia (ranger station). Here, you can organize your 'trekking/climbing registration', which you must keep with you at all times during your trek, and also log your route with them. They will provide you with all appropriate information on trails, campsites, park policy etc, for your visit: Tel (+54) 2962 493004.
For further information on permits and park rules, see the town's tourist information office.

Web:www.elchalten.com/indexen.php
Tel:(+54) 2962 493011
Hrs:Mon-Fri, 09:00–20:00
Sat-Sun, 13:00–20:00
Route(s)
See "Walk Summary", above.
Interactive Map

Possible problems, health, other warnings
Treks here can involve some glacier-walking: make sure you have the right equipment and, where necessary, an experienced guide.

Extreme mountain weather: snow, rain, severe cold and strong wind are possible at any time of year. Come prepared.

Strong sun, particularly that reflecting off the many glaciers. Carry enough water and sun protection (30+ recommended). Also, UV protection sunglasses are advised if visiting any glaciers in the area.

Heights: can be dangerous; not for those who have difficulties with heights.

This is remote country: you will have to carry your food and other supplies from camp to camp, and help may be hard to get if things go wrong.
See also the websites in our useful links page for more detailed, and up-to-date, information.
Safety and problems: All walks have inherent risks and problems can arise on any walk. Many of the walks featured on this website involve significant risks and possible problems. This website cannot, does not purport to, identify all actual or potential risks, dangers and problems that may relate to a walk or a country. Any person who is considering undertaking this walk should do careful research and make their own assessment of the risks, dangers and possible problems involved. They should also go to "Important information" for further important information.
Make sure you have appropriate insurance.
Guided or independent?
Independent
You can walk independently here, but you will need to be self-sufficient, so come fully prepared. Alternatively you can hire all necessary equipment from El Chalten town, but note that most services close during low season (April-October).
You must meet the park rangers at the Intendencia (ranger station) upon arrival in El Chalten, to complete your 'trekking/climbing registration' and log your intended route.
Guided/supported
Many people form or join supported expeditions. Given the remoteness of the region and difficulty of getting supplies, many will prefer to do it this way, and traveling here with a knowledgeable guide has real advantages. Expedition organisers include:
Your accommodation can help organize any tours in situ, if required.
Accommodation
There are campsites en route, and the maps handed out by the Intendencia mark their locations clearly.
El Chalten Tourist Info has a comprehensive list of accommodation available in the area, from cabins and cottages to bed & breakfasts (not available during your hike). Please note that most services and some accommodation close during low season, around April-October time.
Hostelbookersusually has a good selection of cheaper-end accommodation.
You can also stay in a traditional estancia (ranch), such as:
La Quinta: Tel (+54) 2962 493012

Lado del Desierto: Tel (+54) 2962 493010
Of the hotels available in the area:
Los Cerros, 4 star:(+54) 1152 778200

Las Piedras, 3 star:(+54) 2962 493015

La Aldea, 3 star: (+54) 2962 493040
Other information and tips
Bring a stove and extra fuel: open fires are not allowed in free campsites.

Headtorches and spare batteries are suggested.

Enquire about park rules at the ranger station upon arrival in El Chalten (eg. Campfires, waste policy, etc).
Useful websites and information
There are many websites with relevant information. Here are some that we think are useful or have been recommended to us.
Other things to do in the area
Other walks
Patagonia has a huge variety of great walks, in both Chile and Argentina.
There is likely to be a good walk within range wherever you may be. In Patagonia:
Torres del Paine National Park(Chile), another UNESCO World Heritage Site, with fantastic trekking.

Aconcagua, a massive trek taking in the Americas' highest mountain.

Lago Viedma and Lago Argentino, the largest lake in Argentina.

The Perito Merino glacier, regarded as Argentina's most famous and important, which routinely bisects Lago Argentino in its capricious advance, shattering (calving) into its waters.

The Upsala and Onelli glaciers (Onelli with its accompanying forest and hidden, mountain-ringed lake).

Estancia Cristina, a rustic relic of early 20th Century wool farming.

Cascada de los Perros, with views to the daunting Upsala Glacier.

The Don Bosco mountains.

The WalichuCaves, beautiful, filled with Paleolithic cave paintings and one of Argentina's most historically significant treasures.
Other activities
Kayaking

Climbing: despite its relatively small stature in comparison to the Himalayan giants, Fitzroy has a reputation as being an exceptional climbing location. Its otherworldly shape and sheer, soaring granite faces make for long stretches of extremely difficult and technical climbing. While perhaps a hundred people may summit Mount Everest in a single day, only a single ascent per year is the norm for Fitzroy.

Boat Trips (Tierra del Fuego / various lakes: up to glaciers)

Lake fishing

4x4 driving

Swimming: the majority of Patagonian lakes are glacial(!), so summer only.
Safety and problems: All walks have inherent risks and potential problems, and many of the walks featured on this website involve significant risks, dangers and problems. Problems of any sort can arise on any walk. This website does not purport to identify any (or all) actual or potential risks, dangers and problems that may relate to any particular walk.

Any person who is considering undertaking this walk should do careful research and make their own assessment of the risks, dangers and possible problems involved. They should also go to "Important information" for further important information.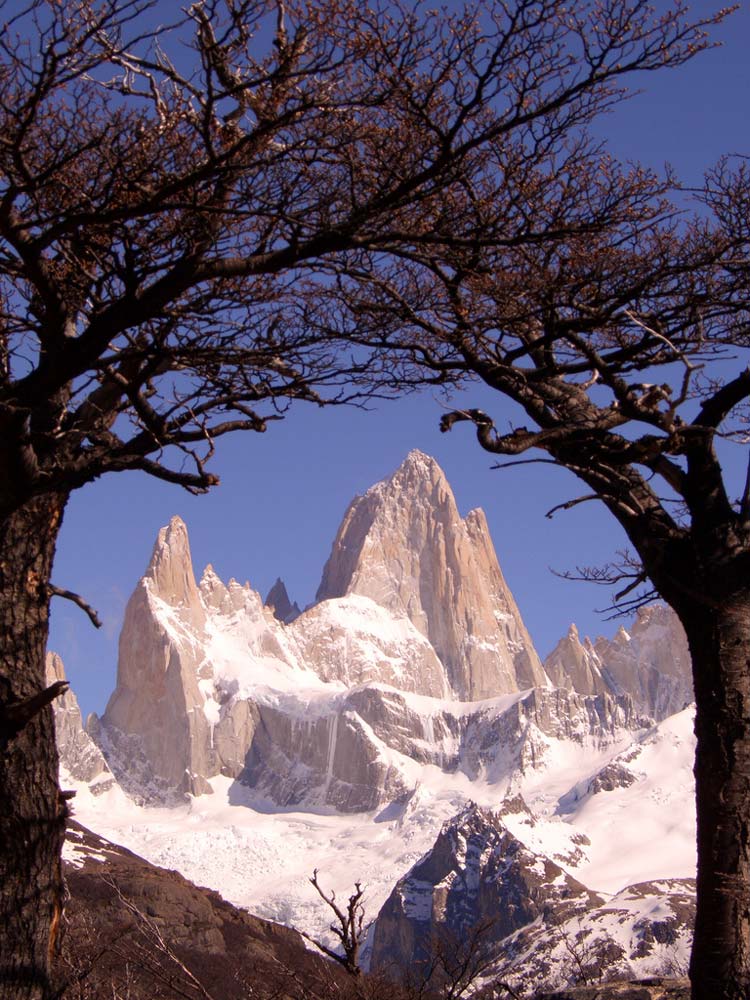 OTHER ACCOUNTS
share your experiences
Top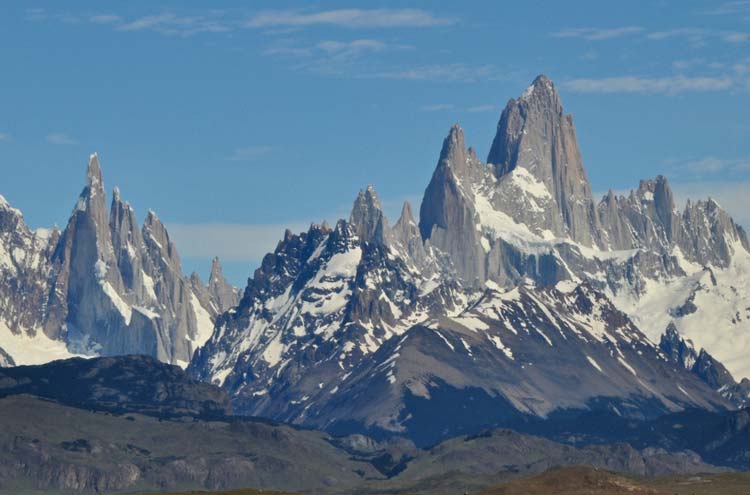 Top
Responsible travel matters, a lot. How you travel will make a real difference - for better or worse. PLEASE consider this when making plans. Read more