Lake District
Key information: Lake District
So famous, and so deservedly: an astonishing array of natural beauty, meltingly pretty lakes winding between craggy mountains broken by perfect, verdant valleys. An inspiration for all of us, not just those Romantic poets.
A superb variety of walks, from magnificent peaks to bag to lovely lakeside ambles to heart-stopping knife-edge moments.
Visit Hillwalk Tours' website for more information on the Lake District.
Walkopedia rating
(Top 100)
Walkopedia rating90.5
Beauty

33

Natural interest

15.5

Human interest

9

Charisma

33

Negative points

0

Total rating

90.5

Note: Crowding at famous places
Vital Statistics
Length:

Variable

Maximum Altitude:

Variable

Level of Difficulty:

Variable
Top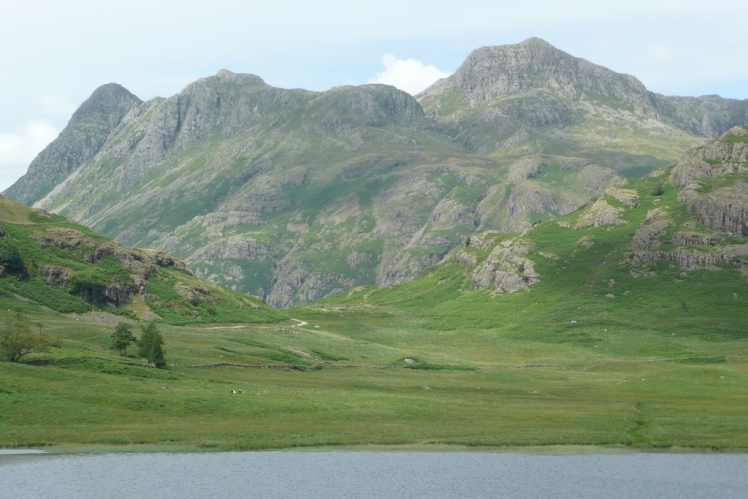 WALK SUMMARY
One of the world's most beautiful and best-loved places, and some of its most gorgeous and best-loved walking. With very good reason. You would have a heart of stone were you not moved and inspired by this wonderful region. It may not have the drama of the Himalayas, Andes or Alps, but Lakeland strikes a huge range of emotive chords, from subtle, gentle lusciousness to harsh, wild drama; to old-fashioned fear.
To state the obvious, it is the region's glacially scoured scenery that sets it apart, with gorgeous lakes winding between ancient, wild hills sporting soft woodland, foaming streams and waterfalls on their lower slopes.
The lakes are, of course, inescapably associated with the romantic poetry of William Wordsworth, the delightful anthropomorphic animal stories of Beatrix Potter (Harry's Great-Grandmother), and other writers, and endless (if at times hackneyed) beautiful pictures. It seems weird, now, that until the romantic perception took root, these mountains and delicate lakes were considered dreary, even sinister.
The Lake District has two drawbacks:
- popularity: you will have to accept that the famous or easy - but beautiful -walks will be overpopulated in high season. To achieve solitude, take lesser-known routes or go out of the high seasons.
- weather, of which there is lots. While there are periods of glorious sunshine, come prepared for cloud and rain. Some of the Lakes' most beautiful light is on showery, broken cloudy days.
With every valley and hillside likely to harbour some treasure, you could spend a lifetime walking here, and even Wainwright (who did so) probably didn't catalogue every possibility. But between him, the outstanding Cicerone guidebooks (their home is in Cumbria) and numerous other guides and pamphlets, the best walks are well covered. Actually, if you want solitude and to get into the "real" lakes, you can take any footpath on the excellent maps safe in the knowledge that it is almost impossible not to be delighted.
Note that wayfinding on some mountains isn't that easy if the cloud comes down - Walkopedia got briefly disoriented near Scafell Pike in March 16 while in charge of two 13 year olds, and it was disconcerting.
You have three primary approaches: move around bagging the very best; a continuous walk; or finding a perfect place to stay, then delving deep into the surrounding area's possibilities.
Walkopedia will not try to list every possibility, and we are at an early stage of our own Lake District eulogy, so we currently list only a small sample of the very best walks.
Continuous routes
- The Coast to Coast: the Lakeland section of this great walk is a fabulous 3 to 5 day walk, depending on where you start.
-
Cumbria Way and Cumbria High Way:
Please give us your ideas for other wonderful continuous walks.
The Great (day) Walks
Central
- Scafell Pike - England's highest mountain. Heavily walked, best avoided at peak times. Walkable with Scafell.
- The dramatic Langdale Pikes and Bowfell and Esk Pike above the beautiful Langdale valleys - particularly ascending Pavey Ark via Jack's Rake (see below).
- Helvellyn Ridge (and Striding Edge)
Western
- Haystacks /High Stile Ridge
above Buttermere.
All further ideas welcome!
Breathtaking beauty
Circle lovely

Buttermere

; include a steepish plod to gain wondrous views from Haystacks or High Stile or the pass above the lakehead.

Around Grasmere

Howton to Patterdale, on Ullswater

. Claimed to be Lakeland's most beautiful lakeside walk (this is of course heavily contested). 7 miles. Take a ferry from Glenridding to Howton, then walk back via Patterdale at the lake's end. Gets crowded at peak times. An alternative is a return ferry to Howton, making a delightful circuit behind the lakeside

Hallin Fell

, through exquisite

Martindale

.
Above ludicrously pretty

Martindale

by Ullswater, crossing lower ridges or getting the big picture from the High Street ridge.

Walla Crag

or

Friar's Crag

above Derwent Water (the view from the latter described by the ever-opinionated Ruskin as one of the 3 finest in Europe).
All further ideas welcome!
Heartstoppers
Climb the infamous

Jack's Rake

, a narrow fissure in the cliff-face of Pavey Ark in the

Langdale Pikes

massif. Truly thrilling, astounding walking, the first time Walkopedia discovered vertigo and the best cigarette of our life at the top.
Famous

Striding Edge

, leading east from

Helvellyn.

A knife-sharp serrated ridge, very exposed in places but not that dangerous in reasonable weather. An unforgettably exciting scramble.

Sharp Edge

on Blencathra.
Areas to base yourself in for a few days
Grasmere

: Wordsworth's home in the heart of the Lakes has a multitude of great walks, including one of the best approaches to

Helvellyn

.

Langdale Valleys

, also in the heart of the Lakes.

Keswick

to the north, and

Borrowdale

, running south from Keswick into the heart of the Lakes.

Buttermere and Crummock Water

Eskdale

to the south-west, with fine walking in the highlands to the north and east, including approach walks to the Scafell massif. Explore the remarkably preserved Hardknott Roman fort.

Dunnerdale

to the south-west, with access to the

Old Man of Coniston

and Swirl How as well as a lot of other fine walking. Some superb ridge walks.

Coniston

, at the head of Coniston Water. A selection of great walks, especially around the Old Man of Coniston and Swirl How to the north-west. Some superb ridge walks.

Patterdale/ Glenridding

at the head of Ullswater to the east. Great walking all around, including:

Martindale

; High Street; Grisedale, and

Helvellyn

.
This page is still at an early stage of development. Please help us by recommending your best walks and sending photos! Thank you!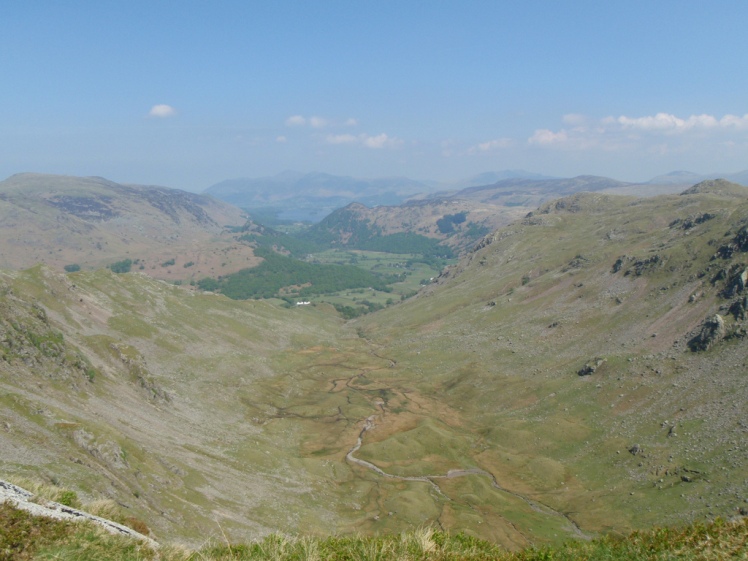 See also expedition planning, including our universal expedition checklist. Walkopedia encourages responsible travel.
Practical Information
See also expedition planning, including our universal expedition checklist.
Walkopedia encourages responsible travel.
Guidebooks/maps/background reading
Guidebooks
There are no less than 25 Cicerone books on the Lake District (their specialty)! Have a look at their website
Short Walks in the Lake District – Collins Ramblers.
Other books
The Rough Guide to the Lake District – Jules Brown
The Lake District: The Panoramas – Mark Denton; beautiful photography.
Time Out: The Lake District – Time Out Guides Ltd.
The Shepherd's Life, A Tale of the Lake District – James Rebanks. A hymn to the Lakes and hill-farming life; but real as well, by a farmer who went to Oxford in his 30s.
The Lake District – Oliver Berry (Lonely Planet).
Lyrical Ballads - William Wordsworth
Walks to Viewpoints – Stewart Smith. 10 Walks.
Lake District Mountain Landscape – Alastair Lee
Maps
Lake District and Cumbria – Ordnance Survey
Lake District: British Mountain Map – Harvey Maps
Lake District Walking Guide – Collins
Good Ordinance Survey maps can be bought locally, easily.
Stanfords: www.stanfords.co.uk. An excellent (and user-friendly) online specialist source of worldwide maps (it is also good for guidebooks).
Best times to walk/weather
Best times to walk
All year is wonderful, in different ways. High summer has the best chance of good weather but can be overcrowded in famous places. Spring and autumn can be magical but with (even) less predictable weather. September and June can as a result be the best months. Clear winter days can be astounding.
Weather
Lots of it. Expect rain at some point, even in high summer. Mist, low cloud, and high winds are not uncommon. Snow in winter. Come prepared.
For detailed weather information, have a look at: www.worldweather.org or www.bbc.co.uk/weather/world/country-guides.
Getting there/transport/permits/fees
Most people come by car.
Train to Penrith or other stations, then bus, is doable but needs careful research.
The Coast to Coast Packhorse service will move your belongings from place to place along the lakes part of the Coast to Coast. See our Northern Coast to Coast page and www.cumbria.com/packhorse. They can also bus you to the start at St. Bee's.
Route(s)
See "Walk Summary" above.
Lake District Map
http://upload.wikimedia.org/wikipedia/commons/e/e5/Lake_district_with_regions.png (for image editor)
By Ordnance Survey. License: Creative Commons Attribution 3.0 Unported.
Possible problems, health, other warnings
· Mountain weather: rain, severe cold and wind are possible at any time of year. Snow in winter. Come prepared.
· Heat and strong sun(!). Carry enough water and protect yourself in summer.
· Heights: some walks can be dangerous, and are not for those who have difficulties with heights.
· This can be remote country: help may be hard to get if things go wrong.
See also the websites in our useful links page for more detailed, and up-to-date, information.
Safety and problems: All walks have inherent risks and potential problems, and many of the walks featured on this website involve significant risks, dangers and problems. Problems of any sort can arise on any walk. This website does not purport to identify any (or all) actual or potential risks, dangers and problems that may relate to any particular walk. Any person who is considering undertaking this walk should do careful research and make their own assessment of the risks, dangers and possible problems involved. They should also go to "Important information" for further important information.
Make sure you have appropriate insurance.
Guided or independent?
Independent
Most people do these walks independently.
Guided/supported
Some people form or join organised/supported expeditions. Expedition organisers include:
See also www.cumbria.com/packhorse and www.sherpavan.com for information on Coast to Coast baggage transport services.
Accommodation
There is a huge variety of accommodation to suit everyone, from grand hotels to campsites. Or you can rent a cottage.
Your choice will be influenced by factors such as time of year (and the state of your crowd-allergies) to how far you are prepared to go to find your walks, to whether you prefer beautiful lakesides or wilder hill scenery.
Every guidebook will have a lot of suitable places to stay. Hostelbookers usually has a good selection of cheaper-end accommodation.
General websites include:
Some good places to stay:
Other information and tips
Useful websites and information
There are many websites with relevant information. Here are some that we think are useful or have been recommended to us.
Other things to do in the area
Other walks
The long distance Coast to Coast path goes on to cross the Pennine Way at Keld, almost exactly its halfway point, then joins a leg of the Cleveland Way on the edge of the North York Moors. Hadrian's Wall is none too far away.
OTHER ACCOUNTS
share your experiences
Top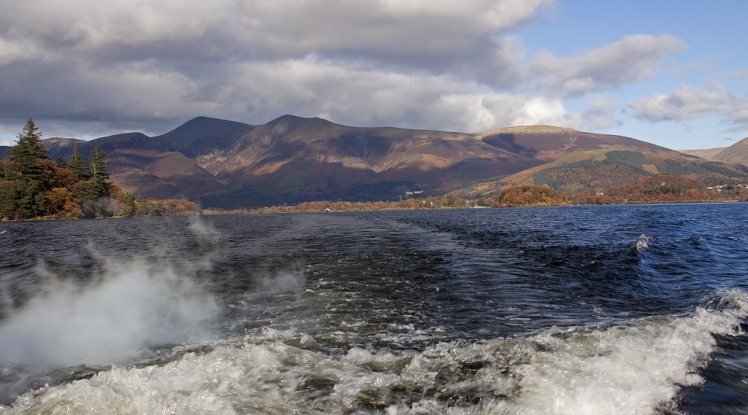 Top
Responsible travel matters, a lot. How you travel will make a real difference - for better or worse. PLEASE consider this when making plans. Read more