Thames Path
Key information: Thames Path
184 miles of path and road following the Thames River, from its source all the way to its maritime flood plain. Two-week walk or a huge choice of day or half-hour strolls.

Generally gentle routes provide a stimulating variety of historic, rural and industrial landscapes.

Not a path for lovers of solitude or wild empty landscape outside urban centres, the Thames runs through the sort of green, agricultural-village landscape that graces the fronts of English Tourism brochures.
Walkopedia rating
Walkopedia rating82
Beauty

28

Natural interest

14

Human interest

15

Charisma

28

Negative points

3

Total rating

82

Note: Neg: some crowding, and occasional stretches along busy roads
Vital Statistics
Length:

184 miles in full

Maximum Altitude:

N/A

Level of Difficulty:

Straightforward
Top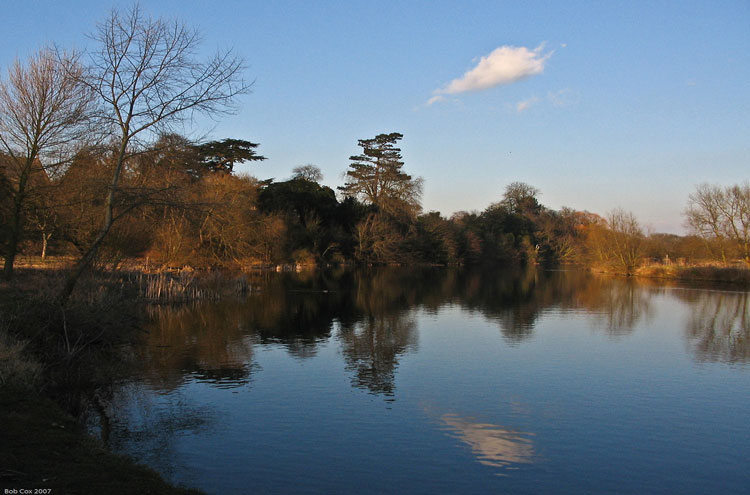 WALK SUMMARY
The history of England and indeed, given the Brits propensity for trade and colonisation, many other countries is inextricably tied up with the history of the Thames. This great river tidal for many miles of its length and navigable right up into the heart of the country has been a focal point for Englands royal, industrial, voyaging and artistic life for two thousand years, and remains (of castles, palaces, abbeys, villas, houses of parliament, peaceful trading towns, towering cranes) from every phase of the countrys civilisation can still be seen along its banks.
The Thames Path national trail covers 184 miles of the rivers length, from the trickle of its source north of Kemble, Gloucestershire, to the great silver flood barrier downstream of London. In between, it traverses a wonderful swathe of the sort of lush, rolling green farmland, and passes through the ancient towns and cities, that grace the fronts of English Tourism brochures. Despite its industrial heritage, the Thames is the cleanest major-city river in the world, and hosts a huge variety of wildlife both on its banks and in its water all the way to the sea; and easy-walking towpaths, remnants of the rivers function as a major cargo route, run much of the way up to Lechlade, Gloucestershire. It is also one of Britains more popular leisure waterways, with canal-boats, houseboats, kayaks, anglers and swimmers mucking around on much of its length.
With hundreds of entry-points, the Thames is a great place for easy, all-generation walks through fascinating, gentle landscape that changes rapidly and dramatically with the seasons. Allow a fortnight to walk the whole path; theres simply too much to see along the way to do it any faster.
There is much to delight throughout its length, but the best sections include:
Section 1: Source to Cricklade.

Section 3: Lechlade to Newbridge.

Section 4: Newbridge to

Oxford

.

Parts of Sections 12 and 13:

Hampton Court

to

Richmond

/

Richmond

to Putney.

Parts of Section 14:

Chelsea

Bridge

to

Tower

Bridge

.
See Routes below for more information.
We would welcome other ideas for best sections!
WILLIAM MACKESY'S ACCOUNT
of this walk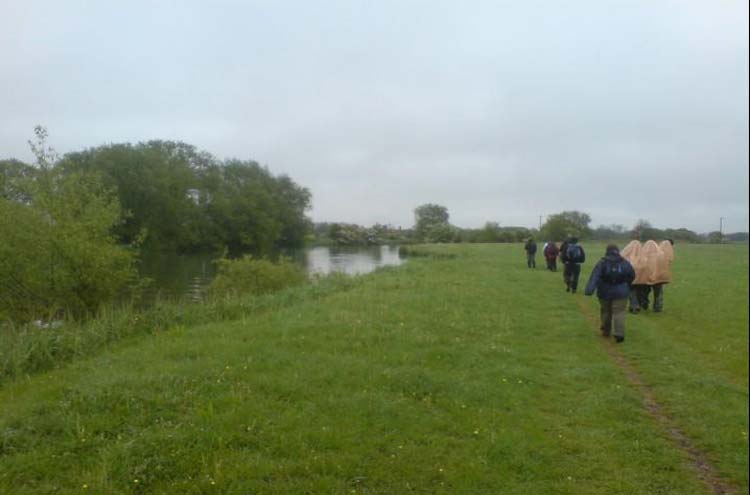 See also expedition planning, including our universal expedition checklist. Walkopedia encourages responsible travel.
Books and Maps
Books on this walk
The Thames Path – David Sharp/National Trails Office: the official NT guide.
Thames River and the Path – GEOprojects: The Inland Waterways' guide to the path.
The Thames Path National Trail Companion – Jos Joslin/National Trails Office: useful side-guide listing accommodation, facilities and services along the route.
The Thames Path: from the sea to the source – Leigh Hatts/ Cicerone not the redoubtable Cicerone's best effort, but still useful.
Walks along the Thames Path – Ron Emmons/Globetrotter: useful book detailing circular walks taking in sections of the path rather than simple linear descriptions.
Other books
The Thames: a Cultural History Mick Sinclair/ Signal books: lovely, gossipy journey along the river, full of detailed anecdote of landmarks, social history, vanished ways-of-life and art and architecture
The Thames: England's River Jonathan Schneer/ Abacus: another jolly cultural history
London: The Biography – Peter Ackroyd/Vintage: mad, fascinating, detailed and breeze-block-sized labour of love from the author of Hawksmoor. You won't want to carry this with you. Or possibly even upstairs.
Three Men In A Boat – Jerome K Jerome/Penguin Popular Classics: evergreen comic novel set on a bad-tempered Victorian holiday on the river
Maps
The path is well-marked with its acorn symbol, but Ordnance survey maps (generally easy and bought locally) are great tools for interpreting what you see around you. Relevant maps are:
Landranger (1:50,000)
174 Newbury, Wantage and surrounding area
Explorer (1:25,000)
168 Stroud, Tetbury and Malmesbury
180 Oxford, Witney and Woodstock
170 Abingdon, Wantage and Vale of White Horse
160 Windsor, Weybridge and Bracknell
Note: for the London sections of the walk, these maps are on far too large a scale and you would be much better off with a decent-sized A-Z, available from all newsagents or from Amazon.
Very basic downloadable maps of each officially-designated section can be found here
Stanfords: www.stanfords.co.uk. An excellent (and user-friendly) online specialist source of worldwide maps (it is also good for guidebooks).
Best times to walk/weather
Best times to walk
All year: Spring and Autumn for colour and fewer people, though obviously Summer has the best weather.
Weather
The British climate is generally benign – but prone to rain. Some sections of the path are prone to flooding; use common sense.
For detailed weather information, have a look at: www.worldweather.org or www.bbc.co.uk/weather/world/country-guides
Getting there/transport/permits/fees
For walks that start and end in urban or village centres, public transport is generally widely available, at least on the lower stretches as far up as Farmoor. Most major towns have websites with links to their local transport provider. Buses fan out all over the Cotswolds from Oxford: http://www.dailyinfo.co.uk/guide/timetabl.html. For London, try the TFL journey planner. The upper reaches are generally best reached by car, but if you time things right you should be able to get back to where it's parked by catching a bus rather than retracing your steps.
No permits are needed to do this walk.
Routes
The path is divided into fifteen legs, but can be joined from many points in between. Click for very basic downloadable maps of these legs.
We recommend (distances are approximate):
Section 1: Source to Cricklade (12m): the stone marker at the Thames Head is between Coates and Kemble on the A433 from Cirencester. This very bucolic path occasionally meanders away from the river and passes Kemble, Ewen, Somerford Keynes, the beautiful lakeland of the Cotswold Water Park, Ashton Keynes and Cricklade.
Section 3: Lechlade to Newbridge (18m): The last section of the path that's completely rural. Lechlade is at the junction of the A361 and A417, and begins a glorious stretch of green and pleasant land that hugs the river through the idyllic villages of Buscot, Kelmscott (former home of William Morris) and Radcott, hits the first (or final) lock on the Thames, Rushey Lock, and Tadpole Bridge (and one of Oxfordshire's most-loved pubs, the Trout). Then pass through eight miles of empty countryside, only Shifford Lock standing between the Trout and the 13th-century New Bridge.
Section 4: Newbridge to Oxford (13 miles): Newbridge is on the A415 just north of Kingston Bagpuize. The river executes a large northward loop above Oxford, creating a mass of flat East Anglian water-meadows and passing Bablock Hythe, the Farmoor reservoir, Swinford and its beautiful eighteenth-century toll bridge, Eynsham, Wytham (wonderful pub, the White Hart), Godstow and its eerie ruined abbey (and another much-loved Trout Inn), and on to Oxford's huge Port Meadow common, whose flat expanses give lovely views of the Dreaming Spires rising up ahead as you pass Binsey (site of GM Hopkins's felled poplars) before entering the city at Osney.
Parts of Sections 12 and 13: Hampton Court to Putney (16m; 8 miles to Richmond): The site of the Tudor palace of Hampton Court is still idyllic today despite having been swamped by London's suburbs; and the towns along the way still retain a strong sense of their origins as separate villages. After visiting (it's so worth it), set off along the towpath below the palace, following the wall of its enormous deer park. This easy route is a mix of civilised waterside houses, inhabited and working islands and large swathes of the sort of elegant green that is one of London's most appealing characteristics as a city. It traverses the counties of Surrey and Middlesex before finally entering London itself, Hampton Wick, Kingston upon Thames, Teddington Lock (which marks the limit of the sea's tidal reach) Ham, Richmond (roughly eight miles from your start point) and Kew Gardens, gradually becoming more urban as it shadows the route of the Oxford-Cambridge boat race between Chiswick, Hammersmith (great riverside pubs), the Bishop's palace park and Putney Bridge.
Part of Section 14: Chelsea Bridge to Tower Bridge (5 miles): one of the most history-rich walks you can take. The path runs on both sides of the river at this point, and is almost entirely road-bound, but it swings away from the river for large stretches on the south side. The best thing is to walk mainly among the historical landmarks, swinging across bridges to get the long view from time to time. Catch the tube to Sloane Square and walk or bus (137, 452) down to the north foot of Chelsea bridge and its fine view of the iconic stacks of Battersea power station. Walking east, with a view of the rapidly-vanishing last industrial landscape in central London, pass Vauxhall bridge, the Tate Britain, Lambeth Bridge (Lambeth Palace on the far side) and up to Parliament Square, the Houses of Parliament, Westminster Abbey and Big Ben. Cross over Westminster Bridge, stopping midway to read the engraving of Wordsworth's poem, and walk on the south side past County Hall, the London Eye and the Royal Festival Hall, and cross back over the footbridge at Hungerford Bridge. The Victoria Embankment then takes you past Cleopatra's Needle, the Temple and the back of the Ritz, into the beginnings of the City, where, soon after Blackfriars Bridge, the famous Millennium Wobbly Footbridge leads to the Tate Modern, Shakespeare's Globe Theatre and the maze-like streets of Southwark. Stay south all the way now, passing the Clink, Southwark Cathedral, Hay's Galleria and HMS Belfast, emerging at the foot of Tower Bridge with a far better view of the Tower of London than you could ever get from the north side. Beyond that, Shad Thames: the warehouses of Londons-gone-by beautifully restored and updated, but you get the same cobbles, narrow alleyways and bridges overhead.
Possible problems, health, other warnings
See also the websites in our useful links page for more detailed, and up-to-date, information.
Safety and problems: All walks have inherent risks and potential problems, and many of the walks featured on this website involve significant risks, dangers and problems. Problems of any sort can arise on any walk. This website does not purport to identify any (or all) actual or potential risks, dangers and problems that may relate to any particular walk. Any person who is considering undertaking this walk should do careful research and make their own assessment of the risks, dangers and possible problems involved. They should also go to "Important information" for further important information.
Make sure you have appropriate insurance.
Guided or independent?
Independent
You can do this walk independently.
Guided/supported
While a guide isn't necessary on any part of the trail, they can add value in terms of information and entertainment, and organise accommodation, transport and meals. Try:
For London, try blue badge guide Brian Cookson, who tailor-makes tours:
Accommodation
The guidebooks have a selection of possible accommodation. Hostelbookers.com usually has a good selection of budget accommodation.
There are also many accommodation websites. Search "[place] accommodation".
Other information and tips
The Thames is a working river running through heavily-populated areas. Inevitably, this means that there will always be a likelihood that the route will be disrupted or diverted, and signage will not necessarily be great. The Thames is also mildly prone to flooding on its upper reaches. Taking a map is a good idea if you're planning to cover any distance.
Useful websites and information
There are many websites with relevant information. Here are some that we think are useful or have been recommended to us:
Other things to do in the area
Other walks


Other activities
The possibilities are endless. You're never more than five miles from something interesting when you're on the Thames.
Shopping, if you must
London. If you want a pair of Union Jack boxer shorts, you've come to the right place.
Safety and problems: All walks have inherent risks and potential problems, and many of the walks featured on this website involve significant risks, dangers and problems. Problems of any sort can arise on any walk. This website does not purport to identify any (or all) actual or potential risks, dangers and problems that may relate to any particular walk.

Any person who is considering undertaking this walk should do careful research and make their own assessment of the risks, dangers and possible problems involved. They should also go to "Important information" for further important information.
COMMUNITY COMMENTS AND PHOTOS
Name: Administrator
Posted on: 08/09/2011

"Wonderful, beautiful, easy for my friend and I - 65 yr. old women. Walked 10-15 miles a day for 7 days - from Oxford to Windsor. Well documented walk, convenient facilities for food, rest, etc. along the way. Quaint villages, history, welcoming people, cows and sheep, and the everchanging Thames running through it all."
Name: ksizzo
Posted on: 06/01/2019

Very enjoyable. My two sons (15, 18) walked this path from the source to London in about 2 1/2 weeks during a heat wave in July/August of 2018. The path was well marked and mostly flat. We were surprised by how few other walkers we encountered. It is possible to spend each night in a village and most days stop for lunch at a pub.

Your comments on this walk, your experiences and suggestions, and your photos are very welcome. Where appropriate, you will be credited for your contribution.
Top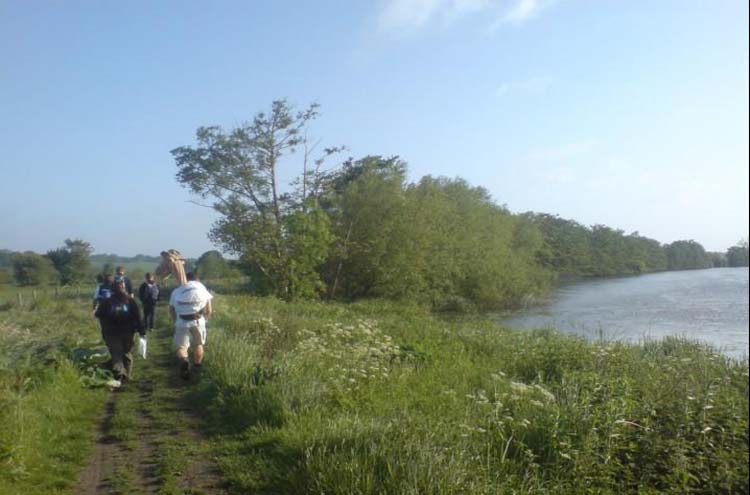 OTHER ACCOUNTS
share your experiences
Top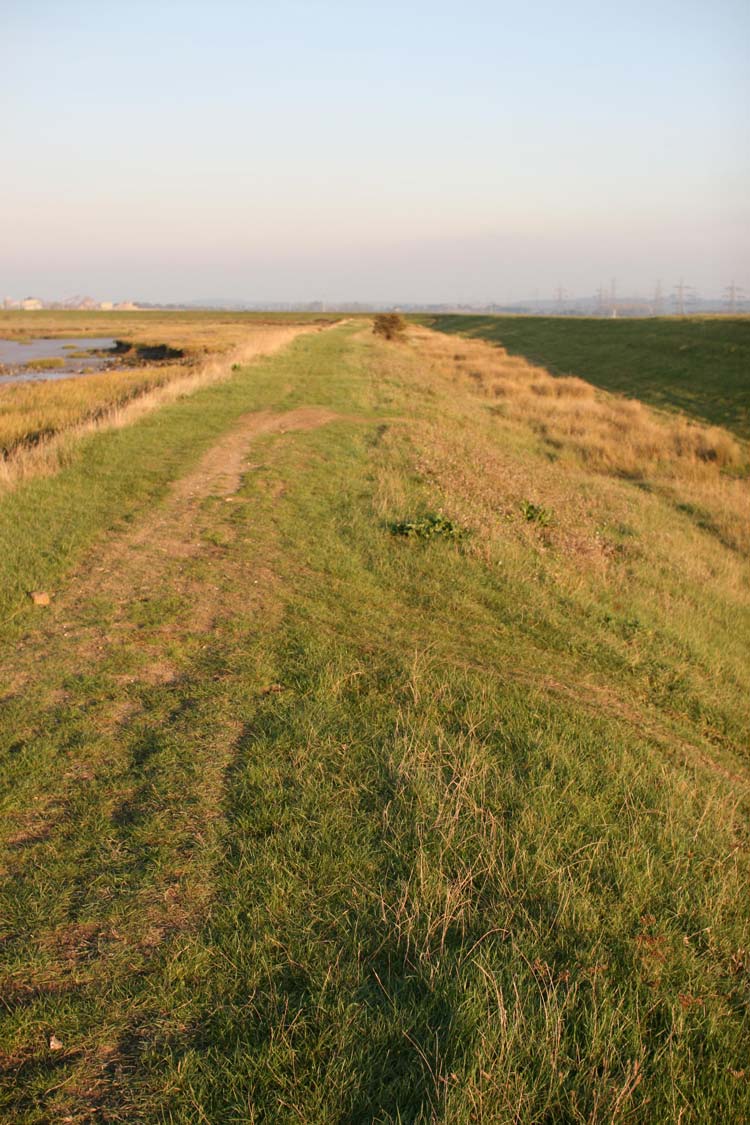 Top
Responsible travel matters, a lot. How you travel will make a real difference - for better or worse. PLEASE consider this when making plans. Read more