Cotahuasi and Colca Canyons
Key information: Cotahuasi and Colca Canyons
The Arequipa region in southern Peru is host to some truly astounding geological and geographical formations, not least the Cotahuasi and Colca Canyons.

These are claimed to be the two deepest canyons in the world, each over twice the depth of the USA's Grand Canyon and fine specimen of Arequipa's lava-sculpted topography.

Independently stunning, the Colca is famed for the huge Andean condors flying high above it; Cotahuasi mixes glaciers with hot spas, juxtaposes millennia-old rock carvings and Spanish gold mines.

With each canyon already over 3,000m deep, indomitable mountains can hoist this altitude to nearer 5,000m - and startlingly quickly. The altitude can become a real problem, so come prepared.
Walkopedia rating
(Top 100)
Walkopedia rating90
Beauty

34

Natural interest

17

Human interest

8

Charisma

34

Negative points

3

Total rating

90

Note: Neg: altitude
Vital Statistics
Length:

Variable

Maximum Altitude:

up to 5,100m, depending on walk

Level of Difficulty:

Strenuous
Top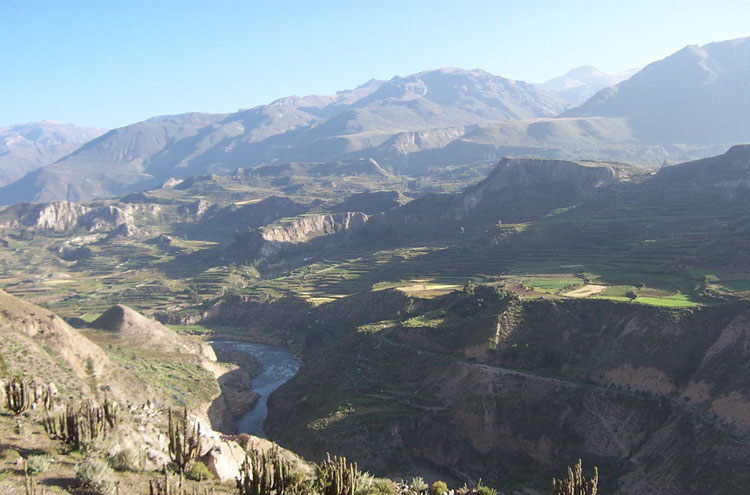 WALK SUMMARY
The Cotahuasi and Colca canyons incise deep tracks into Arequipa's arid, altitudinous plateau. They are claimed to be the two deepest canyons in the world, each over twice the depth of the USA's Grand Canyon (although much depends on how you measure canyon depth, a theological and partisan subject), with Cotahuasi having stolen the Colca's prestige in that regard only recently and amidst much wrangle and debate.
Volcanic activity from past millennia inscribes huge swathes of Peru's interior. Now, lava-sculpted plains lie high above the riverbeds, against a backdrop of Peru's Andean goliaths.
It is through these majestic interior pampas that the respective canyons cut, slicing down through the lava-moulded topography. Trekking down into these astounding canyons penetrates a dramatic, desert wilderness. Their dry, steep walls exhibit improbable Inca terracing in areas, scattering what might otherwise pass for moonscape with flashes of colour and history.
Pass amidst dazzling rivers and arid tracts of Andean desert, and through a host of microclimates; from lush, implausible oases in the deepest canyon, to snowfall brought on by the land's relief, much higher up.
Looming mountains abut and continue the canyons' precipitous walls, sending potential walking altitude careering upwards. Use these to get level with the huge Andean Condors riding thermals high above.
The Cotahuasi and Colca canyons are undoubtedly the most famous of the walks in Arequipa, and justifiably so. Yet the region is rich in wonder throughout:
Arequipa
Arequipa in southwestern Peru runs the whole gamut of pacific coastal resorts and port towns, through to the soaring Andean Peaks that make up South America's spine. Its diversity, therefore, inevitably gives rise to the fantastic and fantastical.
Rivers dissect the volcanic lava that moulded these plateaus, and many more canyons provide an incredible contrast to the heights of plateau and mountain. Volcanic cones puncture the skyline, geysers punctuate its scale and serenity.
Along Arequipa's pacific border, smaller plateaus and dunes dot microcosms of their grand inland cousins onto the regions coastline.
In the province of Castilla, by the town of Corire, is Toro Muerto: 3,000 petroglyphs chronicle Perus human heritage. Near Andaguas: the Valley of Volcanoes, with almost 100 dramatic cones dominating the landscape.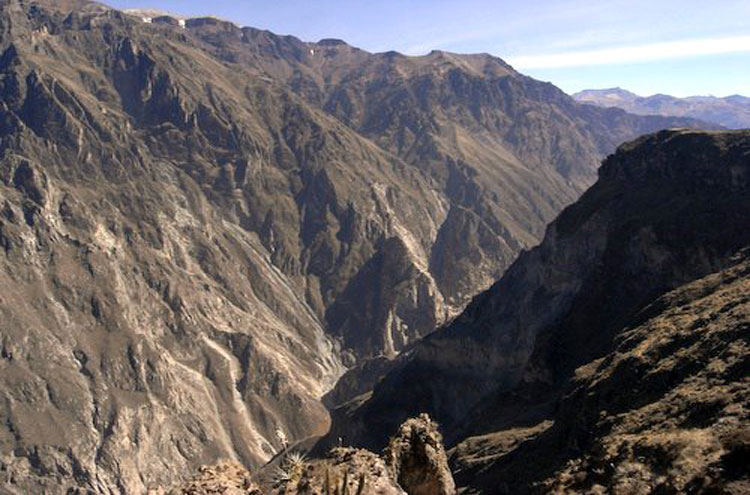 See also expedition planning, including our universal expedition checklist. Walkopedia encourages responsible travel.
Books and Maps
Books on this walk
Trekking in the Central Andes – R. Rachowiecki, G. Dixon, G. Claire (Lonely Planet)
The Rough Guide to Peru – D. Jenkins (Rough Guide)
Peru – C. Miranda (Lonely Planet)
Other books
Canyons and Gorges of Peru – Books Llc
South American Handbook – B. Box (Footprint Handbooks)
Eyewitness Travel Guide: Peru – M. Blacker
1001 Natural Wonders You Must See Before You Die – Eds., M. Bright, J. Barrett
Maps
Colca Canyon, Cotahuasi Canyon – Editorial Lima 2000
Peru: 100K Topographic Survey Maps – IGN (Peru Survey)
Arequipa – IGN (Peru Survey)
Rough Guide Map Peru – Reise Know-How Verlag
Peru, Ecuador Nelles Map – Collectif (Nelles Maps) 3865742548
Maps can be bought locally, fairly easily.
Stanfords: www.stanfords.co.uk. A good online specialist source of worldwide maps (it is also good for guidebooks).
Also try www.mapsworldwide.com and www.trektools.com.
Best times to walk/weather
Best times to walk
This depends on which walk you do. See our Colca Canyon orCotahuasi Canyon pages for more detailed information.
Weather
The weather here is generally very dry and sunny, although humidity, cloud and rain are common between December and April. Owing to the nature of the landscape, the weather can be very variable.
The rainy season lasts throughout January, February and March, whilst temperatures do not alter much over the year. In Arequipa, daily minimums go down slightly from April to November/December, but tend to stay between around 5.5 and 8.8°C. Maximums vary between 21°C and 22°C, no huge difference. However, the ecosystems of the canyons mean that temperatures can vary hugely, whatever the season.
For detailed weather information, have a look at: www.worldweather.org or www.bbc.co.uk/weather/world/country-guides
Getting there/transport/permits/fees
Those on organised expeditions are likely to be transported from/to Arequipa, Peru's second largest city and the region's capital.
Arequipa is reasonably easy to reach from the larger cities in Peru, with short domestic flights from Lima, Cusco, Tacna or Juliaca. Trains are available from Cusco, Juliaca or Puno, and buses run regularly from Lima and Tacna as well as from cities in Chile and Argentina. However, public transport is not necessarily quick or reliable in South America, so plan carefully.
See our Colca Canyon or Cotahuasi Canyon pages for more detailed information.
Permits are needed to do these walks. They can be obtained on point of entry to the respective canyon area. If part of a group or tour, expedition organisers should arrange these. Permits cost around USD $12.
Route(s)
See our Colca Canyon or Cotahuasi Canyon pages for more detailed information.
Possible problems, health, other warnings
Altitude:

can affect some. Acclimatize appropriately, come prepared to cope.

Mountain weather:

snow, rain, severe cold and wind are possible at any time of year. Come prepared.

Heat

and strong sun. Carry enough water and protect yourself.

Heights:

can be dangerous; not for those who have difficulties with heights.

Dangerous/harmful animals

including snakes, stinging/biting insects and plants. Take all appropriate precautions.

This is remote country:

food and other supplies will not be readily available and help may be hard to get if things go wrong.

Health risks:

this is a relatively undeveloped country, and you will not get prompt medical help of a standard available elsewhere if you become ill. Come prepared, including getting all appropriate inoculations/medications.
See also the websites in our useful links page for more detailed, and up-to-date, information.
Safety and problems: All walks have inherent risks and problems can arise on any walk. Many of the walks featured on this website involve significant risks and possible problems. This website cannot, does not purport to, identify all actual or potential risks, dangers and problems that may relate to a walk or a country. Any person who is considering undertaking this walk should do careful research and make their own assessment of the risks, dangers and possible problems involved. They should also go to "Important information" for further important information.
Make sure you have appropriate insurance.
Guided or independent?
Independent
You can do this walk independently, but you will need to be self-sufficient, so come fully prepared.
Guided/supported
Although shorter walks are generally fine to do independently, most people form or join organised/supported expeditions for the longer ones. If you are very keen to walk on your own then it is possible, although you may need to get a local guide for sections. Be prepared.
Expedition organisers include:
Accommodation
The guidebooks have a selection of possible accommodation. The canyons also have a few of hotels and resorts at their respective valley bottoms. Hostelbookers usually has a good selection of cheaper-end accommodation.
See our individual Colca Canyon or Cotahuasi Canyon pages for more detailed information.
Other information and tips
Useful websites and information
There are many websites with relevant information. Here are some that we think are useful or have been recommended to us.
Other things to do in the area
Other walks
Peru has a huge variety of great walks. There is likely to be a good walk within range wherever you may be. We recommend:
The

Inca Trails

, fascinating walks along old Inca trails to ancient ruins, are not far away from here.

Many other amazing walks in Peru.
Other activities
You mustn't miss seeing the centre of Arequipa, which is a UNESCO World Heritage Site due to the excellent preservation of its colonial architecture. Also:
Rafting in the canyons

Mountain biking

Climbing
Shopping, if you must
We are not a shopping website. But, anything bought from local people must be of some help to this poor area. Vendors dot the canyon rims, so wallets out!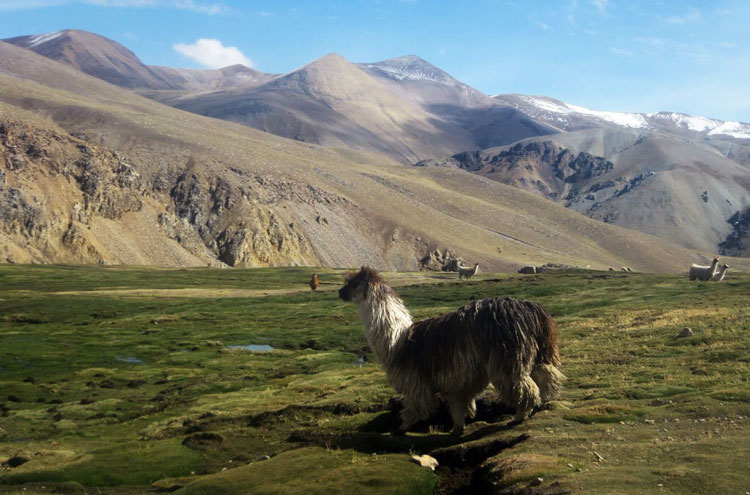 OTHER ACCOUNTS
share your experiences
Top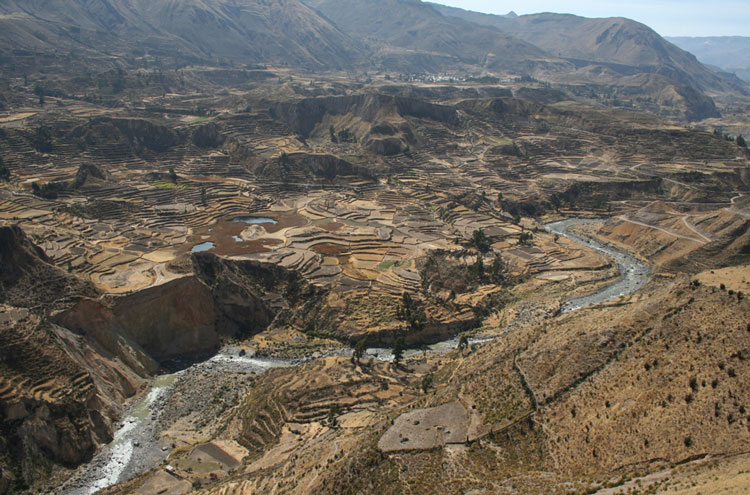 Top
Responsible travel matters, a lot. How you travel will make a real difference - for better or worse. PLEASE consider this when making plans. Read more