Dogon Country
Key information: Dogon Country
Trek along old paths and up and down rough stone stairs between the cliff-top villages of this fascinating region.

Enjoy the spectacular views from the impressive Bandiagara escarpment.

Experience the mystical Dogon culture with its animist beliefs, and wonder at the unique structures of the Dogon villages.

This country is relatively undeveloped, with lack of medical supplies a huge problem. Throughout your stay, take malaria tablets - make sure you bring these with you, as, sadly, they are impossible to obtain once there.
Walkopedia rating
(Top 100)
Walkopedia rating89
Beauty

31

Natural interest

14

Human interest

14

Charisma

30

Negative points

0

Total rating

89
Vital Statistics
Length:

4-5 Days

Level of Difficulty:

Strenuous
Top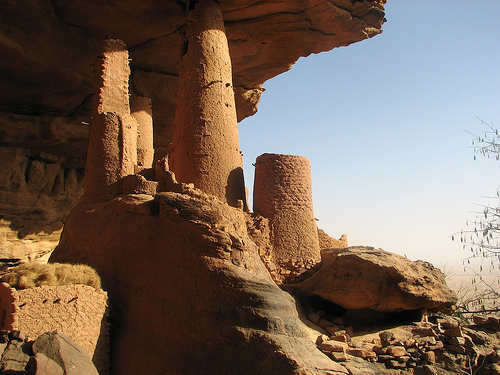 WALK SUMMARY
The area of Mali inhabited by the Dogon people lies near the city of Bandiagara, and the Bandiagara escarpment, a fantastic, natural cliff (and a Unesco World Heritage Site), runs for 150km through its heart.
Living in an arid area surrounded on one side by sandy plains and on the other by the Bandiagara highlands, the Dogon people have a fascinating way of life, which until the end of colonialism had succeeded in being one of the best preserved native cultures. The last century has, however, brought the richness of the mythological, historical, religious and artistic heritage of the area to the attention of the public, and with this recognition comes inevitable change.
It is still possible to see small buildings perched precariously high up on the edge of cliffs, built for the tiny Tellem people, who occupied the escarpment before the Dogons arrived in the fourteenth and fifteenth centuries, eventually nudging them over the border into Burkina Faso. Since then, the Dogon people have practiced their complex and intriguing religion and customs in the area, and seeing the enthralling traditional villages and the way their society operates is an amazing experience.
The animist beliefs they hold are original and absorbing. It is recommended that you get a good guide for the trekking, and they can regale you with tales of the ancestors and how they affect the customs of the villagers.
The landscape is dominated by the inhabitants, their striking architecture an important feature of the scenery, and entirely specific to the area. The granaries of a village show those in the know how important the village is, and how many women live there - each woman has her own, in which she keeps her belongings. Unlike many cultures, the women are economically independent here, and keep the money they earn. Trekking paths follow the dirt tracks and stone staircases that they have used for centuries.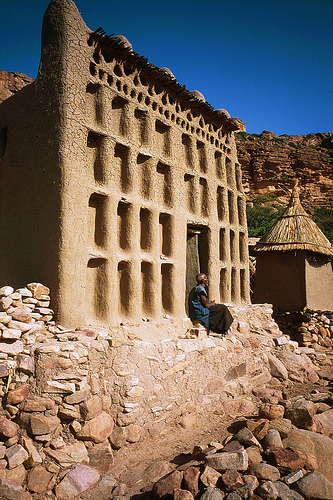 See also expedition planning, including our universal expedition checklist. Walkopedia encourages responsible travel.
Guidebooks/maps/background reading
Guidebooks
Mali – Bradt Travel Guide
Other books
Dogon: Africa's People of the Cliffs – W.E.A. Van Beek & Stephenie Hollyman/Harry N.Abrams, Inc.
Dogon: People of the Cliffs – Agnes Pateaux/Five Continents Editions,Italy
The Science of the Dogon: Decoding the African Mystery Tradition – Laird Scranton/Inner Traditions Bear and Company
Maps
Stanfords: www.stanfords.co.uk. An excellent (and user-friendly) online specialist source of worldwide maps (it is also good for guidebooks).
Best times to walk/weather
Best times to walk
The best time to visit is between November and February when the weather is generally both cool and dry; November is the peak season, but of course this means more visitors as well as the mildest weather.
Weather
It is incredibly hot during the summer, unsurprising considering its position at the fringes of the Sahara. Between June and November is the wet season (if you live in Britain, then calling 3 wet days in a month a 'wet season' may seem to be pushing the point somewhat), leaving the climate humid, but mild. It cools down and dries out for November, and remains similar up until February, when temperatures head towards 30°C again.
For detailed weather information, have a look at: www.worldweather.org or www.bbc.co.uk/weather/world/country-guides
Getting there/transport/permits
If you are planning on flying from outside Africa, you have two options. You can either get to France, and from here a direct flight to Mali (try Air France, Royal Air Maroc or Pont Afrique), or you can fly into Africa, and then get a more "local" flight to Mali (try Air Senegal International from Dakar, Senegal; Air Ivoire from Abidjan, Ivory Coast; Royal Air Maroc from Casablanca, Morocco or Tunis Air from Tunis, Tunisia).
Unfortunately, the amount of French spoken in Africa means that many of these airlines' websites are in French. Even if your French isn't great however, you should be able to find an English version, someone who speaks French, or else book flights through a more general website (such as www.lastminute.com, www.cheapflights.co.uk or www.justtheflight.co.uk), which will use the companies mentioned above.
The best places to fly to for access to Dogon country are Bamako, the capital of Mali and several days' journey from Dogon Country, or Mopti, smaller but much closer
There are trains from elsewhere in Africa to Bamako, and buses to the larger cities of Mali, but you will need to organize a car and driver if you plan to do this alone. Otherwise, the company you are trekking with will often organise transport to and from Bamako (check before you go).
Unless you are a French citizen you will need a visa, obtained well in advance, before entering Mali.
Route(s)
There are various interesting routes. Expedition organisers will have their own favoured routes. If hiring a guide locally, discuss their recommendations on the ground.
Possible problems, health, other warnings
Heat

and strong sun. Carry enough water and protect yourself.

Dangerous animals

, including snakes, stinging/biting insects and plants. Take all appropriate precautions.

This is remote country:

food and other supplies will not be readily available and help will be hard to get if things go wrong.

Health risks:

this is a relatively undeveloped country, and you will not get prompt medical help of a standard available elsewhere if you become ill.

Potential problems include malaria and yellow fever.

Come prepared, including getting all appropriate inoculations/medications.

You will need proof of a yellow fever vaccination to enter the country.
See also the websites in our useful links page for more detailed, and up-to-date, information.
Safety and problems: All walks have inherent risks and potential problems, and many of the walks featured on this website involve significant risks, dangers and problems. Problems of any sort can arise on any walk. This website does not purport to identify any (or all) actual or potential risks, dangers and problems that may relate to any particular walk. Any person who is considering undertaking this walk should do careful research and make their own assessment of the risks, dangers and possible problems involved. They should also go to "Important information" for further important information.
Make sure you have appropriate insurance.

Guided or independent?
Independent
It is not recommended to do this walk independently; the people have many customs and traditions which are totally different to anywhere else in the world, and it is easy to offend them without a guide to explain what is acceptable.
Guided/supported
A guide is essential – can be hired for between $20 and $30USD for a medium length walk. However, be careful about getting one: many are honest and incredibly helpful but there have been stories of those who have not been so good. Ask around other travellers or trusted sources and find a guide who comes recommended.
If hiring locally, meet your guide and get comfortable before committing. Make sure all parameters are understood and agreed – including how you will eat and the importance of avoiding illness.
Accommodation
If you sort out a guide, they will be able to organise accommodation for you, mostly consisting of basic facilites - pit toilets and a 'bucket bath' to wash in, showers are rare. Generally, sleeping arrangements consist of a mattress on a roof.
The Mission Catholique in Bamako, (223-2) 227761, is a cheap option, with the feel of a hostel, it is run by nuns and offers private as well as shared rooms. In Mopti, the Hôtel Doux Rêves, (223-2) 430490, is also good, especially as it provides somewhere to leave extra luggage while you are trekking.
Other information and tips
It is a very good idea to buy a significant amount of something called 'Kola nuts' before setting off. They are a mild stimulant and the people of the area are very keen on them; they often request them, especially in return for taking a photograph.
Remember that the people of the area will often expect some form of tip in exchange for allowing you to take their photograph, whether in kola nuts or money.
Useful websites and information
There are many websites with information on Dogon country. Here are some that we think are useful or have been recommended to us.
Other things to do in the area
Other walks
Other activities
Shopping, if you must
We are not a shopping website. But, anything bought from local people must be of some help to this desperately poor area. So, wallets out!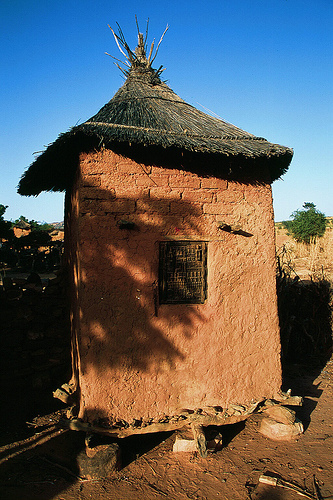 OTHER ACCOUNTS
share your experiences
Top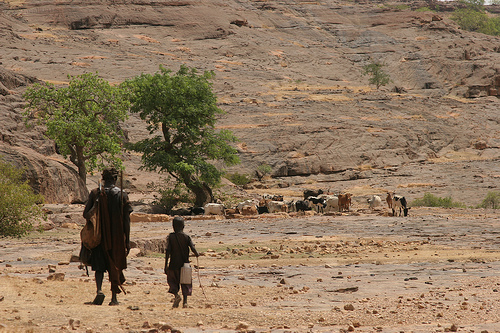 Top
Responsible travel matters, a lot. How you travel will make a real difference - for better or worse. PLEASE consider this when making plans. Read more