Picos de Europa
Key information: Picos de Europa
Remarkable, jagged range of limestone mountains running along Spains northern coast.
A surprisingly untouristed areas: high summer-grazing land scattered with isolated, unique villages beneath dramatic crags and rocky spires. Unrivalled flora and fauna.
A network of walks at varying levels and lengths through one of Europes last true wildernesses.
This is high country, exposed to Atlantic weather; rain is common, trails can get cut off by snow in winter, and the area is famous for sudden and dramatic mists.
Walkopedia rating
(Top 100)
Walkopedia rating91
Beauty

34

Natural interest

17

Human interest

6

Charisma

34

Negative points

0

Total rating

91
Vital Statistics
Length:

Variable

Maximum Altitude:

Around 2,500m

Level of Difficulty:

Variable
Top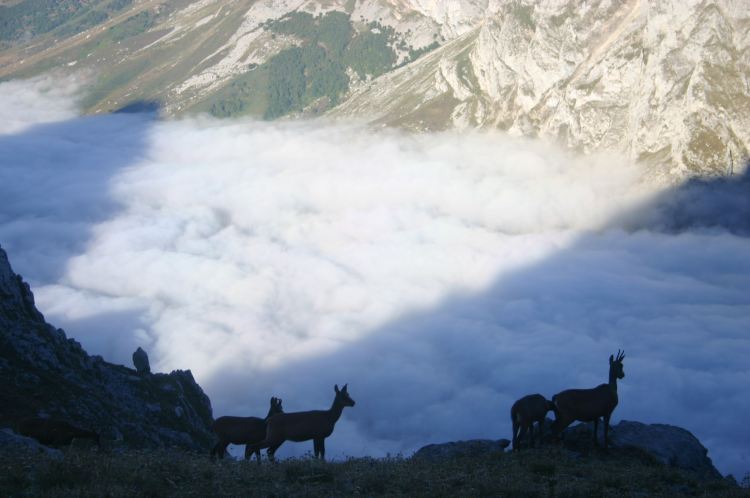 WALK SUMMARY
The Picos de Europa (Peaks of Europe) are an offshoot of the Cantabrian mountain range: an area of jagged limestone peaks (said to be the largest single mass, over 2,000m thick in places, of limestone mountains in Europe) 20km inland from Spain's northern coast. It is generally assumed that the name originates from the fact that they would be the first sight of landfall for travellers crossing the Bay of Biscay from America: Cantabria's capital, Santander, was the primary jumping-off post for the Americas for many years.
The area has been inhabited (as evidenced by a large amount of cave art) since Paleolithic times, and has been consistently farmed for the past 5,000 years, producing a landscape of meadowlands, forests and tiny summer-pasture villages, their lush plateaux isolated from each other by giddying river chasms and overlooked by stern, precipitous peaks. Above the meadows and forests is a harshly beautiful world of ice-cracked cliffs, spires, towers and scree. Think Dolomites. In the summer, the upper meadows resound to the musical bells of livestock brought up from the valleys; in the winter, the villages are almost entirely deserted, the plateaux mostly cut off by snow.
The Picos saw Romans building roads to help conquer resistant Celts, and the Moors' first defeat in Spain. There has been a lot of mining, with old shafts in ludicrously inaccessible cliff-faces and some disfiguring spoil, but this has left a lot of walkable tracks.
A national park since 1918 (and Spain's first), this area has remained delightfully unaffected by modernity and Spains tourist trade. Many locals still have no language other than their own, and much agriculture is still carried on without the benefit of machinery. As a result, the area has a stunning array of flora and fauna and the area is home to endangered species such as the Cantabrian brown bear, the Iberian lynx, wolves and the delightful local Cantabrian chamoix (the rebeco), as well as huge vultures, choughs, buzzards and a diverse population of butterflies.
The walking here is as good as it gets. While there can be tough slogs and scrambles to and from the high ground, the high plateaux can contain easy tracks over pastures or cracked rock surrounded by towering peaks and spires. New vistas open up repeatedly as you turn corners, cross ridges or rivers or emerge from ancient woods. An alpine-style idyll at its best.
There is a multitude of fabulous walks, ranging from a few hours to multi-day hikes from refuge to refuge. Some of the very best are the following:
Other good walks include the Rio Casano and the La Molina gorge (easy; 5km/1h30), with bonus swimming; the Bedoya valley circuit (easy; 5km/1h30), where each village comes with its own palacio; Potes-Frama-Lubayo-Collado de Porcieda-Tudes-Porcieda-Inerval de Tolibes-Potes (moderate; 13km/4h): which goes through some of the area's more remote villages. More Mediterranean in flavor: La Ruta de Treviso (moderate-strenuous; 12km/5h), old mining trail to an isolated village: some tough sections with spectacular views; Puerto san Glorio-Cosgaya (easy; 10km/2h50): a straightforward walk through high country (pass closed May-November) affording spectacular views (best to park in Potes as the start and end points are not linked by bus).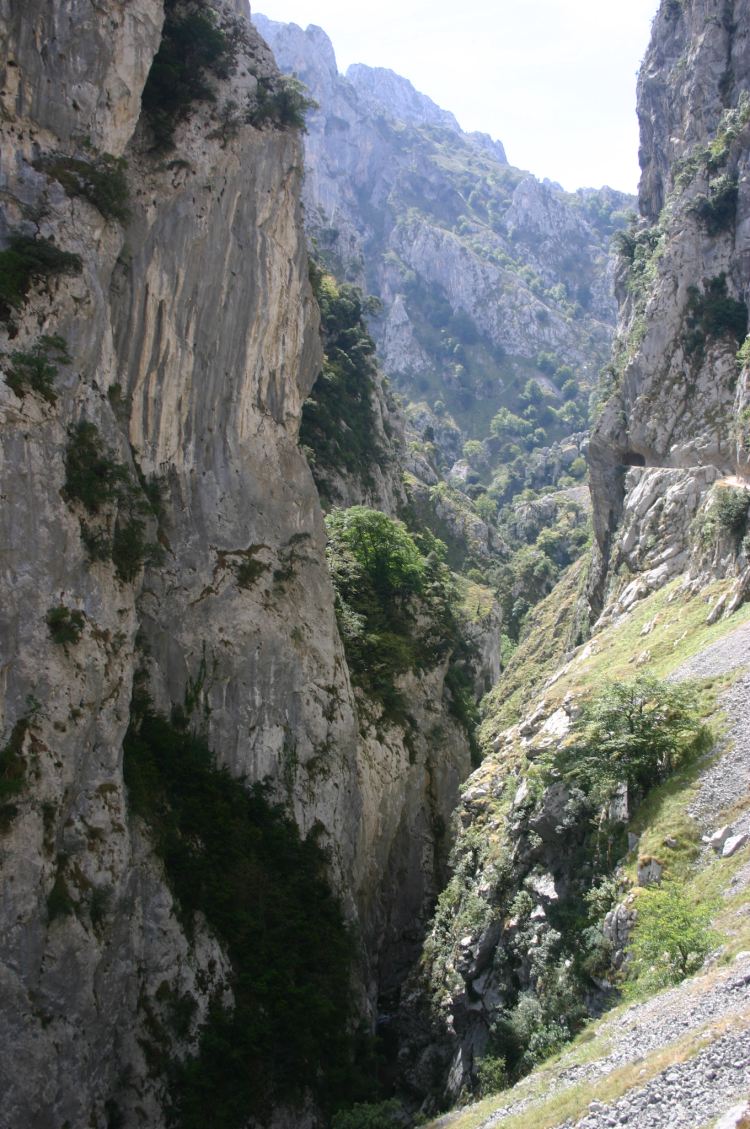 See also expedition planning, including our universal expedition checklist. Walkopedia encourages responsible travel.
Guidebooks/maps/background reading
Books on this Walk
Picos de Europa Car Tours and Walks – Teresa Farino/Sunflower Landscapes. Exhaustive step-by-step route summaries
Walks and Climbs in the Picos de Europa – Robin Walker/ Cicerone: Essential, good background information, but it has a heavy focus on rock climbing and is a bit "hair shirt" and a bit laborious to use.
Picos de Europa - Cordula Rabe/ Bergverlag Rother
Other Books
If you read Spanish:
Guia del Parque Nacional de la Montana de Covadonga – E. Rico and others.
Picos de Europa – P. Pidel and J. Zabala
Maps
http://www.viamichelin.com/viamichelin/gbr/dyn/controller/Cartes?strCountry=844&strAddress=picos+de+Europa&strMerged=&x=0&y=0&ie=UTF-8
Picos De Europa, Macizo Occidental (Western) (El Cornion) MM016 topographical walking map – Adrados Editions http://www.mapsworldwide.com/sku_10237.htm. And Macizos Central y Oriental (Central and East) http://www.mapsworldwide.com/sku_10236.htm.
Picos de Europa National Park – Editorial Alpina http://www.mapsworldwide.com/sku_10237.htm
Best times to walk/weather
Best times to walk
Mid-June to late September, the latter probably being the best time overall, with generally good weather and fewer people. May and June have wonderful wild flowers, but less predictable weather.
Weather
The Picos' maritime climate makes rapid weather changes, rain and sudden, thick mist quite frequent occurrences; afternoon thunderstorms are common in summer. The thick sea of cloud that can blanket lower ground is a common and (from above) beautiful feature – but is not a sign of bad weather. A lot of rain all year, particularly in winter (when it often falls as snow) and spring. Bring waterproofing and warm layers, even in summer, and stick to paths. Trails can get cut off by snow in winter.
Getting there/transport/permits
There is an airport at Santander, and buses (run by Palomera: http://www.autobusespalomera.com/1a.htm) run from there to Potes, on the south-west of the region. The mountains' deep rural communities are spread over three administrative regions, so buses are both scarce (aimed more at the locals' work commutes than visitors' convenience) and not-joined-up. The other main bus company is ALSA (www.alsa.es).
People also fly to Bilbao.
Travelling by car is much the most feasible option.
Route(s)
See Walk Summary above.
Possible problems, health, other warnings
Mountain weather: Rain and thick sudden fog are possible at any time of year. Heavy snowfalls can cut off trails and roads, into May. Wear appropriate clothing, carry a compass and stick to paths. Rock falls can be a hazard; always follow posted advice.
Heights: can be dangerous; some walks are not for those who have difficulties with heights.
This is remote country: It may be Spain, but some areas of the Picos are true wilderness.
See also the websites in our useful links page for more detailed, and up-to-date, information.
Safety and problems: All walks have inherent risks and potential problems, and many of the walks featured on this website involve significant risks, dangers and problems. Problems of any sort can arise on any walk. This website does not purport to identify any (or all) actual or potential risks, dangers and problems that may relate to any particular walk. Any person who is considering undertaking this walk should do careful research and make their own assessment of the risks, dangers and possible problems involved. They should also go to "Important information" for further important information.
Make sure you have appropriate insurance.
Guided or independent?
Independent
You can do these walk independently, some more easily than others. The maps are not that detailed, and do not show all paths, so take great care if going into the remote high areas, and only do so if you are suitably experienced and equipped.
Guided/supported
A number of excellent operators run walk-stay holidays here.
Accommodation
Many walkers base themselves in a valley, day walking in the surrounding hills.
Best places to stay: Potes (a substantial town in the Liebana valley), Espinama (near Fuente Dé), the towns and villages in Valdeón or Arenas de Cabrales near the bottom of the Cares Gorge. Cain and Poncebos at each end of the Cares Gorge are also good.
Accommodation in villages ranges from hotels to campsites. There are campsites near all the main towns, and a free campsite at the Casa Municipal de Pastores at the Vega de Enol (see Lago de la Ercina walk). For those who want to combine the mountains with the beaches of the magnificent Cantabrian coastline, the medieval town of Lianes provides good access to both.
Self-catering, hotels and guesthouses, Cantabria: http://www.casas.co.uk/metapage.php?id=53
Asturias: http://www.asturiaspicosdeeuropa.com/v_portal/apartados/pl_basica.asp?te=1981
A good range of refuges, mainly substantial, serving food (see the Cicerone guide). Beware high summer crowding. Camping is allowed near the huts and elsewhere, subject to restrictions on timing.
We used and liked (and thought good value) the following hotels/inns:
Hotel Nevandi (www.apartamentosnevandi.com) in Espiñama

Hotel / Rifugo Aliva (accessible from the top of the Fuente Dé cable car)

Casa Cuevas, Cain (www.casacuevas.es)

Hotel Garganta

del

Cares (tel: +34 9858 46463) at Poncebos
Hostelbookers usually has a good selection of cheaper-end accommodation.
Other information and tips
Useful websites and information
There are many websites with information on these walks. Here are some that we think are useful or have been recommended to us.
Other things to do in the area
Other walks
Many. See "Walk Summary".
Other activities
Canoeing/rafting: lovely river routes here, from the doddle to the daring.
Caving: the peculiar geology of the Picos has left it riddled with caves and potholes; it's described as "the caver's Everest". Do not attempt without a guide unless very experienced.
Eating: Superb, sustaining bean-based peasant grub in every corner café. The area is also famous for its cheeses.
COMMUNITY COMMENTS AND PHOTOS
Name: ChrisSass
Posted on: 11/12/2016
Poncebos to Cain on the Cares Gorge


Your comments on this walk, your experiences and suggestions, and your photos are very welcome. Where appropriate, you will be credited for your contribution.
Top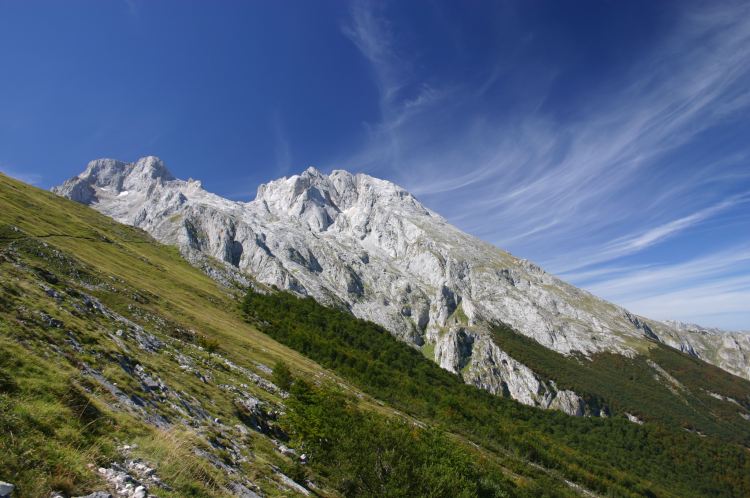 OTHER ACCOUNTS
share your experiences
Top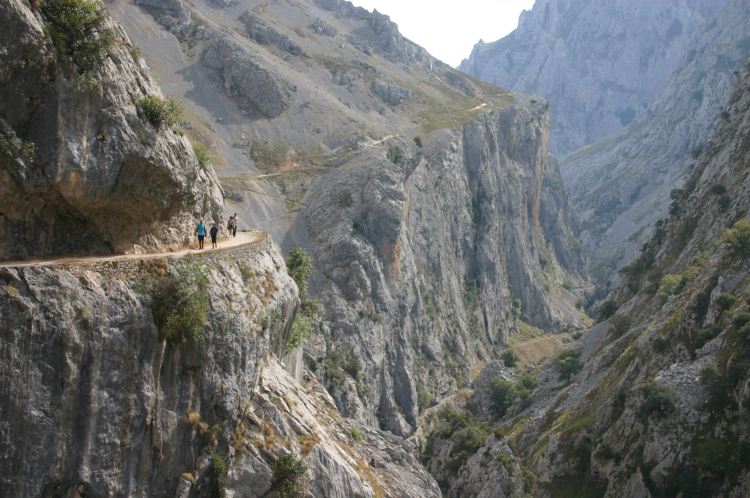 Top
Responsible travel matters, a lot. How you travel will make a real difference - for better or worse. PLEASE consider this when making plans. Read more