Lago de la Ercina
Key information: Lago de la Ercina
Beautiful circuits from perfect lakes in the western massif of the Picos de Europa, a stunning, jagged mountain range running along Spains northern coast.
This is high country, exposed to Atlantic weather; trails can get cut off by snow in Winter, and the area is famous for sudden and dramatic mists.
Walkopedia rating
Walkopedia rating90
Beauty

34

Natural interest

16

Human interest

8

Charisma

32

Negative points

0

Total rating

90

Note: Neg: can get crowded in high season and at weekends
Vital Statistics
Length:

4 - 20km / Day walks

Level of Difficulty:

Variable
Top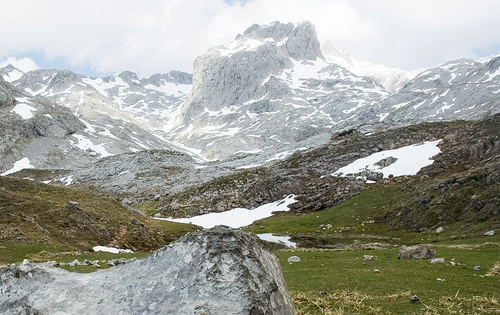 WALK SUMMARY
These routes start and end at the Lago de la Ercina lakes (Ercina and Enol), the primary visiting points of the Picos de Europas western massif. High and isolated, these are classic pastures, impassable from November to May, that afford great views (when cloud allows) of pastoral landscape, glacial lakes and high peaks on lush turf scattered with a host of seasonal wildflowers.
One of the advantages of this area is that if offers opportunities for groups of mixed enthusiasm and ability to split up and please themselves: a (very beautiful) 4km circuit around a hill and visiting the two lakes; a 7.5km circuit (subject to mist) and a 16km hike (with a couple of steep ascents and descents) up to the wild, empty vegas at the Refugio de Ario. See Routes below.
Important: This area has a peculiar weather structure which often produces thick mists in the afternoon; the descent path (walks 2 and 3) from Majada de la Redondella is easy to lose and should not be attempted under these conditions; simply reverse your route back past Lago de la Ercina. Also note: however tempting, swimming is not allowed in the lakes.
See out Picos de Europa page for general information.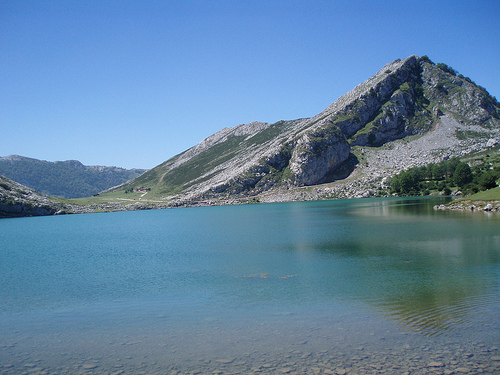 See also expedition planning, including our universal expedition checklist. Walkopedia encourages responsible travel.
Guidebooks/maps/background reading
Books on this Walk
Picos de Europa Car Tours and Walks – Teresa Farino/Sunflower Landscapes. Detailed step-by-step route summaries.
Walks and Climbs in the Picos de Europa – Robin Walker/ Cicerone: Essential, good background information, but it has a heavy focus on rock climbing and is a bit "hair shirt" and a bit laborious to use.
Picos de Europa - Cordula Rabe/ Bergverlag Rother
Other Books
If you read Spanish:
Guia del Parque Nacional de la Montana de Covadonga – E. Rico and others.
Picos de Europa – P. Pidel and J. Zabala
Maps
http://www.viamichelin.com/viamichelin/gbr/dyn/controller/Cartes?strCountry=844&strAddress=picos+de+Europa&strMerged=&x=0&y=0&ie=UTF-8
Picos De Europa, Macizo Occidental (Western) (El Cornion) MM016 topographical walking map – Adrados Editions http://www.mapsworldwide.com/sku_10237.htm.
Picos de Europa National Park – Editorial Alpina http://www.mapsworldwide.com/sku_10237.htm
Best times to walk/weather
Best times to walk
June to late October, the latter probably being the best time overall, with generally good weather and fewer people. May and June have wonderful wild flowers, but less predictable weather.
Weather
The Picos' maritime climate makes rapid weather changes, rain and sudden, thick mist quite frequent occurrences in the afternoon; afternoon thunderstorms are common in summer so a morning start is recommended. A lot of rain all year, particularly in winter (when it often falls as snow) and spring. Bring waterproofing and warm layers, even in summer, and stick to paths. Trails can get cut off by snow in winter.
Getting there/transport/permits
There is an airport at Santander. People also fly to Bilbao.
Travelling here by car is much the most feasible option.
Route(s)
Route 1: Encina/Enol short circuit (4km/1.5 hrs; moderate with the odd rough patch) This is the most populous route, for obvious reasons, but not least because of its exceptionally beautiful pastoral landscapes. Start from the Lago de la Ercina car park. Take the right-hand path, keeping the lake to your left and the hill (the Piqo de Mosquital) to your right. After a squeeze between the two, the path forks; both lead to the same set of sheep-folds and summer shelters, the majadas de la Reblegas; the right-hand is easier to follow; if taking the prettier, left-hand one go straight at the dam at the end of the lake; a short, steep incline leads up to Reblegas. At the majadas, veer right to rejoin the main trail, passing above a marshy meadow, the Vega Brical, past more majadas, El Brical towards a sheer cliff wall (30 mins). Here, turn right up a gully between two limestone outcrops. At the top of the gully (35 mins), a narrow path (which can get a bit obscured by bracken in Summer, but is easily picked up again) passes along a ridge, then drops down into the left-hand gully, passing to the right of a beech wood, before turning left onto a footpath coming in from your right. This braided path runs through a shallow valley, where you will soon see the Casa Municipal de Pastores (a bar-restaurant) on the other side of the Lago-Enol/Mirador del Rey vehicle track, in the middle of the emerald grasslands of the Vega Enol; the path then swings right past a small chapel to another majada (55min). Follow a grassy path parallel with the vehicle track; Lago Enol soon appears (1h05). At the lake, turn right, pass under a rock overhang, and wind uphill onto a grassy plateau with a handful of barns. From the barns, a steep 20-minute stepped path leads up to a breathtaking view over Lago de la Ercina and the peaks beyond. From here the route back to the car park is obvious.
Route 2: Encina/Majada de la Redondella circuit (7.5km/ 2h20; moderate) This is also the first and last parts of route 3. Note: the second half of this trail is fairly easily lost; if there's any signs of the area's notorious mists, you are strongly advised to return via the track you have just taken from the point where this and route 3 branch off.
From the Lago de la Ercina car park, take the left-hand path along the lake towards an obvious limestone crag. After 10 mins, at the foot of this crag, you will hit the gravelly Ario path; turn left and wind gently uphill round the crag. This then crosses an area of heathery heathland and back into more limestone country, up a short-but-sharp ascent and onto more heathland, fist on a plateau and then a ridge passing deep circular depressions to left and right. You then go downhill to a handful of scattered majadas (sheep barns and Summer living-quarters) at Majada de Bobijas, to a flat, dais-like rock with a water-trough cut into it, (roughly 1hr from start). Here, routes 2 and 3 part company. Turn left from here, down the left-hand side of a grassy gully and round to the right across a limestone outcrop, emerging at a grassy area with a small cliff to the right. Go straight across the grass, left of a big boulder, downhill towards a group of mostly-derelict majadas. One still has a roof. Just before reaching this, work your way left (there is no path) down a grassy slope. Just before hitting the valley floor, turn left again, where you will pick up the path again; if in doubt, just make sure to keep the valley floor to your right. The path passes through pasture, heath and limestone rock garden, reaching a water-trough and spring, Fuente Gustantiu, at 1h20. Keep straight, well above the valley floor as it veers away from you to the right. Cross another area of grassland and follow the path up the left-hand edge of a limestone outcrop to another grass plateau. Here are three small stone outcrops; pass between the right-hand ones, over a col and along a tongue of land on the other side. You will see your path traversing diagonally up the slope in front of you; keep left and hit the bottom of it at around 1h30, the top at 1h35. Keep going, staying on the path that keeps you at this level (a couple of others join en route) and you will reach a majestic panorama of the Northeastern massif often seeming to float in the Picos' famous sea of clouds. Five minutes later , from the crest of a spur, you will see the Majadas de Belbin below you to the left; take the small path down, passing to the left of them, and on up a zig-zag track on the other side of the vale. At the second right-hand bend on this track, take a path to the left which maintains its level below Pico Llucia (to your left), crossing a number of gullies; head for the top of the ridge in front of you. When you reach the top of the ridge, you will see the Lago de la Ercina car park below you.
Route 3: Ercina-Vega de Ario-Ercina: (16km/ 5h40; moderate, with ascent and descent climb of about 550m). Much of this path is marked with yellow route markers, though they can be a bit sporadic at times. Follow route 2 to the Majada de Bobijas (1 hr from start). At the "dais", go straight ahead (ie not left) up a path which zig-zags steeply up a limestone outcrop. When the path begins to gently descend, it braids; the right-hand, upper, option is far the easiest, though both lead to Llagiellu (1h15), a boggy vega with a stream bisecting it. Follow the main path up the very steep zig-zagging 100m (though it feels like more) ascent to the top of Las Reblagas (1h35), where you pass suddenly above the tree-line; the path is then easy up to the cairn at Llano los Jitos (1h55). From here, descend slightly then do a 50-minute ascent, aiming always for the twin cairns on the Collada el Jito, clearly visible on the skyline. Near the top, a painted sign tells you that you're 15 mins from your destination. Soon after, a cylindrical column, on which the names of all the peaks in eye-view have been carved, marks one of the most spectacular viewpoints in the entire Picos. From here follow the yellow route-markers through the pastoral idyll of the Vega de Ario, and the Refugio soon becomes visible in front of you. Descend by the same route back to the dais at Majada de Bobijas, then follow route 2 for the rest of the way, mist depending (see note) or retrace your footsteps back down to Lago de la Ercina (15 mins less).
Possible problems, health, other warnings
See also the websites in our useful links page for more detailed, and up-to-date, information.
Safety and problems: All walks have inherent risks and potential problems, and many of the walks featured on this website involve significant risks, dangers and problems. Problems of any sort can arise on any walk. This website does not purport to identify any (or all) actual or potential risks, dangers and problems that may relate to any particular walk. Any person who is considering undertaking this walk should do careful research and make their own assessment of the risks, dangers and possible problems involved. They should also go to "Important information" for further important information.
Make sure you have appropriate insurance.
Guided or independent?
Independent
You can do this walks independently. The maps are not that detailed, and do not show all paths, so take great care if going into the remote high areas, and only do so if you are suitably experienced and equipped.
Guided/supported
A number of excellent operators run walk-stay holidays here.
Accommodation
Picos de Europa for general information.
Many walkers base themselves in a valley, day walking in the surrounding hills. Accommodation in villages ranges from hotels to campsites. There are campsites nar all the main towns, and a free campsite at the Casa Municipal de Pastores at the Vega de Enol. For those who want to combine the mountains with the beaches of the magnificent Cantabrian coastline, the medieval town of Lianes: provides good access to both.
Self-catering hotels and guesthouses:
Other information and tips
Useful websites and information
There are many websites with information on these walks. Here are some that we think are useful or have been recommended to us.
Other things to do in the area
Other walks
Many. See our Picos de Europa page for ideas.
Other activities
Canoeing/rafting: lovely river routes here, from the doddle to the daring.
Caving: the peculiar geology of the Picos has left it riddled with caves and potholes; it's described as "the caver's Everest". Do not attempt without a guide unless very experienced.
Eating: Superb, sustaining bean-based peasant grub in every corner café. The area is also famous for its cheeses.
OTHER ACCOUNTS
share your experiences
Top
Responsible travel matters, a lot. How you travel will make a real difference - for better or worse. PLEASE consider this when making plans. Read more