Central Picos Traverse
Key information: Central Picos Traverse
A 2 or 3 day crossing of this remarkable, jagged range of limestone mountains running along Spains northern coast.
A fantastic variety of scenery, from forests to high summer-grazing land beneath dramatic crags and rocky spires, then tumultuous cracked rock below final high, serrated ridges. Unrivalled flora and fauna.
This is high country, exposed to Atlantic weather; rain is common, trails can get cut off by snow in winter, and the area is famous for sudden and dramatic mists.
Walkopedia rating
Walkopedia rating93
Beauty

34

Natural interest

17

Human interest

8

Charisma

34

Negative points

0

Total rating

93
Vital Statistics
Length:

3 days

Maximum Altitude:

Around 2,500m

Level of Difficulty:

Strenuous
Top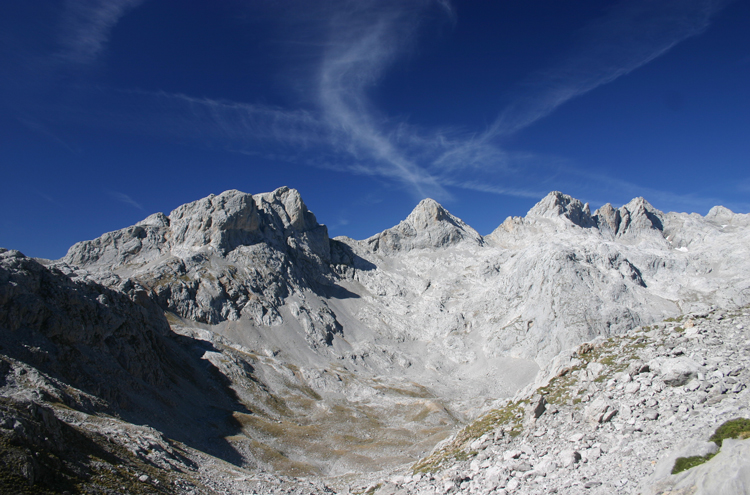 WALK SUMMARY
The central massif of the Picos de Europa in northern Spain is generally thought to be its finest, and a southnorth traverse the ultimate walk in the area only bettered by linking it with the Cares Gorge and the Jermoso Traverse to create the perfect circuit.
There are various ways to cross the central massif; this version has been refined by climber and adventurer Geraldine Westrupp.
You start in the lovely and unspoilt village of Espiama a few kilometres down the valley from the roadhead and cable car station at Fuente Dé, heading north up a small road, then up steep tracks through delightful mixed forest, catching occasional glimpses of pastures and approaching cliffs and high country.
After a couple of hours, you reach the red-tiled summer hamlet of Joyo de Iquedri, nestling in steep meadows below the first of the cliffs.
Turning west, you wind up into a glorious high valley between parallel, dramatic cliffs. At the crest, the immense bowl of cliffs around Fuenta Dé will induce gasps and giddy exhilaration. Then we traverse back to Pico del Valdecoro, the first great bastion of the Picos, with tremendous views southward across the lower Cantabrian mountains.
Then back past the col, round the northern cliffs and through a gap into the huge Aliva bowl, an area of cracked limestone and small pasture all surrounded by tremendous cliffs. After an hour or sos walking, reach the Ref. Aliva, more a hotel, really, with plain but comfortable rooms.
If you are short of time, you could take the cable car from Fuenta Dé, gaining some 750m (but beware queues of up to 2hrs at popular times; come out of high season, or get there early), then either trekking to Ref. Aliva or, if you want to do the traverse in two rather than three days, joining Day 2 below the Pea Olvidada.
This first day can be walked as a one-day circuit. See Aliva Circuit.
Day 2 starts with a steady hike up a good track to the col immediately below the Pea Olvidada, passing an old royal hunting lodge.
Rounding the corner into the northward gorge heading up toward the heart of the Central Massif, the fireworks really start. The track is good, leaving freedom to revel in the wonders around you: the enormous cliffs of the Pea Vieja and other peaks of the central ridge, with endless scree-slopes below them, loom immediately over your right. West and south is the smashed devastation of the Hoyo Sin Tierra, a deep limestone sinkhole which is a classic of the area, a great ring of cliffs and spires marking the skyline behind them.
A long, steady climb gets to the Hdos Rojos pass at the very heart of the range. Climb on to the Torre de los Hdos Rojos for lunch. It is hard work, with brief exposure at the very top, but rewards with extravagant views all around: peaks, cliffs and exiguous high meadows basking under a cloudless sky.
Back at the col, tackle the expeditions heartstopper (for some), a 300m cable-assisted descent of a broken cliff, starting with a traverse, then a descent down a series of steep fissures, then directly down the slightly less precipitous lower slopes. A fall could easily be fatal, but it isnt that dangerous in good weather. Great care would be needed in the wet.
At the base, you skirt another couple of great hous in the long valley bottom, dry at first as all water disappears into those great sieves, heading northward, past that famous tower El Naranjo de Bulnes, and eventually out of the range towards the sea. This is fabulous walking, with magnificent cliffs and high, serrated ridges on both sides.
At a final ridgetop, the magnificent, smooth western face of the Naranjo comes into full view, glowing orange in the afternoon sun on a clear day. Nestled below it is the Ubeda refuge, in the most spectacular of settings, a (relatively) level patch of meadow on the valley bottom surrounded by spires. Although crammed in upstairs rows of cramped together bunk mattresses the downstairs is gemtlich enough.
Day 3 starts with a long descent into the gorge below the Naranjo, the path dropping quickly between vast boulders. Then traverse the magnificent eastern cliffs of the deepening gorge, with increasingly exciting views back up to the Naranjo standing proud of all around it. Around a corner from the final viewpoint, you are suddenly in a very different world forest and meadow, with the sound of cow bells jangling up to us and a really delightful steady traverse down to a tiny refuge in a summer hamlet.
Then descend cropped grassland, through a scattering of summer steadings, then drop into the forest for a while, and a long and tedious descent over old but very uneven cobbles to the delightful Bulnes. Descending more than 1,300m, you will sorely need a drink before continuing on for another hour and a half through the outstanding Canal del Texu gorge, once again frequently on ancient mule and cattle tracks high in the cliffs. Emerge at the base of the even more extraordinary Cares Gorge, crossing a perfect old Roman bridge spanning the Cares stream. But dont miss a painfully refreshing dip in its mountain waters. Marvellous.
See our Picos de Europa page for general information about the Picos.
WILLIAM MACKESY'S ACCOUNT
of this walk
There are various ways to cross the central massif; this version has been refined by climber and adventurer Geraldine Westrupp.
You start in the lovely and unspoilt village of Espiñama a few kilometres down the valley from the roadhead and cable car station at Fuente Dé, heading north up a small road, then up steep tracks through delightful mixed forest, catching occasional glimpses of pastures and approaching cliffs and high country.
After a couple of hours, you reach the red-tiled summer hamlet of Joyo de Iquedri, nestling in the steep meadows below the first of.....
READ MORE

See also expedition planning, including our universal expedition checklist. Walkopedia encourages responsible travel.
Guidebooks/maps/background reading
Books on this Walk
Picos de Europa Car Tours and Walks – Teresa Farino/Sunflower Landscapes. Exhaustive step-by-step route summaries
Walks and Climbs in the Picos de Europa – Robin Walker/ Cicerone: Essential, good background information, but it has a heavy focus on rock climbing and is a bit "hair shirt" and a bit laborious to use.
Picos de Europa - Cordula Rabe/ Bergverlag Rother
Other Books
If you read Spanish:
Guia del Parque Nacional de la Montana de Covadonga – E. Rico and others.
Picos de Europa – P. Pidel and J. Zabala
Maps
http://www.viamichelin.com/viamichelin/gbr/dyn/controller/Cartes?strCountry=844&strAddress=picos+de+Europa&strMerged=&x=0&y=0&ie=UTF-8
Picos De Europa, Macizos Central y Oriental (Central and East).
Picos de Europa National Park – Editorial Alpina.
Best times to walk/weather
Best times to walk
Mid-June to late September, the latter probably being the best time overall, with generally good weather and fewer people. May and June have wonderful wild flowers, but less predictable weather.
Weather
The Picos' maritime climate makes rapid weather changes, rain and sudden, thick mist quite frequent occurrences; afternoon thunderstorms are common in summer. The thick sea of cloud that can blanket lower ground is a common and (from above) beautiful feature – but is not a sign of bad weather. A lot of rain all year, particularly in winter (when it often falls as snow) and spring. Bring waterproofing and warm layers, even in summer, and stick to paths. Trails can get cut off by snow in winter.
Getting there/transport/permits
There is an airport at Santander, and buses (run by Palomera: http://www.autobusespalomera.com/1a.htm) run from there to Potes, on the south-west of the region. The mountains' deep rural communities are spread over three administrative regions, so buses are both scarce (aimed more at the locals' work commutes than visitors' convenience) and not-joined-up. The other main bus company is ALSA (www.alsa.es).
People also fly to Bilbao.
Travelling by car is much the most feasible option.
Route(s)
See Walk Summary above.
Possible problems, health, other warnings
Mountain weather:

Rain and thick sudden fog are possible at any time of year. Heavy snowfalls can cut off trails and roads, into May. Wear appropriate clothing, carry a compass and stick to paths. Rock falls can be a hazard; always follow posted advice.

Heights:

can be dangerous; some walks are not for those who have difficulties with heights.

This is remote country:

It may be Spain, but some areas of the Picos are true wilderness.
See also the websites in our useful links page for more detailed, and up-to-date, information.
Safety and problems: All walks have inherent risks and potential problems, and many of the walks featured on this website involve significant risks, dangers and problems. Problems of any sort can arise on any walk. This website does not purport to identify any (or all) actual or potential risks, dangers and problems that may relate to any particular walk. Any person who is considering undertaking this walk should do careful research and make their own assessment of the risks, dangers and possible problems involved. They should also go to "Important information" for further important information.
Make sure you have appropriate insurance.
Guided or independent?
Independent
You can do these walk independently, some more easily than others. The maps are not that detailed, and do not show all paths, so take great care if going into the remote high areas, and only do so if you are suitably experienced and equipped.
Guided/supported
A number of excellent operators run walk-stay holidays here.
Accommodation
Once on high ground, refuges or camping are the only option. The Ubeda refuge below the Navanjo de Bulnes is a necessity, although cramped upstairs on busy nights. Camping is allowed near the huts and elsewhere, subject to restrictions on timing.
We used and liked (and thought good value) the following hotels/inns at each end:
Hotel Nevandi (

www.apartamentosnevandi.com

) in Espiñama

Hotel / Rifugo Avila (accessible from the top of the Fuente Dé cable car)

Hotel Garganta del Cares (tel: +34 9858 46463) at Poncebos
Hostelbookers usually has a good selection of cheaper-end accommodation.
Other information and tips
Useful websites and information
There are many websites with information on these walks. Here are some that we think are useful or have been recommended to us.
· Spanish National parks Picos website, translated by Google: www.reddeparquesnacionales.mma.es
Other things to do in the area
Other walks
Many. See our Picos de Europa page for ideas.
Other activities
Canoeing/rafting: lovely river routes here, from the doddle to the daring.
Caving: the peculiar geology of the Picos has left it riddled with caves and potholes; it's described as "the caver's Everest". Do not attempt without a guide unless very experienced.
Eating: Superb, sustaining bean-based peasant grub in every corner café. The area is also famous for its cheeses.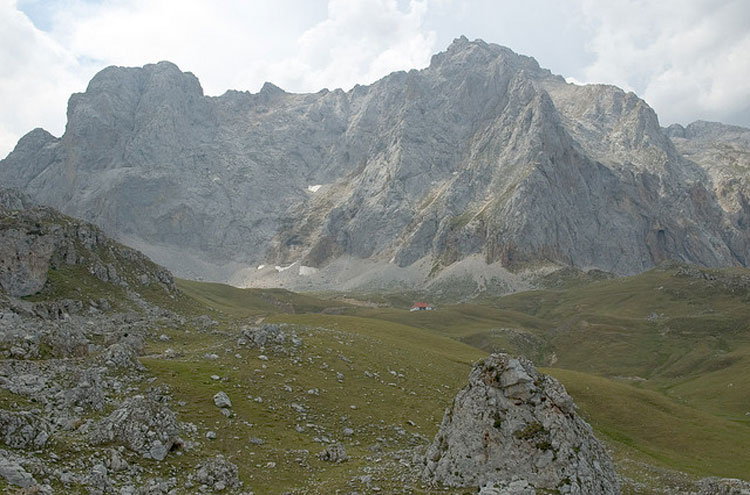 OTHER ACCOUNTS
share your experiences
Top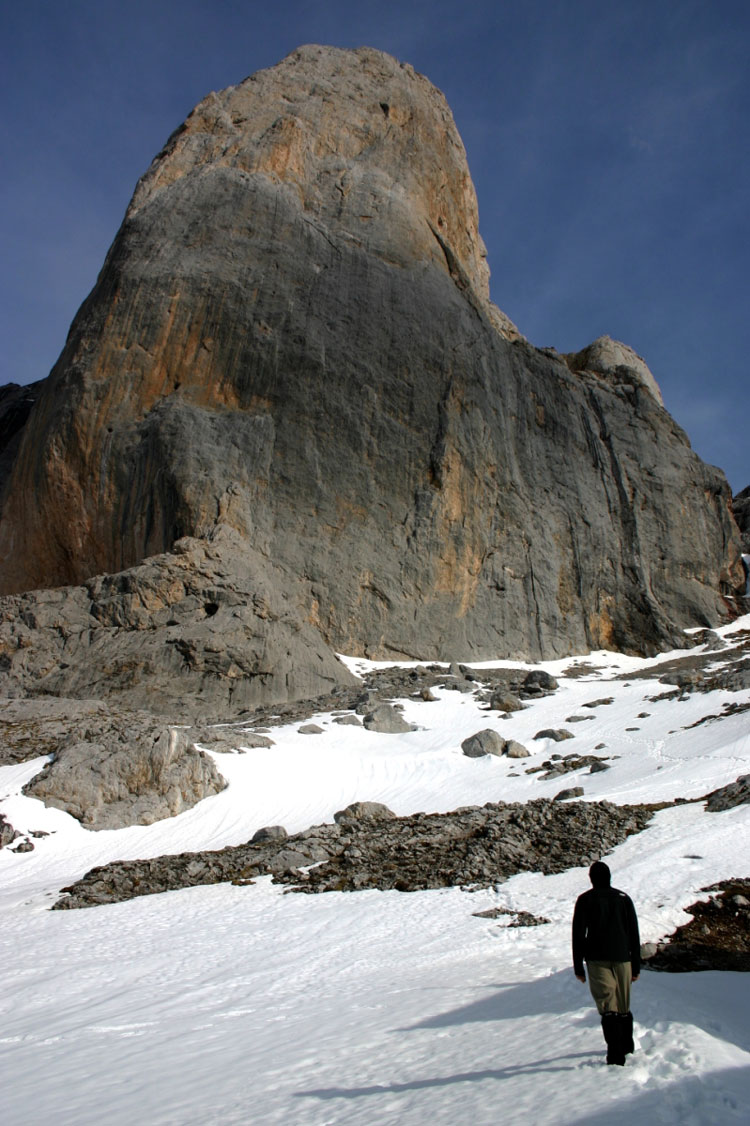 Top
Responsible travel matters, a lot. How you travel will make a real difference - for better or worse. PLEASE consider this when making plans. Read more