Lawrence's Spring
Key information: Lawrence's Spring
A delightful little pool in a cool corner of a canyon tucked into the vast walls of Jebel Rum, made famous by an eulogy from TE Lawrence (Lawrence of Arabia)

Outstanding desert mountain scenery: justly famous combination of vast multi-coloured towers and cliffs looming over red sandy desert.

A protected area with a surprisingly rich array of animal and plant life.
Walkopedia rating
Walkopedia rating84
Beauty

28

Natural interest

14

Human interest

12

Charisma

30

Negative points

0

Total rating

84
Vital Statistics
Length:

1+ hr round trip

Level of Difficulty:

Moderate
Top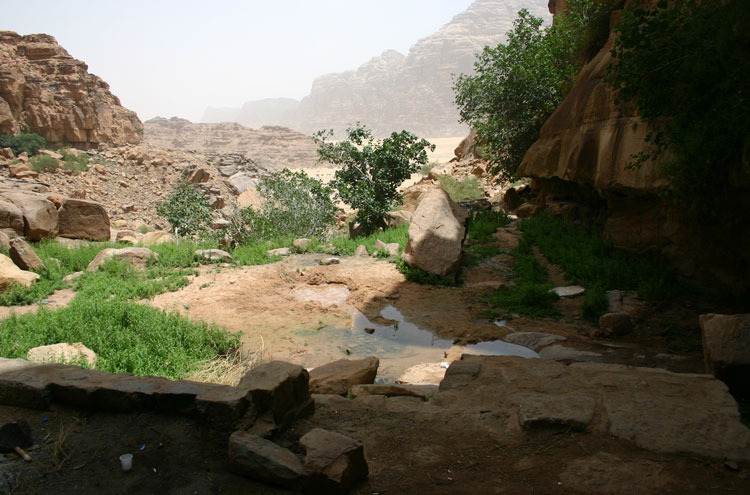 WALK SUMMARY
Wadi Rum is famous, internationally, for its extraordinary scenery and for being the central setting of T.E. Lawrences account of his involvement with the Arab Rebellion of 1919, Seven Pillars of Wisdom, which in turn became David Leans classic film Lawrence of Arabia, parts of which were filmed on location here.
Lawrences Spring is in Wadi Shelaali, a short canyon of broken boulders curling into the vast Jebel Rum, Wadi Rums western wall, near Rum village. It is mentioned twice (ecstatically) in The Seven Pillars of Wisdom, and a broken-down watercourse shows that it was the probable reason for the Nabatean site and temple nearby.
All along Jebel Rum are small clumps of vegetation marking the seepage of water at the junction, a few hundred feet up, of differing rock layers. Lawrences Spring is for most of the year more a puddle in a refreshingly dank, cool and green corner of this broiling landscape, than a Platonic ideal of a spring. But you can see why Lawrence thought it a paradise. Above the spring is a horseshoe of low cliffs, apparently scramble-able and giving access to an upper canyon that peters out at the base of the real Jebel Rum wall.
From the resthouse and campsite near Rum village, head south-west toward Jebel Rum and the white water tank at the entrance to the valley. The path is clear, zig-zagging up to a little plateau and then following the line of the valley, below the cliffs, passing first of all the springs of Abu Shleilieh and then arriving, at the end of the valley, at Lawrences Spring. On the way, enjoy a good introductory taster of the drama of Wadi Rums unique landscape of shifting red sand surrounding vast massifs and towers, some of which stand approaching 1,000 metres above the desert floor, all striped with an extraordinary variety of colours, all presiding over cliffs, wadis, sand dunes and springs.
See our Wadi Rum page for more information on Wadi Rum.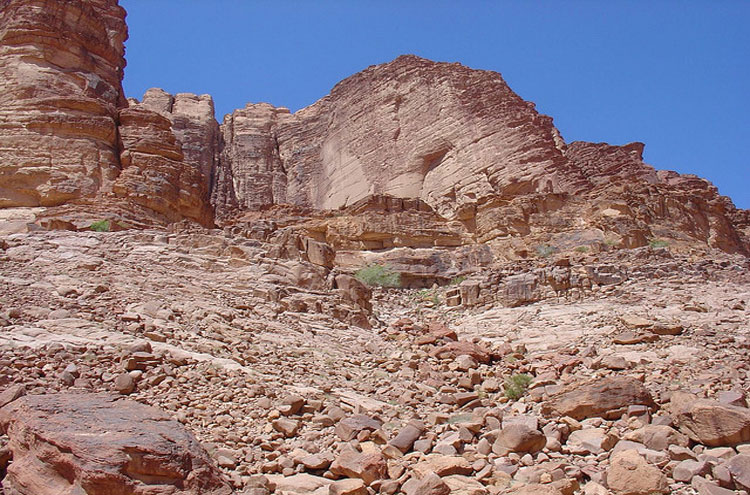 See also expedition planning, including our universal expedition checklist. Walkopedia encourages responsible travel.
Books and Maps
Books on this walk
Jordan: Walks,Treks, Caves, Climbs and Canyons – Cicerone, by Di Taylor and Tony Howard: you must have this book.
Jordan – Lonely Planet by Hugh Finlay
Other books
Seven Pillars of Wisdom – T E Lawrence's famous but at times ponderous account of the 1919 Arab Revolt, including much on the Wadi Rum area.
Jordan Jubilee – Ruth Caswell http://www.jordanjubilee.com/book/bookorder.htm or in various shops in-country
Maps
There are generally NO large-scale maps of Jordan readily available. Amazing but true. A large-scale map of the central areas of Wadi Rum can be bought in bookshops.
Stanfords: www.stanfords.co.uk. An excellent (and user-friendly) online specialist source of worldwide maps (it is also good for guidebooks).
Best times to walk/weather
Best times to walk
Early Spring and Autumn's clear, sunny days and moderate temperatures make that period the best time to visit. March and the first half of April are said to be best, and you should find some flowers briefly in bloom.
Weather
Wadi Rum has a desert climate, with very little rainfall. Summers see fierce temperatures (into the 40°s), which are not conducive to enjoyable hiking. Beware rain in winter/spring: though not a problem in itself, even a small fall can render gorges vulnerable to flash floods.
For detailed weather information, have a look at: www.worldweather.org or www.bbc.co.uk/weather/world/country-guides
Getting there/transport/permits/fees
Royal Jordanian, the national airline, flies to Amman from numerous destinations worldwide. British Airways, BMI, Air France, KLM and Lufthansa also operate routes to the capital.
A visa is needed to enter Jordan: you can obtain single entry visas – valid for one month from any port of entry (except the King Hussein Bridge at the Jordan/Israel border), costing about ten Jordanian Dinars.
Those on organised expeditions are likely to be transported from arranged departure points, usually Amman airport.
Many visitors hire a car and driver, which is still (as of 2010) a surprising cheap option. You can get to Petra by bus.
Permits to enter Wadi Rum need to be purchased before entering, from the Visitors' Centre. Check the necessary requirements in advance.
Route(s)
See "Walk Summary" above.
Possible problems, health, other warnings
Heat

and strong sun. Carry enough water and protect yourself.

Heights:

can be dangerous here; none of the climbs on to the rocky massifs would suits those who have difficulties with heights.

Dangerous animals

, including snakes and scorpions. Take all appropriate precautions.

Health risks:

you may not get prompt medical help of a standard available elsewhere should you become ill.

Potential problems include insect born diseases – and water-born, a problem because of a lack of safe drinking water.

Come prepared, including getting all appropriate inoculations/medications.

Stability:

as of 2010, Jordon has been safe and stable for years. But the region is inherently unstable, so check the current position.
See also the websites in our useful links page for more detailed, and up-to-date, information.
Safety and problems: All walks have inherent risks and problems of any sort can arise on any walk. Many of the walks featured on this website involve significant risks and possible problems. This website cannot, and does not purport to, identify all actual or potential risks, dangers and problems that may relate to any particular walk or to a country in general. Any person who is considering undertaking this walk should do careful research and make their own assessment of the risks, dangers and possible problems involved. They should also go to "Important information" for further important information.
Make sure you have appropriate insurance.
Guided or independent?
This walk can be done independently, easily. But see our Wadi Rum page for information on the general requirement for guides.
Accommodation
The only option in Wadi Rum is camping, at a cost, in designated sites. These tend to be basic, but are comfortable and atmospheric and can be done with great charm, and it is said that one can also pitch one's own tent on payment of a fee.
See "Guided/Supported" above.
Hostelbookers usually has a good selection of cheaper-end accommodation.
Other information and tips
Bring a sleeping bag liner, which you may find useful.
Look up from the visitors' centre. The huge cliff facing it across the desert is the famous "Seven Pillars of Wisdom", named after Lawrence's book.
Tipping: a delicate subject. Guides, drivers etc do not necessarily earn high wages as they are expected to get good tips. So, if you get decent service, you should err on the side of generosity. Regard it as a cost to plan for.
Useful websites and information
There are many websites with relevant information. Here are some that we think are useful or have been recommended to us.
Other things to do in the area
Other walks
Petra: astonishing ancient city built into and hidden by a network of cliffs and gorges.
100km guided walks to Petra, or 50km to Aqaba, afford spectacular vistas across desert and terrain so bizarre and barren that it is easy to understand how Petra managed to get entirely lost to the outside world for the best part of 400 years.
Jordon has a huge variety of great walks: there is likely to be a good walk within range, where ever you may be. The Cicerone book has a multitude of ideas. Have a look at Dana, Wadi Mujib and Ajloun areas.
Other activities
Various street festivals are organised throughout Jordan in the summer months. The festival celebrating the end of Ramadan, the Muslim month of fasting, is a particularly special occasion.
Jordan is crammed with historical and archaeological marvels: particularly recommended, the Roman ruins at Jerash, in the North, and Crusader castle at Al-Karak.
Aqaba has plentiful hotels and famous Red Sea diving and snorkeling.
The Dead Sea: via several hotels and spas can often be organized on day-trips and shuttles from Amman. As well as its historical significance, the Dead Sea is renowned for its healing effects.
Safety and problems: All walks have inherent risks and potential problems, and many of the walks featured on this website involve significant risks, dangers and problems. Problems of any sort can arise on any walk. This website does not purport to identify any (or all) actual or potential risks, dangers and problems that may relate to any particular walk.

Any person who is considering undertaking this walk should do careful research and make their own assessment of the risks, dangers and possible problems involved. They should also go to "Important information" for further important information.
COMMUNITY COMMENTS AND PHOTOS
Name: Wadi Rum expert
Posted on: 13/02/2013
This is a very nice and easy walk, to recommend specially in the end of afternoon, to enjoy the shade of the Rum mountain. It is the shelalah spring, and not the Lawrence spring. Even if there are a lot of springs in the valley, the nowadays called larence spring is located further in the valley and is a more touristic places, with bedouins still grazing herds of goats and camels. Walkopedia says: thank you!


Your comments on this walk, your experiences and suggestions, and your photos are very welcome. Where appropriate, you will be credited for your contribution.
Top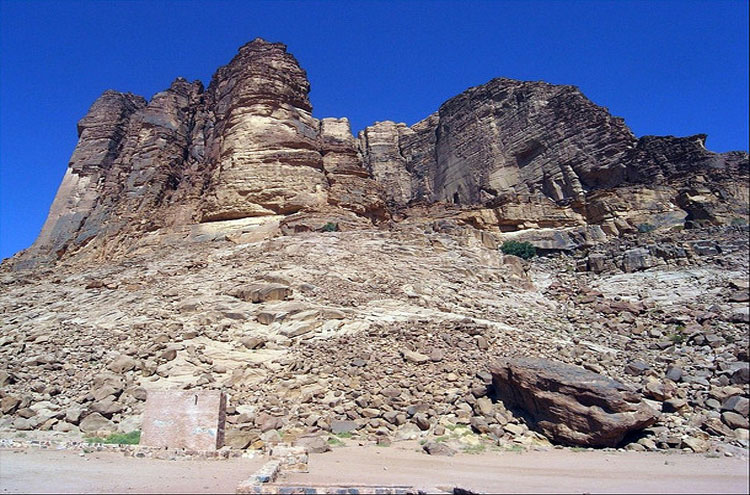 OTHER ACCOUNTS
share your experiences
Top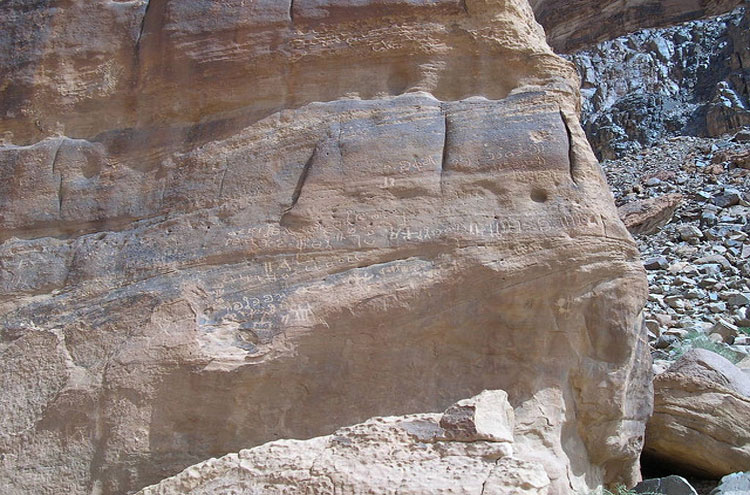 Top
Responsible travel matters, a lot. How you travel will make a real difference - for better or worse. PLEASE consider this when making plans. Read more