Abel Tasman Coastal Trek
Key information: Abel Tasman Coastal Trek
An accessible and hugely popular walking track located in the far North East of New Zealand's spectacular South Island.
One of the most beautiful tracks in the country (and the competition is hot), the Abel Tasman Coastal Track takes you through lush native bush and fine golden sands lapped by shimmering azure waters.
The terrain encountered on this walk is fairly gentle and one could be forgiven for assuming that the guidebooks are allowing too much time for its completion. Be warned though, the route is highly dependant upon the tides, so be prepared to spend time on the beach awaiting suitable tidal conditions before continuing.
Walkopedia rating
Walkopedia rating81
Beauty

32

Natural interest

15

Human interest

4

Charisma

30

Negative points

0

Total rating

81

Note: Negs: popularity in best weather
Vital Statistics
Length:

51km

3-5 days

Level of Difficulty:

Straightforward
Top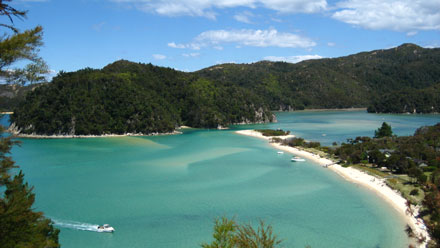 WALK SUMMARY
The Abel Tasman track is arguably the most popular walk in New Zealand, thanks to its un-demanding terrain, clement weather and spectacular views. To walk its 51kms is to follow the footsteps of the Maori (who did little to change the landscape, though they lived there for 500 years before the first Europeans settled in New Zealand) and of Abel Tasman, Dumont dUrville and the consequent European settlers, who ravaged the area with quarrying and deforestation.
It is a far-from-ravaged landscape that greets the visitor today, largely thanks to Perrine Moncrieff, a Nelson conservationist who, concerned at the prospect of logging along the astonishingly beautiful coastline, campaigned to have 15,000 hectares of crown land made into a national park. AbelTasman National Park was opened in 1942 on the 300th anniversary of his visit.
The 54.4km track, which incorporates native forest areas, pristine beaches and panoramic coastal views, takes 3-5 days to complete and can be walked North to South or vice versa. There are huts and campsites along the way to accommodate walkers, but they need to be booked well in advance, especially in high season.
View Larger Map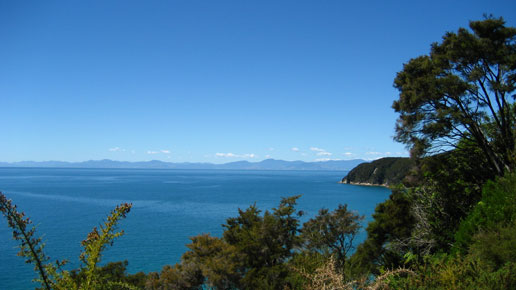 See also expedition planning, including our universal expedition checklist. Walkopedia encourages responsible travel.
See also expedition planning, including our universal expedition checklist.
Walkopedia encourages responsible travel.
Books and Maps
Books on this walk
New Zealand 2000 (Frommer's Complete Guides) - Adrienne Rewi, Hungry Minds Inc
New Zealand Insight Fascinating Earth – GeoGraphic, APA Publications Pte Ltd,Singapore
Other books
Chapter in Trekking Atlas of the World – Ed. Jack Jackson; Classic Treks – Ed. Bill Birkett.
Maps
Stanfords: www.stanfords.co.uk. An excellent (and user-friendly) online specialist source of worldwide maps (it is also good for guidebooks).
Best times to walk/weather
Best times to walk
In terms of the weather, December to March encompasses the New Zealand summer and you would have to be very unfortunate not to have weather that permitted you to swim in the sea or sleep under the stars. However, what you gain in clement weather you lose somewhat in atmosphere. Gazing out over the Tasman Sea at any point in the walk is undoubtedly a pleasure, but it loses something of its effect when you are stuck in a queue to get over a weight restricted swing bridge. If you want to discover the beauty of the Abel Tasman without the inconvenience of crowds, then opt for October, November, April or May. The weather won't be a given - you will need to pack a jumper and a raincoat, just in case - but you can guarantee at least some peace and quiet as you navigate the route.
Weather
New Zealand has a maritime climate, which means the weather can change very quickly. Take this into account when making your travel arrangements and packing for your trip. It is, on average a few degrees cooler on the South Island than in the North and be aware of the a prevailing wind blowing from East to West all year round, though often this is little more than a welcome, cooling breeze.
For detailed weather information, have a look at: www.worldweather.org or www.bbc.co.uk/weather/world/country-guides
Getting there/transport/permits/fees
Nelson and Motueka are both good bases from which to explore the Abel Tasman Coastal track and there are a number of different transport options to access the track from both these locations.
BUS: Several bus routes serve the area, most notably those run by KBus and Abel Tasman Coachlines. It is possible to get a bus to Marahau, spend 3-5 days walking the track and then get the bus back from the Wainui or Totaranui, at the northern end of the trail, into either Motueka or Nelson.
DRIVING: There are car parking facilities at Marahau (in the South) and Totaranui and Wainui (in the North), though you will need to consider how you are going to get back to your car once you have walked the track. A quick way to this would be to take a water taxi, which you would need to book before you set off. Mobile reception is poor to non-existent all the way along the track and many of the scheduled departures will be fully booked in the high season. Alternatively, park up in Marahau, take the boat to Totaranui, and walk back to your car, without the time pressures of having to catch a pre-booked boat back.
HELICOPTER/LIGHT AIR CRAFT: If you are based in Nelson or Motueka and are short on time but not of money, you can fly up to Awaroa, the location of the track's only high-end accommodation, and walk a portion of the track from there. Unfortunately, it isn't possible to fly out from anywhere else so it is necessary to return to Awaroa to fly back. Alternatively, arrange for a water taxi pick up further down the coast and make your way back to where you are based from Marahau.
WATER TAXI AND KAYAK: There are a number of water taxi and kayak hire companies in Marahau and Kaiteriteri, which allow you to access various points on the track from the sea. If you do not have time or inclination to walk the entire 51 kms, it is therefore very easy to pick and chose which portions of the track you want to walk.
Route(s)
The suggested route for the entire 51 km track, based on the huts that are available for overnight say, is as follows. They are given North to South but it isn't imperative that you walk in that direction:
Stage

Time

Marahau to Anchorage Hut

4 hours

Anchorage Hut to Bark Bay Hut

3 hours

Bark Bay Hut to Awaroa Hut

4 hours

Awaroa Hut to Totaranui

1&½ hours

Optional (path deviates away from the coast and isn't as popular with tourists): Totaranui

à

Whariwharangi Hut

à

Wainui

4&½ hours
Two portions of the track are decidedly tide dependant:
Awaroa estuary is only passable for approximately 1&½ hrs either side of low tide and Onetahuti Beach must be traversed three hours either side of low tide. Be aware of the tide times before you set out and be prepared to fit all you days walking into a fairly small portion of the day to avoid being stymied by the tide.
Possible problems, health, other warnings
· Heat and strong sun. Carry enough water and protect yourself.
· Safety and problems: All walks have inherent risks and potential problems, and many of the walks featured on this website involve significant risks, dangers and problems. Problems of any sort can arise on any walk. This website does not purport to identify any (or all) actual or potential risks, dangers and problems that may relate to any particular walk. Any person who is considering undertaking this walk should do careful research and make their own assessment of the risks, dangers and possible problems involved. They should also go to "Important information" for further important information.
· Make sure you have appropriate insurance.
See also the websites in our useful links page for more detailed, and up-to-date, information.
Guided or independent?
Independent
It isn't hard to complete this walk independently but there are no shops along the route and the accommodation can be very booked up in the high season. Book transport and accommodation well in advance; take food, water bottles (there is drinking water available along the way), sunscreen and insect repellant and gear your itinerary around the tides and you should be OK.
Guided/supported
There are a number of tour companies servicing the area which offer a variety of combinations of the following options: walk, cruise, nature-watch, kayak, swim and indigenous culture education programmes.
For further details have a look at the following websites:
Accommodation
The accommodation along the Abel Tasman track ranges from the luxury eco-lodge at Awaroa, through basic hut lodgings, to tent sites. All these options get booked up weeks and months in advance during the busy summer season, so book everything. Other, less well known options include a couple of self-catering holiday homes at Torrent Bay, and hostel-style accommodation on a boat permanently moored at Anchorage Bay.
For further information, have a look at the following websites:
www.abeltasmanaccommodation.co.nz
www.nzholidayhomes.co.nz/nelson
Other information and tips
Useful websites and information
There are many websites with relevant information. Here are some that we think are useful or have been recommended to us.
• www.doc.govt.nz/parks.../tracks.../abel-tasman-coast-track
• Try www.flickr.com for pictures of this walk.
Other things to do in the area
Other walks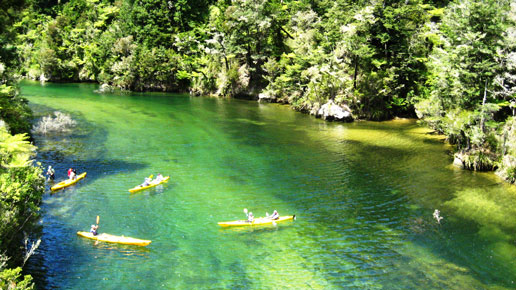 OTHER ACCOUNTS
share your experiences
Top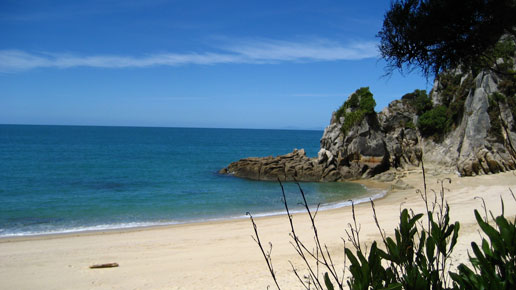 Top
Responsible travel matters, a lot. How you travel will make a real difference - for better or worse. PLEASE consider this when making plans. Read more