Tongariro Alpine Crossing
Key information: Tongariro Alpine Crossing
A remarkable long day hiking across an outstanding volcanic area.
Superb scenery (volcanoes within volcanoes) lava, bright coloured rock, bright mineral lakes and a perfect steep cone.
Big views down towards Lake Taupo from the northern side of the massif.
Interesting and varied vegetation, from high scrub to podocarp forest.
This is a justly famous walk but it is popular in season.
Walkopedia rating
(Top 100)
Walkopedia rating89
Beauty

34

Natural interest

19

Human interest

2

Charisma

36

Negative points

2

Total rating

89

Note: Neg: popularity.
Vital Statistics
Length:

13km

7-9hrs

Maximum Altitude:

1,886m

Level of Difficulty:

Strenuous
Top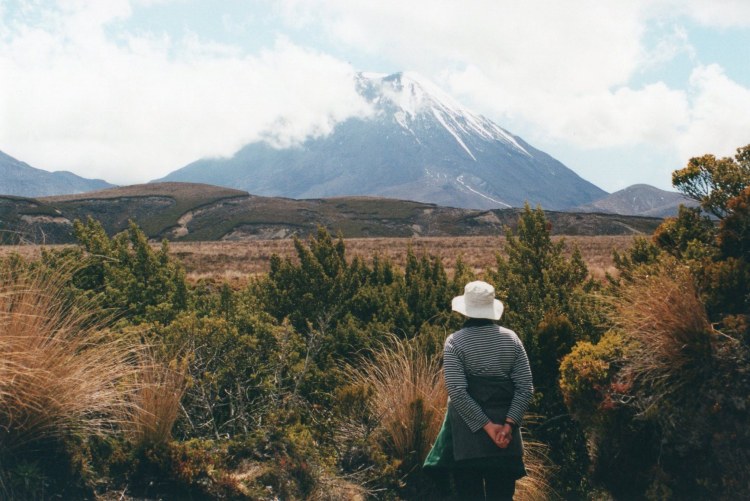 WALK SUMMARY
Ruapehu and Tongariro, the great volcanoes of New Zealand's central North Island, appear serene and ethereal above the surrounding heath and grassland.
Between them stands 2,291m Ngauruhoe, an almost ridiculously perfect volcanic cone, a giant heap of rock and ash so regular that it looks as if it was deposited yesterday, which, in geological terms, it was. Ngauruhoe is a mere youthful pimple on the side of the Tongariro massif to its north, a cluster of much older craters whose explosions and eruptions have reduced the great mountain so that its parasite, Ngauruhoe, is now much the higher of them.
Tongariro looks as close as the earth's surface can to that of the moon, three huge conjoining crater remnants, now wierdly flat, like particularly liquid cowpats. A selection of oddities lies scattered around them: violently coloured craters, huge solidified lava bombs, sinister jets of smelly steam hissing from the rocks and acidic, brilliant waterlogged explosion holes.
The result of all this upheaval is some of the most dramatic, harshly beautiful volcanic scenery you will encounter anywhere, all compressed into a long day's walk. Many say that the Crossing is the best day walk in New Zealand with justice. The Crossing is also a stage of the three or four day Tongariro Northern Circuit, arguably an even better walk although a much bigger undertaking.
The Tongariro area was of great spiritual importance to the area's Maori people, and became New Zealand's first national park after it was given to the nation in order to preserve it from the encroaching settler way of life. The National Park is now a World Heritage Site for both its natural and its cultural attributes. Some key scenes of the Lord of the Rings films were shot here, with Ngauruhoe featuring as Mount Doom.
You are unlikely to be alone on the Crossing up to1,000 people a day are said to tackle the trail in summer. The weather is unpredictable at any time of year, so always come prepared for rain and cold.
People usually walk the Crossing north-eastward from Mangatepopo. The trail heads off up a lovely valley through pale scrubby grass between the great uninterrupted sweep of Ngauruhoe's western slopes and a long ridge descending from Tongariro itself.
A tough scramble up the harsh black rocks of the Devil's Staircase gets you to the Mangatepopo saddle. You can climb Mt Ngauruhoe from here: while the ascent is long, dreary and difficult, you are rewarded at the top by two concentric craters and extravagant 360 degree views. This is a three or four hour addition to the Crossing, so would make for a very long, tough day and should only be tackled by the very fit and experienced.
The trail then crosses the floor of the South Crater, an extraordinary platter of water-washed cinders a kilometer across surrounded by steep broken walls, Tongariro's low surviving peak looming to the left, itself a rewarding and straightforward side-trip. A sweaty climb on red cinders reaches the highest point of the Crossing, a heap of cinder and pumice at 1,886m on the rim of the extraordinary Red Crater, a chasm violently ripped out of the mountain's side, a deep, angry red like a congealing wound. Sulphur steam rises from crevices among the boulders in the bottom.
At the bottom of a steep, narrow scree beside the crater lie the beautiful but sinister turquoise Emerald Lakes. Further on is the beautiful Blue Lake, a larger and deeper lake filling a long-dead crater. The views from its northern shore are outstanding.
A fine path gradually descends round the North Crater's flank, down to the Ketetahi Hut with its vast views out to Lake Taupo, past the hot Ketetahi Springs, to which access is neurotically prohibited. A steady downhill tramp takes you to a stunning hundred meter escarpment, clearly the end of a massive lava flow. In the grand valley below, a long trudge through lush forests gets you to the roadhead.
WILLIAM MACKESY'S ACCOUNT
of this walk
Ruapehu and Tongariro, the great volcanoes of New Zealand's central North Island, stand aloof and unchallenged above the surrounding heath and grassland. When blanketed in snow, they appear serene and etherial above the verdant ridges of the approach from the north-west; but Ruapehu, particularly, is still very much alive, and eruptions have, within living memory, sent terrible cascades of mud into the valleys below.
Between them stands 2,291m Ngauruhoe, an almost ridiculously perfect volcanic cone, a giant heap of rock and ash so regular that it looks as if it was deposited yesterday,.....
READ MORE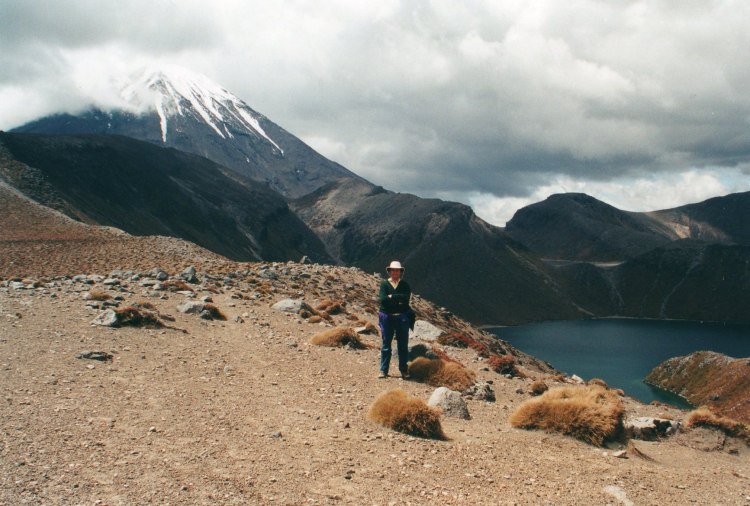 See also expedition planning, including our universal expedition checklist. Walkopedia encourages responsible travel.
Guidebooks/maps/background reading
Guidebooks
Tramping in New Zealand - Lonely Planet (Jim Dufresney)
New Zealand – Lonely Planet, has good basic information on this walk.
New Zealand – Trailblazer
New Zealand – Rough Guides
Chapter in Trekking Atlas of the World – Ed. Jack Jackson.
Chapter in Classic Treks – Ed. Bill Birkett, which deals the TAC as part of the 3-4 day Tongariro Northern Circuit.
Chapter in Trek! The Best Trekking in the World – Claes Grundsten, which deals the TAC as part of the 3-4 day Tongariro Northern Circuit.
Maps
Good maps of Tongariro National Park (showing the crossing) are available locally. The best for this walk is said to be the National Park's map 273-4.
Stanfords: http://www.stanfords.co.uk/. An excellent (it the most user-friendly) online specialist source of worldwide maps (it is also good for guidebooks).
Best times to walk/weather
Summer/autumn (November to April), with December to March the most consistent weather. But winter can be beautiful – and empty: but a serious walk for experienced and well-equipped trekkers only.
Weather
Frequently poor even in summer: come prepared for unpredictable mountain weather at all times.
For detailed weather information, have a look at: http://www.worldweather.org/ or www.bbc.co.uk/weather/world/country-guides
Getting there/transport/permits/fees
Great Walk passes are required to stay overnight on this walk from late October until the end of May. At other times, normal back country hut passes are sufficient.
Because this walk starts and finishes some way apart, everyone has to be dropped or picked up – or both. There are various optioms for shuttle buses to and from the trailheads – mainly from Taupo or Turangi, but also from National Park Village. Try Tongariro Expeditions (http://www.thetongarirocrossing.co.nz/), and Mountain Shuttle (http://www.tongarirocrossing.com/).
Those on organised expeditions will be transported from/to arranged start/departure points.
Route(s)
While the Alpine Crossing can be walked in either direction, most people start at the Mangatepopo roadhead carpark (not least because this way round involves less ascent). Take an early shuttle so you have plenty of time to enjoy the walk – and are not rushing for the last bus at the other end.
Easy trail with beautiful views to the Devil's Staircase, a tough trudge up a steep section of broken rock.
You then cross a dead flat pan of volcanic grit before climbing steeply onto the ridge by the Red Crater.
You can make side trips up Ngauruhoe – the perfect active volcano to the south of the trail – or up the lower and straightforward main Tongariro peak.
Down a long slope of ash – fun to run down – to the stunning Emerald Lakes. Then out, past the Blue Lake, onto the huge, long mountainside sloping down to the Ketetahi roadhead.
The trail is obvious and well marked throughout its length.
Possible problems, health, other warnings
See also the websites in our useful links page for more detailed, and up-to-date, information.
Safety and problems: All walks have inherent risks and potential problems, and many of the walks featured on this website involve significant risks, dangers and problems. Problems of any sort can arise on any walk. This website does not purport to identify any (or all) actual or potential risks, dangers and problems that may relate to any particular walk. Any person who is considering undertaking this walk should do careful research and make their own assessment of the risks, dangers and possible problems involved. They should also go to "Important information" for further important information.
Make sure you have appropriate insurance.
Guided or independent?
Independent
You can do this walk independently, and most people do so.
Guided/supported
It is possible to form or join organised/supported expeditions. This can make the logistics of getting to/from different start/finish points easier. Walking with a knowledgeable guide has real advantages. Expedition organisers include:
See also "Getting there/transport" above for companies who will get you to/from the trail and generally help you get organized.
Accommodation
There is excellent and varied accommodation in the area, including Taupo, Turangi, the National Park Village and Whakapapa.
Make sure you book ahead for peak periods.
Other information and tips
The Mangatepopo amd Ketetahi huts (24 bed) cannot be booked, so, if you plan to stay there, make sure you get there in good time.
Useful websites and information
There are many websites with relevant information. Here are some that we think are useful or have been recommended to us.
Other things to do in the area
Other walks
Other activities
Mountain biking
Climbing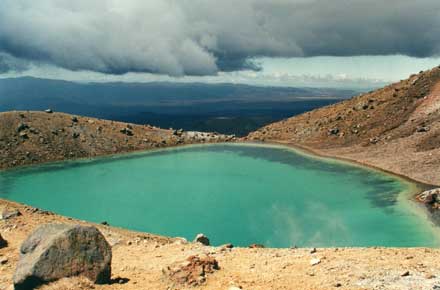 OTHER ACCOUNTS
share your experiences
Top
Responsible travel matters, a lot. How you travel will make a real difference - for better or worse. PLEASE consider this when making plans. Read more