Royal Tombs and Wadi al Mudhlim
Key information: Royal Tombs and Wadi al Mudhlim
This extraordinary walk past royal tombs superbly carved into huge cliffs then up though an impossible and thrilling slot canyon, is a must for all those walking at Petra.
Siqs (slot canyons) are vulnerable to flash-flooding. Be absolutely certain of the weather (both recent and approaching) before entering.
Walkopedia rating
Walkopedia rating100
Beauty

30

Natural interest

18

Human interest

17

Charisma

38

Negative points

3

Total rating

100

Note: Negs: Crowds at tombs
Vital Statistics
Length:

2 hours or so

Level of Difficulty:

Strenuous
Top
WALK SUMMARY
This thriller of a walk can be done in either direction, as an alternative to entering or leaving Petra by the famous but crowded Siq. When we were there in May 2010, people were being discouraged from entering this walk at the Wadi Mousa end (ie. outside the Petra site), so we walked out along this extraordinary slot canyon.
If you use this as an exit route, you are likely to be starting in mid-afternoon, when it can be very hot at the wrong time of year. Take proper account of how tired you will get when planning your day. Pick your time of year carefully: in May it was bone dry, but can have waist-deep pools at other times. Never go there if rain has fallen or is possible.
The initial short slog up to the Royal Tombs, in the cliff face of the huge Jebel umm al' Amr, is tedious in the heat, but wonder will prevail at the top, as you progress like a president along a parade drawn up in your honour. Magnificent facade follows magnificent facade. The Urn Tomb, behind a Byzantine ramp, is the first famous one, with its huge urn presiding over its facade and doric portico to the side. It was used as a cathedral in Bryzantine times. Next along are the Silk Tomb and the Corinthian Tomb. Soon you reach the huge Palace Tomb, its facade said to be the largest in Petra, with four doors and three tiers of columns.
You are now beginning to round the cliffs, leaving the central Petra basin. The next significant tomb is that of Sextius Florentinus, a Roman governor: a delicate, refined but gently melancholy structure.
The trail then drops to the bottom of the Wadi Mataha, crossing and re-crossing the river bed as it winds up this increasingly spectacular canyon, below the grandeur of the kilometer or two long western side of Jebel Umm al' Amr.
Shortly after a slight corner, where you can see the modern Bedouin village of B'dul on a high ridge to your left, the stream divides and you need to take the right hand fork, which is easy to miss as it looks too small to go far, and made us worry that we had taken the wrong turning. You are very quickly in an impossible, thrilling narrow and high-walled siq, in welcome shade most of the day, which winds its way through a number of jiggles that seem like dead ends until the last moment, past a few Nabataean niches and carvings. Slot canyons are wondrous worldwide, and Petra boasts an unfair number, but this is both outlandish and ravishing, with its scoured, undulating walls, striations of vivid ochres and siennas and high, narrow zig-zag of ethereal sky. This lasts for perhaps a third of a kilometre, passing an obviously dead-end ravine coming down from the right, after which you take the equally narrow siq that comes in next from the right.
You are now in the Wadi al Mudhlim, which runs a fairly straight course for 1 1/2 km or so through the heart of the massif behind Petra (how did this happen?) to its junction at the top of the great Petra Siq. 20ft or more above the canyon entrance, a palm tree has been jammed into the walls by some torrent too terrifying to contemplate. The siq is only a metre wide at several points.
Further along, the siq is blocked by two boulder heaps that you have to scramble up - with some difficulty if you aren't tall and mild trepidation whatever height you are, as your eyes would water if the rocks came loose while you were hanging from them. These are not mentioned in (and presumably post-date) the Cicerone guide.
Somewhere above the trail is the remains of a Nabataean dam, which we were too tired or intent to notice.
The Siq eventually widens out into a more conventional (but still thrilling) canyon with the regulation oleanders (schmanders - how quickly you can get blasé) littering its bed, in full gorgeous bloom when we were there.
Then, rather suddenly, you are approaching that masterpiece of Nabataean ingenuity, a 90m long tunnel built (with an accompanying dam) to divert potentially disastrous flash floodwaters from the main Petra Siq into the Wadi al Mudhlim.
This is one hell of an exciting walk. You emerge blinking into the now unwonted light, heat and populace at the entrance to the famous Petra Siq, who may stare at you a bit as you stagger, Indiana Jones like, from this void in the earth.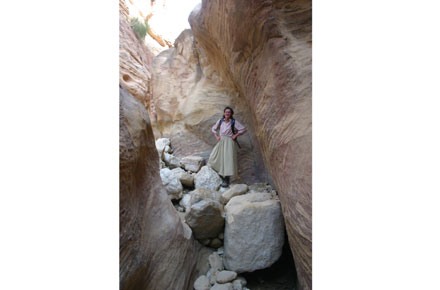 See also expedition planning, including our universal expedition checklist. Walkopedia encourages responsible travel.
Books and Maps
Books on this walk
Jordan: Walks, Treks, Caves, Climbs and Canyons– Cicerone, by Di Taylor and Tony Howard. You must have this book.
Petra: A Traveller's Guide– by Rosalyn Magsood
Jordan - LonelyPlanet, by Hugh Finlay
The Rough Guide to Jordan– by Matthew Teller
Jordan Insight Guide – by APA Publications
Other books
Travels in Syria and the Holy Land– J.L. Burckhardt: detailed account of the travels of the 19th century "rediscoverer" of Petra.
Married to a Bedouin – by Marguerite Geldermalsen
Maps
A good large-scale map can be brought locally.
Stanfords: www.stanfords.co.uk. An excellent (and user-friendly) online specialist source of worldwide maps (it is also good for guidebooks).
Best times to walk/weather
Best times to walk
Spring (late January to mid May) and Autumn (October and November) are best: generally clear, sunny days and moderate temperatures make them the best times to visit.
Weather
During November to April there can be rain and even snow. Summers see very hot temperatures and should be avoided. Beware rain: even a small fall can render gorges vulnerable to flash floods: don't do this walk if rain has fallen or is possible.
For detailed weather information, have a look at: www.worldweather.org or www.bbc.co.uk/weather/world/country-guides
Getting there/transport/permits/fees
Royal Jordanian, the national airline, flies to Amman from numerous destinations worldwide. British Airways, BMI, Air France, KLM and Lufthansa also operate routes to the capital.
A visa is needed to enter Jordan: you can obtain single entry visas – valid for one month from any port of entry (except the King Hussein Bridge at the Jordan/Israel border), costing about ten Jordanian Dinars (around £7, €9 or $14).
Those on organised expeditions are likely to be transported from arranged departure points, usually Amman airport.
Many visitors hire a car and driver, which is still (as of 2010) a surprisingly cheap option. You can get to Petra by bus.
Permits to enter Petra need to be purchased before entering, from the Visitors' Centre. Permits (prices in 2008) cover 1 (21JD) 2 (26JD) and 3+ (any number, but the ticket needs to state how many) (31JD) days; under-15s free.
Route(s)
Possible problems, health, other warnings
Heat

and strong sun. Carry enough water and protect yourself.

Canyon dangers:

this canyon can be lethal, particularly as a result of

flash floods

. Assess and prepare for all risks, check the weather carefully and don't go after rain or if it is possible.

Dangerous animals

, including snakes and scorpions. Take all appropriate precautions.

This is remote country:

help may be hard to get if things go wrong.

Health risks:

you may not get prompt medical help of a standard available elsewhere should you become ill.

Potential problems include insect born diseases – and water-born, a problem because of a lack of safe drinking water.

Come prepared, including getting all appropriate inoculations/medications.

Stability:

as of 2010, Jordon has been safe and stable for years. But the region is inherently unstable, so check the current position.
See also the websites in our useful linkspage for more detailed, and up-to-date, information.
Safety and problems: All walks have inherent risks and problems of any sort can arise on any walk. Many of the walks featured on this website involve significant risks and possible problems. This website cannot, and does not purport to, identify all actual or potential risks, dangers and problems that may relate to any particular walk or to a country in general. Any person who is considering undertaking this walk should do careful research and make their own assessment of the risks, dangers and possible problems involved. They should also go to "Important information" for further important information.
Make sure you have appropriate insurance.
Guided or independent?
The first question is: how do you plan to get about, generally? Public buses cover many places, but don't go to Wadi Rum or out-of-the-way sites. Many people hire taxis or cars, or cars with drivers, still a relatively good value option and one which can add huge benefits in local know-how.
And: do you make your own arrangements (perfectly doable especially if you have a helpful driver), or use a travel company? The latter will add cost but will simplify the process.
We used Petra Tours to arrange our 8-day expedition. They are a large and reputable local firm and, while not walking specialists, made generally very satisfactory arrangements to fit the detailed plans we gave them. We were lucky to get the delightful and kind Ahmed Tahoon (mob. (+926) 799249146) as a driver (you can ask for him specifically): knowledgeable and happy to expand on any subject.
There is a multitude of other Jordon tour organizers, including the following:
As regards

Petra specifically

:
Independent
You can do this walk independently, but come prepared.
Guided/supported
There are many guiding companies based in Wadi Musa, and walking here with a knowledgeable guide has real advantages, both in terms of routes and knowledge of the sites. You can hire a local guide on the spot, although you will take pot luck as to quality. Otherwise, a Jordan expedition organisers will have its own ideas about appropriate local guides, including finding specialist trekking guides.
Accommodation
There is a surfeit of hotels available, though even these may become full quickly during peak times.
Hostelbookers
usually has a good selection of cheaper-end accommodation.
Other information and tips
Tipping: a delicate subject. Guides, drivers etc do not necessarily earn high wages as they are expected to get good tips. So, if you get decent service, you should err on the side of generosity. Regard it as a cost to plan for.
Useful websites and information
There are many websites with relevant information. Here are some that we think are useful or have been recommended to us.
Other things to do in the area
Other walks
A host of other Petra walks.
Wadi Rum; Lawrence of Arabia's refuge and a desert of wondrous multi-hued rock formations and barren, rugged terrain.
100km guided walks to Rum, or 150km to Aqaba, afford spectacular vistas across desert and terrain so bizarre and barren that it is easy to understand how Petra managed to get entirely lost to the outside world for the best part of 400 years.
Jordon has a huge variety of great walks: there is likely to be a good walk within range, where ever you may be. The Cicerone book has a multitude of ideas. Have a look at Dana, Wadi Mujib and Ajloun areas.
Other activities
Various street festivals are organised throughout Jordan in the summer months. The festival celebrating the end of Ramadan, the Muslim month of fasting, is a particularly special occasion.
Jordan is crammed with historical and archaeological marvels: particularly recommended, the Roman ruins at Jerash, in the north, and Crusader castle at Al-Karak.
Aqaba has plentiful hotels and famous Red Sea diving and snorkeling.
The Dead Sea: via several hotels and spas can often be organized on day-trips and shuttles from Amman. As well as its historical significance, the Dead Sea is renowned for its healing effects.
Safety and problems: All walks have inherent risks and potential problems, and many of the walks featured on this website involve significant risks, dangers and problems. Problems of any sort can arise on any walk. This website does not purport to identify any (or all) actual or potential risks, dangers and problems that may relate to any particular walk.

Any person who is considering undertaking this walk should do careful research and make their own assessment of the risks, dangers and possible problems involved. They should also go to "Important information" for further important information.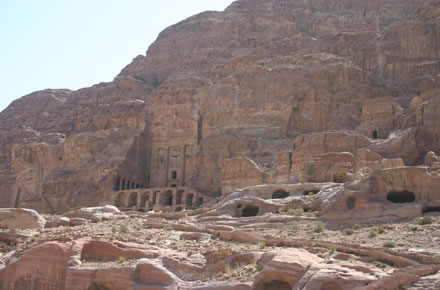 OTHER ACCOUNTS
share your experiences
Top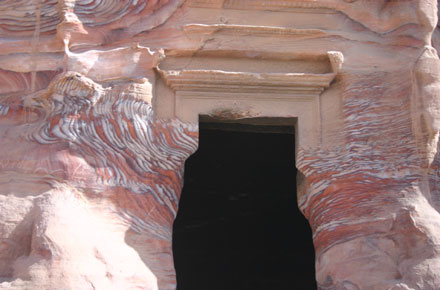 Top
Responsible travel matters, a lot. How you travel will make a real difference - for better or worse. PLEASE consider this when making plans. Read more