The High Place
Key information: The High Place
One of the most thrilling doses of concentrated experience that we have had the fortune to meet.
Climb up the steep steps of the ancient route to the High Place of Sacrifice with its wide views over the monuments of the Petra basin.
Pass beautifully carved tombs and monuments, marvel at the work involved in creating the High Place.
Walkopedia rating
Walkopedia rating97
Beauty

34

Natural interest

15

Human interest

18

Charisma

38

Negative points

8

Total rating

97

Note: Neg: crowding / popularity
Vital Statistics
Length:

2 hours or so

Maximum Altitude:

N/A

Level of Difficulty:

Strenuous
Top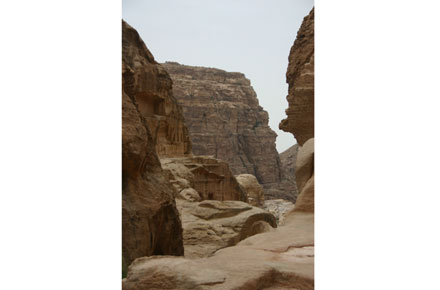 WALK SUMMARY
This is one of the most thrilling walks ever: a sanity-threatening overdose of beauty (both physical and manmade), history, majestic scenery and downright outlandishness.
The best approach starts at the bend in the main Petra drag, under the vast cliffs into which a line of tombs royal and noble had been carved, where the main valley becomes a sheer-sided canyon. This is the reverse of the usual way of tackling the High Place, which starts in the heart of the old city, on the corner between the theatre, and the colonnaded central street.
At first you clamber over a jumble of dust and stone, a dreary and lifeless place if one did not know that this was the heart of the residential city, the earthquake-felled remains of the homes of the thousands who once lived here.
After a few minutes, you reach the base of the cathedral of rock whose highest pinnacle is the High Place. The path meanders below simple tomb entrances in the bright orange sandstone. You come across the way up the apparently impenetrable cliffs fairly suddenly: Wadi Farasa, a steep cleft disappearing up between sheer walls.
A series of steps lead to a wider levelled area and the beautifully carved and preserved Roman Soldier's Tomb. It once had a colonnade, but that is long gone and 10 feet of sand and rubble are now heaped against its facade.
Opposite is the Garden Triclinium, a large rock-hewn chamber that was once used for feasts in honour of those across the way. It has three entrances and, uniquely, carved interior decorations. There is a particularly striking David Roberts picture viewed from the back of this great cave, looking out through the entrance to the Roman's Soldier's Tomb. Trademark flowing-robed Bedouin happen to loiter there, and it is fun to spot how Roberts adjusted and distorted to make a better image.
In the outside wall of an enclosure a few steps further up is the immaculate, delicately columned Garden Tomb (said to have been a temple) and what is left of a major water cistern.
A dramatic series of steps carved out of a sheer cliff-face, with huge views opening up over the Petra basin, take you to an imposing lion, evocative of the great gate at Mycenae, carved into a slab. This is thought to have been one of the ceremonial approaches to the High Place, and the route has a pervasive feeling of formal, structured drama.
The path now meanders among the outcrops of the upper edifice, emerging onto domes above gut-clenching cliffs, with wondrous views across the ruination of the basin to the monumental remains of the Qasr al-Bint temple and the tomb-pocked cliff-faces behind it. This is astounding walking.
Eventually, you round a corner and realise that you are there, almost a little bathetically. On a platform to the right are a pair of 6m high obelisks, hewn, famously, from the living rock, involving the removal of who knows how much of their hilltop. To the left is a little plateau of sorts that drops quickly into the ravine you will shortly descend, beyond it the huge platform of carved stones that is the High Place. In the middle of it are a repository for divine statues and a circular altar. The fact that you may feel a hint of bathos on arriving at this famous, outlandish place speaks much of the drama and excitement of the climb.
Past this platform or rather, through what looks like a huge gap between its remaining halves you can walk in a few minutes out to the slabs that top the vast cliffs more than 150 sheer metres above the Street of Faades in the inner Siq. Across the way are the faades of royal tombs, cool refuges from the afternoon heat. Beyond them, more earthquake rubble and then the wadis and fractured mountains that sheltered the great city.
The way down (ie, the usual way up) is by steps cut into an even steeper and more dramatic cleft. In one place a passage has been sliced straight through an inconvenient outcrop. You will give regular silent thanks to the Nabataeans for their engineering skills. There is less to see here than on our way up the back to the High Place, though this is well compensated by the drama of the shady chasm with its trees clinging to less inhospitable corners and the glimpses out across the lower Siq.
You almost wobble when you step off the last flight and rejoin the sandy floor of the main canyon of the city, as if you are emerging from a fairground ride or a long sea journey.
This is a 2km ascent-and-descent consisting mainly of uneven Nabataean steps cut in the rock, rising 140m above the grand Petra basin, with unparalleled views across its monuments and eerie rubble. Allow 1 -2 hours depending on your fitness and level of interest in tombs and other places on the way and the sacrifical summit.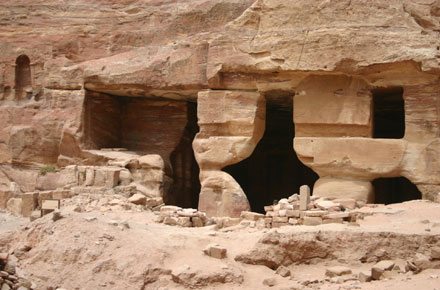 See also expedition planning, including our universal expedition checklist. Walkopedia encourages responsible travel.
Books and Maps
Books on this walk
Jordan: Walks, Treks, Caves, Climbs and Canyons – Cicerone, by Di Taylor and Tony Howard. You must have this book.
Petra: A Traveller's Guide – by Rosalyn Magsood
Jordan - LonelyPlanet, by Hugh Finlay
The Rough Guide to Jordan – by Matthew Teller
Jordan Insight Guide – by APA Publications
Other books
Travels in Syria and the Holy Land – J.L. Burckhardt: detailed account of the travels of the 19th century "rediscoverer" of Petra.
Maps
A good large-scale map can be brought locally.
Stanfords: www.stanfords.co.uk. An excellent (and user-friendly) online specialist source of worldwide maps (it is also good for guidebooks).
Best times to walk/weather
Best times to walk
Spring (late January to mid May) and Autumn (October and November) are best: generally clear, sunny days and moderate temperatures make them the best times to visit. To avoid tour-bus crowds, early morning and late afternoon are best.
Weather
Generally, very little rainfall. However during November to April there can be rain and even snow. Summers see very hot temperatures and should be avoided.
For detailed weather information, have a look at: www.worldweather.org or www.bbc.co.uk/weather/world/country-guides
Getting there/transport/permits/fees
Royal Jordanian, the national airline, flies to Amman from numerous destinations worldwide. British Airways, BMI, Air France, KLM and Lufthansa also operate routes to the capital.
A visa is needed to enter Jordan: you can obtain single entry visas – valid for one month from any port of entry (except the King Hussein Bridge at the Jordan/Israel border), costing about ten Jordanian Dinars (around £7, €9 or $14).
Those on organised expeditions are likely to be transported from arranged departure points, usually Amman airport.
Many visitors hire a car and driver, which is still (as of 2010) a surprisingly cheap option. You can get to Petra by bus.
Permits to enter Petra need to be purchased before entering, from the Visitors' Centre. Permits (prices in 2008) cover 1 (21JD) 2 (26JD) and 3+ (any number, but the ticket needs to state how many) (31JD) days; under-15s free.
Route(s)
Possible problems, health, other warnings
Heat

and strong sun. Carry enough water and protect yourself.

Heights:

some of these walks are not for those who have difficulties with heights.

Canyon dangers:

you walk up/down narrow clefts which could be dangerous as a result of flash floods. Assess and prepare for all risks on this walk. In particular, check the weather carefully and don't go after rain or if it is possible.

Dangerous animals

, including snakes and scorpions. Take all appropriate precautions.

This is remote country:

help may be hard to get if things go wrong.

Health risks:

you may not get prompt medical help of a standard available elsewhere should you become ill.

Potential problems include insect born diseases – and water-born, a problem because of a lack of safe drinking water.

Come prepared, including getting all appropriate inoculations/medications.

Stability:

as of 2010, Jordon has been safe and stable for years. But the region is inherently unstable, so check the current position.
See also the websites in our useful links page for more detailed, and up-to-date, information.
Safety and problems: All walks have inherent risks and problems of any sort can arise on any walk. Many of the walks featured on this website involve significant risks and possible problems. This website cannot, and does not purport to, identify all actual or potential risks, dangers and problems that may relate to any particular walk or to a country in general. Any person who is considering undertaking this walk should do careful research and make their own assessment of the risks, dangers and possible problems involved. They should also go to "Important information" for further important information.
Make sure you have appropriate insurance.
Guided or independent?
The first question is: how do you plan to get about, generally? Public buses cover many places, but don't go to Wadi Rum or out-of-the-way sites. Many people hire taxis or cars, or cars with drivers, still a relatively good value option and one which can add huge benefits in local know-how.
And: do you make your own arrangements (perfectly doable especially if you have a helpful driver), or use a travel company? The later will add cost but will simplify the process.
We used Petra Tours to arrange our 8-day expedition. They are a large and reputable local firm and, while not walking specialists, made generally very satisfactory arrangements to fit the detailed plans we gave them. We were lucky to get the delightful and kind Ahmed Tahoon (mob. (+926) 799249146) as a driver (you can ask for him specifically): knowledgeable and happy to expand on any subject.
There is a multitude of other Jordon tour organizers, including the following:
As regards

Petra specifically

:
Independent
You can do this walk independently, but come prepared.
Guided/supported
There are many guiding companies based in Wadi Musa, and walking here with a knowledgeable guide has real advantages. You can hire a local guide on the spot, although you will take potluck as to quality. Otherwise, a Jordan expedition organisers will have its own ideas about appropriate local guides, including finding specialist trekking guides.
Accommodation
There is a surfeit of hotels available, though even these may become full quickly during peak times.
Hostelbookers usually has a good selection of cheaper-end accommodation.
Other information and tips
Tipping: a delicate subject. Guides, drivers etc do not necessarily earn high wages as they are expected to get good tips. So, if you get decent service, you should err on the side of generosity. Regard it as a cost to plan for.
Useful websites and information
There are many websites with relevant information. Here are some that we think are useful or have been recommended to us.
Other things to do in the area
Other walks
A host of other Petra walks.
Wadi Rum
; Lawrence of Arabia's refuge and a desert of wondrous multi-hued rock formations and barren, rugged terrain.
100km guided walks to Rum, or 150km to Aqaba, afford spectacular vistas across desert and terrain so bizarre and barren that it is easy to understand how Petra managed to get entirely lost to the outside world for the best part of 400 years.
Jordon has a huge variety of great walks: there is likely to be a good walk within range, where ever you may be. The Cicerone book has a multitude of ideas. Have a look at Dana, Wadi Mujib and Ajloun areas.
Other activities
Various street festivals are organised throughout Jordan in the summer months. The festival celebrating the end of Ramadan, the Muslim month of fasting, is a particularly special occasion.
Jordan is crammed with historical and archaeological marvels: particularly recommended, the Roman ruins at Jerash, in the north, and Crusader castle at Al-Karak.
Aqaba has plentiful hotels and famous Red Sea diving and snorkeling.
The Dead Sea: via several hotels and spas can often be organized on day-trips and shuttles from Amman. As well as its historical significance, the Dead Sea is renowned for its healing effects.
Safety and problems: All walks have inherent risks and potential problems, and many of the walks featured on this website involve significant risks, dangers and problems. Problems of any sort can arise on any walk. This website does not purport to identify any (or all) actual or potential risks, dangers and problems that may relate to any particular walk.

Any person who is considering undertaking this walk should do careful research and make their own assessment of the risks, dangers and possible problems involved. They should also go to "Important information" for further important information.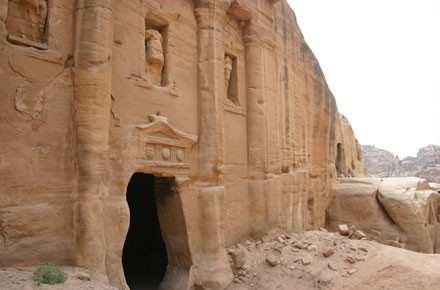 OTHER ACCOUNTS
share your experiences
Top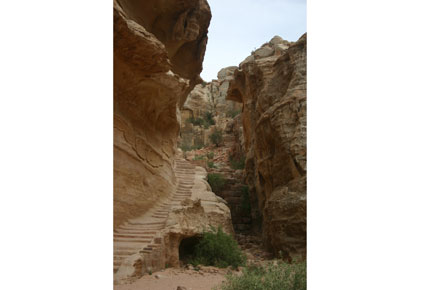 Top
Responsible travel matters, a lot. How you travel will make a real difference - for better or worse. PLEASE consider this when making plans. Read more