Barrah Canyon
Key information: Barrah Canyon
This short but magnificent canyon rends the vast Barrah massif in two. It is a form of walking heaven.
Outstanding desert mountain scenery: justly famous conbination of vast multi-coloured towers and cliffs looming over red sandy desert. Part of a protected area with a surprisingly rich array of animal and plants life.
Walkopedia rating
Walkopedia rating86
Beauty

32

Natural interest

16

Human interest

6

Charisma

32

Negative points

0

Total rating

86
Vital Statistics
Length:

Variable

Level of Difficulty:

Variable
Top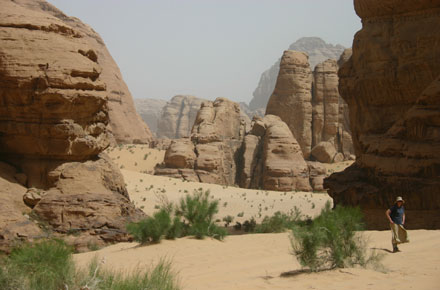 WALK SUMMARY
The Barrah massif stands in grand command of the north-east of the Wadi Rum Protected Area, a vast sandstone edifice, some 6km by 4km and rising hundreds of metres above the sandy desert around it although I should perhaps say edifices, as it is riven by a spectacular canyon, as if torn apart, which for all I know it was.
The 1 - 2 hour Burrah Canyon is a form of walking heaven almost an easy stroll but for the heat at the wrong time of year (or day), in the grandest of scenery, with points of special interest along the way.
Just round from the entrance is a famous rock-climbing wall, with fixed rings and tidily stored ropes up a face so high that they become invisible even using binoculars which seems almost totally devoid, to my eye, of hand or foot holds.
The funnel of the southern desert entrance quickly narrows, and the walls close in, providing delightful shade for the first half of the walk.
There are Nabataean inscriptions at the entrance, and, further on, the remarkably intact blocks of a Nabataean dam at the base of a steep side canyon. It still holds water some 2,000 years on.
The canyon winds on through tremendous cliffs, with odd and thrilling formations and smaller canyons tumbling in from each side. The going is much better than we expected, gently downhill, mainly on firmish sand or gravel, with some grand dunes at the lower northern end, where there are also some spectacular, sheer walls, which have of course not gone unnoticed by the climbers.
The best is kept till last: as you approach the northern end, you see the canyon winding through a narrow throat, a low dune beneath it which, you realise late on, is the top of a long and exhilarating slope to the cliff-base beyond. Round this last promontory, you suddenly emerge into the wide silent, sandy expanse, looking across to distant formations shimmering in the heat. To the left is what looked from further away like a delicately sculpted scoop of cliff, but you now realise is the result of a relatively recent collapse. It has protected an elegant secret until the last minute, though: behind it is a delicate, sloping rock bridge. Gorgeous.
A perfectly placed overhang thank you, nature allows you to contemplate in comfort the timeless view and your admittedly minor achievements.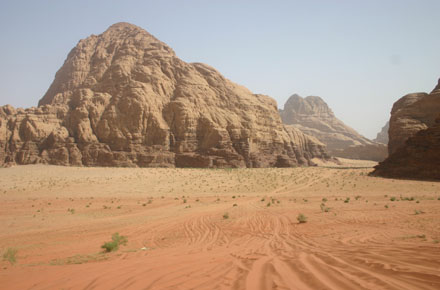 See also expedition planning, including our universal expedition checklist. Walkopedia encourages responsible travel.
Books and Maps
Books on this walk
Jordan: Walks,Treks, Caves, Climbs and Canyons – Cicerone, by Di Taylor and Tony Howard: you must have this book.
Jordan – Lonely Planet by Hugh Finlay
Other books
The Seven Pillars of Wisdom – T E Lawrence's famous but at times ponderous account of the 1919 Arab Revolt, including much on the Wadi Rum area.
Maps
There are generally NO large-scale maps of Jordan readily available. Amazing but true. A large-scale map of the central areas of Wadi Rum can be bought in bookshops.
Stanfords: www.stanfords.co.uk. An excellent (and user-friendly) online specialist source of worldwide maps (it is also good for guidebooks).
Best times to walk/weather
Best times to walk
Early Spring and Autumn's clear, sunny days and moderate temperatures make that period the best time to visit. March and the first half of April are said to be best, and you should find some flowers briefly in bloom.
Weather
Wadi Rum has a desert climate, with very little rainfall. Summers see fierce temperatures (into the 40°s), which are not conducive to enjoyable hiking. Beware rain in winter/spring: though not a problem in itself, even a small fall can render gorges vulnerable to flash floods.
For detailed weather information, have a look at: www.worldweather.org or www.bbc.co.uk/weather/world/country-guides
Getting there/transport/permits/fees
Royal Jordanian, the national airline, flies to Amman from numerous destinations worldwide. British Airways, BMI, Air France, KLM and Lufthansa also operate routes to the capital.
A visa is needed to enter Jordan: you can obtain single entry visas – valid for one month from any port of entry (except the King Hussein Bridge at the Jordan/Israel border), costing about ten Jordanian Dinars.
Those on organised expeditions are likely to be transported from arranged departure points, usually Amman airport.
Many visitors hire a car and driver, which is still (as of 2010) a surprising cheap option. You can get to Petra by bus.
Permits to enter Wadi Rum need to be purchased before entering, from the Visitors' Centre. Check the necessary requirements in advance.
Route(s)
See "Walk Summary" above.
Possible problems, health, other warnings
Heat

and strong sun. Carry enough water and protect yourself.

Heights:

can be dangerous here; none of the climbs on to the rocky massifs would suits those who have difficulties with heights.

Canyon dangers:

canyons can be lethal, particularly as a result of flash floods. Check the weather and whether there are any safety issues carefully.

Dangerous animals

, including snakes and scorpions. Take all appropriate precautions.

This is remote country:

help may be hard to get if things go wrong.

Health risks:

you may not get prompt medical help of a standard available elsewhere should you become ill.

Potential problems include insect born diseases – and water-born, a problem because of a lack of safe drinking water.

Come prepared, including getting all appropriate inoculations/medications.

Stability:

as of 2010, Jordon has been safe and stable for years. But the region is inherently unstable, so check the current position.
See also the websites in our

useful links

page for more detailed, and up-to-date, information.
Safety and problems: All walks have inherent risks and problems of any sort can arise on any walk. Many of the walks featured on this website involve significant risks and possible problems. This website cannot, and does not purport to, identify all actual or potential risks, dangers and problems that may relate to any particular walk or to a country in general. Any person who is considering undertaking this walk should do careful research and make their own assessment of the risks, dangers and possible problems involved. They should also go to "Important information" for further important information.
Make sure you have appropriate insurance.
Guided or independent?
The first question is: how do you plan to get about, generally? Public buses cover many places, but don't go to Wadi Rum or out-of-the-way sites. Many people hire taxis or cars, or cars with drivers, still a relatively good value option and one which can add huge benefits in local know-how.
And: do you make your own arrangements (perfectly doable especially if you have a helpful driver), or use a travel company? The latter will add cost but will simplify the process.
We used Petra Tours to arrange our 8-day expedition. They are a large and reputable local firm and, while not walking specialists, made generally very satisfactory arrangements to fit the detailed plans we gave them. We were lucky to get the delightful and kind Ahmed Tahoon (mob. (+926) 799249146) as a driver (you can ask for him specifically): knowledgeable and happy to expand on any subject.
There is a multitude of other Jordon tour organizers, including the following:
As regards Wadi Rum specifically, you have to have a guide with a 4WD vehicle to get into Wadi Rum. Though drivers/guides can be found on the ground it's advisable to book ahead. Use a reputable tour company which will make sensible local arrangements, or try one of the local firms recommended here. Bear in mind that hotels in Petra (Wadi Musa) are not allowed to organize excursions to Wadi Rum. If you book through them, you will very likely be taken to an area of desert further north, and never set foot in Rum at all.
While some of the walks are easy and can be done on your own, many should be done with an experienced local walking guide.
Local firms (who can deal with all aspects of walking here, including transport, camping and guides) include:
www.explorewadirum.com

- we used Sleman Freij, who is one of several notable brothers. He will drive you and has a simple but clean and very atmospheric little camp which you can get to yourself. We were pleased – he did his best to be flexible for us, although wrestling with short notice.
Accommodation
The only option in Wadi Rum is camping, at a cost, in designated sites. These tend to be basic, but are comfortable and atmospheric and can be done with great charm, and it is said that one can also pitch one's own tent on payment of a fee.
See "Guided/Supported" above.
Other information and tips
Bring a sleeping bag liner, which you may find useful.
Look up from the visitors' centre. The huge cliff facing it across the desert is the famous "Seven Pillars of Wisdom", named after Lawrence's book.
Tipping: a delicate subject. Guides, drivers etc do not necessarily earn high wages as they are expected to get good tips. So, if you get decent service, you should err on the side of generosity. Regard it as a cost to plan for.
Useful websites and information
There are many websites with relevant information. Here are some that we think are useful or have been recommended to us.
Other things to do in the area
Other walks
Petra: astonishing ancient city built into and hidden by a network of cliffs and gorges.
100km guided walks to Petra, or 50km to Aqaba, afford spectacular vistas across desert and terrain so bizarre and barren that it is easy to understand how Petra managed to get entirely lost to the outside world for the best part of 400 years.
Jordon has a huge variety of great walks: there is likely to be a good walk within range, where ever you may be. The Cicerone book has a multitude of ideas. Have a look at Dana, Wadi Mujib and Ajloun areas.
Other activities
Various street festivals are organised throughout Jordan in the summer months. The festival celebrating the end of Ramadan, the Muslim month of fasting, is a particularly special occasion.
Jordan is crammed with historical and archaeological marvels: particularly recommended, the Roman ruins at Jerash, in the North, and Crusader castle at Al-Karak.
Aqaba has plentiful hotels and famous Red Sea diving and snorkeling.
The Dead Sea: via several hotels and spas can often be organized on day-trips and shuttles from Amman. As well as its historical significance, the Dead Sea is renowned for its healing effects.
Safety and problems: All walks have inherent risks and potential problems, and many of the walks featured on this website involve significant risks, dangers and problems. Problems of any sort can arise on any walk. This website does not purport to identify any (or all) actual or potential risks, dangers and problems that may relate to any particular walk.

Any person who is considering undertaking this walk should do careful research and make their own assessment of the risks, dangers and possible problems involved. They should also go to "Important information" for further important information.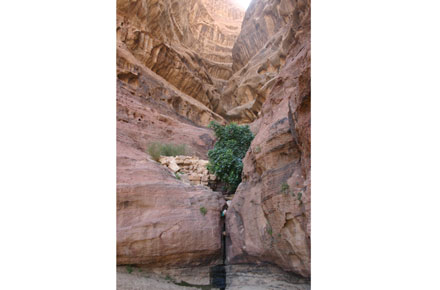 OTHER ACCOUNTS
share your experiences
Top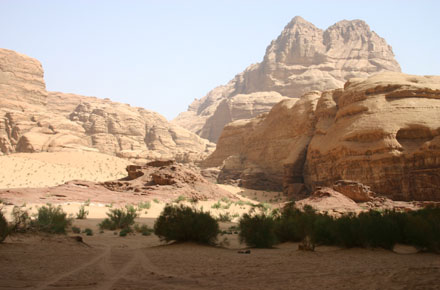 Top
Responsible travel matters, a lot. How you travel will make a real difference - for better or worse. PLEASE consider this when making plans. Read more